Ocean Cruising in Glacier Bay National Park, Alaska
Home to 3.3 million acres of rugged coastal mountains, ancient glaciers, lush forests and mighty fjords, the mesmerising Glacier Bay is the very heart of the Alaskan countryside. A Unesco World Heritage Site, cruise passengers can take their pick of 1,045 glaciers that cover 27 per cent of the park area, seven of which are tidal water glaciers that calve ice. Glacier Bay is also home to abundant wildlife, from orcas, sea lions and seals in the crystal-clear waters to mountain goats on the cliffs and eagles spearing high above in the sky. From the eerie sound of 100-ton iceberg calves crashing into the sea to the spectacular scenery enveloping you, cruising to Glacier Bay is a truly multi-sensory experience.
Why cruise Glacier Bay National Park, Alaska
A Unesco World Heritage Site, Glacier Bay is a bucket-list destination on an Alaska cruise. Cruise passengers will marvel at spectacular scenery, nature and wildlife in the national park, which covers 3.3 million acres of mountains, glaciers, forests and fjords. Wildlife- and nature lovers will be in their element, with Glacier Bay being home to a wide variety of flora and fauna.

What to see and do in Glacier Bay
Marvel at the glaciers
Any past visitor of Glacier Bay will tell you about the eerie and profound silence as you stand on the deck of your cruise ship, which is shortly followed by the violent creaking, crashing and explosion as huge chunks of ice from the glacier descend into the waters below – a phenomenon known as calving. Cruise passengers sailing into Glacier Bay will get to experience this natural wonder and marvel at the mighty expanse of rock and ice. There are more than 1,000 glaciers in Glacier Bay, but the most notable of which include Margerie Glacier, one of the most active in the bay, and John Hopkins, a beautiful arctic-blue glacier.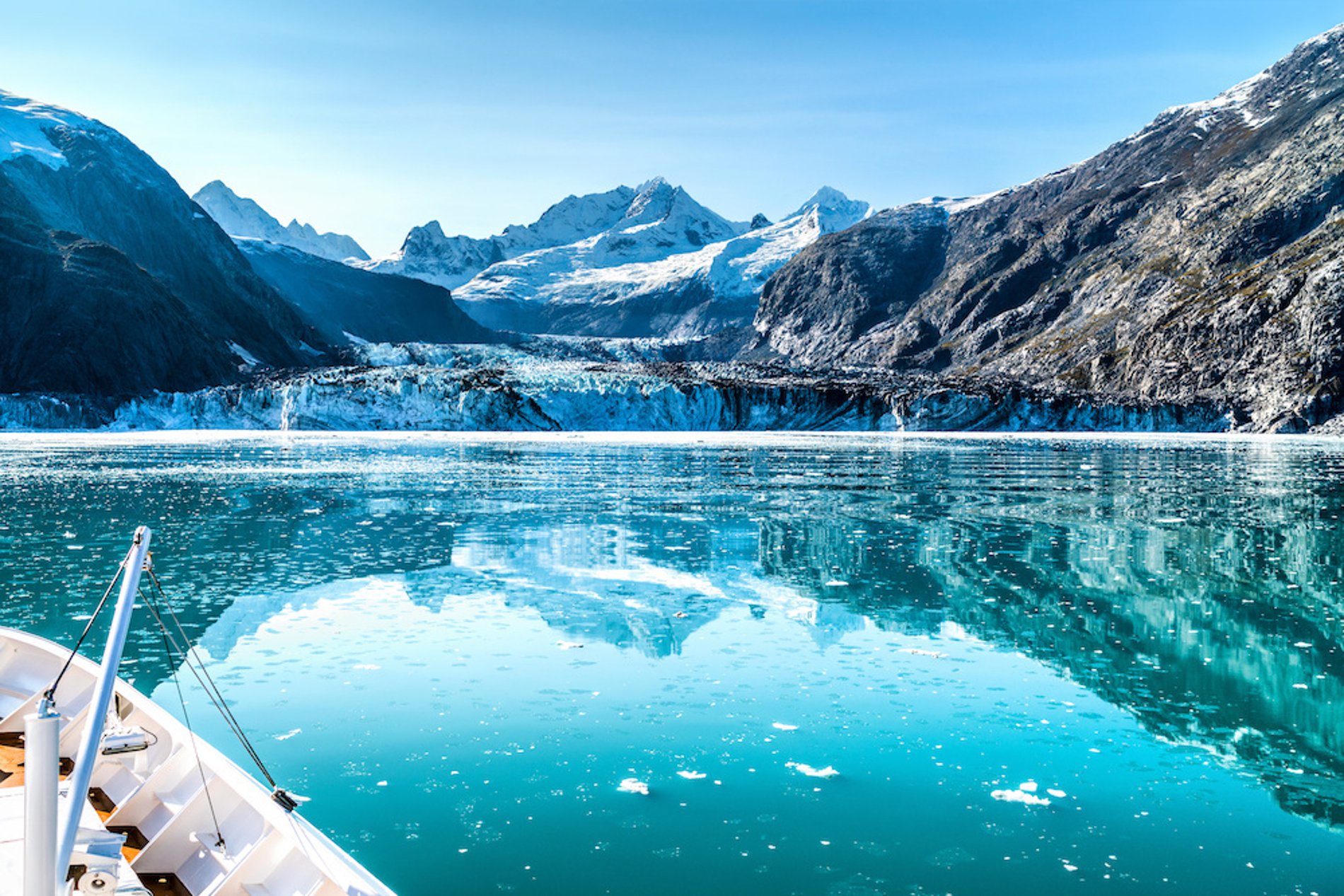 Wildlife spotting
Along with spectacular scenery, Glacier Bay is also rife with wildlife. Cruise passengers will spot a variety of marine animals in the crystal-clear waters, including orcas, sea lions, otters and seals. Meanwhile, you will need your binoculars to look out for bears along creek mouths, which you can often spy catching fish, and mountain goats, which graze precariously among the mountains.
Learn from the park rangers
One of the big advantages of sailing a national park is that cruise lines are required to have a park ranger on board while in the confines of the park. They will give useful and informative lectures and informal chats on the ecology and wildlife of Glacier Bay, so all of your burning questions can be answered. Many cruise lines such as Holland America Line (HAL) provide their own talks and lectures as part of their Alaska cruise itineraries so that guests can fully immerse themselves in the history and ecology of the region during their sailing. As part of HAL's Alaska Land+Sea Journey cruise tours, the line has partnered with rangers and local Huna Tlingit guides, who provide passengers with expert insight into the diverse ecosystem and millennia-old culture.
Need to know when travelling to Glacier Bay
Getting around in Glacier Bay
Only a limited number of ships are allowed into Glacier Bay – these include cruise lines such as Princess Cruises, Norwegian Cruise Line, Carnival, Royal Caribbean and Holland America Line.
When to go to Glacier Bay
Between late May and mid-September is the best time to visit Glacier Bay. While May and June have the most sunshine, the upper inlets can still be thick with icebergs. The peak season is July and August when daytime temperatures average in the 70s. At night temperatures tend to drop, so make sure to pack layers and a good waterproof jacket.
Currency
Alaska uses the US dollar.
Visas
The Visa Waiver Programme allows UK citizens to enter the US for 90 days without a visa. You'll need to register online with the Electronic System for Travel Authorisation (ESTA) before travelling, as well as showing proof of a return trip, or an onward ticket.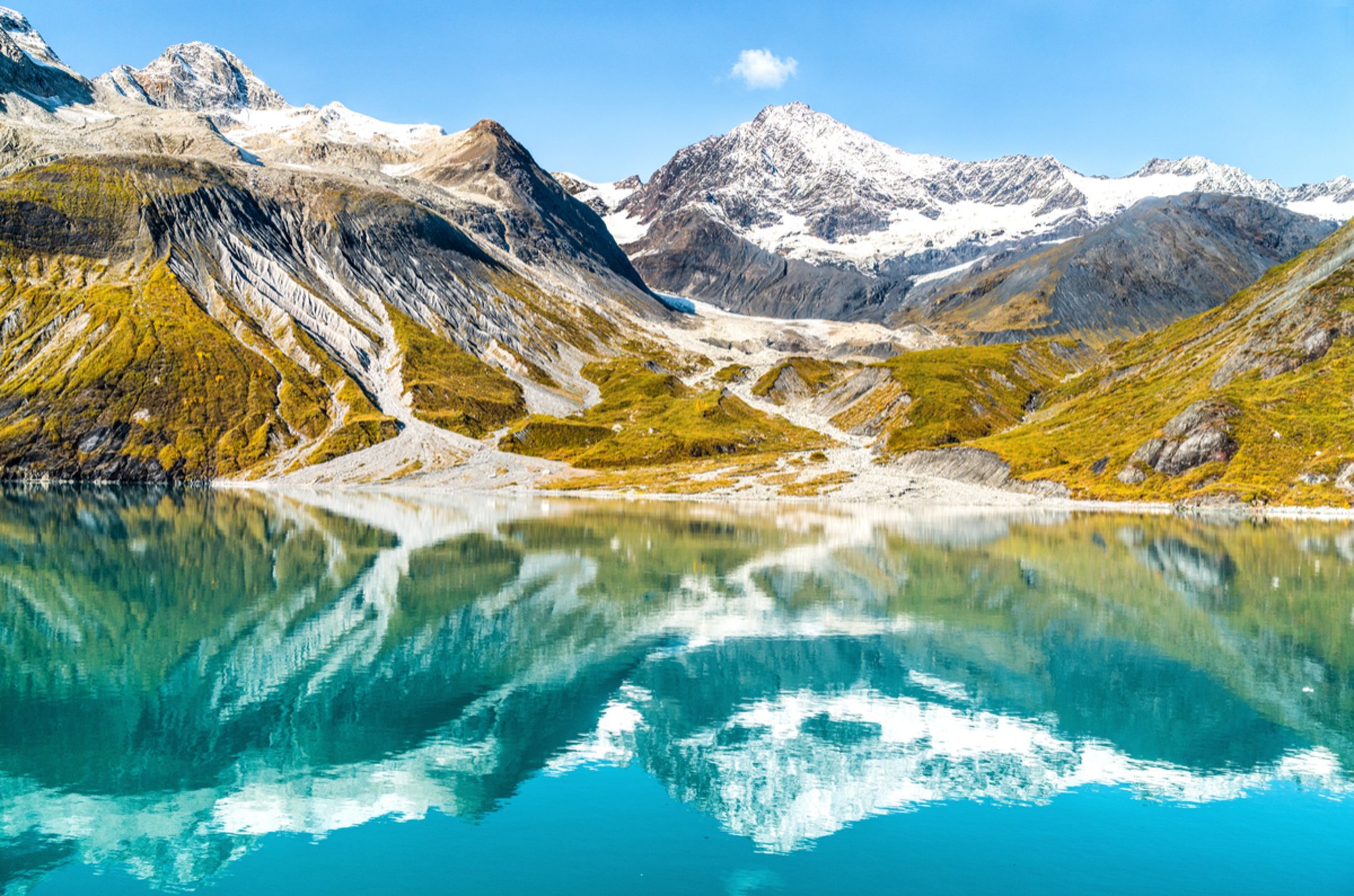 Glacier Bay National Park, Alaska. Credit: Shutterstock