Ocean Cruising in Hubbard Glacier, Alaska
At 76 miles long and 1,200 feet deep, Hubbard Glacier, situated off the coast of Yakutat, is the largest tidewater glacier in North America. This glorious and massive mount of ice has been nicknamed the 'galloping glacier' because of how rapidly its advancing towards the Gulf of Alaska through Disenchantment Bay. It calves ice several times an hour, resulting in chunks of ice as tall as 10-storey buildings crashing into the sea – a truly awe-inspiring sight that the local Tlingit aptly call 'white thunder'. As well as witnessing extraordinary icy landscapes, cruise passengers sailing on an Alaska cruise to Hubbard Glacier will also discover amazing wildlife, residing in the waters of Disenchantment Bay.
Why cruise Hubbard Glacier
Alaska is known for its spectacular natural beauty, home to magnificent mountains, spectacular fjords and mighty glaciers, the latter of which are best seen from cruise ship. Hubbard Glacier is about 200 miles north-west of Juneau and would take too long to reach if you were to go independently, which is why it is best seen from the comfort of your cruise ship. Leading cruise lines including Azamara Club Cruises, Celebrity, Crystal Cruises, Cunard, HAL, Norwegian Cruise Line, Oceania, Princess, Regent Seven Seas, Royal Caribbean, Silversea and Viking all sail to Hubbard Glacier as part of their Alaska cruise itineraries.

What to see and do at the Hubbard Glacier
Hubbard Glacier
The main draw of Hubbard Glacier is of course, the glacier itself. Cruise lines such as Celebrity and Holland America Line give passengers the opportunity to go right up close to the glacier with excursions on smaller tour vessels or day-boats. Ice conditions permitting, on Holland America Line's 'Excursions by Catamaran: Hubbard Glacier & Enchanting Disenchantment Bay', passengers will journey through the narrow cut between Haenke Island and the mainland en route to Hubbard Glacier, weaving through icebergs that have fallen from the face of the glacier. Along the way you will pass glacially-carved coastlines and snow-capped mountains, providing endless photo opportunities.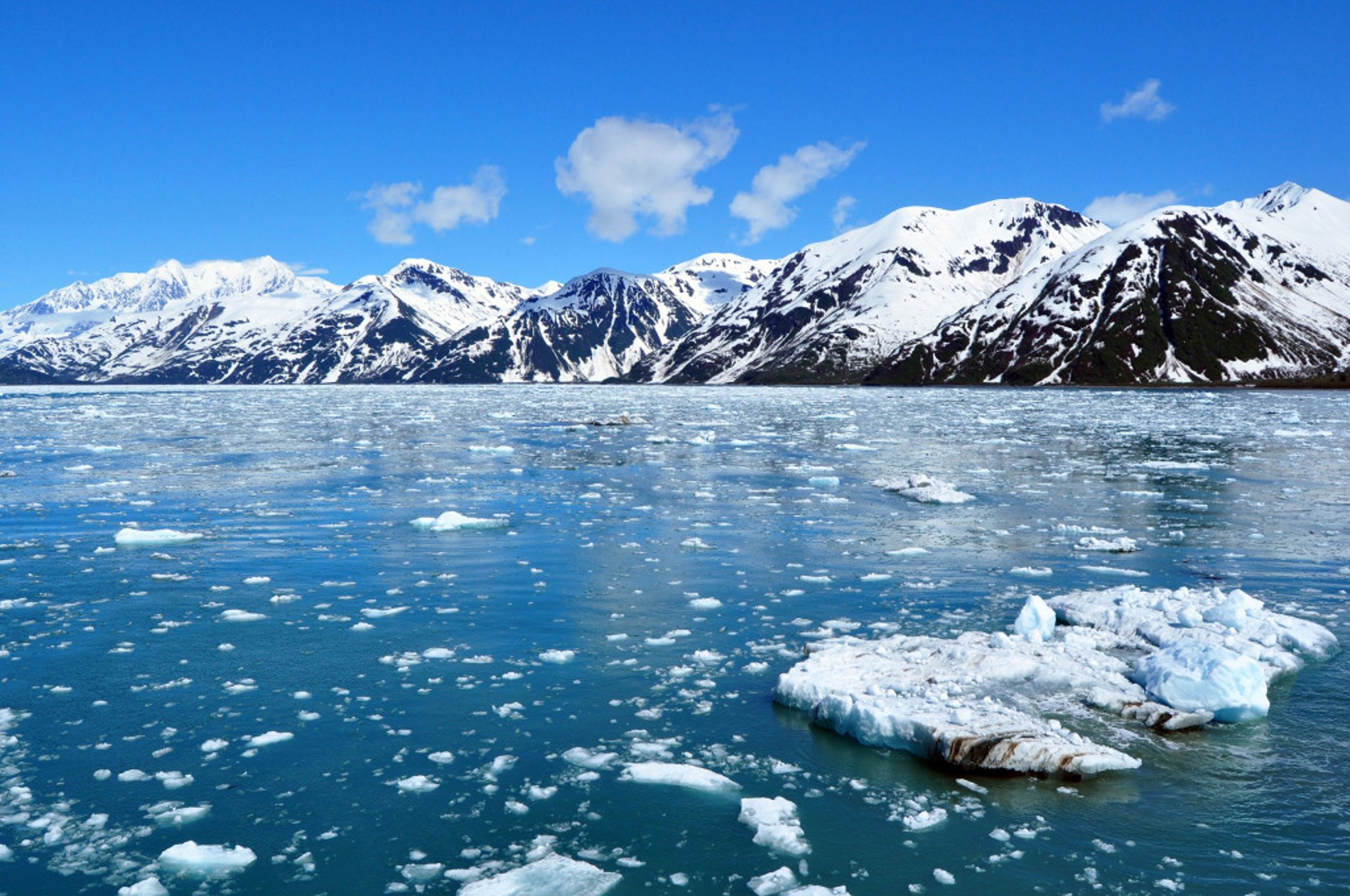 Glacier calving
The strong currents and riptides that flow between Gilbert Point and the face of the glacier is what causes calving to occur on a daily basis in Hubbard Glacier, resulting in colossal chunks of ice – some as tall as three-storey buildings – crashing the waters of Disenchantment Bay, creating icebergs. Cruise passengers will get to witness this spectacular natural phenomenon from their cruise ship as they sail through the Gulf of Alaska. Top tip: make sure to go out onto the ship's deck early to ensure a good vantage point.
Discover the Alaskan wildlife
Similar to Glacier Bay, Hubbard Bay is rife with amazing wildlife, from whales and sea lions to harbour seals and sea birds, and witnessing them in their natural habitat is one of the many joys of an Alaska cruise to Hubbard Glacier. Some cruise lines, including Celebrity, have naturalists on board as part of their Alaska itineraries who will host lectures and talks so guests get a better understanding of what they're seeing.
Need to know when travelling to the Hubbard Glacier
Getting around the Hubbard Glacier
Cruise ships sail to Hubbard Glacier as part of their Alaska cruise itineraries. Depending on conditions and your cruise line, you will either stop within view of Hubbard Glacier or board a smaller vessel to get up close to the mighty glacier and the surrounding nature and wildlife.
When to go to the Hubbard Glacier
Hubbard can be difficult to get to at certain times of the cruise season when the weather is cold, as ice can block cruise ships from passing too near. The best time to see the Hubbard Glacier are July and August. Even during the summer months it can be chilly so make sure to pack warm clothes.
Currency
Alaska uses the US dollar.
Visas
The Visa Waiver Programme allows UK citizens to enter the US for 90 days without a visa. You'll need to register online with the Electronic System for Travel Authorisation (ESTA) before travelling, as well as showing proof of a return trip, or an onward ticket.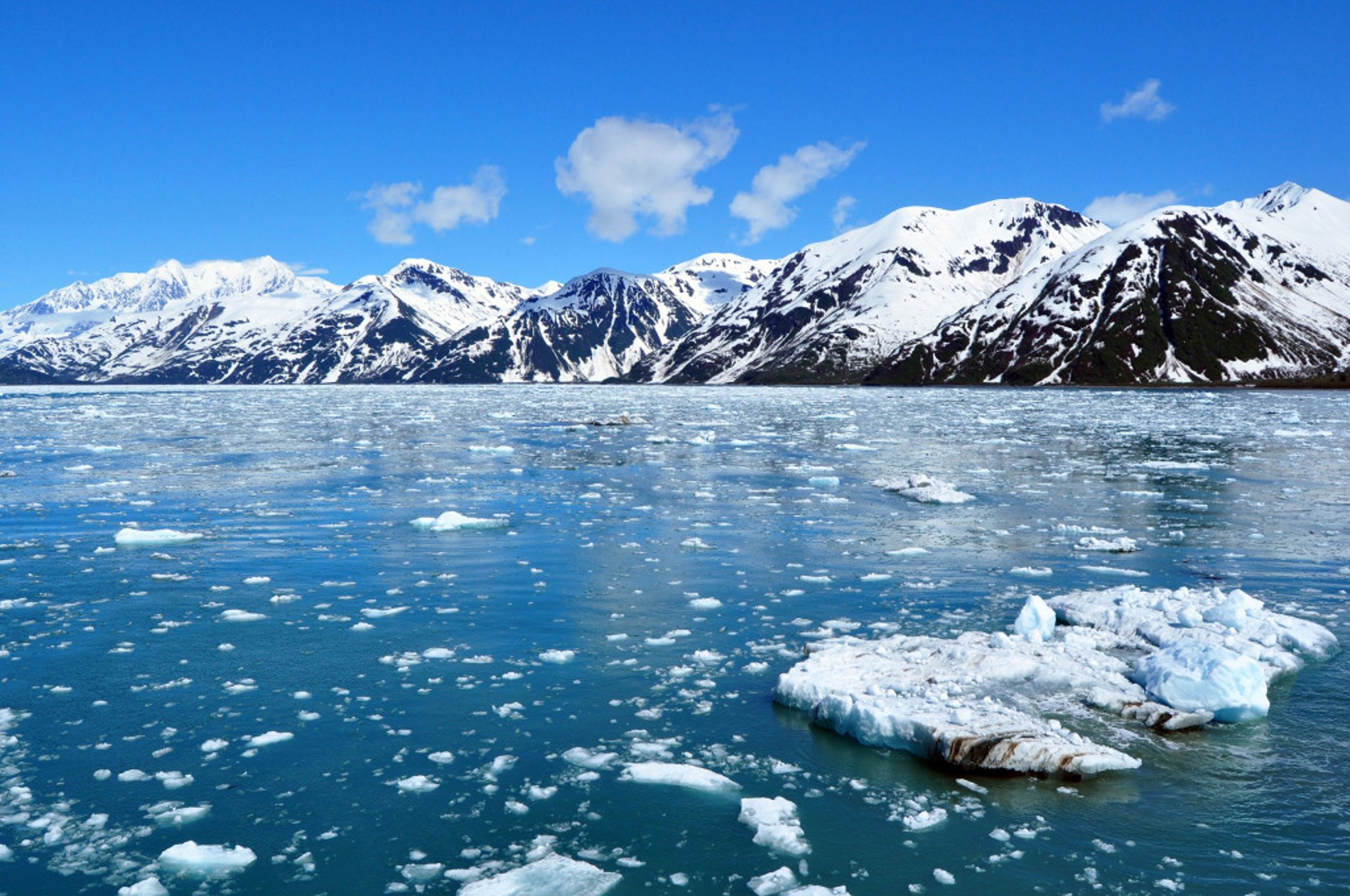 Hubbard Glacier, Alaska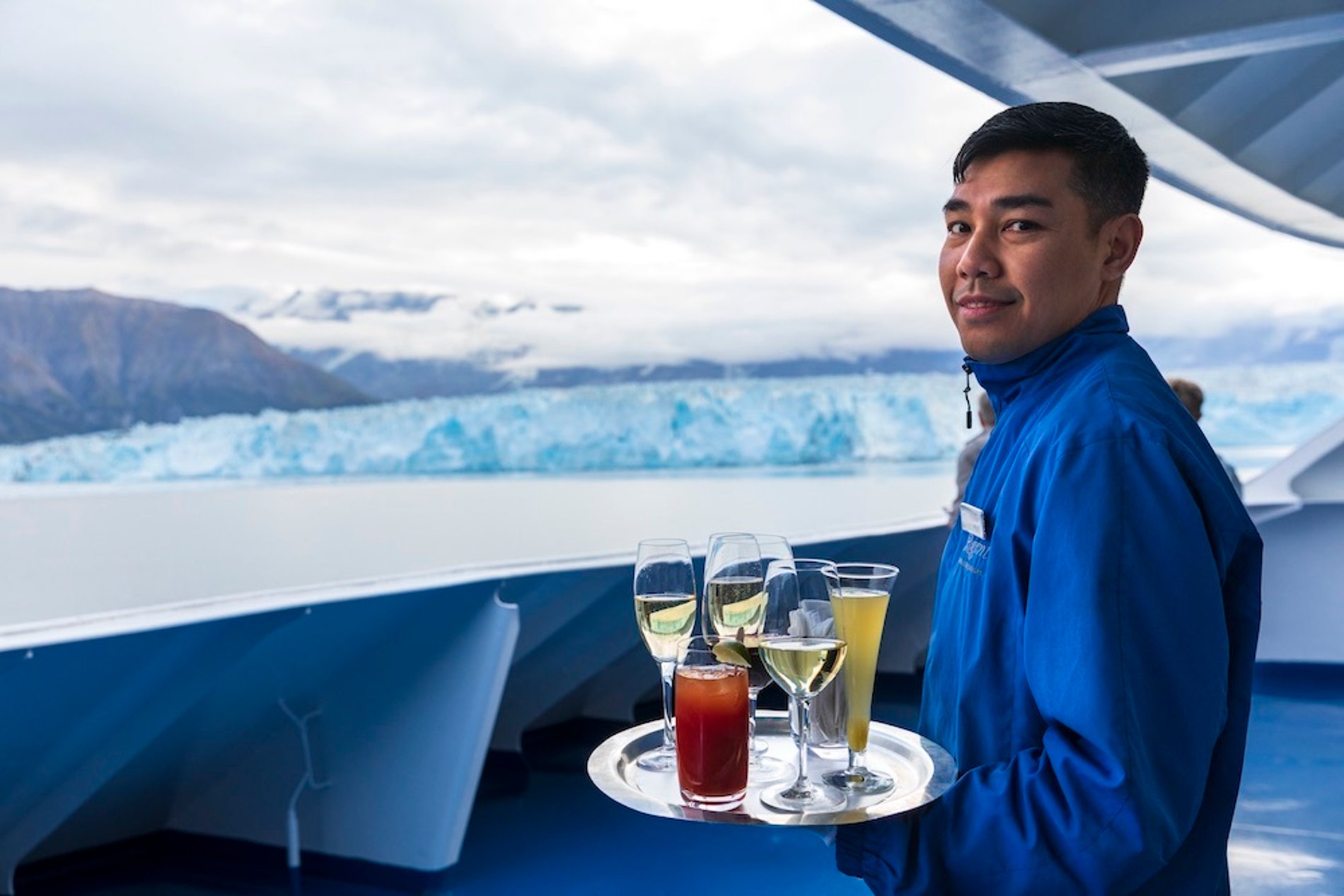 Sip on cocktails while overlooking Alaska's Hubbard Glacier