Helsinki
Finnish cool can be found in abundance in the seaside city of Helsinki, the capital of Finland. This city of 630,000 people was founded in 1550 by King Gustav Vasa of Sweden and has found itself at the centre of all manner of territory grabs ever since. It is compact and easily explored on foot – meaning visitors can ditch public transport if they so wish. Helsinki, which is at the southern tip of Finland, has small pockets of old-school charm mixed with a modern, minimalistic style. The archipelago of Helsinki is made up of around 330 islands, including the Unesco World Heritage Site, Suomenlinna, thereby providing plenty of opportunity to see more than just this vibrant city.
Why cruise Helsinki
Arriving by ship into Finland's Scandi-cool capital is a standout moment of any Baltic cruise, sailing through one of the world's biggest archipelagos comprising 330 islands. Helsinki is a city brimming with amazing culture, architecture and design, and truly comes alive in the summer, with al fresco cafés, markets, events and botanical gardens. Cruise passengers visiting Helsinki for a day can accomplish a lot, with the city being easy to navigate and many of its top attractions being on your cruise ship's doorstep.
find your perfect cruise
What to see and do in Helsinki
Temppeliaukio Church
A treat for the eyes and ears, the Rock Church, as it is known, is excavated directly into solid rock. Opened in 1969, the church is known for its acoustics and regularly hosts concerts. It is also a fascinating spot to relax and take in the ambience. A popular spot for tourists – so best to visit early to avoid large queues.
Senate Square
Senate Square is ringed by four buildings designed by famed German architect Carl Ludvig Engel. There's Helsinki Cathedral, which was once known as the St Nicholas Church, the Great Cathedral, the Government Palace, the main building of the University of Helsinki, and the National Library of Finland. The square is also home to a monument of Alexander II, former Tsar of Russia and Grand Duke of Finland. Plenty of photo opportunities here then.
Suomenlinna
Time permitting, you should catch the 15-minute ferry to this sea fortress which has been vital to the protection of the country for generations – even though it has been conquered by the Swedes and Russians. Construction began in the 18th century and today it is a world heritage site that attracts visitors from all over. It's quite the picturesque site – perfect for a picnic.
Mumin Kaffe
Enjoy a cup of coffee amongst Helsinki's most famous residents: the Moomins. There's Moomin biscuits, sweets and a range of homemade cakes – perfect for families. Of course, if it's fine dining you're after, then you'll find Finnish cuisine lends itself well. Visit Helsinki restaurant Chef & Sommelier, where you can choose from fixed menus of up to nine dishes and go on a true gastronomic adventure.
Market Square
With plenty of local traders setting up shop and the nearby parks providing a perfect backdrop – the Market Square is a treat to wander around. Situated in the same area as the Market Square, the Old Market Hall is also full of food stalls serving all manner of Finnish delicacies, including reindeer.
Need to know when travelling to Helsinki
Getting around in Helsinki
With 300 cruise ships and more than 400,000 passengers descending on Helsinki every year, it is fair to say this can be one busy port. Cruise ships dock in either the South Harbour or West Harbour. Docking in the South Harbour? Good news: you're bang in the city centre and just a short walk away from all the sights, providing an ideal location for disembarking passenger. So, if you end up in West Harbour, you're not quite as lucky as you'll be facing a 10 to 15 minute journey by public transport and a 25-minute walk to the main centre. Trams, however, provide easy access into the city.
When to go to Helsinki
The cruise season runs between May and September when the city hasn't yet been plunged into wintry darkness. They are events and festivals throughout the year, but some of the best are in the summer. Bonfires are lit on Midsummer's Day – known as juhannus in Finland – to mark the shortest day of the year.
Currency
Finland and its capital use the euro. ATMS are scattered across the city and typically offer fairer rates than an exchange booth. It's worth noting there's no tipping culture in Finland so don't feel obliged to tip the bartender pulling your pints – although rewarding good service is always appreciated.
Visas
If you hold a British Citizen passport, you don't need a visa to enter Finland unless you're planning a stay of longer than three months.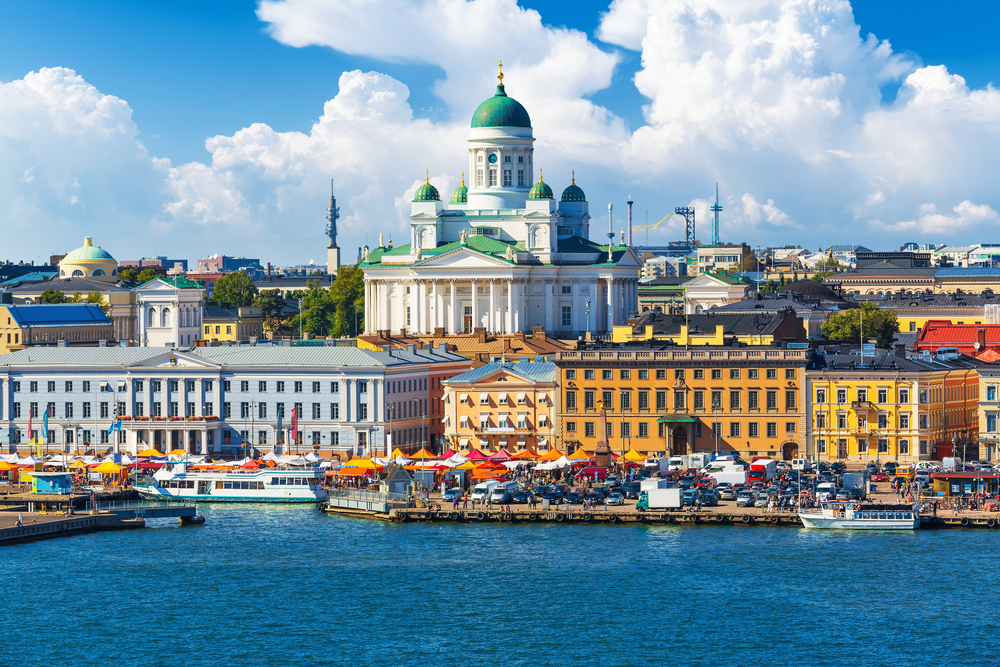 A destination guide of Finland -Helsinki