Search for your ideal Cruise
Ocean cruising in Iceland
Iceland cruise holidays offer travellers a breathtaking land of ice and fire, home to ancient volcanoes, steaming geothermal lagoons, glacier-capped peaks and lava fields. The Nordic country lies in Northern Europe in the North Atlantic and is the most sparsely populated country on the continent, being both volcanically and geologically active. Cruise around Iceland for coastlines are dotted with windswept beaches and lively port towns while its interior hinterlands are home to the ineffable Icelandic Highlands – filled with peaks and waterfalls. Globetrotters on Iceland cruises visit to explore Reykjavík, the country's tiny and uber-trendy capital, bathe in natural hot springs and geysers, and experience natural wonders like the magical northern lights or mind-boggling midnight sun.
Why choose an Iceland cruise
Iceland cruise holidays offer something slightly different at each port thanks to the scattered, varied coastline.

find your perfect cruise
Discover the best cruises to Iceland
Iceland cruises: Best places to visit in Iceland
Reykjavik
Reykjavík is a city that just oozes appeal, be it its colourful harbour, abundance of cool cafés, grassroots art and music scene or the fact it's surrounded by snowy mountains and churning seas. For its tiny size – housing just 122,000 people – Reykjavík is surprisingly cosmopolitan and has everything its rival European capitals have. On a cruise to Reykjavík, you'll find the waterside Harpa concert hall, the cool Laugavegur shopping street, impressive Landmark Hallgrímskirkja Church and trendy Kling and Bang art gallery. Foodies will love the city's fine dining and restaurant scene – head to Michelin-star Dill for Nordic produce with a modern twist – while hedonists will go mad for the city's late-night music scene – championing local DJs and bands at chic subterranean venues.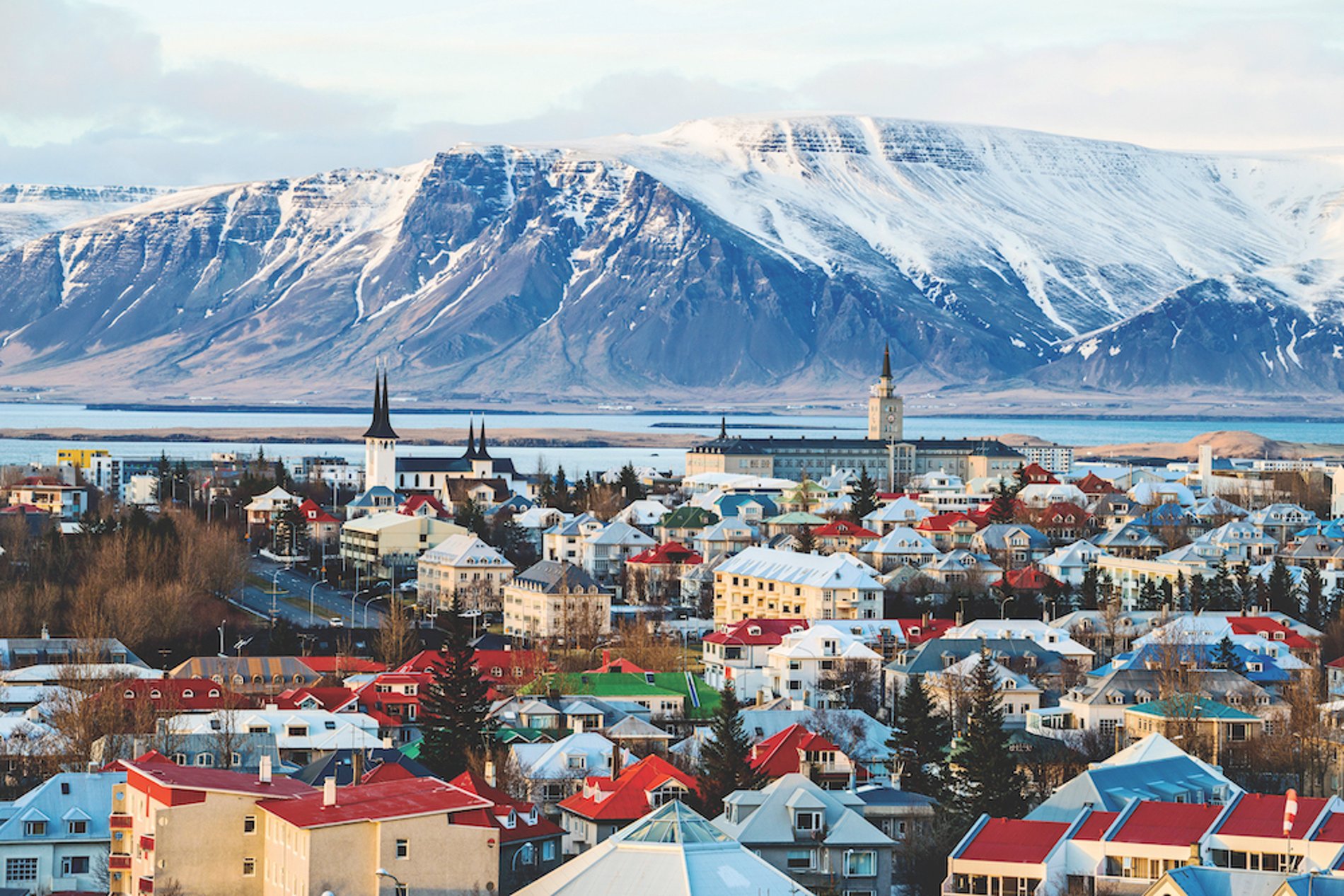 Akureyri
Akureyri lies at the head of Iceland's longest fjord, Eyjafjörður, a city of stunning natural beauty and only 20,000 inhabitants. Akureyri is Iceland's second city and known as the 'capital of the north.' Here you'll find a winter wonderland of ski slopes and ice-skating rinks – set against a backdrop of snow-capped peaks. While the city is often seen as the gateway to explore the fjord and the Myvatn region, it has a buzz of its own worth seeing. Like Reykjavík it also has trendy cafés, great eateries and cool art galleries. If you're on a Akureyri cruise, check the Akureyri Art Museum, the verdant Akureyri Botanic Garden and Hof Cultural Centre – Harpa's rival venue. Outside the city, venture to the Hlíðarfjall ski slopes or time your visit with one of Akureyri's many festivals – like the Iceland Summer Games.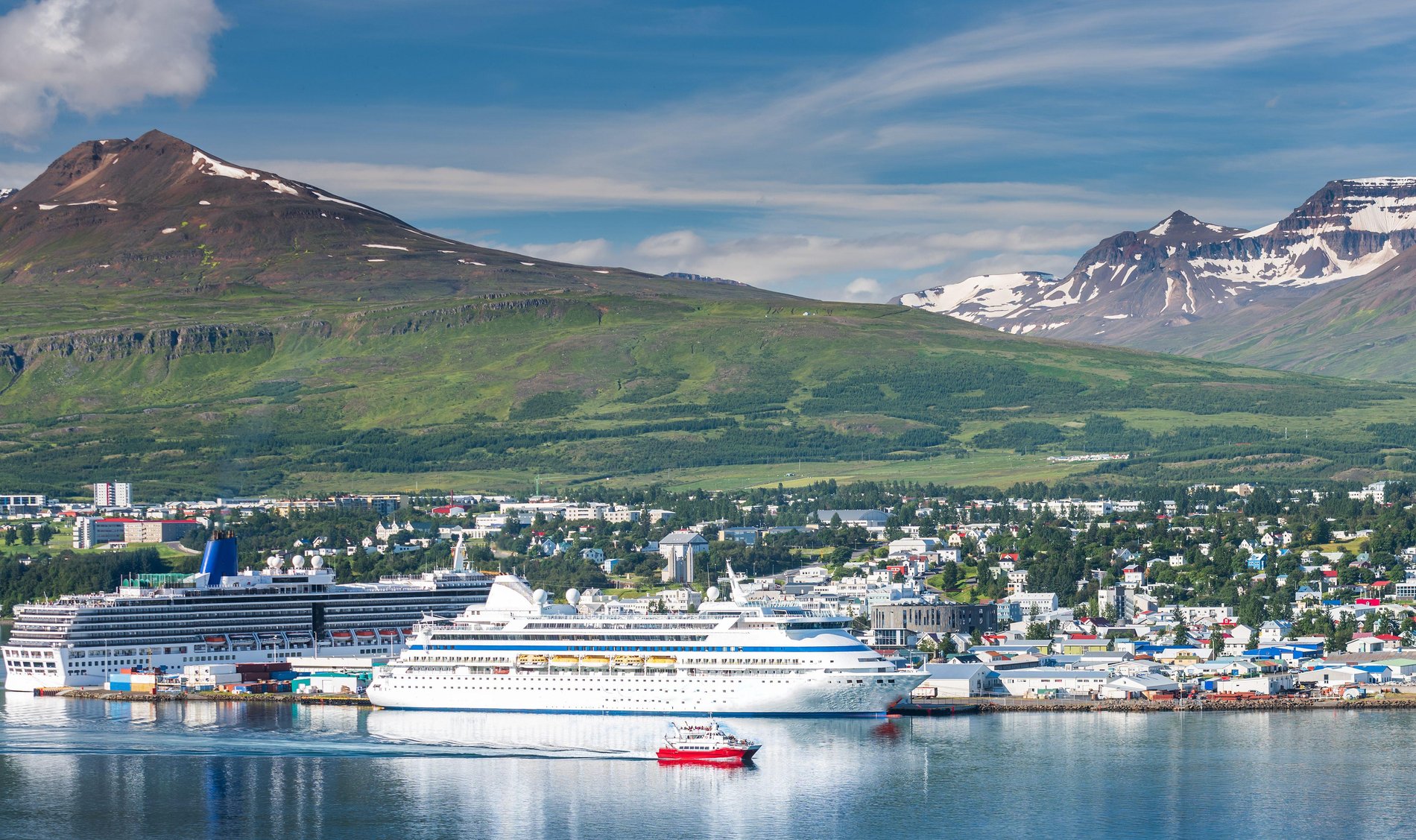 Ísafjörður
Ísafjörður is a firm favourite on Iceland cruise itineraries, a town on Iceland's West Fjords peninsula – the country's least populated region. Just 3,500 people call this town home, once one of Iceland's main trading ports and now a historic fishing village with some of Iceland's oldest and most well-preserved buildings. For such a small town it packs in some fantastic museums, like Osvör Museum and Maritime Museum – located in an 18th-century house and serving up Icelandic delicacies. Most cruisers, however, come to Ísafjörður for its intense natural beauty, located near glaciers and fjords. Nature-lovers should be sure to stop at Vigur Island – surrounded by deep blue water and boasting Iceland's only windmill, Europe's smallest post office and a colony of 80,000 puffins.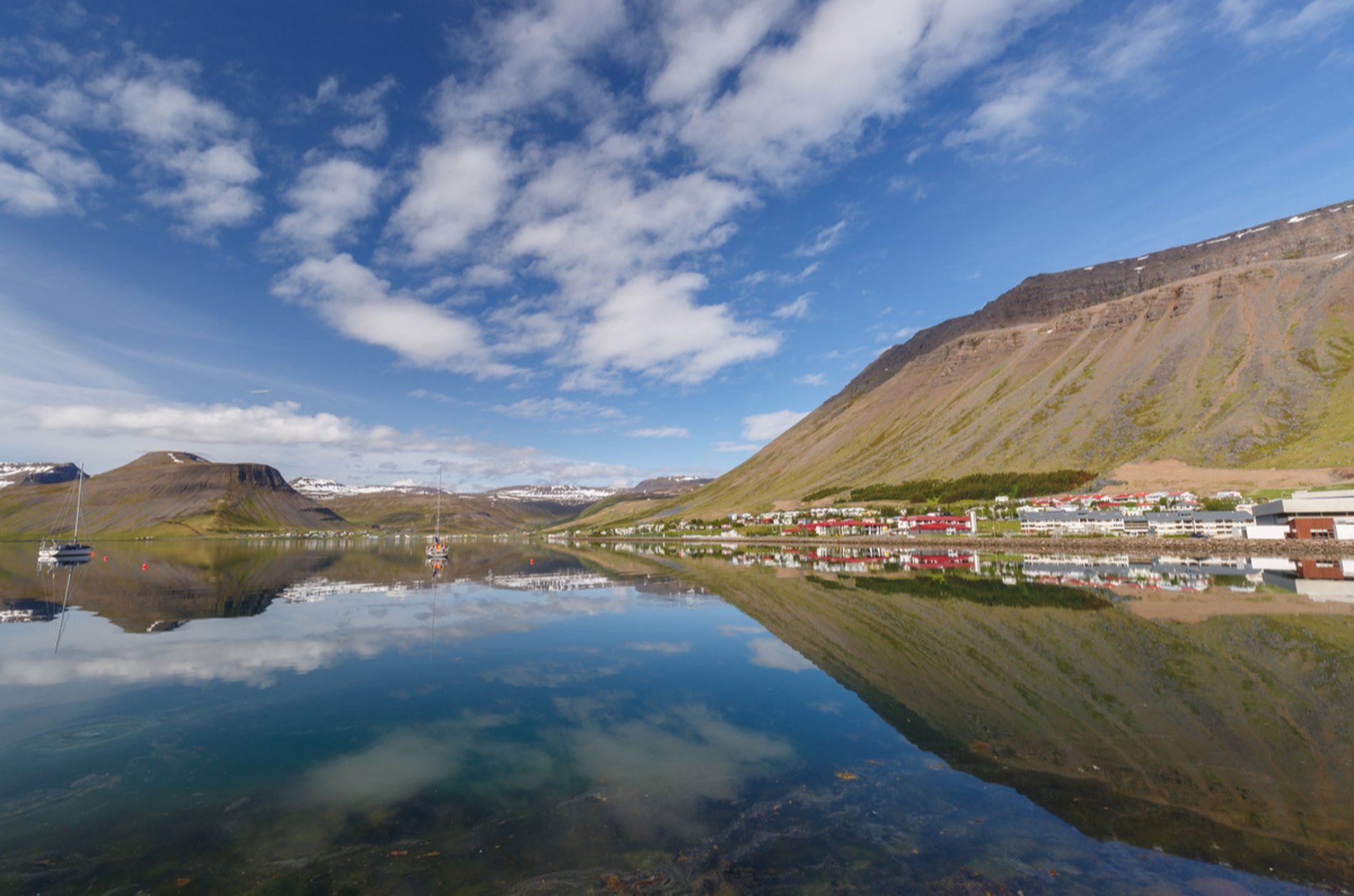 Seyðisfjörður
Seyðisfjörður is a town in the east of Iceland, nestled between Mt Bjólfur and Strandartindur. It's by far the most interesting town in the region, a jumble of traditional colourful timber houses with a light-blue church, rainbow-coloured brick road and a handful of great art galleries and museums. The town has developed a trendy community of creatives, craftspeople and students, whose work can be seen in the likes of the Skaftfell - Center for Visual Art. Of course, the scenery is stunning, surrounded by snowy peaks and gin-clear waterfalls. Make sure to venture out to the picturesque Seyðisfjörður, once a base for British/American forces during the Second World War and housing an abandoned landing strip and wreck of the bombed SS El Grillo – now a dedicated diving wreck.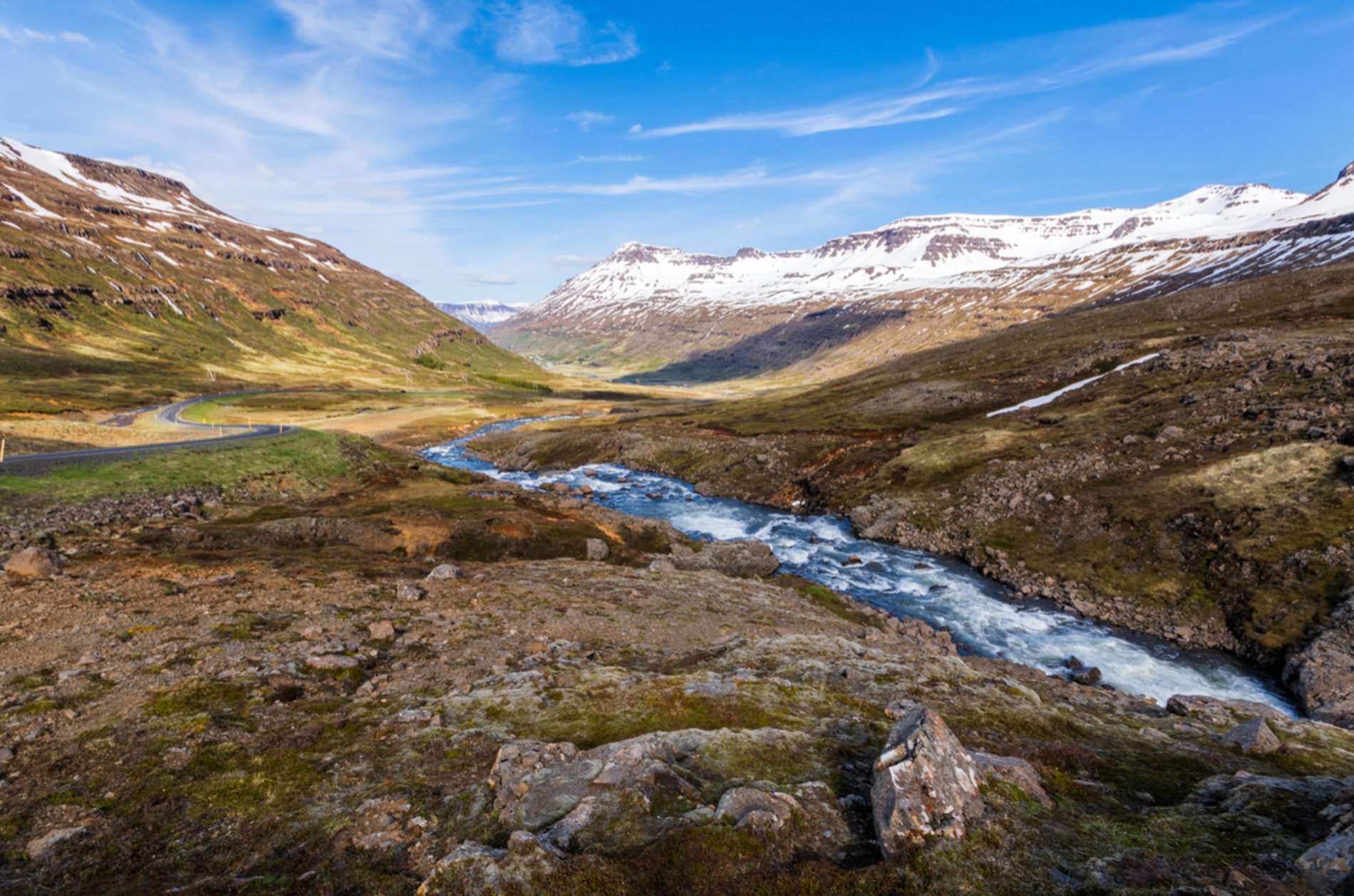 Grundarfjörður
Located next to Mount Kirkjufell on the Northside of the Snaefellsnes Peninsula, Grundarfjörður is one of the most picturesque fishing towns in Iceland. Most visitors cruising around Iceland come to the town to visit the mountain itself, which took millions of years to form and was shaped by glacial erosion. The mountain features on the 10 most beautiful mountains in the world and has even had a role in Game of Thrones – where it played 'Arrow Head Mountain'. Visitors to the town should also wander its fishing harbour, breathe in fresh salty air and check out activities like horseback riding, kayaking, birdwatching and sea angling.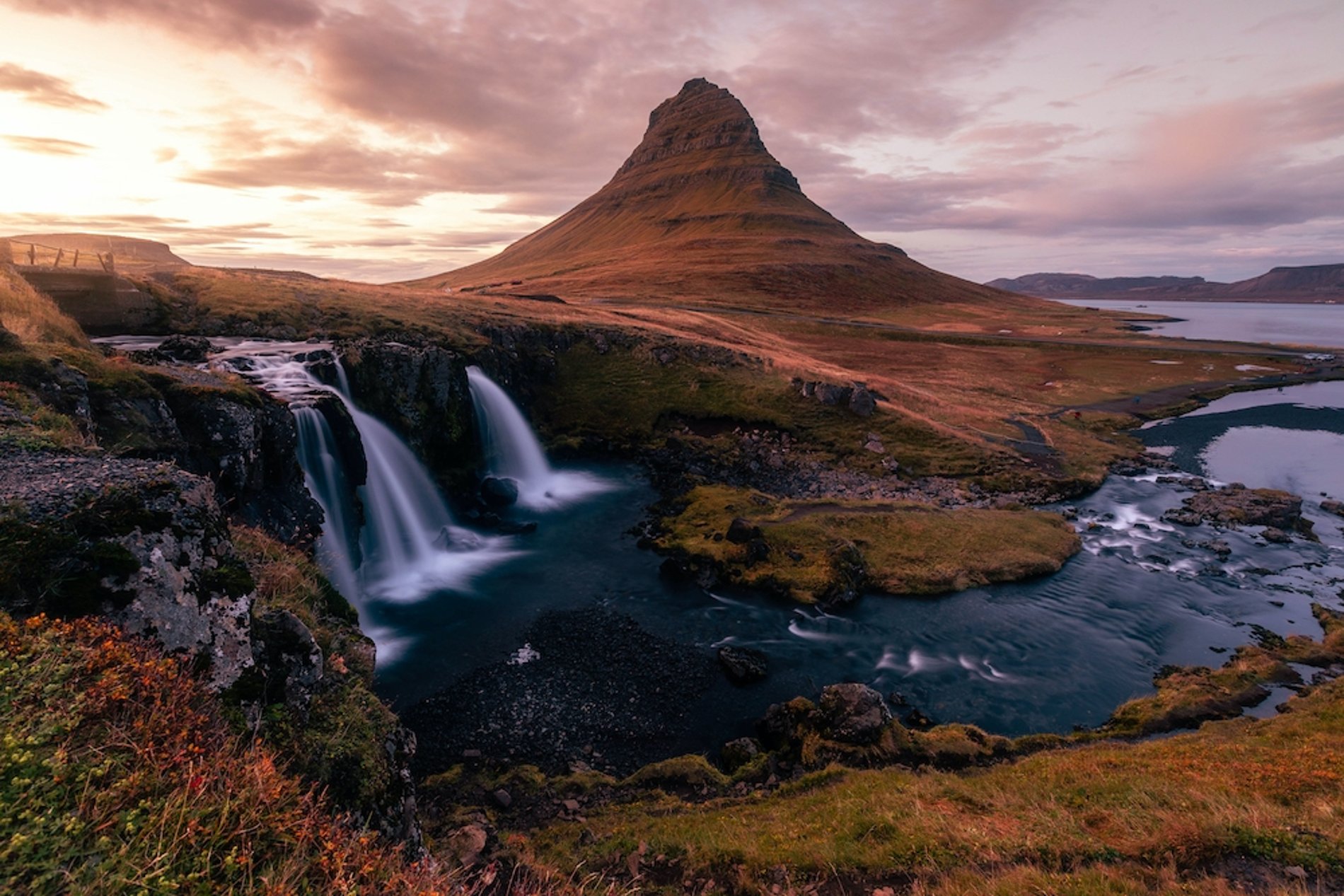 Blue Lagoon
There's no denying that Iceland's Blue Lagoon is the country's biggest tourist hotpots, but it's a tourist hotspot for a reason. Just a 45-minute drive from Reykjavík, travellers are greeted with a mystical lagoon of milky blue waters and geysers, naturally heated by the bubbling volcanic landscape. Travellers come to relax in its warm waters and bathe in its healing silica white mud, which is rich in nutrients and known for its skin renewal benefits. Those looking to make the most of this truly bucket-list experience should also book into the Blue Lagoon day spa for special silica beauty treatments and rejuvenating massages.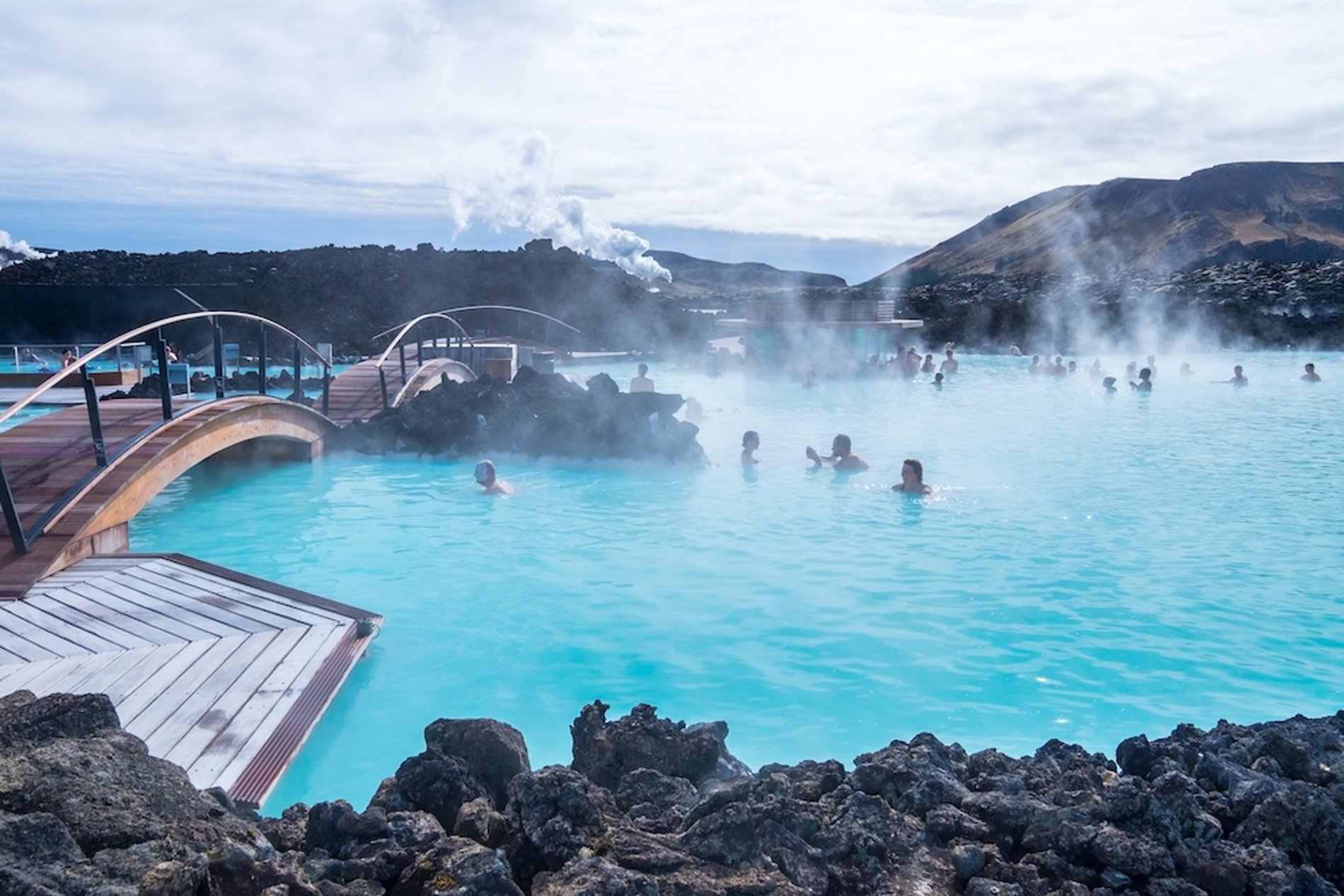 The Golden Circle
Whether you hire a car or book a special guided tour, no cruise to Iceland is complete without exploring the magnificent Golden Circle. The route covers around 300km and traverses Southern Iceland, starting in Reykjavík and winding through the Thingvellir National Park, by the Gullfoss waterfall and the geothermal Haukadalur with its bubbling geysers. One of which, Stokkur, erupts every five to 10 minutes – so you're guaranteed to see some action. Other stops on the cinematic route include a volcanic crater, the historic Skálholt Cathedral and some of the country's thermal power plants that naturally power the country.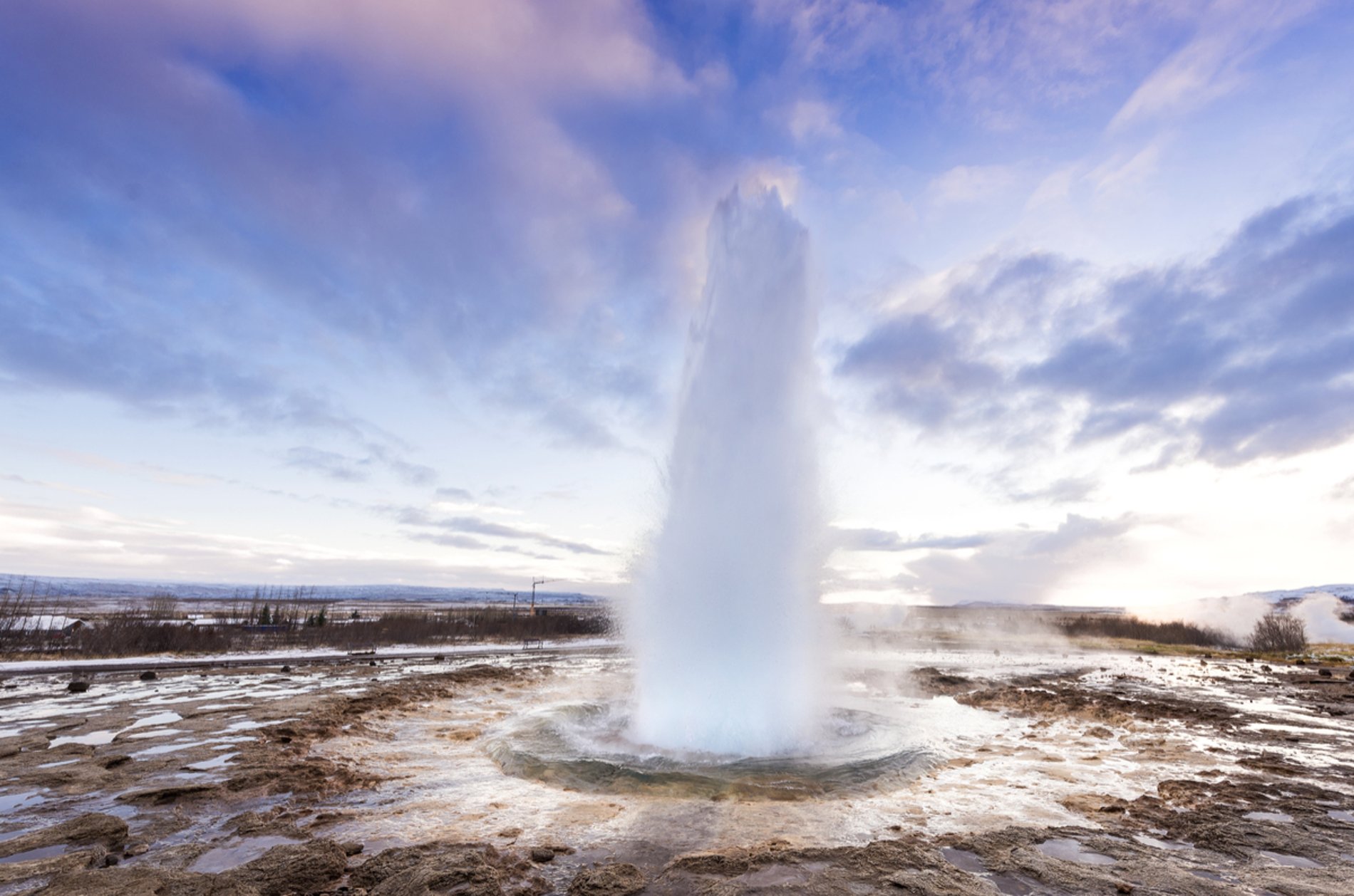 Husavik
After a whale-watching cruise in Iceland? Head to Husavik to spot humpback, minke, white-beaked dolphin, harbour porpoise and blue whales at Iceland's whale watching capital. The town is located in the north of the country around an hour's drive from Akureyri and spotting whales is almost guaranteed in the warmer summer months. Centred around the Skjálfandi Bay, the town has the famous Húsavík Whale Museum and its harbour is packed with restaurants, souvenir shops and tour booking offices centred around whale watching. Husavik also hosts the annual Mærudagar festival – where thousands of Icelanders come to the town to enjoy music, food and drink and colourful decorations.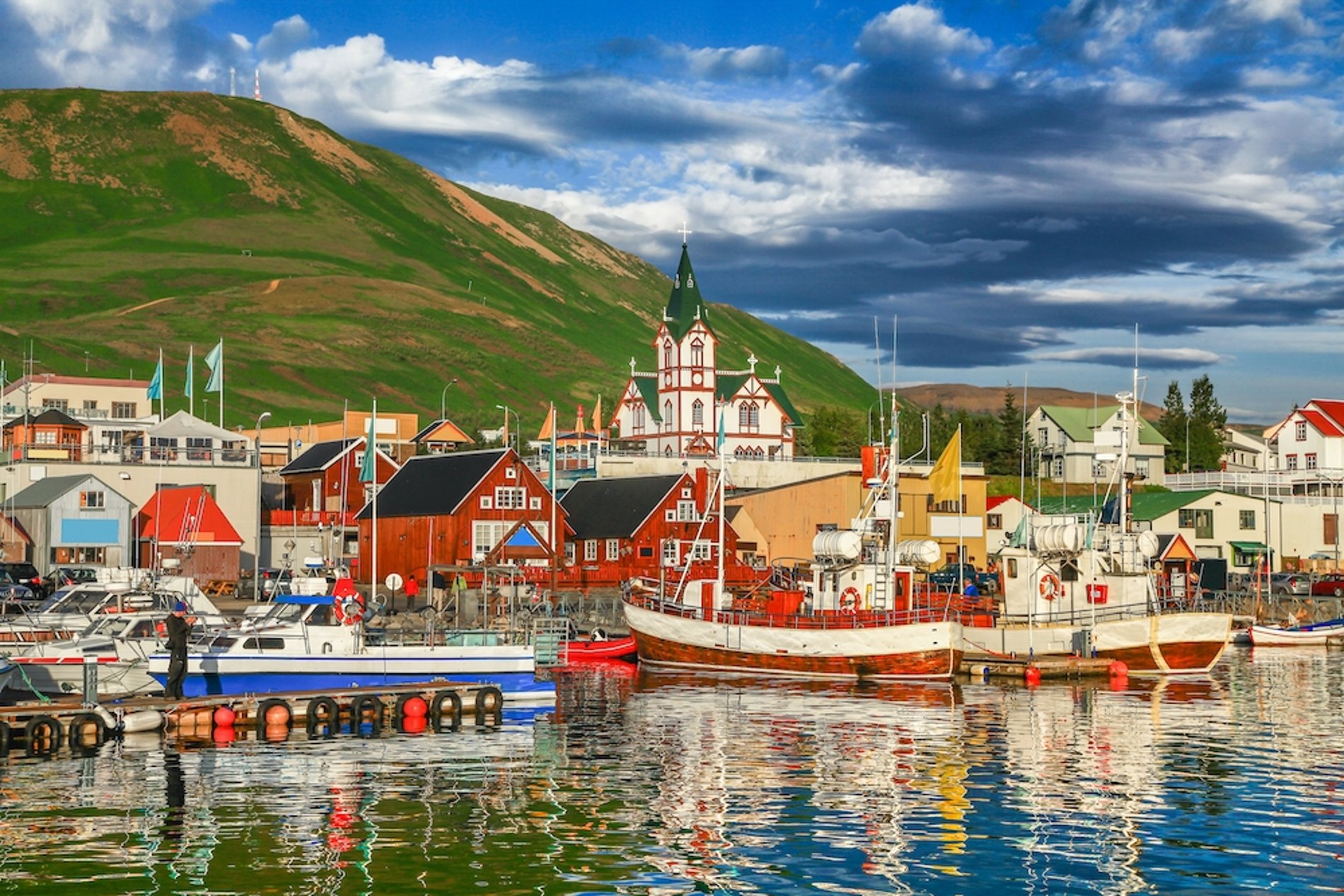 Iceland cruises: Best things to do in Iceland
Go wildlife-watching
Iceland is rich in wildlife, from its marine life-packed waters to its skies filled with seabirds and mountains with Arctic foxes, mink, mice, rabbits and reindeer. For a whale-watching cruise in Iceland head to Husavik – the country's whale capital – and puffin spotters should head to the likes of the West Fjords.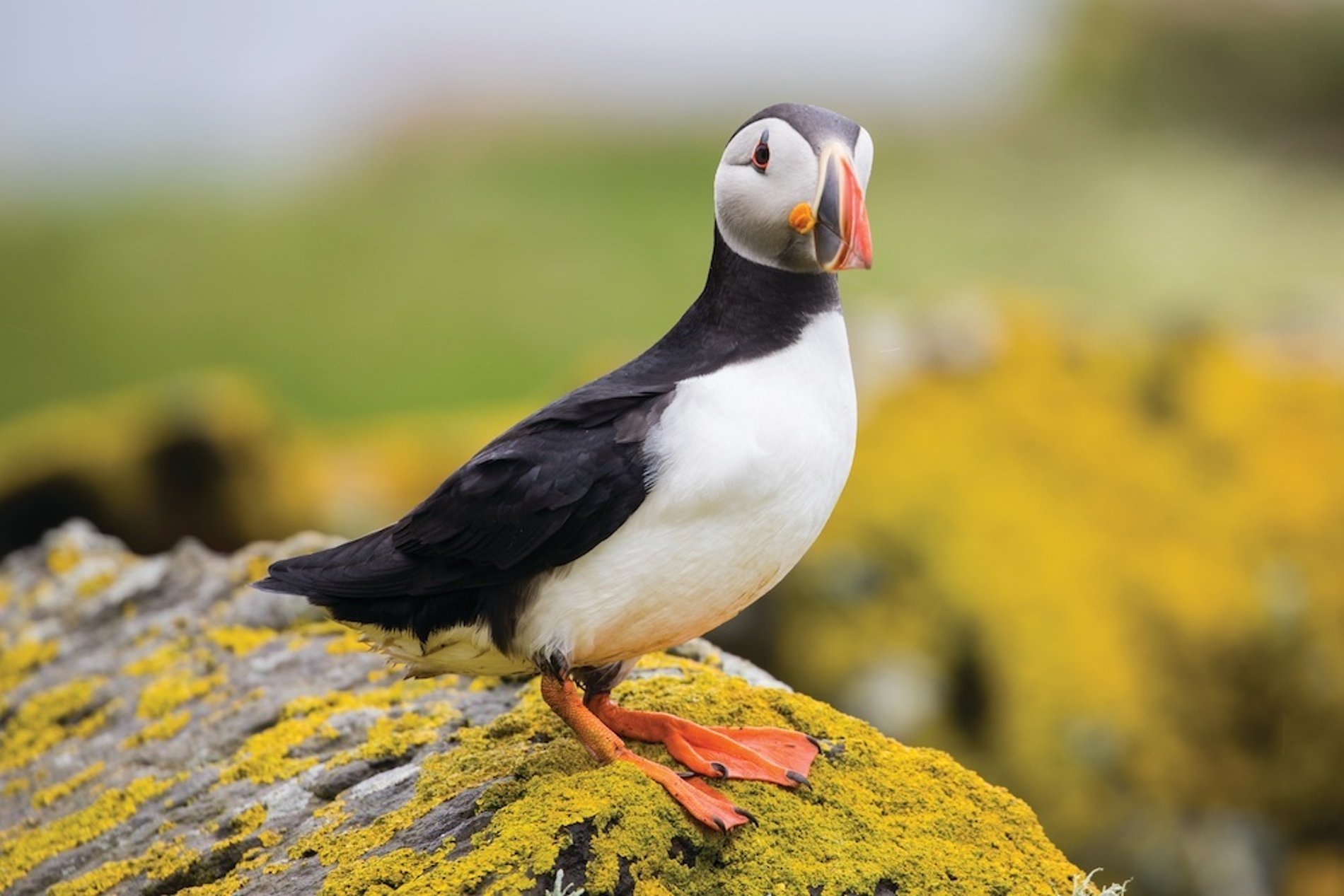 See the Northern Lights
A Northern Lights cruise in Iceland is a popular holiday option in this part of the world. The northern lights season in Iceland runs from late September to late March where the skies are at their darkest. During this time, you're more likely to see the magical Aurora Borealis light up the skies. The lights can be spotted all across the country with the beautiful Thingvellir National Park – a popular destination for tourists.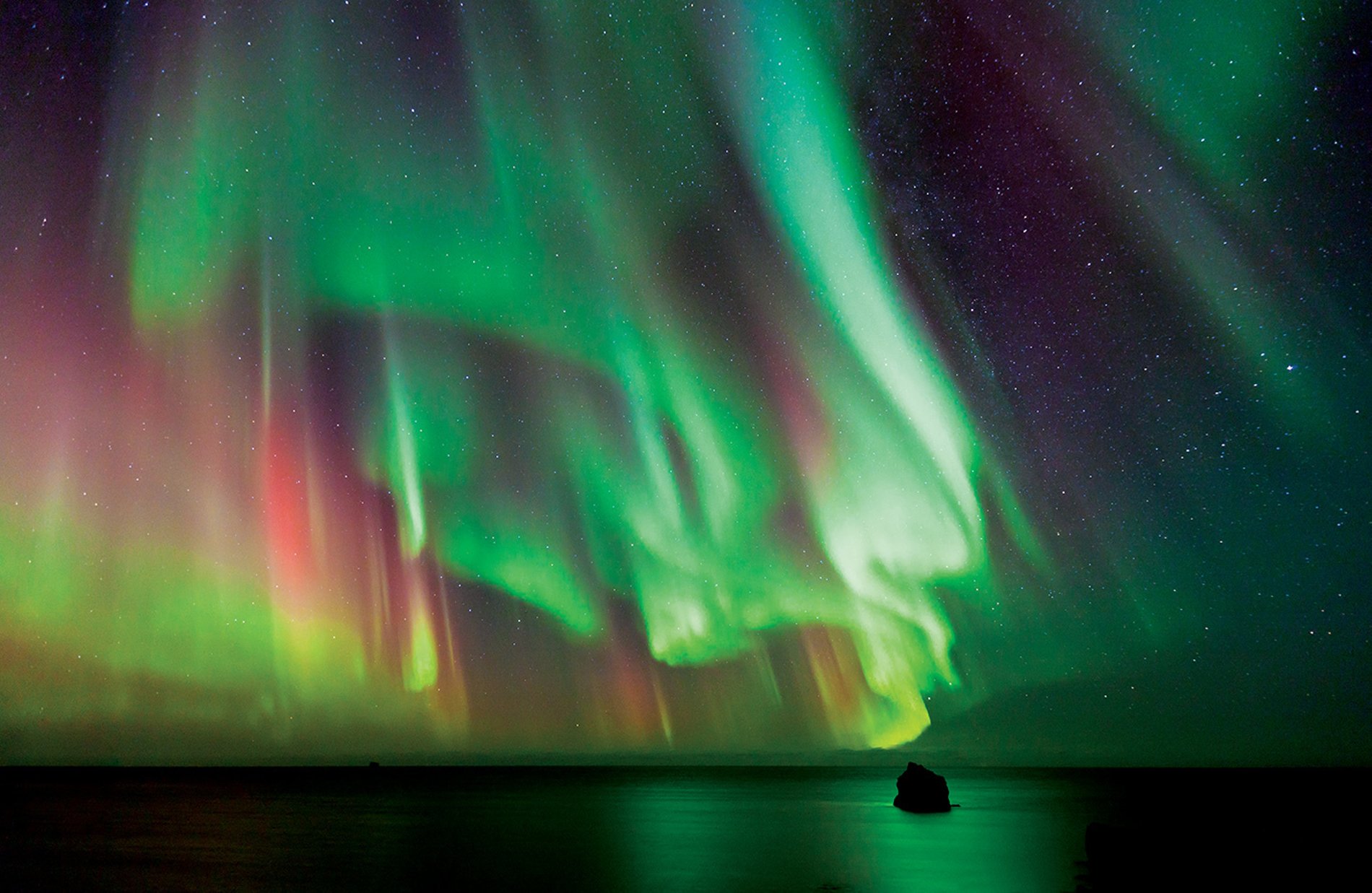 …Or Midnight Sun
Come the summer months and Iceland becomes a country bathed in sunlight, where the dark night skies are replaced by a warming pinkish hue. That's because, due to Iceland's high latitude, the sun never properly sets, and in turn that means more day light and more time for exploring.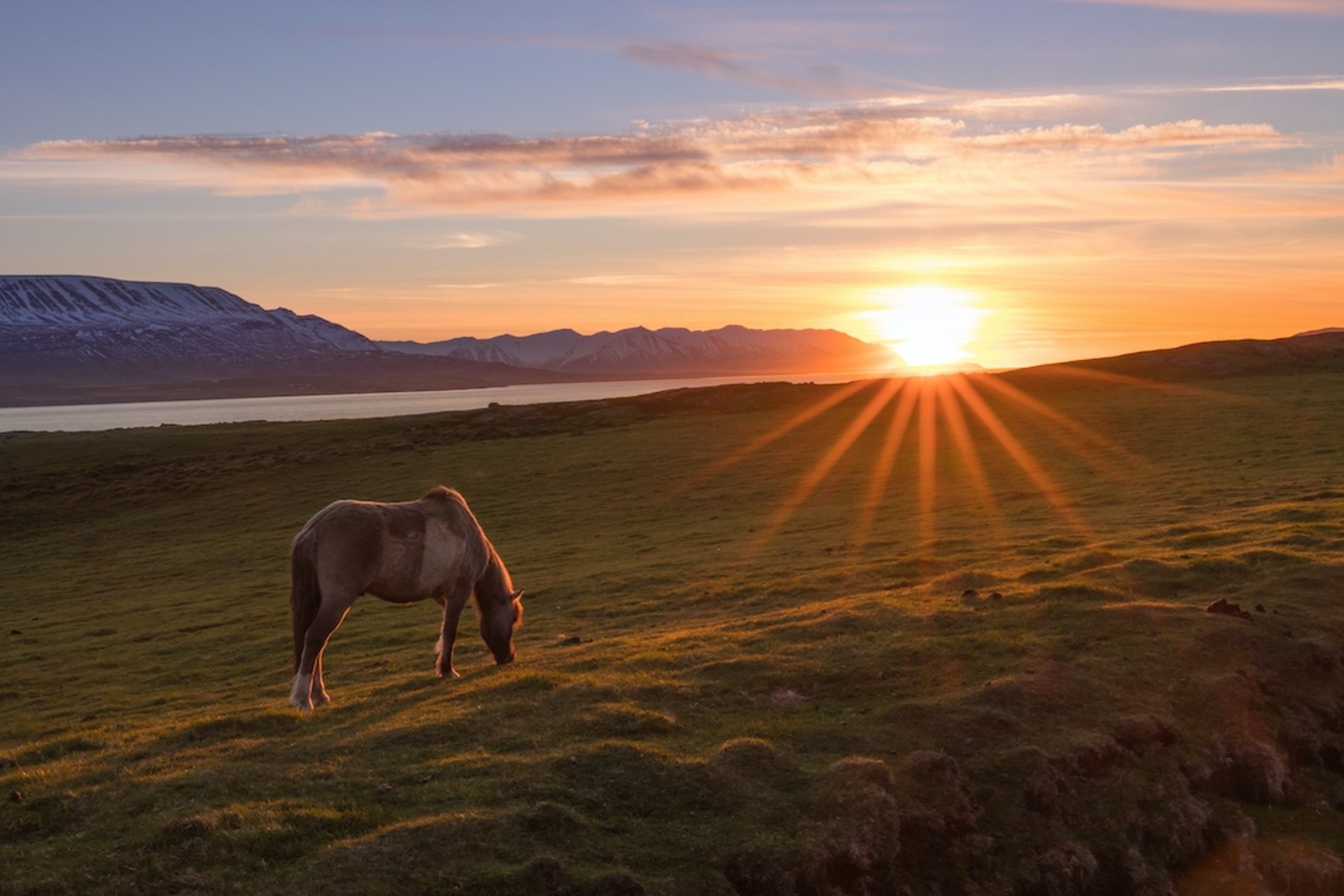 Climb inside a volcano
One of the most thrilling things to do on a cruise around Iceland is to climb inside the Thrihnukagigur volcano, deep into the volcano's mesmerising magma chamber – the only magma chamber in the world that you can descend into. Sound terrifying? Don't worry, the volcano has been lying dormant for 4,000 years.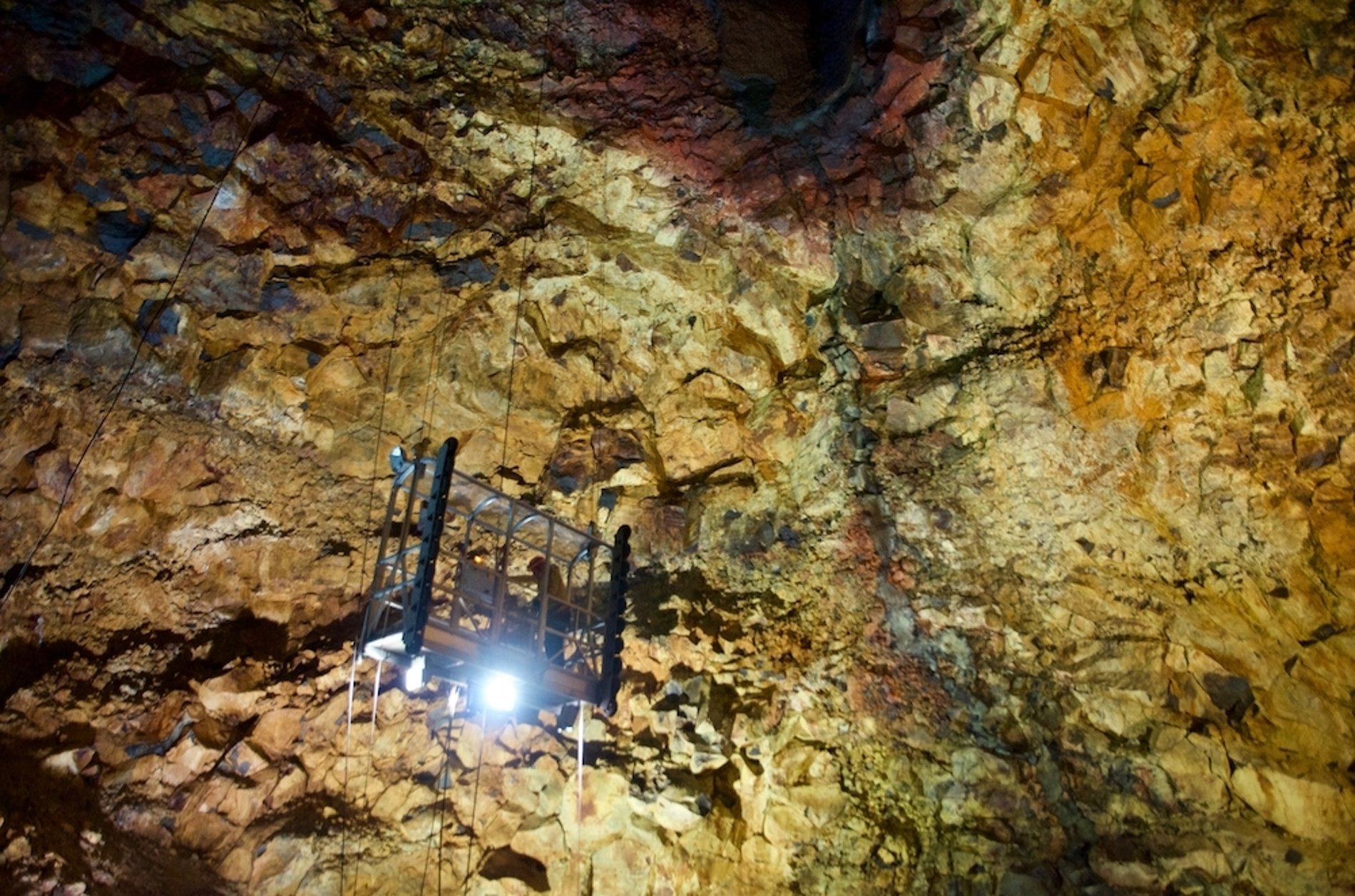 Visit a geothermal power plant
Iceland is a powerful and forceful land, so much so its natural resources power the country. You can pay a visit to the Hellisheiði Power Station and see the energy harnessed firsthand in the plant's visitor-friendly exhibition.
Iceland cruises: Frequently asked questions
Where are the best places to visit in Iceland?
Popular ports on a cruise around Iceland include Reykjavik, Akureyri, Isafjordur, Seydisfjordur, Grundarfjordur and Husavik, where you'll find lively cities filled with an abundance of cafes and fine dining, with a backdrop of natural beauty as glimmering snowy mountains rise into the distance. The Blue Lagoon is without a doubt one of the most bustling tourist hotspots, and all for good reason. At the Blue Lagoon you'll get to experience enchanting blue waters and geysers, relax in warm waters or enjoy a rejuvenating massage. The Golden Circle must also be explored, where you'll be sure to see magnificent waterfalls and bubbling geysers. Many itineraries will also include stops in Norway, Ireland, and Scotland.
What are the best things to do in Iceland?
With its enormous glaciers, intricate waterfalls and incredible volcanoes, Iceland offers visitors plenty to do. If you're travelling during the summer, you can expect to see the Midnight Sun or the Northern Lights in winter. The best things to do in Iceland include bathing in Iceland's hot springs and toasty geothermal pools, watching whales, dolphins and puffins in the wild and snorkelling between tectonic plates.
Can you cruise to Iceland from the UK?
Iceland is in the North Atlantic between the UK, Greenland and Norway so you can reach Iceland on cruises from the UK. Many Iceland cruises from the UK depart from Southampton, and there are several round-trip no-fly cruises from Southampton to Iceland each year, lasting between 12 and 30 nights. If you're looking to cruise to Iceland from the UK, cruise lines travelling to Iceland from Southampton include Celebrity Cruises, Cunard, P&O Cruises and Princess Cruises. Aside from Iceland cruises from Southampton, you may be able to find regional departures such as an Iceland cruise from Liverpool or other UK ports such as Dover.
Is a cruise a good way to see Iceland?
Iceland is no doubt one of the best places to take a cruise, as key sights and places are around the coastal area. While stopping at several of the country's ports, you're bound to experience an abundance of breathtaking nature along the way. The south, for example, is a land stretched with beaches of jet-black sand, and you can also see enormous glaciers such as Eyjafjallajokull and Vatnajokull, which are the largest in Europe. When passing the East Fjords, you will have a chance to take in some of the tallest mountains in the country. Enjoying the majestic scenery and sea life from the ocean calls for a unique and rewarding experience along the way. And of course, if you decide to cruise throughout the summer, these breathtaking views can be seen all throughout the night beneath the midnight sun.
How much is a cruise to Iceland?
With plenty of options for different styles of ships, cruise lines, and durations of the trip, Iceland cruises range in price from about £900 to £35,000. You may opt for a mainstream family-friendly cruise ship or an ultra-luxury cruise, and prices range according to your accommodations.
What to pack for cruise to Iceland?
Weather in Iceland is diverse, so you should prepare to expect the unexpected. Whether you're deciding what to wear on a cruise to Iceland in June, July, August, or September, it's best to be prepared for all eventualities. Below is a list of what to bring on a cruise to Iceland, regardless of the time of year you're travelling.
Fleece jacket
Rainproof/windproof jacket
Waterproof trousers
Comfortable and sturdy walking shoes
Gloves
Scarves
Hat
Swimwear
When is the best time to cruise to Iceland?
The best time to cruise to Iceland is during the months of June, July, August and September. The summer months have long been Iceland's most popular time to visit. In June begins extended days of summer daylight, and whale watching is in full effect. The clear nights of autumn begin in September when incredible sightings of the Northern Lights often occur.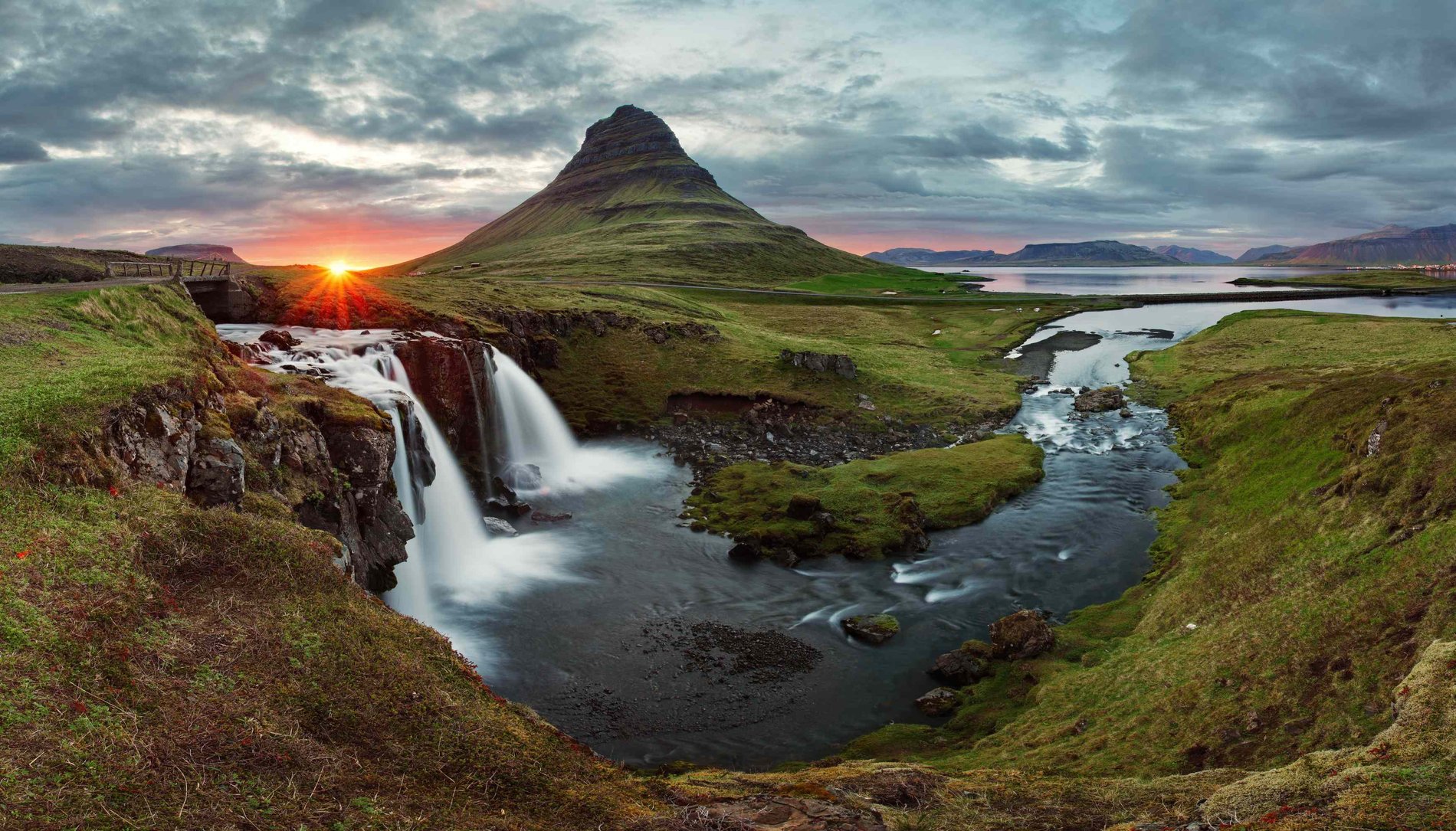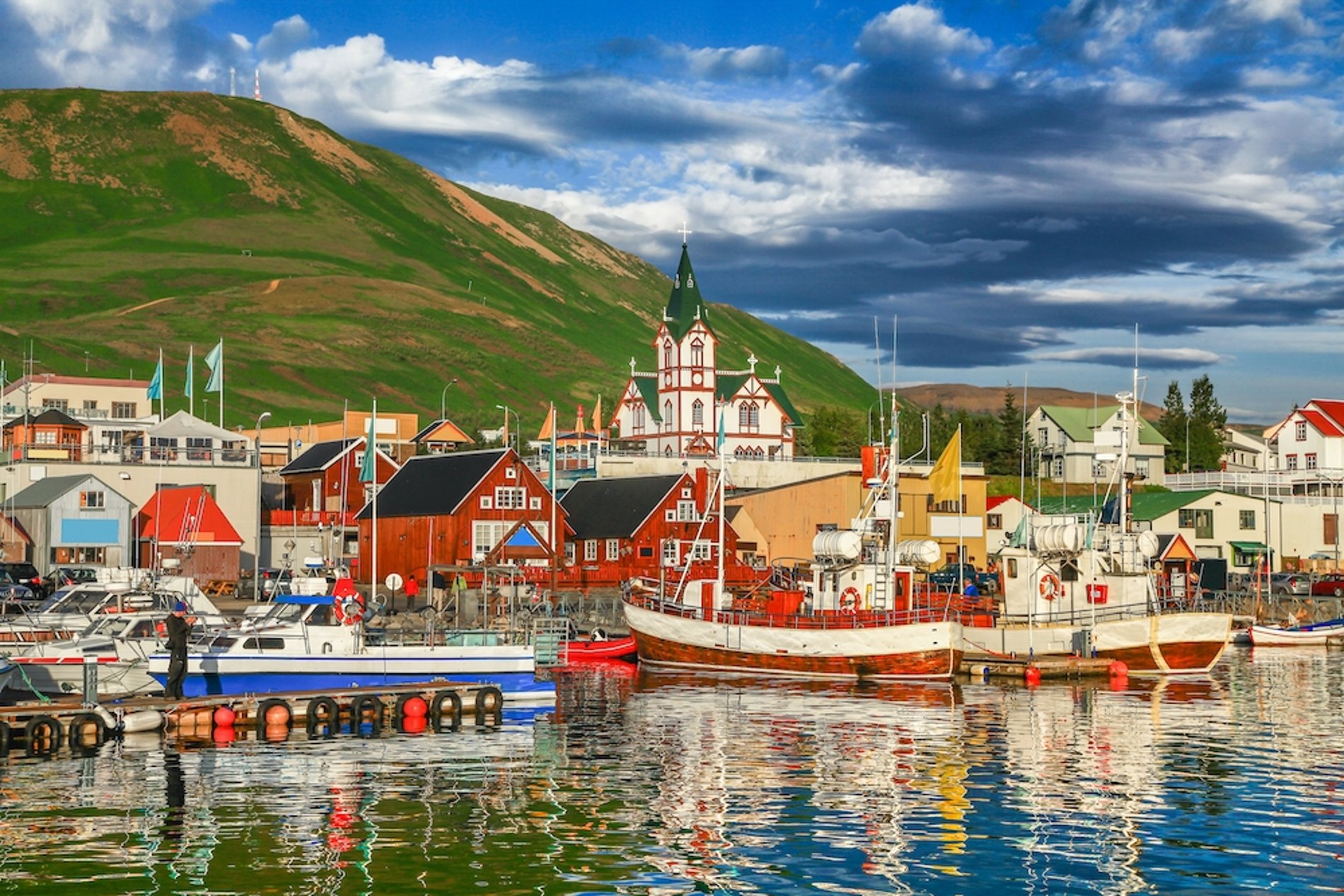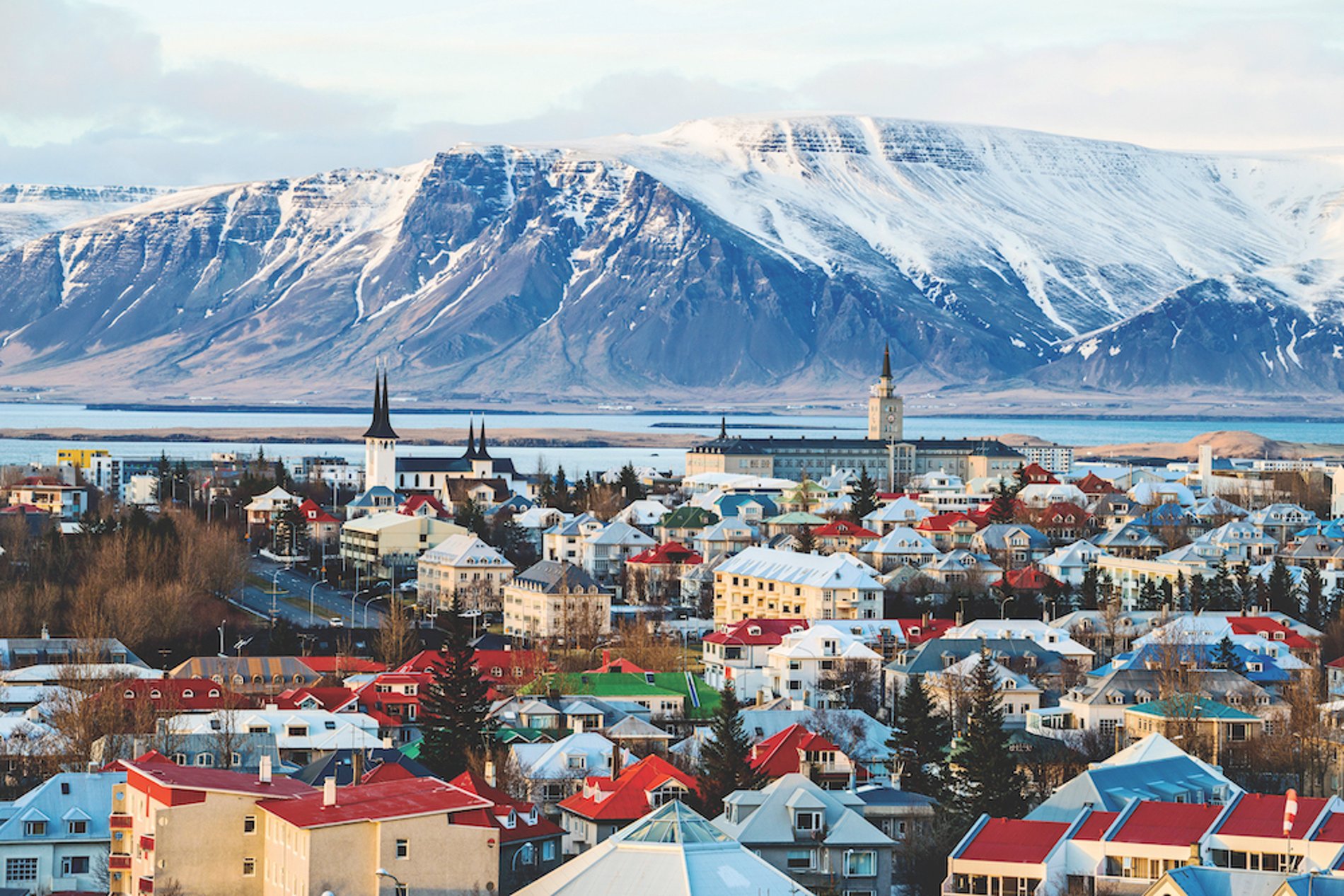 Colourful Reykjavik has world-class museums, galleries and exhibitions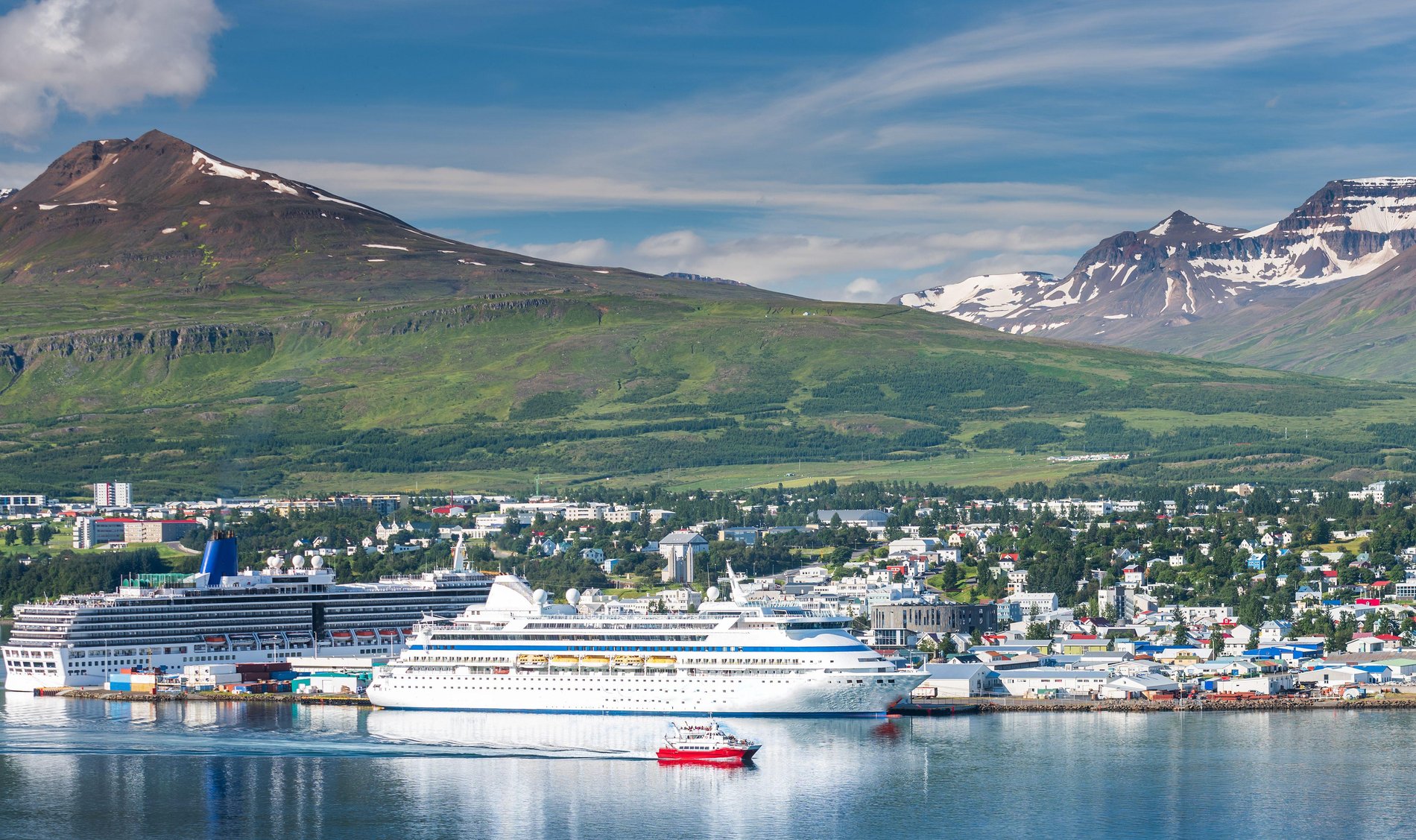 Wander around Akureyri, full of vibrant flowers and tree-lined mountains. Credit: Shutterstock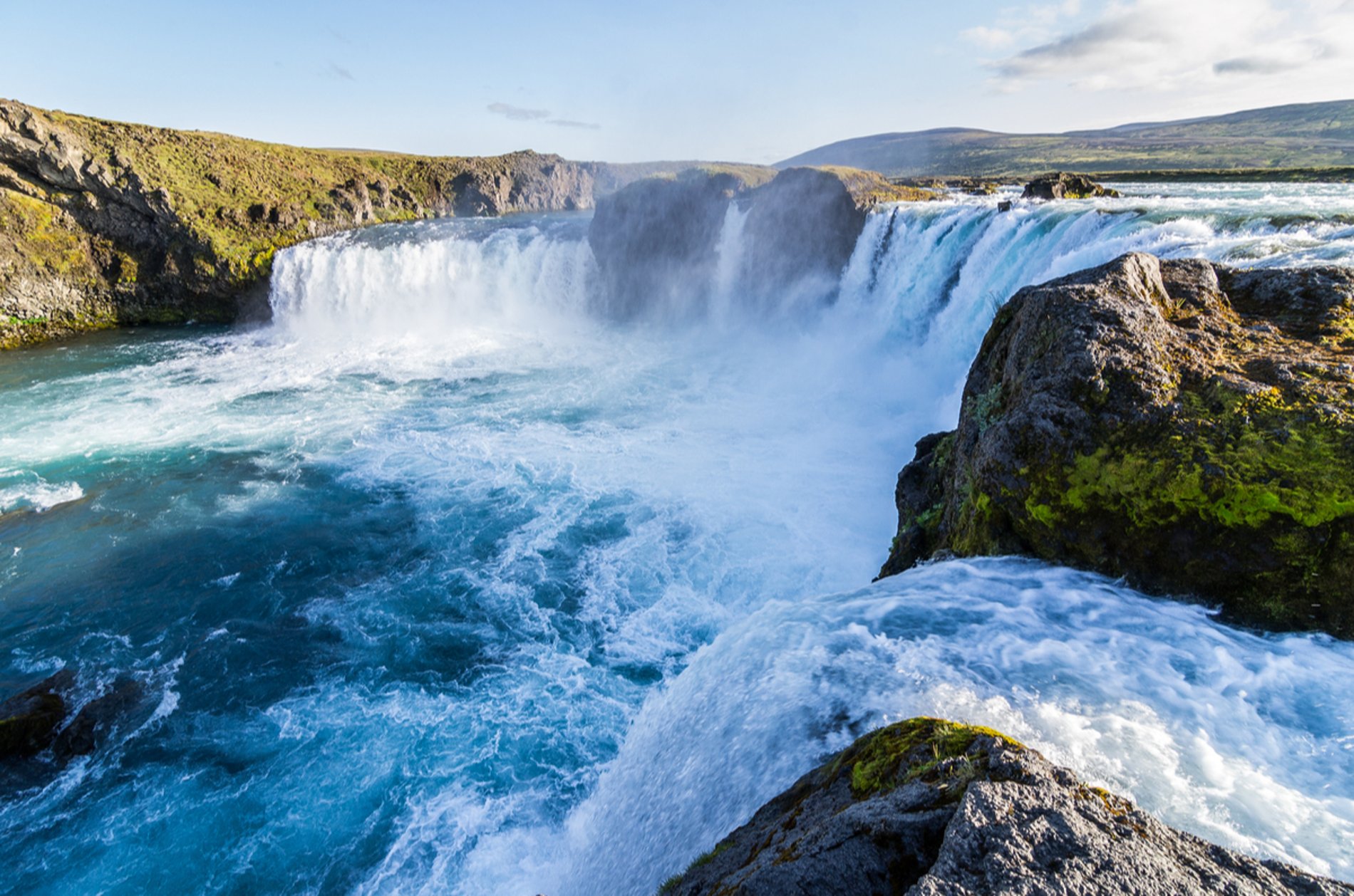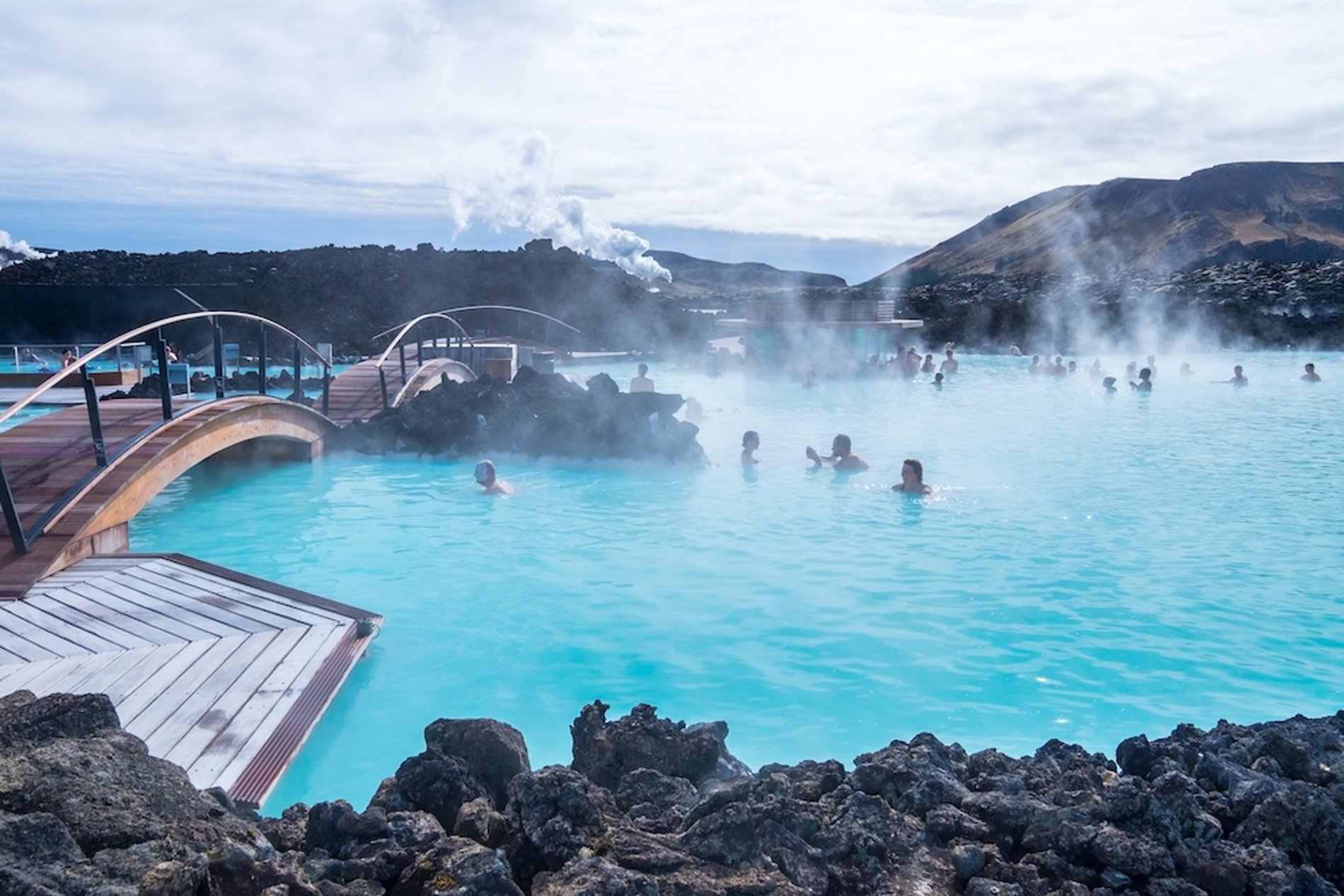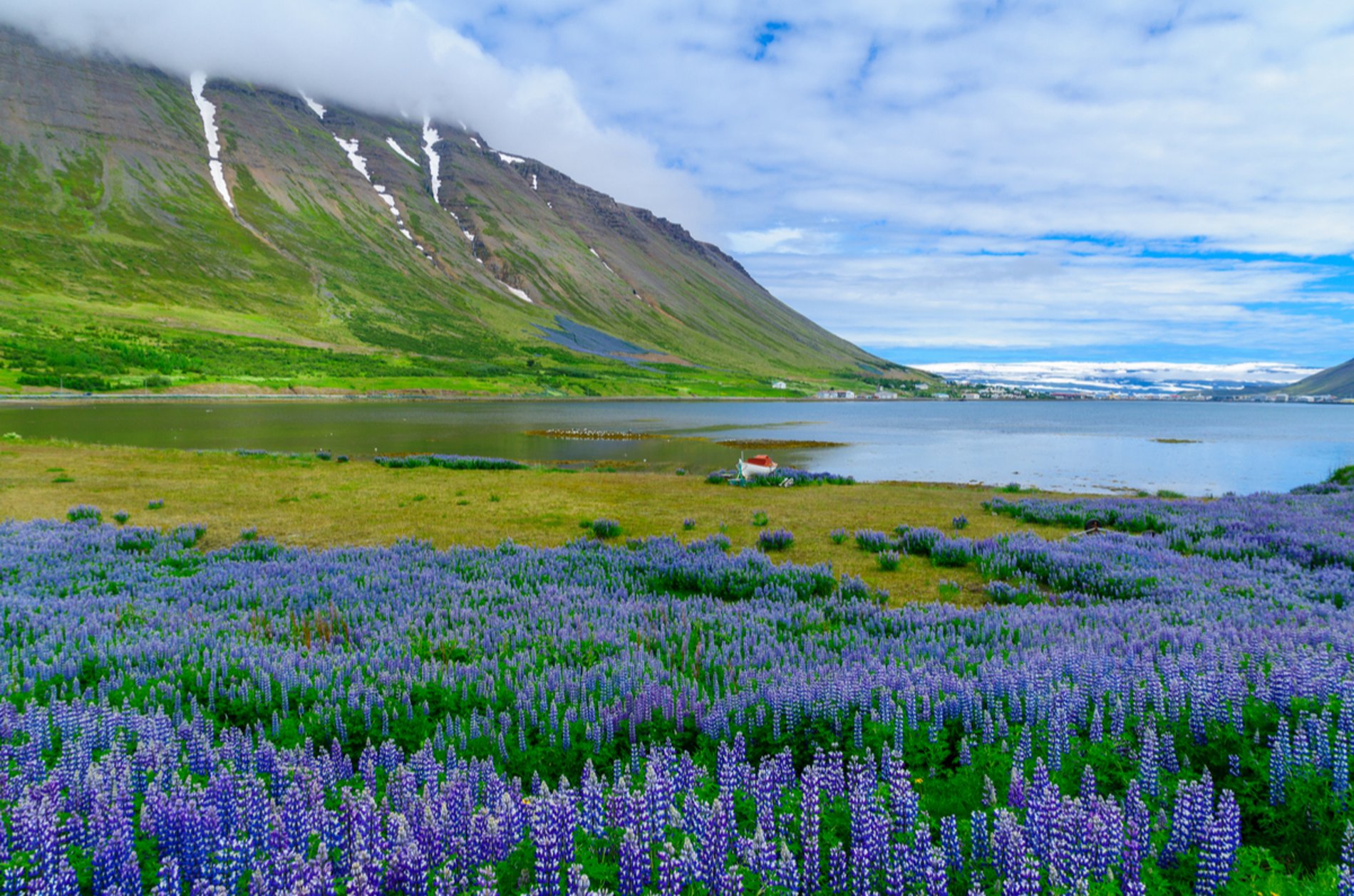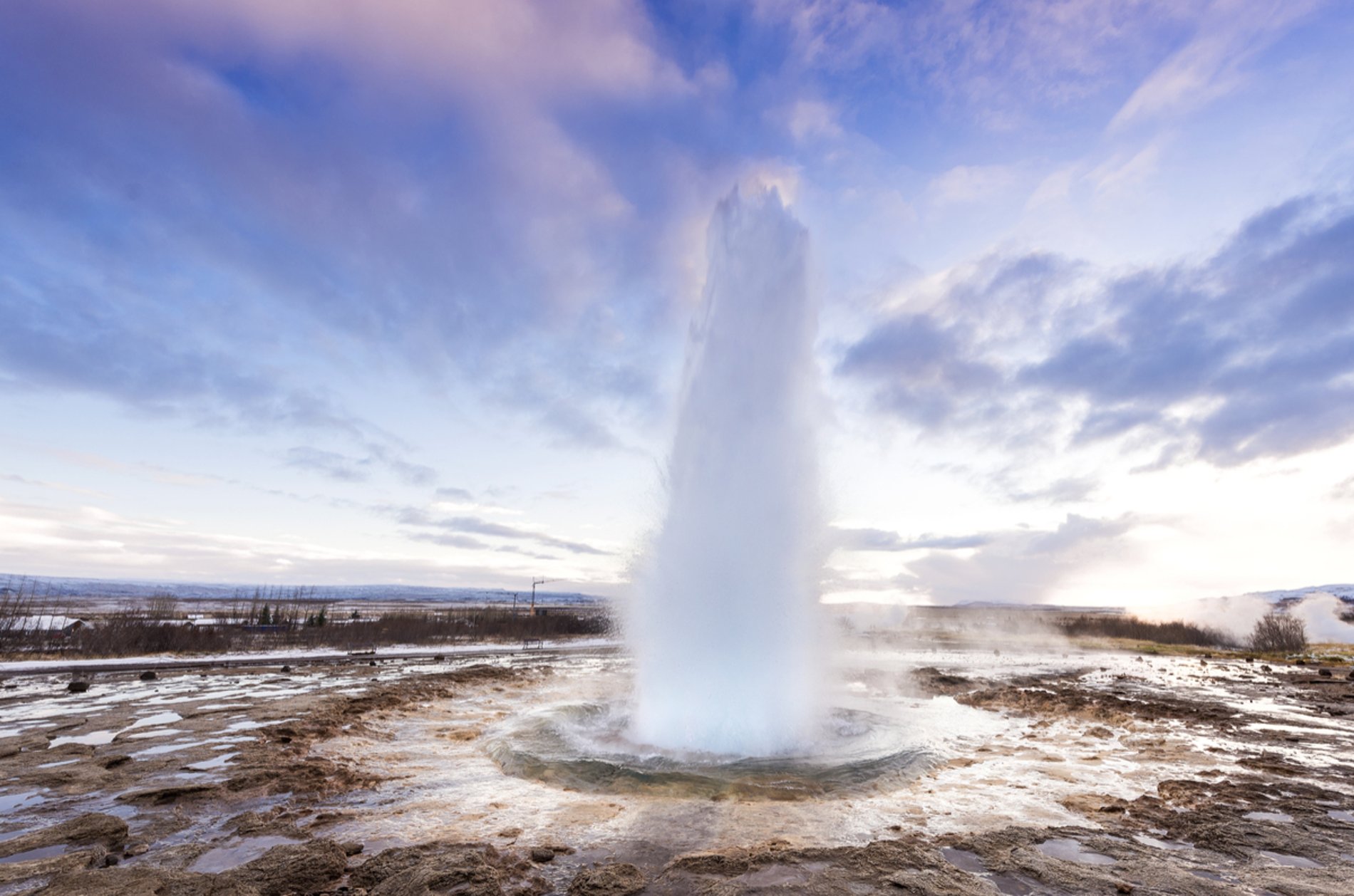 Eruption of Strokkur geyser in Iceland