Search for your ideal Cruise
Azamara, Azamara Pursuit, Western Mediterranean and Atlantic
By Karen on 08/05/2022
Azamara Pursuit March/April 2022 - what's changed since COVID and new owners Sycamore Partners

EMBARKATION - covid testing/check-in took about an hour. When we got on board we were clapped on by lines of staff, not sure if this was because it was the first cruise since COVID or if it is a new thing. Once we were on the ship we were promptly escorted to a short safety briefing in very small groups and then escorted to the elevator to go to our cabin where our cases had already arrived.

STATEROOM AFT PORT SIDE - Excellently presented by our attendant for our arrival, very clean and in good condition. The balcony table size is an improvement being narrower it's more appropriate for the balcony and has good height for eating. The shower curtain looked new and shower room was spotless. I noticed our stateroom attendant was working alone without an assistant and whilst he did an excellent job I don't know if this would be sustainable when the ship is full. The cabin was let down by the TV limitations, we could not see our bill, menus, no music selection and most of the channels were unstable most of the time. Also we had cabin noise/vibration whenever the engines were running, it was loud and more emphasised at night time it was also evident in the corridor. Definitely need a good night cap to fall asleep.

PUBLIC AREAS - All clean and in good order, especially the restrooms all nicely presented with cotton hand towels.

FOOD - The breakfast and lunch buffet provided a limited but adequate attractive selection. We were disappointed to see that the evening was scrapped and replaced by Al a carte, we see little point in this as the main dining room is Al a carte and this reduces guest choice. I guess it is a cost saving but suggest it will not be popular and may prove counterproductive if customers move to another brand. It may be good if they did some feature buffets some of the nights, maybe seafood or destination inspired which would be better than none.

DRINKS- It was good to be a able to browse and select from a paper menu rather than having to carry a mobile phone use apps and scan QR codes as is currently the case on many larger ships. We upgraded to the Ultimate drinks package and would love to have enjoyed it more but it was curtailed due to illness and being reliant on room service. Generally we like to enjoy Martinis and cocktails and therefor the ultimate package suits us and also we get a loyalty discount.

SERVICE - Staff throughout the ship provided excellent service as always. Due to illness we used room service extensively and found it to be mostly reliable. The orders were correct and the food was hot on arrival. The problem came if I tried to order a Martini at 17:25hrs when I was told room service could not offer alcohol outside of bar hours even though the Sprits bar was listed open 2pm to Close and the Living Room was listed Noon to Close and coupled with this my husband and I had the Ultimate drinks package so we got very little use out of it. The Room Service rules seemed inflexible and made no exception for isolation circumstances. Thankfully Maresh spoke with his manger and we were told to order drink's anytime which was good news but this message did not flow to all shifts/staff and it was challenging which we could have done without.

ENTERTAINMENT- Azamara singers and dancers were excellent with Devon being the anchor man and another lady singer. They had lots of colourful costume changes. We enjoyed listening to Lucky Charm in the Living Room a few times and Todd on the Keys in the Den. Still greatly miss the casino in the Sprits/Den. If Azamara still had the casino we would book more cruises with them as it would have everything we want but without it we book other companies too. Unfortunately due to illness we didn't get to see the cruise directors show, guest entertainers, and missed most of the singers and dancers shows so it was disappointing.

AzAMAZING - we have experienced many wonderful AzAmazing evenings off ship, they are now being done on ship, it was disappointing compared to previous but some people may prefer not getting on a coach and going to a venue. We were entertained by a group of Spanish dancers by the pool but unless you are sat in the front row you cannot see the dancers feet so couldn't really enjoy it. Whatever your cultural event, I would suggest arriving early because visibility may be limited. Hopefully the AMAZING evenings will return and this is only a temporary COVID measure rather than a long term cost saving.

EXCURSIONS - we had excursions booked throughout the cruise but we only got to do Seville and Whale watching in the rain on Gibraltar. They were well organised with decent transport unfortunately all the others had to be cancelled. Azamara offer a discount if you wish to book excursions for a future cruise whilst on board so we took advantage of that as we got 10% off and it was charged to the OBC of our future cruise.

LOYALTY EVENTS - We only noticed one loyalty event which was all loyalty levels combined into one, for Cheese and Wine. They did have cocktail hours for loyalty but this is more of a social gathering really. It isn't really a benefit when drinks are included and many upgrade their package to include cocktails. It would seem the lovely Cocktail parties with the wonderful canapés may be a thing of the past, hopefully not.

AZAMARA T&C's - Most cruise lines offer a pro rata refund or FCC for days you are ill if affected by COVID-19 on board. Ensure you know the Cruise lines policy before you book so that you are aware if you test positive for COVID-19 during your cruise whether you will or will not get a refund. Remember Azamara are now owned by Sycamore Partners and not Royal Caribbean so RC terms do not read across so if you think you are familiar with the T&Cs check them as they may have changed. We wore FFP2 masks continuously and frequently used the ships sanitiser as well as our own, but still we contracted it, it can happen to anyone so COVID T&Cs should and will form an important part of how we select who we cruise with.

OVERALL ENJOYMENT - Initially excellent and all going well with probably the best entertainment we have seen on any Azamara cruise and we only had a few days to measure it on. The enjoyment soon ended when my husband was put in an isolation cabin COVID positive, I was also confined to our cabin COVID negative so quite lonely and boring all day everyday, like UK lockdown days quite dragged us down.

I have based the review mainly on the days we could enjoy, as obviously there is no enjoyment when confined to your cabin.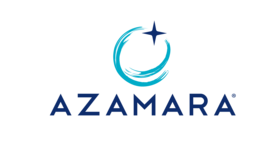 Read our Azamara guide
Browse reviews by cruise line