Springwatch presenter Michaela Strachan, 50, lives in South Africa with her partner Nick Chavallier and their 11-year-old son Ollie. The whole family loves to travel, and this summer Michaela will be cruising to Iceland with Saga. Interview: Lesley Bellew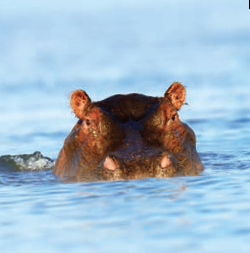 What is your first holiday memory?
I have vague recollections of going to Sandbanks, near Bournemouth, when I was very little, but my first real memory is of sitting on the roof of a Land Rover with my brother, watching crocs and hippos in the Masai Mara. That's how my love of Africa began, and it's something I will never forget.
Have you ever been on cruise ship?
Yes, my first voyage was on a Russian icebreaker in the Antarctic – which was an interesting introduction, to say the least. The scenery and the wildlife were amazing but the ship was pretty spartan and the crossing over Drake's Passage was incredibly rough. I've done a few other cruises, and I'm shortly o⁄ to Iceland for the Ice, Fire and Fjords itinerary aboard Saga Sapphire. I can't wait!
What do you want to see?
Whales – because I know Iceland is one of the best places to spot them. I visited many years ago for the Really Wild Show but it was only a brief stop and I've always wanted to go back. I would also love to plunge into those amazing hot thermal pools.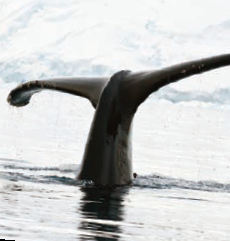 What is your favourite activity on board ship?
Although I'm an active person I'm also quite happy to sit on a lounger and read a book. My favourite author is Ben Elton, but it will be great to look round Sapphire's library to see what they've got. And I've been told that representatives from ORCA, the European whale and dolphin conservation charity, will be on deck observing marine life and supporting whale-spotting sessions, so I'll enjoy meeting them too.
How do you find travelling with children?
I've travelled a lot with Ollie since he was a baby and it's never been a problem. Now he's older it's even easier. He came with us on a P&O cruise to the Baltic a while ago. I was doing talks and Ollie absolutely loved the kids' club. We also went to the Caribbean with Ollie and my three step-kids when they were in their early 20s, and we had an amazing time.
What is your most memorable travel experience?
There are so many and they almost always involve animals. One was in China, seeing how the Animal Asia Foundation is working to bring an end to the barbaric practice of bear farming. I also support the Borneo Orangutan Survival Foundation which rescues andŽreleases orangutans back to the wild.
Are you a good traveller?
I must be, because I commute from Cape Town to the UK for Spring, Autumn and Winterwatch. For me it's just like getting on a bus. When people get all worked up about packing and going away I find it quite funny.
Where do go on holiday?
We go to places like British Colombia, in Canada, to see the grizzly bears and loads of other wildlife. We like to be active and take kayaking and Zodiac trips to see as much as possible. I'm always learning. People think I'm some sort of expert but I'm definitely not – I'm just an enthusiast!
Where did you spend your honeymoon?
Borneo. We stayed at Sipadan, which is the most amazing place for diving, and we trekked into the rainforest, explored caves and went on a river trip.
It was a fabulous experience.
What was your best holiday ever?
It's always the last one! We went to Kenya, back to the Masai Mara, and stayed in a camp called Kicheche. My most memorable day was taking a hot-air balloon ride and seeing the wildlife below. It was incredible.
Tell us your most amazing sea experience…
That was in Mozambique. I was heavily pregnant with Ollie and I went swimming with dolphins.
Where is your favourite beach?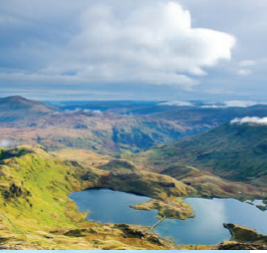 I moved to Hout Bay, Cape Town, in 2002, and Noordhoek beach is 10 minutes away. It has beautiful, golden sand and is usually fairly quiet because the sea is so cold. It will never be spoilt by hotels, bars and souvenir shops so it's a great place to escape to.
What is your favourite place in UK?
I love Snowdonia. I have only climbed Snowdon once but it's one of those things everyone should do. And I'm very fond of Minsmere in Suffolk, where we film Springwatch.