Hotel services engineer Scott is a familiar face aboard ITV's The Cruise…
When did you join Princess?
Three years ago. I was very excited but also very nervous. I'd come from the Navy, so going into a managerial role on a civilian vessel was quite daunting. My first ship was Sapphire Princess sailing around Asia, and that part of the world was all new to me too.
Did you always want to work at sea?
I wasn't sure what to do after I left school, but my older brother was in the RAF and that encouraged me to join the military. I went into the Royal Navy and served five years on HMS Sutherland. I have some amazing memories from that time, like being lowered from a helicopter into a French nuclear submarine while crossing the Atlantic. The Navy gave me a taste for travel, and since joining Princess I've been just about everywhere except Alaska and Australia.
What is your earliest holiday memory?
Visiting family in Tenerife when I was a kid –  I pushed my auntie into the pool!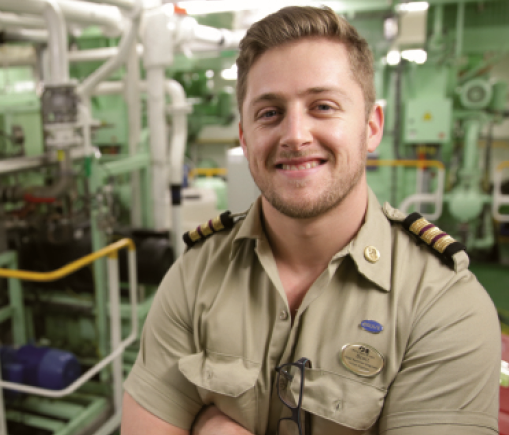 What is your favourite voyage?
It has to be the Caribbean, for the chilled vibe and the incredible beaches.
What was your best ever holiday?
Brazil last year. I went to a place called Sao Miguel Dos Milagres, which is off the usual tourist beat – that was amazing.
What do you love about cruising?
Never knowing what the day is going to bring. My job is all about reacting to situations as they happen.
What is your favourite place on board?
The Retreat pool. It is an adult-only area, and first thing in the morning you can go for a swim and have it to yourself.
What is your favourite place in Britain?
London – I love city life.
Where is next on your bucket list?
French Polynesia. I've seen pictures and heard amazing things about it.
What would you never leave home without?
My iPod. I can't function without music.
What is the most dramatic thing that has happened to you on a cruise?
Probably a burst pipe in the theatre. It looked spectacular but we fixed it without the passengers knowing a thing.
Where is your favourite beach?
Of the places I've been, it has to be Grand Turk in the Caribbean. There's a bar right there on the beach called Jack Shack – perfect for a cocktail or two.
Where you nervous when filming first started for The Cruise?
I didn't have a chance to be nervous. I arrived on board and there was the film crew…
What is your best memory from The Cruise?
Taking an afternoon off with Timothy in Santorini. That was such a fun day.
What do miss most when you are at sea?
My sofa!
What makes cruising such a brilliant family holiday?
There is something for everyone. I love seeing families coming together on board and all having an amazing time – kids playing in the pool, parents chilling out and granddad asleep in the shade.
Do you get recognised a lot now?
Sometimes, but I'm not being mobbed in the supermarket just yet!
Where is your next holiday to?
My girlfriend Juliana is from Brazil so we're heading back there. Hopefully, we'll visit Rio this time. I can't wait.