Search for your ideal Cruise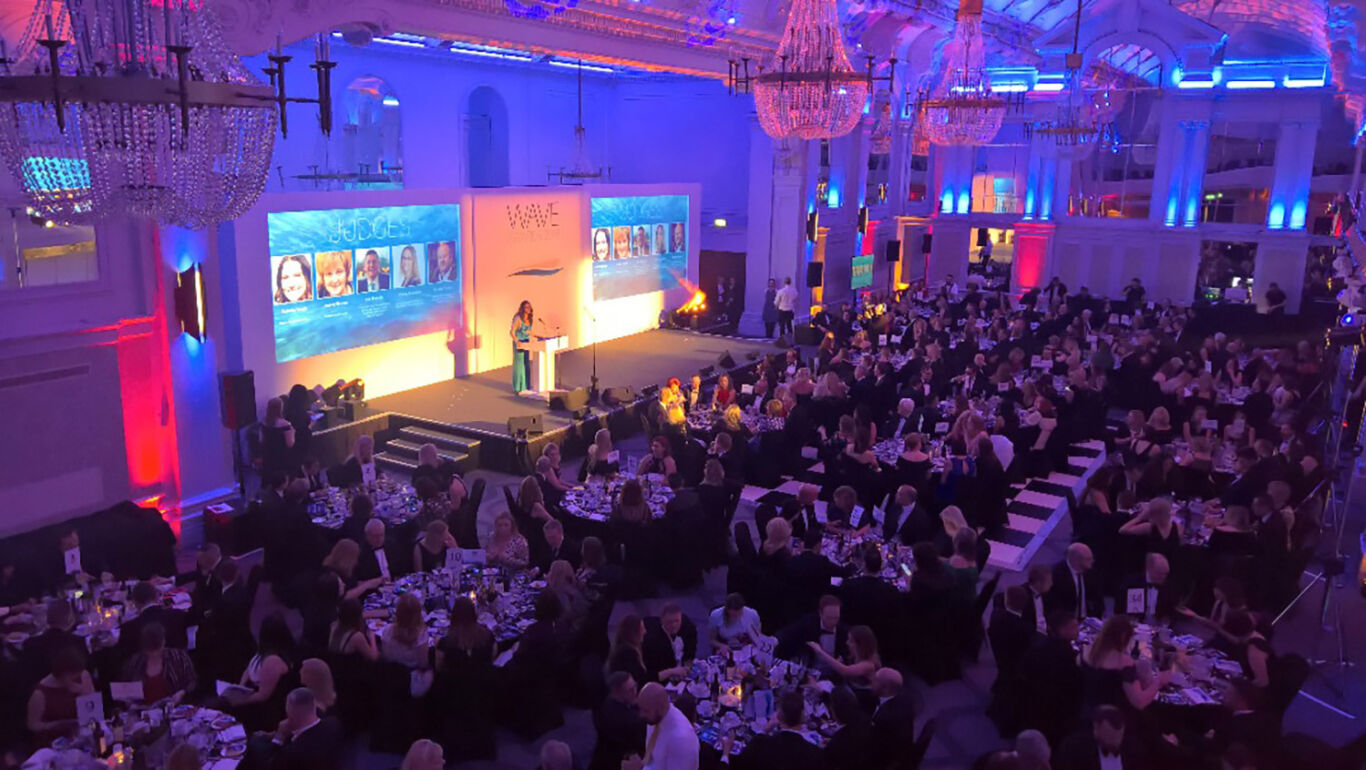 All The Winners From The Wave Awards 2019
The winners of the Wave Awards 2019 have been revealed
[vc_row][vc_column][vc_column_text]
The winners of the Wave Awards 2019 have been revealed
Your votes have been tallied, the gongs have been dished out and we're thrilled to announce the cruise lines, companies and people you voted to win a Passenger Favourite award at the Wave Awards 2019.
A record number of votes cast saw some tight calls across the seven different categories – with just a few hundred votes separating some – and the winners on the night were thrilled with your vote of confidence.
Royal Caribbean scooped the Favourite Ocean Cruise Line award – no doubt due to the splendid success of Symphony of the Seas – and Viking River Cruises won Favourite River Cruise Line for the second year on the spin.
Finalists attended a glittering ceremony and gala dinner at London's De Vere Grand Connaught Rooms, where they were treated to first-class entertainment from Marella Cruises and comedian Hal Cruttenden.
Other highlights of the night included the John Honeywell Award, named after the former editor-at-large of World of Cruising and a true industry legend, which was presented to Mike Rodwell and Mike Evans of Fred Olsen Cruise Lines for their countless years of service to the cruise industry.
A huge thank you to everybody who cast a vote in this year's awards, it has been our most successful one yet and we couldn't have done it without you.
The full list of winners are listed below – did your favourite win?[/vc_column_text][/vc_column][/vc_row][vc_row][vc_column css=".vc_custom_1544093810407{background-color: #edcbdb !important;}"][vc_column_text]
PUBLIC VOTE CATEGORIES
[/vc_column_text][/vc_column][/vc_row][vc_row css=".vc_custom_1544095629293{padding-top: 32px !important;}"][vc_column width="1/2″][vc_column_text]
Favourite Travel Cruise Blogger
Ben & David – Cruise With Ben & David
Favourite Cruise Travel Agent
Favourite Cruise Destination
Favourite Luxury/Premium Cruise Line
[/vc_column_text][/vc_column][vc_column width="1/2″][vc_column_text]Favourite Specialist Cruise Line
Silversea Cruises
Highly Commended – Cruise & Maritime Voyages
Favourite River Cruise Line
Favourite Ocean Cruise Line
Royal Caribbean Cruise Lines
Highly Commended – P&O Cruises
[/vc_column_text][/vc_column][/vc_row][vc_row][vc_column css=".vc_custom_1544093810407{background-color: #edcbdb !important;}"][vc_column_text]
OCEAN CATEGORIES
[/vc_column_text][/vc_column][/vc_row][vc_row css=".vc_custom_1544095912368{padding-top: 32px !important;}"][vc_column width="1/2″][vc_column_text]
Best Ocean Cruise Line
Royal Caribbean Cruise Lines
Highly Commended – MSC Cruises
Best River Cruise Line
Best Luxury Ocean Cruise Line
Seabourn
Highly Commended – Crystal Cruises
Best Luxury River Cruise Line
Uniworld Boutique River Cruise Collection
Best Premium Cruise Line
Best Expedition Cruise Line
[/vc_column_text][/vc_column][vc_column width="1/2″][vc_column_text]
Best for Solo Travellers (ocean or river)
Best Specialist Cruise Line
Best New Ship Launch
Royal Caribbean Cruise Line– Symphony of the Seas
Best Value-for-money Cruise Line (ocean or river)
Saga Cruises
Highly Commended – Cruise & Maritime Voyages
Best Family Cruise Line
Royal Caribbean Cruise Lines
Grand Prix Award
Royal Caribbean Cruise Lines
[/vc_column_text][/vc_column][/vc_row][vc_row][vc_column css=".vc_custom_1544093810407{background-color: #edcbdb !important;}"][vc_column_text]
AGENT CATEGORIES
[/vc_column_text][/vc_column][/vc_row][vc_row css=".vc_custom_1544095629293{padding-top: 32px !important;}"][vc_column width="1/2″][vc_column_text]
Best Retail Agent
Best Non-Retail Agent
Iglu Cruise
Highly Commended – Cruise Nation
[/vc_column_text][/vc_column][vc_column width="1/2″][vc_column_text]
Best Online Agent
WTH UK
Highly Commended – Cruise Nation
Best Agent Consortia or Homeworking Agency
Advantage Travel Partnership
[/vc_column_text][/vc_column][/vc_row][vc_row][vc_column css=".vc_custom_1544093810407{background-color: #edcbdb !important;}"][vc_column_text]
INDUSTRY CATEGORIES
[/vc_column_text][/vc_column][/vc_row][vc_row css=".vc_custom_1544095927553{padding-top: 32px !important;}"][vc_column width="1/2″][vc_column_text]
Best Advertising, PR or Marketing Campaign
ROL Cruise – Cruise Miles Loyalty Programme
Best Escorted & Specialist Tour Operator
Intrepid Travel
Highly Commended – G Adventures
Best Transfer Service
[/vc_column_text][/vc_column][vc_column width="1/2″][vc_column_text]
Best Digital or Web-based Platform or Service
Best Environmental Initiative
Best Use of Technology
[/vc_column_text][/vc_column][/vc_row][vc_row][vc_column css=".vc_custom_1544093810407{background-color: #edcbdb !important;}"][vc_column_text]
ONBOARD CATEGORIES
[/vc_column_text][/vc_column][/vc_row][vc_row css=".vc_custom_1544095817216{padding-top: 32px !important;}"][vc_column width="1/2″][vc_column_text]Best for Accommodation
Regent Seven Seas Cruises
Best for Cuisine
Oceania Cruises
Highly Commended – Crystal Cruises
Best for Entertainment
MSC Cruises
Highly Commended – Marella Cruises
[/vc_column_text][/vc_column][vc_column width="1/2″][vc_column_text]Best for Enrichment
Best for Wellbeing/Spas
Marella Cruises
Highly Commended – Regent Seven Seas Cruises
[/vc_column_text][/vc_column][/vc_row][vc_row][vc_column css=".vc_custom_1544093810407{background-color: #edcbdb !important;}"][vc_column_text]
PORTS & DESTINATIONS CATEGORIES
[/vc_column_text][/vc_column][/vc_row][vc_row][vc_column css=".vc_custom_1544093997990{background-color: #ffffff !important;}"][vc_column_text]
Best Destination (Port or Country)
Greece – Greek National Tourism Organisation
Highly Commended – Jamaica – Cruise Jamaica
Best Port
Port of Seattle
Highly Commended – ABP Southampton
Best Excursion
Regent Seven Seas Cruises – Wellness Shore Excursions
Highly Commended – Intercruises Shoreside & Port Services – VIP tour of Kennedy Space Center
[/vc_column_text][/vc_column][/vc_row][vc_row][vc_column width="1/3″][vc_column_text][/vc_column_text][/vc_column][vc_column width="1/3″][/vc_column][/vc_row]