Search for your ideal Cruise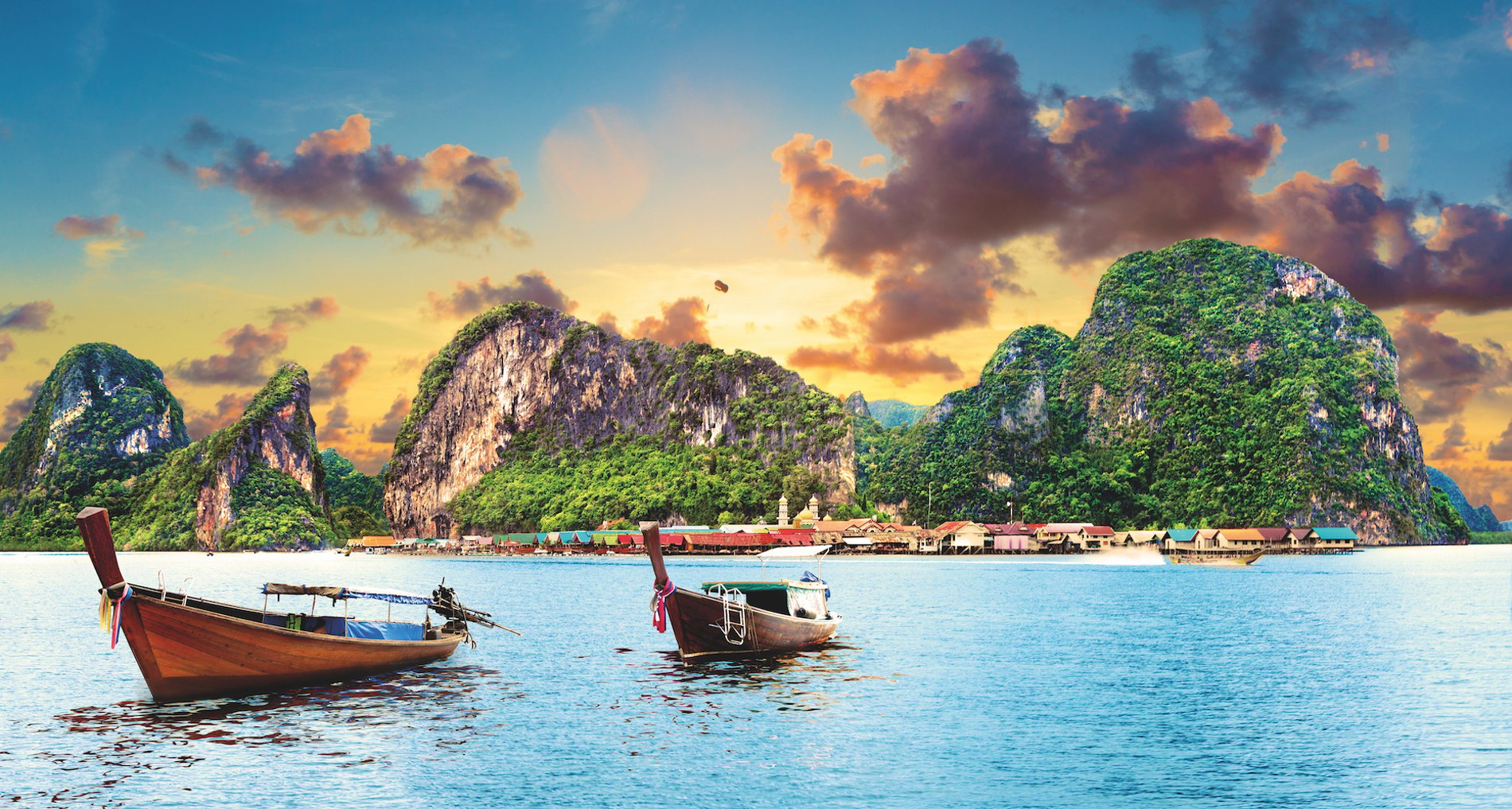 Cruise to Japan, China and Far East Asia: The Great Eastern Escape
Japan, China and southeast Asia are lands of ancient culture, futuristic cities and sensational cuisine – and you can discover them by cruise
Hold on to your hats! A Far East cruise transports your mind, body and soul to a land unlike any you've known before, whether it's hi-tech cities such as Tokyo and Hong Kong, precious time-warp villages, or tropical paradises far off the usual tourist track.
Sail into one of the great ports by ocean ship, or navigate the mighty Mekong River and Philippines, witness the pageant of local life as you thread your way through China, Laos, Thailand, Cambodia and Vietnam.
The Lower Mekong route, usually from Cambodia to the Vietnam delta, is colourful and busy with floating markets and fishing hamlets, while the Upper Mekong's northern reaches in Laos, Thailand and China are spectacularly scenic and packed with adventure.
However you choose to travel, you'll discover unique cultures and sights, with some great excursions offering you the chance to meet the locals and make the most of your Far East great escape.
Japan
The Land of the Rising Sun is one of the fastest growing cruise regions, with a raft of new itineraries that explore the 'real Japan' and its unique traditions. Expect to see graceful geishas, stately sumo rituals, and tea ceremonies whose elaborate formality still holds a place in Japanese life.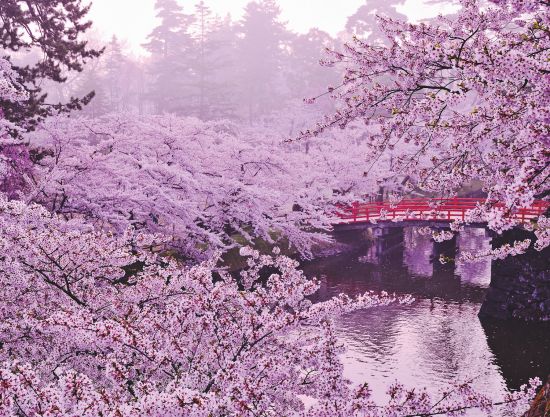 Futuristic cities Tokyo and Kyoto add to the allure of this fascinating country, with its landscape of mountains, lakes and valleys, dramatic volcanic peaks in the north, and white beaches and aquamarine seas in the Okinawa archipelago.
On springtime sailings you can join the Japanese to admire the pink cherry blossom, a practice known as hanami, though autumn colour is also magical and you'll find the country's gardens and parks less crowded.
Kyushu, the southernmost of Japan's four main islands, is a hotspot for spring flowers, whether at Lake Ikeda, in a volcanic crater more than two miles in diameter, or at Takatoge Tsutsujigaoka, a park that features more than 10,0000 azalea plants.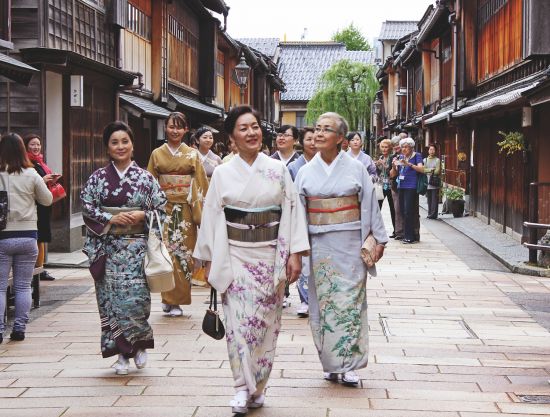 A traditional Ryukyu village is beautifully preserved on Taketomi Island, while you'll be loaned a hard-hat to explore the enormous Ryugado Cave in Kochi.
Get on Board
Princess 9-night 'Kyushu Spring Flowers' cruise, round trip from Tokyo via Miyazaki, Hakata, Busan (South Korea), Sasebo, Kagoshima and Beppu, departing 15 March 2020, from £1,349, princess.com
Regent 12-night 'Journey to Japan' cruise from Hong Kong to Tokyo via Taipei (Taiwan), Ishigaki (Sakashima Islands), Okinawa, Kagoshima, Miyazaki, Osaka and Shimizu, departing 1 March 2020, from £7,539, rssc.com
Hong Kong
It may be one of the most densely populated cities on the planet, but take a deep breath and plunge in – you won't be disappointed.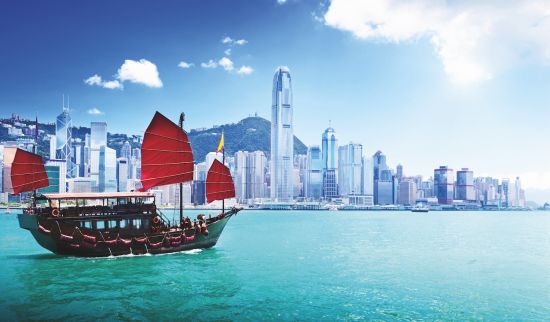 To help you get your bearings, the central business district – helpfully known as Central – is on the narrow strip of land between Victoria Harbour and Victoria Peak on Hong Kong Island. Across the harbour to the north is Kowloon, the tip of a peninsula attached to the Chinese mainland. If you're taking the cruise-and-stay option, Central offers easy access to attractions and glitzy shopping emporiums, while Kowloon is home to many of the best restaurants.
Getting around Hong Kong is simple: taxis are cheap, you can take the Star Ferry across the harbour or use the MTR underground, which is easy to navigate thanks to English signage.
Don't miss the funicular tram to the 554-metre Victoria Peak for spectacular views, and take an evening stroll along Tsim Sha Tsui's East Promenade, where at 8pm you'll witness the incredible 'Symphony of Lights' as lasers bring the skyscrapers to life. And if you're hungry, Temple Street Night Market offers wonderful street food.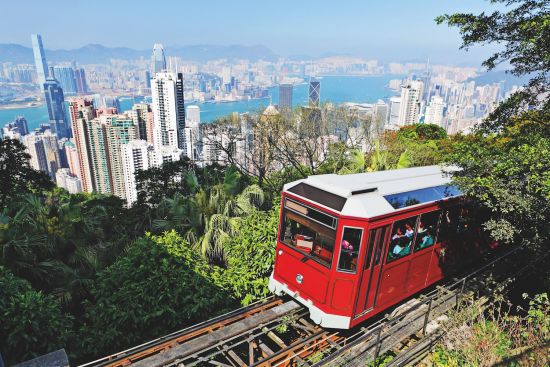 Try to find time to travel out of the city, too. A short tram ride into Western district will show you a more traditionally Chinese side of Hong Kong, while a visit to Lantau Island gives you access to pristine beaches, fishing villages, lush valleys and the Po Lin Monastery with its giant bronze Buddha.
Get on Board
Cunard 11-night cruise from Hong Kong to Tokyo via Manila, Taiwan, Ishigaki and Hiroshima, departing 3 April 2021, from £1,389, cunard.com
Silversea 14-night cruise from Tokyo to Hong Kong via Osaka, Beijing and Shanghai, departing 21 October 2019, from £7,700, silversea.com
Cambodia
See it while you can. In Cambodia today, you might find yourself meeting village families as they gather to do chores beneath their simple, stilted homes, while just a short ox-cart ride away the paddy fields are pegged out for development as huge textile factories move in.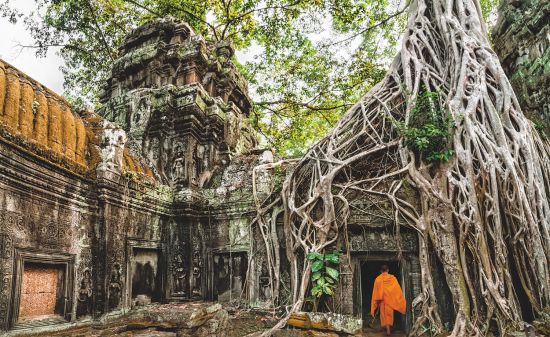 Many cruise ships call at Sihanoukville, Cambodia's premier coastal resort, where beautiful sandy beaches overlook laid-back islands that are yet to be developed by tourism.
By contrast, the capital, Phnom Penh, offers chilling history lessons at the Tuol Sleng Genocide Museum and the Choeung Ek Killing Fields, both memorials to the dark days of dictator Pol Pot, whose Khmer Rouge regime killed hundreds of thousands of its own people during the 1970s.
There are more cheering sights in this bustling city, among them the dazzling Royal Palace and the soaring Silver Pagoda. And you can't visit Cambodia without seeing the astonishing temple complex at
Angkor. Built in the 12th century, its great stone beehive towers were unknown to Westerners until Victorian times. Even today, parts of the site are almost hidden by the encroaching jungle.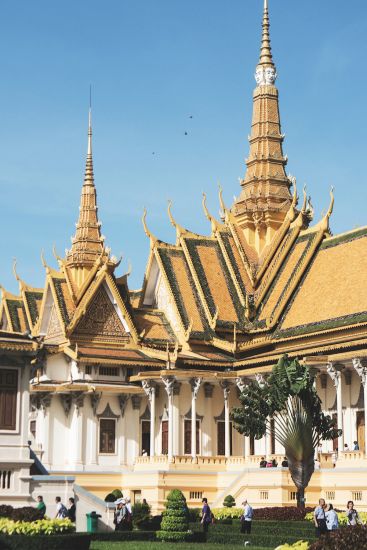 The complex is huge, so consider hiring a bike or tuk-tuk to get around, and setting aside at least two days to explore before sailing on to discover the floating villages of Tonle Sap.
Get on Board
AmaWaterways 7-night Mekong River cruise from Ho Chi Minh City to Siem Reap via Phnom Penh, departing 2 September 2019, from £1,878, amawaterways.co.uk
Lotus 7-night Mekong River cruise from Kampong Cham to My Tho via Angkor Ban and Phnom Penh, departing 13 October 2019, from £2,068, lotuscruises.com
Myanmar
Under hardline military rule from 1962, Burma – as it then was – spent decades isolated from the rest of the world.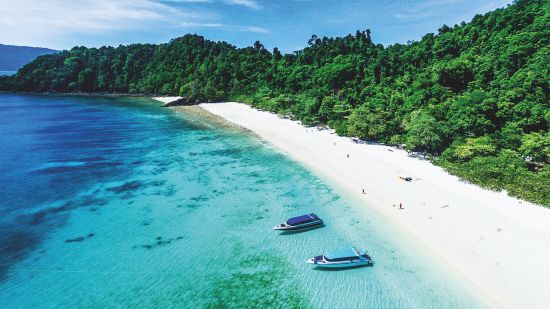 Tourism began as a trickle in the 1990s but then grew strongly, with Western travellers eager to discover this former British colony so vividly evoked by Kipling's poem Mandalay and George Orwell's memoir Burmese Days. Then demand crashed in 2017 with news of the million Rohingya refugees fleeing to Bangladesh.
It is a personal choice whether to travel to Myanmar today, as the country remains open to tourists. There are sailings on the Ayeyarwady River from the former capital, Yangon, and from Mandalay to the ancient city of Bagan, where ships glide past temples, pagodas and homesteads on the river banks.
Consider flying south from Yangon to Kawthaung to explore Myanmar's Mergui Archipelago in the Andaman Sea, one of the last tropical paradises on earth. Only a handful of the 800 islands are inhabited, and every day MV Andaman Explorer drops anchor so guests can jump aboard tenders and discover empty islets with bays lapped by the warm, clear water.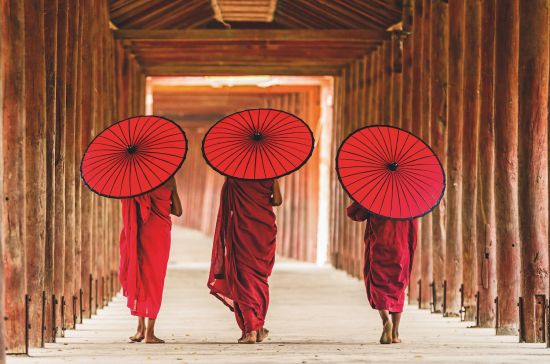 This is sailing for those who love to go off-grid. There is no phone or wi-fi connection for seven days, you'll see no other people, no houses, no shops, no roads – just jungle islands clothed with tall trees, and mangroves fringed by hundreds of stunning empty white sand beaches. Sheer bliss.
Get on Board
Paukan 7-night 'Burmese Days' cruise, round-trip from Mandalay via Shwegu, Katha and Mingun, departing 2 September 2019, from £2,407, paukan.com
Pandaw 7-night 'Mergui Archipelago' cruise aboard Andaman Explorer, round trip from Kawthaung, departing 13 October 2019, from £2,890, pandaw.com
Thailand
With a 2,000-mile coastline, it's always best to head for the beach when travelling in Thailand. Dreamy landscapes and year- round warm weather add to the allure, and along the Andaman coast there's an archipelago of rocky and jungle-clad islands to explore, including Phuket, known as the 'Pearl of Thailand'.
It's tempting just to laze on the white sands of Patong Beach, but hop aboard a longtail boat and you can explore the sheer cliffs and islands of Phang Nga Bay, familiar from films including The Man With The Golden Gun and The Beach.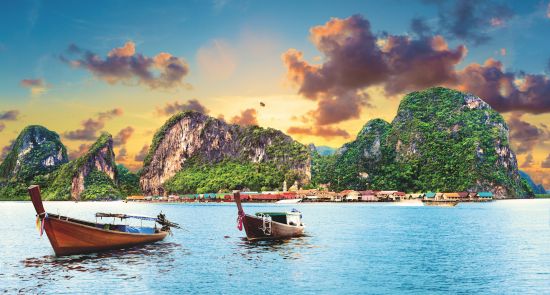 Laem Chabang is a great spot for watersports, and there are bargains to be had in the busy markets. Larger ships dock here for Bangkok, a two-hour coach ride away. Smaller vessels tie up at Klong Toey, on the outskirts of the city.
Bangkok is intense, hot and humid, but memorable, too. Here, temples, skyscrapers and busy bars jostle for position alongside giant shopping malls. Follow the locals to find the best street food stalls, and enjoy haggling with the traders for designer handbags and freshwater pearls.
Get on Board
Royal Caribbean 4-night 'Phuket Getaway' cruise, round-trip from Singapore via Phuket, departing 26 April 2020, from £549, royalcaribbean.co.uk
Seabourn 14-night 'Vietnam & Thailand' cruise from Hong Kong to Singapore via Halong Bay, Ho Chi Minh City, Ko Kood (Thailand) and Laem Chabang (for Bangkok), departing 4 January 2020, from £4,498, seabourn.com
Laos
Venture as far as the Upper Mekong, where the river is narrower and faster, flanked by mountains and jungle, and you'll enter Laos, a peaceful world that few tourists ever see.
Here you'll discover storybook waterfalls and villages untouched by time. There is little river traffic, and going ashore can mean climbing a sandbank to reach a remote settlement and meet the locals. Then, in the atmospheric town of Luang Prabang, you can join the morning almsgiving to monks, or visit the former Royal Palace before cruising on to the legendary Pak Ou caves.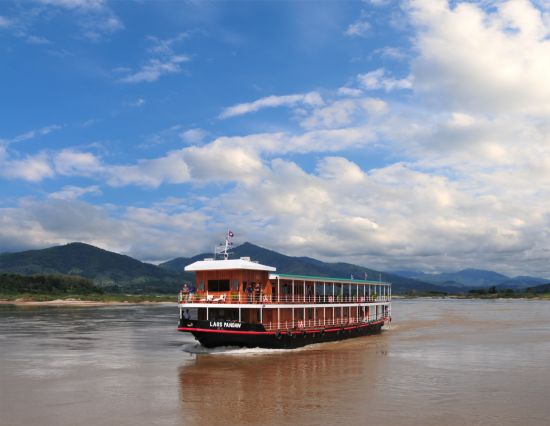 Laos was once a French colony, and Gallic culture has taken root. In the former capital, Vientiane, Buddhist temples stand on elegant boulevards, and in Ban Xang Hay you can try the local rice wine before joining the locals for a game of pétanque.
If you like to take photographs, Kuang Si waterfalls and the sunset from Mount Phousi should also be on your must-see list.
Get on Board
Scenic 23-night 'Indochina Explorer and Luxury Mekong' cruise-and-stay itinerary from Hanoi to Ho Chi Minh City, departing 19 March 2020, from £8,890, scenic.co.uk
Pandaw 10-night 'The Laos Mekong' cruise from Vientiane to Chiang Saen, departing 20 November 2019, from £3,978, pandaw.com
Singapore
Once a British trading post, the Garden City is now one of the world's wealthiest and most spectacular cruise ports, with a sparkling sci-fi skyline and famously spotless streets (you can go to jail here for littering, or even just eating chewing gum).
You'll marvel at the beauty of the Gardens by the Bay and gasp at the stunning hi-tech Supertrees. The waterfront is fabulous for kids, too, so bring their swimwear for the pool and fountains of the Far East Organisation Children's Garden.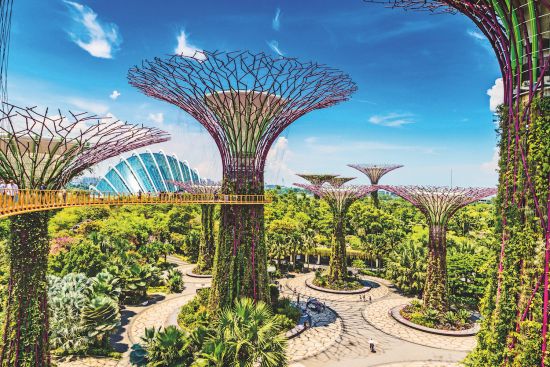 To get some perspective, take a turn on the Singapore Flyer ferris wheel and admire the 360-degree panorama of the F1 race track and Kallang River, as well as glimpses of Malaysia and Indonesia beyond.
For those with time to spare, beach-fringed Sentosa Island is a centre for theme parks, including an insect 'kingdom' where you can find yourself surrounded by butterflies and enjoy a firefly show – all of it easily reachable by monorail or cable car.
In the harbourfront Bukit Merah district you can shop till you drop at VivoCity, Singapore's largest mall, and for refreshment, only a Singapore sling at the historic Raffles Hotel will do.
Get on Board
Norwegian 15-night 'Thailand, Cambodia, Phuket and Penang' cruise, round trip from Singapore, departing 21 December 2019, from £1,579, ncl.com
Celebrity 14-night 'Far East' cruise from Singapore to Hong Kong via Ho Chi Minh City, Taipei, Kagoshima and Okinawa, departing 1 February 2020, from £1,991 including return flight from Gatwick, virginholidaycruises.co.uk
China
Nowhere is the contrast between tradition and modernity more sharply focused than in China, where travellers can choose between Mekong and Yangtze river cruises or ocean sailings into Shanghai and Tianjin (for Beijing, about 35 minutes away by train).
Dynamic Shanghai is divided by the Huangpu River – Pudong in the east and Puxi in the west, with its historic centre and downtown for dining, shopping and nightlife.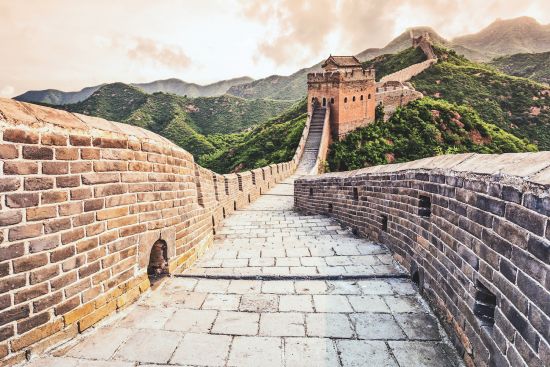 Overnight options often feature Xi'an, to see the eerie Terracotta Army – life-size warriors meticulously carved to protect third-century emperor Qin Shi Huang in the afterlife.
A highlight of any cruise on the Yangtze is the Three Gorges Dam, a stupendous feat of engineering in a once secret corner of central China.
It was on these banks that some of the earliest Chinese cultures existed, and the Yangtze has been essential for China's agriculture and economy ever since. The scenery is spectacular, too, with cliffs rising dramatically from the steadily flowing waters. You'll also discover glorious waterfalls and mystical lakes – and in Chengdu you might even come face-to-face with a rare panda cub.
When to go? In autumn the crowds are smaller at iconic sights such as the Great Wall, Temple of Heaven and Tiananmen Square – not forgetting the scarlet-walled Forbidden City, once home to imperial rulers and their concubines.
Get on Board
Wendy Wu 13-night 'Majestic Yangtze' cruise tour from Shanghai to Beijing via Chengdu, Xi'an and Great Wall, departing 25 September 2019, from £3,490 including flights from UK, wendywutours.co.uk
Scenic 20-night 'Grand China' cruise tour from Beijing to Shanghai via Yangtze River (4-night cruise), Chengdu and Xi'an, departing 2 June 2020, from £7,145 including flights from UK, scenic.co.uk
Vietnam
Ho Chi Minh City, formerly known as Saigon, is a frenzy of life where even crossing the road feels like an achievement as thousands of motorcyclists weave through the traffic (you'll often see mum, dad and kids all together, with a baby perched on the handlebars and grandma clinging on at the back).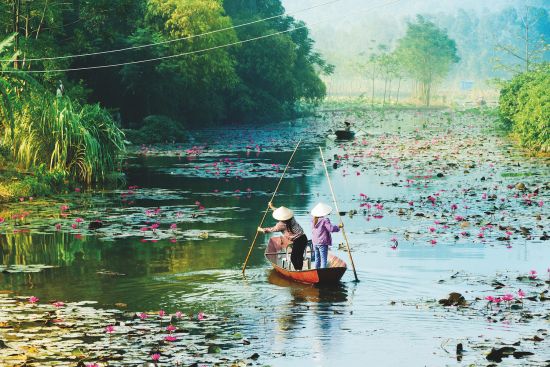 Take time to explore the history of this exhilarating city on the banks of the Saigon River, with its many reminders of French Colonial rule including the 1920s Rex Hotel (which later became the HQ for reporters during the Vietnam War).
That 19-year conflict ended in 1975 but is far from forgotten, and many cruise lines feature a visit to the Cu Chi tunnels, the underground labyrinth where
VietCong fighters hid from their American opponents. Their stories are haunting, so for light relief try the huge Ben Thanh Market, where you can shop for silk scarves – a great and easy-to-pack souvenir.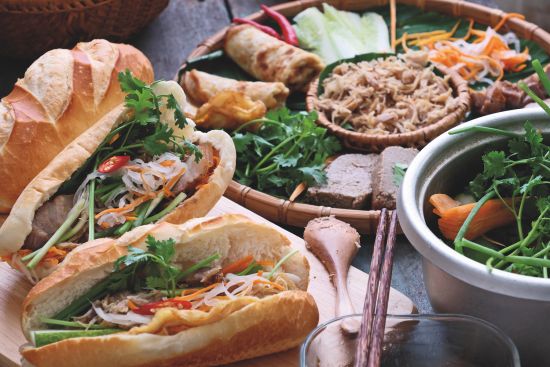 Heading north to the Vietnamese capital, Hanoi, you'll want to explore Hoan Kiem – the Old Quarter, with its Buddhist temples and well- preserved shop fronts – as well as Ba Dinh, the French Quarter, which is a haven of wonderful architecture, fine food, hip cafés, bakeries, boutiques and art galleries.
Get on Board
Viking 14-night 'Magnificent Mekong' cruise tour from Ho Chi Minh City to Hanoi, including 7-night river cruise via Phnom Penh (Cambodia), departing 11 November 2019, from £4,945, vikingrivercruises.co.uk
Emerald 14-night 'Majestic Mekong' cruise from Ho Chi Minh City to Siem Reap, departing 20 November 2019, from £4,695, emeraldwaterways.co.uk
Cruise Advice
Money
You'll need plenty of local currency to buy handmade souvenirs from locals, so take advantage of the cash machines when you're passing through major cities.
Visas
In China, cruise passengers can travel on the ship's visa but if you're planning any independent travel – even just to or from the airport – you will need a visa of your own. This costs £151 and must be issued before you leave home (see bio.visaforchina.org). Your cruise line should include visa information in the cruise documentation.
Local customs
In Singapore there are heavy fines for spitting gum, eating on the subway, dropping litter, jaywalking and not flushing a public lavatory, so be on your best behaviour. Wherever you travel, show respect when entering temples. The general dress code is for knees and shoulders to be covered (you won't get into Cambodia's Royal Palace if you don't comply).
What to bring back
Golden pearls from Myanmar
Designer goods from Hong Kong
Kimonos from Japan
Climate
It will be hot, with average daily temperatures around 30C, but high humidity is more likely to be a problem. Wear cotton or linen and always carry plenty of water wherever you go.
When to go
In general, the warmest month is May and the coolest is January. Expect steady rainfall throughout the year but December is the wettest month and June the driest.
Off the beaten track
If travelling into rural villages, consider taking simple gifts. Paper and pencils for children are always an excellent choice.