Search for your ideal Cruise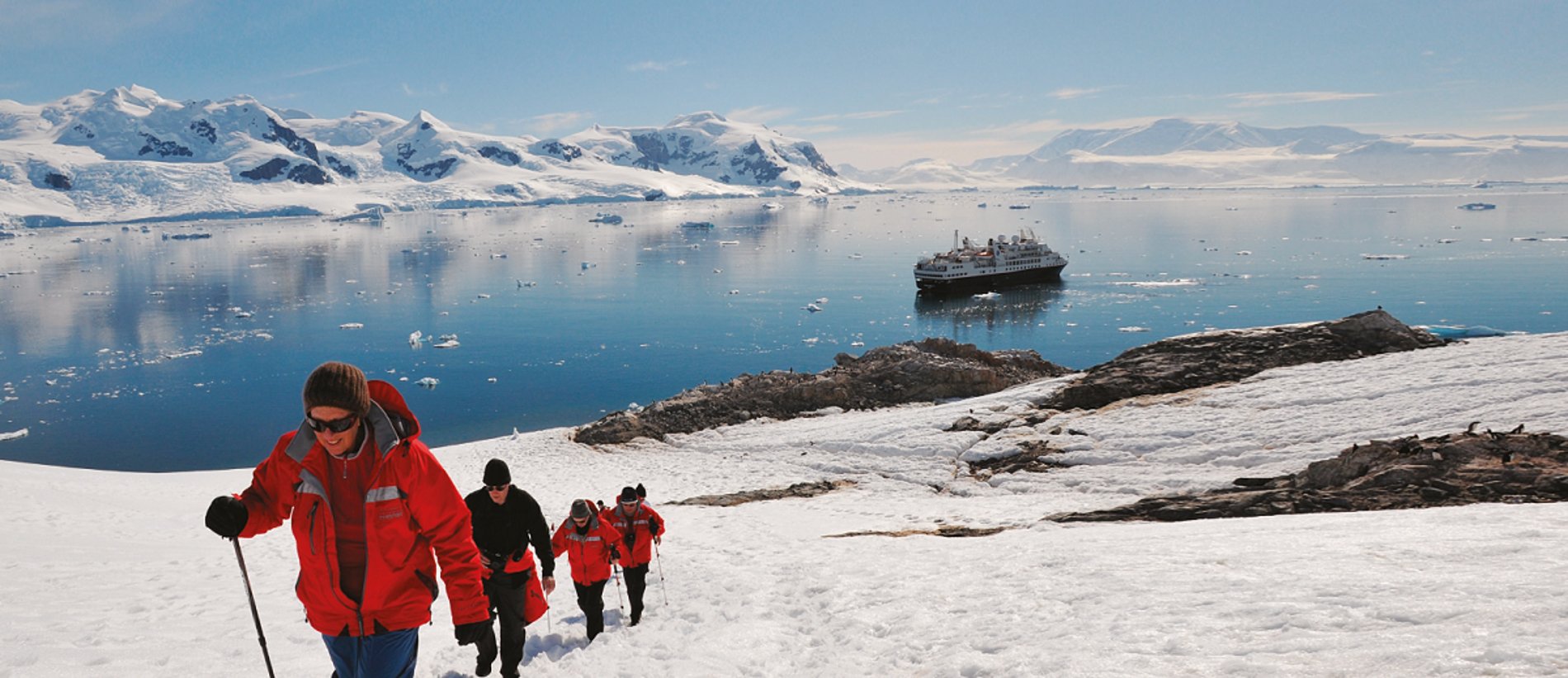 Visit Antarctica, the final frontier
The continent, once reached only by the brave few, is welcoming increasing numbers of cruise passengers eagerly ticking off the top item on their bucket list. For many adventurers it is the final frontier, the frozen continent − and top of their bucket lists. This is Antarctica, where awestruck cruise passengers can see colonies of
The continent, once reached only by the brave few, is welcoming increasing numbers of cruise passengers eagerly ticking off the top item on their bucket list.
For many adventurers it is the final frontier, the frozen continent − and top of their bucket lists.
This is Antarctica, where awestruck cruise passengers can see colonies of thousands of king penguins breeding, nesting and protecting their eggs, while elephant seals mate on the beaches. The skies are filled with albatrosses, giant petrels and skuas, all to a backdrop of icebergs, glaciers and deep blue water.
This land, once accessible only to the courageous few, is now within easy reach thanks to an increasing number of expedition ships that can cut through ice and send inflatable boats to get passengers close to the wildlife.
German company Hapag-Lloyd Cruises, known for its ultra-luxury Europa 2, has two ships in the highest ice class − Hanseatic and Bremen − with Hanseatic Inspiration coming into service in 2019.
Guests are offered the unforgettable experience of being landed on the ice by Zodiac boats before pitching tents and spending a night camping, weather permitting.
In January 2019, 155-passenger Bremen is setting off on two consecutive 19-day round trips from Ushuaia in Argentina, taking in South Georgia, South Orkney Islands and other stops on the way to the Antarctic peninsula. Prices start at £11,638 a person, cruise only.
One Ocean Expeditions has expanded its Antarctica programme for 2018-19, including more back-country ski groups of up to 16 guests on its 'off the beaten track' itinerary. The Canadian company also offers sea kayaking, overnight kayaking, ski touring, camping and photography.
MD Andrew Prossin said:
"Guests will be able to experience the wonders of Argentina and Chile pre and post-cruise, as well as spend more time in Antarctica."
Silversea's Silver Cloud is emerging from an extensive refurbishment this November to join the line's expedition fleet.
The 296-passenger ship will have a fleet of 18 Zodiacs carrying up to 14 guests each to reach the most remote locations.
On a round trip from Ushuaia, guests will have the chance to cross Drake Passage, marvel at iceberg sculptures and glaciers, and search for many species of bird and animal.
A 10-day voyage in January costs from £14,000 a person.
The new Scenic Eclipse will set sail on a 16-day round trip from Buenos Aires in December 2018, spending days exploring icebergs and the Antarctic peninsula, using Zodiacs, helicopter and submarine.
Quark offers an exclusive opportunity to visit the emperor penguin colony at Snow Hill Island one of the hardest destinations to reach on Earth as it is capped in snow and ice almost all year round.
The journey can only be made on board the Kapitan Khlebnikov one of the world's most powerful icebreakers − followed by a helicopter ride and final trek on foot. But the effort is worth it, with a
chance to see the penguin colony early in the season when the chicks are still young and grouped together in communal nurseries.
G Adventures has five different Antarctic trips on its G Expedition ship, leaving Ushuaia for between 11 and 22 days, starting from just £3,899 a person. Hurtigruten offers an epic 23-day 'ultimate expedition' to Antarctica, Falklands and South Georgia in December next year, starting at £7,745. And Lindblad just tops that with 24-day trips on National Geographic Explorer or National Geographic Orion.
Seabourn arranges a landing on every one of the five days its ships spend in Antarctica. For adventurers who wish to reach the South Pole, it has laid on a nine or ten-day pre or post-cruise excursion, starting with three days in Patagonia and a four-hour flight to stay in a camp at Union Glacier in Antarctica. There guests board a ski-plane to spend a few precious hours at the pole, joining the select number of explorers who have ever stood there.