Search for your ideal Cruise
Why cruise on this ship?
Costa Fascinosa is a large, resort style ship that was launched in 2011.
find your perfect cruise
Dining
The excellent quality of the ingredients that are sourced and used in preparing meals and the skilled hands and creativity of our highly trained chefs will turn dinners into special events, where flavours are expertly combined creating culinary magic.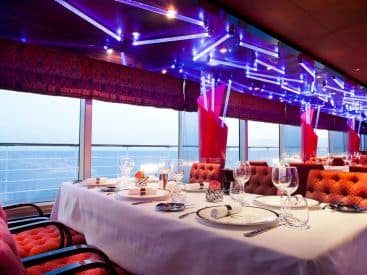 Club Fascinosa Restaurant
With a menu by celebrity chef, Gualtiero Marchesi, Club Fascinosa is the ship's steakhouse restaurant that exclusively serves dinner and not only boasts exceptional food, but also an impressive and extensive wine-list. Reservations are required for this restaurant.
Features
Experience: Cover
Food type: Steakhouse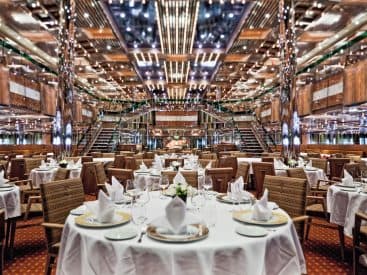 Otto e mezzo Restaurant
Serving an array of meat and fish dishes, this formal restaurant is a popular dining venue aboard the ship.
Features
Experience: Cover
Food type: Classic
Il Gattopardo Restaurant
Serving an array of meat and fish dishes, this formal restaurant is a popular dining venue aboard the ship.
Features
Experience: Cover
Food type: Classic
Tulipano nero Buffet Restaurant
Offering casual, self-service, this buffet restaurant caters for breakfast, lunch and dinner and serves an array of meals from filling main courses, to light snack bites.
Features
Experience: Cover
Food type: Buffet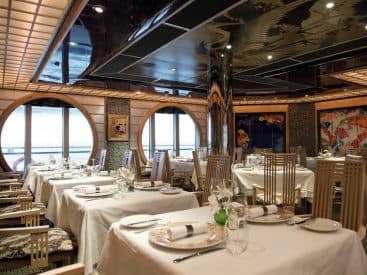 Samsara Restaurant
Samsara's cuisine is the epitome of the philosophy of wellbeing. In this Japanese-style restaurant, you can expect charm, elegance and discretion, both at the table and from the service.
Features
Experience: Cover
Food type: Japanese
Pizzeria
Going for a pizza is a fun and informal way for guests to enjoy their time on Costa Diadema. Just sit back and enjoy pizza, just like in the best Italian pizzerias, with the special treat of some excellent live music too. Guests are sure to have a great time with the whole family as the pizza makers prepare the hot, crisp pizza. Guests can even enjoy your food outdoors looking out over the sea.
Features
Experience: Cover
Food type: Pizzeria
Entertaining
From films, live shows and interactive gaming to dancing, shopping and relaxing, this ship offers an abundance of entertainment that guests can enjoy.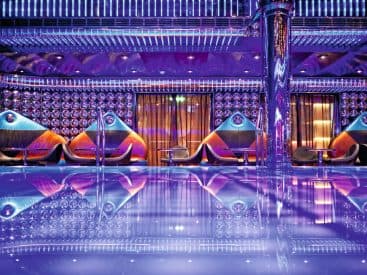 Babylon Disco
Dance the night away on the fibre optic dance floor to popular music of the present day. There is also a daily trivia quiz that takes place here.
Bel Ami Theatre
The main theatre aboard the Costa Fascinosa showing a wide variety of impressive theatrical productions from musicals to magician sequences and stand-up comedy.
Cinema Etoiles 4D
A one of a kind aboard this ship, this 20 seated 4D cinema rocks, vibrates and moves in accordance with the on-screen action. Guests can choose from three different videos to experience this truly multi-sensory experience.
Scuderia Costa
An exciting Grand Prix simulator that allows guests to live the dream on the circuit, racing formula one cars in tournaments and getting a feel for what it is like to authentically drive a racing car on virtual representations of real tracks from around the world.
Malia Bar Classico
The ship's smoking lounge and cigar bar.
Enrichment
Read, speak, express; There is a variety of enrichment activities for guests on-board Costa cruises.
Art Auctions
Fun and fast-paced, this provides guests with exciting opportunities to take home outstanding pieces of well-known, niche and contemporary art works.
Library
Whether it's getting lost in a fantasy world or absorbing new information from non-fiction, guests can explore with free abandon, the abundance of enriching literature on offer in the Costa cruises library.
Italian Lessons
Embrace the inner charm of this Italian cruise line and learn from the best. Broaden your cultural horizons and linguistic knowledge with Italian lessons on board.
Health and fitness
Designed to allow guests to swim, relax, learn, sweat and rejuvenate, this ship's wellness and sport programme is guaranteed to suit every guests' needs and desires, with an abundance of fun, exercise and new experiences on offer.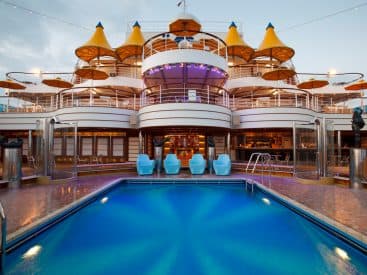 Costa Lido.jpg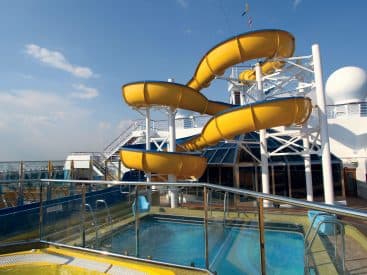 Lido Incantesimo.jpg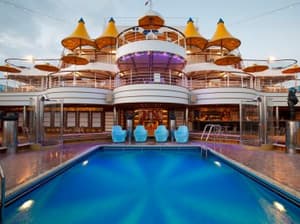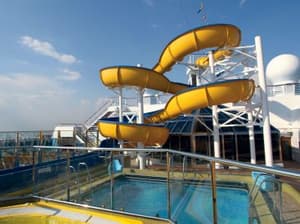 Pools & Spas
Whether it's swimming and splashing around in a pool or relaxing in one of the 5 jacuzzis or spas, guests can do it all, whatever the weather, at one of the 4 pools available such as the Lido Via col Vento pool adorned with a retractable roof cover or at the Samsara Spa.
Sports Centre
This ship is packed with activities that are sure to keep the heart pumping with a multi-purpose sports pitch and an outdoor jogging track for guests to enjoy and use.
Samsara Spa
Split between two levels, this 3500 square metre blissful haven of relaxation and tranquillity is fully equipped with a state of the art gym, a Thalassotherapy pool, Turkish bath and UVA-ray solarium, that allows guests to escape at sea amidst the indulgence and rejuvenation.

For that extra special access to serenity, guests can stay in one of the Samsara cabins located within the spa vicinity for unlimited pampering and the ultimate cruising experience.
Kids and teens
Children and young people will never get bored on a Costa cruise. With parties, games at the pool, tasty snacks, dances and tournaments, children and young people will never have a moment to get bored. Costa's entertainers know how to keep them interested with many fun activities. There's a club on board divided into age groups: Mini - 3 to 6 year olds, Maxi - 7 to 11 year olds, Teen Junior - 12 to 14 year olds, and Teen - 15 to 17 year olds. So everyone gets to have fun with their own age group. A cruise ship is a fantastic world to explore in peace while parents relax and enjoy a holiday themselves. Many ships have a Squok Club area with a special baby swimming pool.
Accommodation
You'll feel at home right away on a Costa holiday. There are cabins to suit everyone in terms of space, practicality and location and you won't have to give up any of the comforts you need to relax. All cabins are all furnished in a modern style, and a full range of facilities together with excellent service means that everyone can just relax and enjoy the cruise. Every Costa cabin features:
adjustable air conditioning with individual temperature controls;

interactive flat-screen satellite TV;

hair dryer;

safe;

steward, always on duty;

minibar and 24-hour room service (charges apply);

Wi-Fi (charges apply);

soap and shower gel;

bed linen (sheets and towels) changed regularly.

And you'll enjoy all these facilities even more thanks to prompt cabin service that anticipates your every need and ensures that your cabin is always clean and tidy. Every morning your cabin and bathroom will be cleaned and tidied. Every evening your cabin will be cleaned to remove litter, change your pool towel and any discarded towels and to make up your bed for the night, close your curtains and turn on your lights to welcome you when you return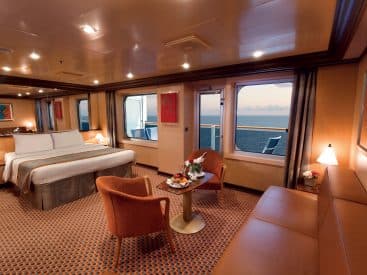 Grand Suites
You multiply the privileges when you book a suite: comfortable and exclusive space on board. A place for private emotions which is welcoming and bright, a serene and sweet awakening; this is what you can expect in a Costa suite, with an exclusive package offering attentive touches, big and small. A bottle of sparkling wine to welcome you, a fruit basket replenished daily, Jacuzzi, bath salts, bathrobe and slippers, and, for an extra caress, the pillow menu for you to choose your favourite pillow.
Additional services provided:
• Dedicated butler
• Priority boarding and disembarkation, private VIP area in the terminal
• Every breakfast, lunch and dinner served in the restaurant reserved for suite guests
• "Connoisseur" drinks package
• Front row reserved in the theatre
• Personalised invitations to special events
• Special access for a whole day to the spa area of the ship
Features
King or Twin Configuration
Lounge Area
Shower
Toiletries Provided
Room Service Available
Suite Benefits
Butler Service
TV
Safe
Hair Dryer
Desk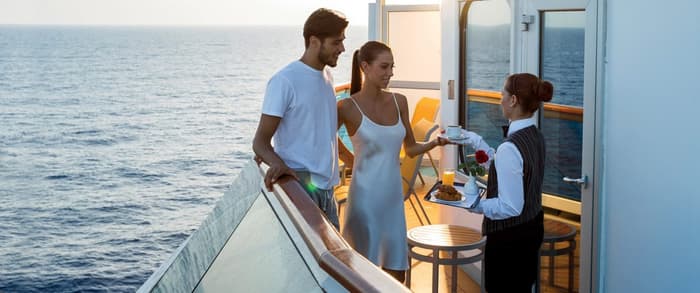 Balcony Cabins
Right up close to the sea: a room with a balcony overlooking the sea, where you'll feel the warm wind in your hair and smell the intoxicating sweet scent of the salt water. All the comfort of a Costa cabin with your external balcony overlooking the sea. A real treat.

Features
Queen or Twin Configuration
Shower
Toiletries Provided
Room Service Available
TV
Safe
Hair Dryer
Desk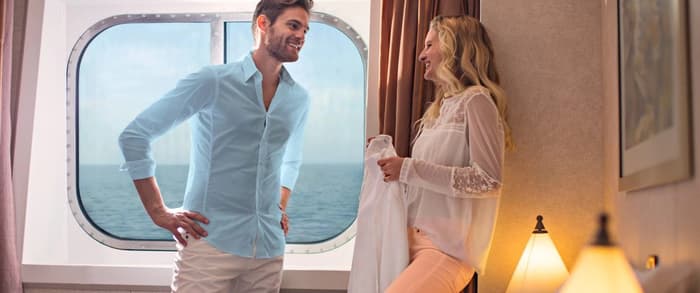 Ocean View Cabins
A window between sky and sea: Costa's outside cabins offer more direct contact with the all the colours of your holiday. You can see the sea, enjoy the sunsets and sunrises - a warm embrace that makes our cruise even more romantic.
Features
Queen or Twin Configuration
Shower
Toiletries Provided
Room Service Available
TV
Safe
Hair Dryer
Desk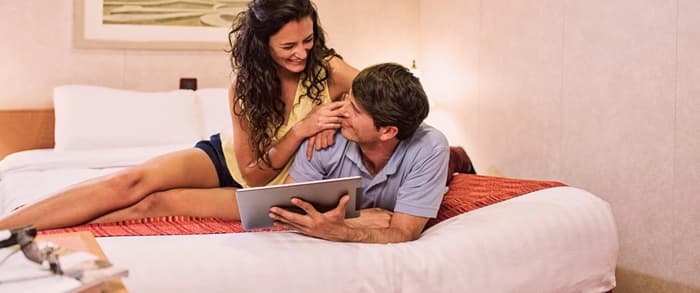 Inside Cabins
A cosy nest: experience Costa comfort and hospitality first hand with this type of cabin, suitable for those who want to spend a little less on their cruise, but who still don't want to miss out on anything, or for whom the cabin is just somewhere to sleep and change, because they prefer to experience the ship to its fullest.
Features
Queen or Twin Configuration
Shower
Toiletries Provided
Room Service Available
TV
Safe
Hair Dryer
Desk
Deck plans

Deck 1 - Irma
Inside Cabins

Ocean View Cabins


Deck 2 - Rigoletto
Ocean View Cabins

Inside Cabins


Deck 3 - Gradisca
Otto e Mezzo Restaurant

Samsara Restaurant

Amarcord Atrium

Paradise Now Atrium


Deck 4 - Gilda
Il Gattopardo Restaurant

Babylon Disco

Internet Point

Chapel


Deck 5 - Aida
Cheri Lounge

Angelo Azzurro Dance Lounge

The Millionaire Casino

Virtual World

Malia Classic Bar

Bestseller Library

Shops

4D Cinema

Bel Ami Theatre

Blue Velvet Piano Bar

The Millionaire Casino

Stargate Club

Bagdad Cafe

Gran Bar Topkapi

Card Room

Deck 6 - Tancredi
Ocean View Balcony Cabins
Inside Cabins

Deck 7 - Zivago
Mini Suite with Ocean View Balcony Cabins

Ocean View Balcony Cabins

Suite with Ocean View Balcony Cabins

Grand Suite with Ocean View Balcony

Inside Cabins


Deck 8 - Marlene
Ocean View Balcony Cabins

Inside Cabins


Deck 9 - Carmen
Lido Via col Vento

Lido Blue Moon

Pizzeria

Tulipano nero Buffet Restaurant

Ocean View Balcony Cabins


Deck 10 - Turandot
Samsara Suite with Ocean View Veranda Cabins

Samsara Suite with Ocean View Balcony Cabins

Samsara Grand Suite with Ocean View Veranda and Balcony Cabins

Squok Club

Teen's Zone

Panineria Grill


Deck 11 - Tosca
Fascinosa Club Restaurant

Lido Squok

Lido Incantesimo

Samsara Spa Reception

Venus Beauty

Fitness Centre

Tempio Della Pace

Turkish Bath

Thalassotherapy Pool

Tepidarium

Laconium

Oriental Steam


Deck 12 - Butterfly
Multi-purpose Sport Pitch

Outdoor Jogging Track

Acqua Park

Scuderia Costa Bar

Winter Garden

Deluxe House

Treatments Room


Deck 14 - Dorothy