Why cruise on this ship?
Originally constructed in Preston by the Royal Navy in 1918, the SS Misr was purchased and later converted into a luxury Nile steamer for King Farouk.

Dining
It is quite a task to create a dining experience as that found on board vessels when you are cruising in far-flung corners of the globe, indeed it takes a team of highly talented chefs to deliver fresh, varied dishes no matter where you are at sea. Fortunately, the ship's catering teams are well adapted to the world of small ship cruising where no two days are the same and the menus are often scheduled and tailored around the days' excursions.
In keeping with the informal atmosphere on board, when dining you are able to choose your seating arrangements at your leisure. Whether that be joining a table of four to six other passengers outside on the Lido Deck in the evening's sunshine or whether you prefer to enjoy meals in the à la carte restaurant. For those travelling alone, our onboard friendly restaurant staff will take care to ensure you are seated with other like minded travellers.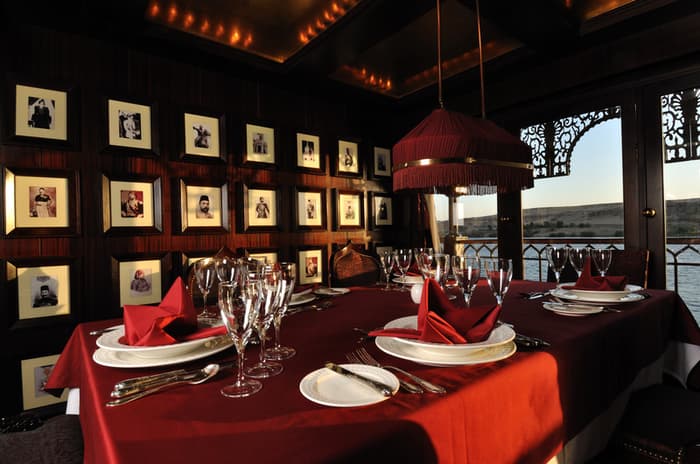 Marasem Restaurant
The restaurant situated on the main deck serves international cuisine and seats all passengers in one open seating arrangement. Breakfast and lunch are buffet-style whilst dinner is seated waiter service. Tables seat six to eight people. Tea and coffee are served on a complimentary basis with breakfast and at afternoon tea.
Entertainment
The RV Mekong Princess is elegantly furnished, intimate and spacious throughout the public areas.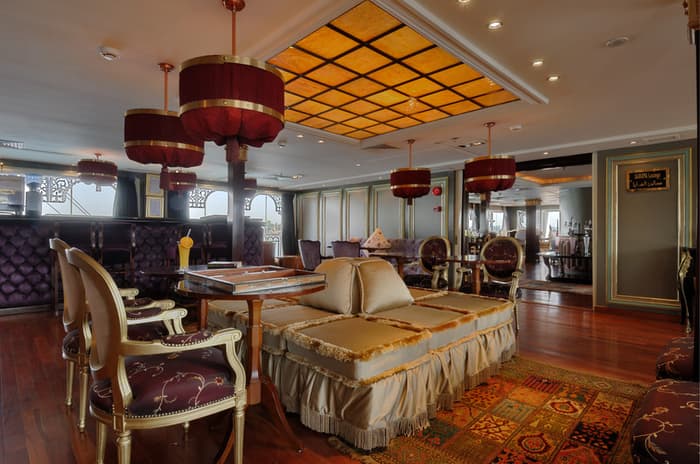 Saraya Lounge
Located on the Upper Deck, Saraya Lounge is next door to the Dahabia Bar. It's a great place to sit and relax and enjoy the passing scenery.
Dahabia Bar
Located just a door away from the Saraya Lounge, the Dahabia bar is a great place to enjoy the company of other guests whilst sipping on a glass of wine. The onboard attentive staff are always available to offer a cool beverage whilst watching the ever changing passing scenery.
Enrichment
The staff onboard offer friendly and efficient service and ensure a warm welcome and enjoyable cruise. During your cruise there will be the opportunity to tour the ship's Bridge, attend Russian language classes and lectures on Russian history and tradition. There is also nightly entertainment.
Health and fitness
Health/Fitness facilities include the Princess Spa and a fitness centre
Swimming Pool
Located on the Sun Deck, the swimming pool is surrounded by sun beds for relaxation.
Kids and teens
Please note: There are no children's facilities onboard.
Accommodation
Each cabin and suite onboard the Misr has its own individual style and all feature a private balcony, air conditioning, en-suite bathroom with bathtub and shower, hairdryer, mini-bar, robes and television. The suites on the upper deck are almost 50% larger in size than the standard cabins.
Category 1 Panorama Suites
The category 1 panorama suites are approximately 35 square metres and are situated at the front of the vessel and offer impressive panoramic views. Unlike the other accommodations, these suites come with a private, furnished panoramic terrace that offers a spectacular 180-degree view of the Nile, so that guests can enjoy the inspiring view from every angle while cruising. This is the perfect spot to relax after a long day with a drink or book, or to watch the leisurely sail along the Nile to the next destination.
Category 2 Suites
The category 2 suites are approximately 30 square metres. Spacious and welcoming, these exquisitely appointed suites offer the perfect refuge to unwind after a day of adventure and sightseeing. Luxuriously designed, each suite includes an elegant living area that contains a stylish loveseat and chairs, complemented by floor-to-ceiling windows that open to a private terrace so that guests can enjoy the spectacular view of the Nile.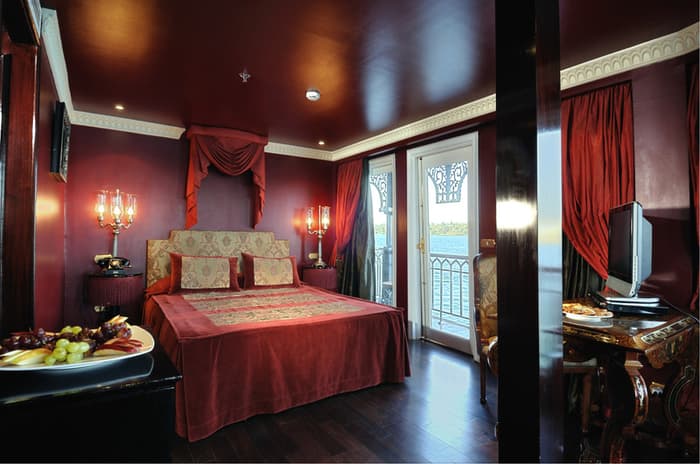 Noble Caledonia Misr Accommodation Double.jpg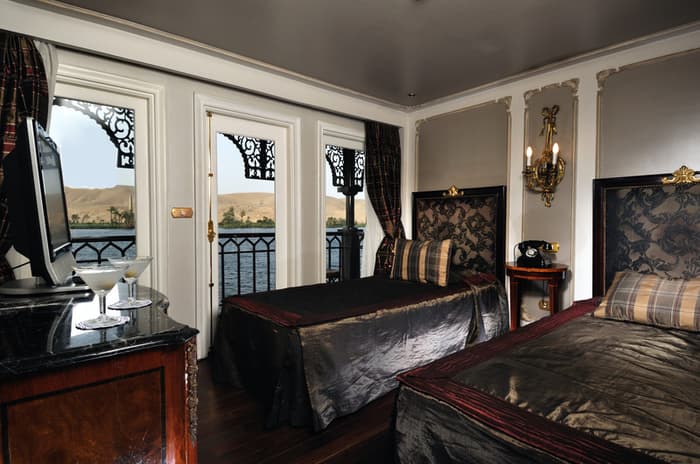 Noble Caledonia Misr Accommodation Twin.jpg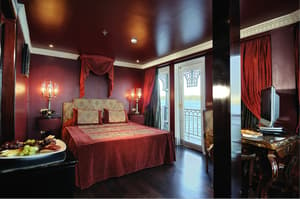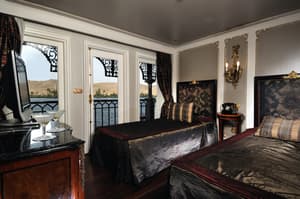 Category 3 & 4 Cabins
The 14 category 3 and 4, twin/double cabins measure 21 square metres and feature a sweeping window that opens up to a private terrace with chairs so that guests can enjoy the spectacular view of the Nile at all times.
Category 5 Single Cabins
The 2 category 5 single cabins measure 14.5 square metres and feature a sweeping window that opens up to a private terrace with chairs so that guests can enjoy the spectacular view of the Nile at all times.
Deck plans
Sun Deck

Upper Deck
Lower Sun Deck

Saraya Lounge

Dahabia Bar

Category 2 Suites

Category 3 Cabins


Main Deck
Galley

Marasem Restaurant

Category 1 Panorama Suites

Category 2 Suites

Category 4 Cabin


Lower Deck
Reception

Category 4 Cabins

Category 5 Cabins