Search for your ideal Cruise
Why cruise on this ship?
Experience true luxury exclusively aboard the M.S. Mayfair where exceptional services available on its 5 elegant decks along with an attentive and friendly staff ensure you have a matchless & everlasting experience
find your perfect cruise
Dining
The main restaurant serves breakfast, lunch and dinner and offers a wonderful variety of international and local cuisine, usually buffet at lunch and table service in the evening. Afternoon tea is served daily on the Sun Deck. The lounge bar, on the Main deck, is the perfect place to relax in the evening and enjoy variety of local beers, wines and spirits. A pre-bookable drinks package is available.

Nile Avenue
The elegant 'Nile Avenue' restaurant located on the Nile Deck features a savory modern fusion of
contemporary and authentic dishes prepared by our internationally trained chefs.Breakfast and lunch buffets as well as à la carte dinners are served daily.
à la carte lunch is served instead of buffet when the number of guests on board is less than 20 persons
Features
Experience: Cover
Food type: Fusion
Entertaining
Restore balance to your body & being by indulging in soothing aromatherapy and a variety of therapeutic massages in our rejuvenating spa. Relax in our steam and sauna rooms, perfected by a calming Nile view.
Health and fitness
Coming Soon
Kids and teens
Coming Soon
Accommodation
An all-suite cruise ship, the Sonesta Star Goddess features 33 suites named after famous composers, giving it a touch of elegance and sophistication. The ship comprises 27 deluxe Beethoven Suites (each 40m), 4 lush Mozart Suites (each 35m), and 2 superior Chopin Suites (each 52m). Each of the 33 suites has a private terrace and is designed to offer maximum comfort and space.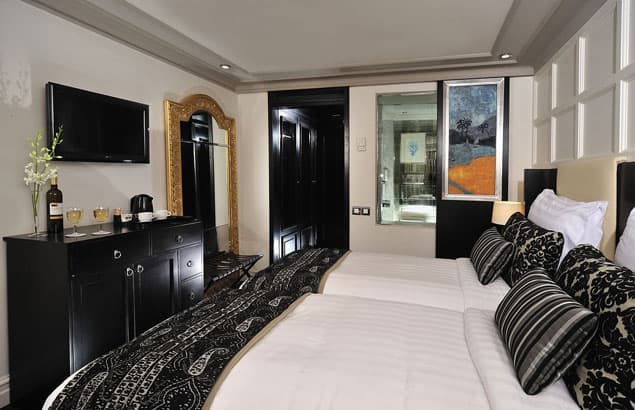 MS Mayfair Standard Room.jpg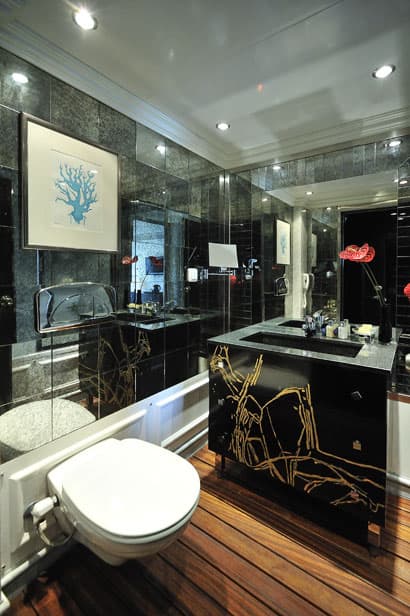 MS Mayfair Bath Room.jpg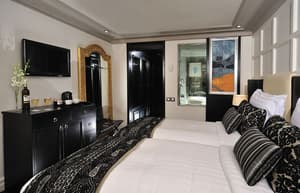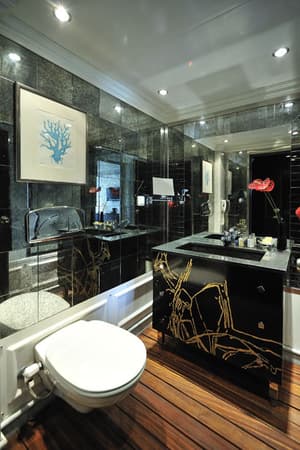 Guest Suites
M.S. Mayfair's classy cabins blend unmatched intimacy and comfortable individuality with tasteful attention to details. Dark wooden pieces set off by black and crème tones create a soothing ambience, complimented by calming light walls to provide a haven of comfort to relax in after a long day of sight seeing.
Every Cabin Features:
LCD televisions sets & satellite channels
Tea & coffee making facilities

In-room safe & mini bar

In-house movie program & music system

Individually controlled air-conditioned system

Internet connection

Telephones with international direct dial

All bathrooms feature bath tubs and hair dryers

All cabins has French balconies

220V Electricity

Connected cabins are available


Presidential Suites
indulgence is the key with M.S. Mayfair's lavishly appointed spacious Presidential Suites equipped with a queen size bed.
Relax on your comfortable sofa in a cozy living area and feel pampered in the state - of - the - art interiors composed of warm browns, beiges and fuchsia hues, all blending perfectly with the balcony's soothing turquoise view.

Cabin with balcony
Refined interiors and art deco details featured in our elegant cabins provide every facility for an ultimate luxury experience.
Equipped with a queen size bed and a breathtaking terrace overlooking the flowing Nile and unrivaled history drifting by, guests can indulge in a glass of sparkling wine as the day slips into night and captivating sunsets paint the sky.
Deck plans

Sun Deck

Bel Air Deck
Lounge

Suites

Standard Rooms

Cabin with Balcony

Upper First Deck
Upper First Salon

Cabin with Balcony

Main Deck

Nile Deck