Search for your ideal Cruise
Why cruise on this ship?
A Hebridean River Cruise is a truly unique way to see central Europe. From on board the elegant river cruiser, Royal Crown, you can sail into the very heart of iconic towns and romantic cities and explore the rich history and colourful centres this part of the world has to offer.
find your perfect cruise
Dining
MS Royal Crown chefs create imaginative menus with their dedicated passion and quality ingredients and as a Scottish cruise company our gala dinners are sparkling affairs with a true Scottish flavour!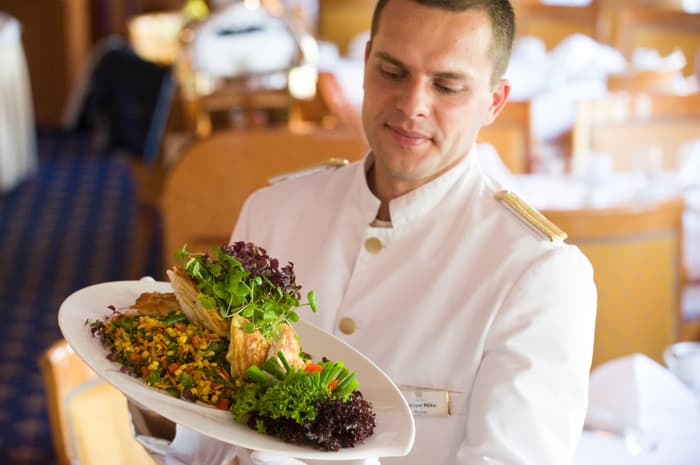 Hebridean Island Cruises Royal Crown Interior Restaurant Service 2.jpg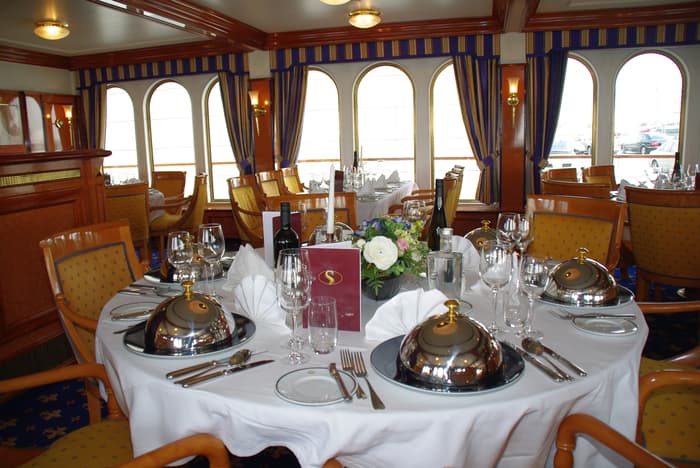 Hebridean Island Cruises Royal Crown Interior Restaurant 3.jpg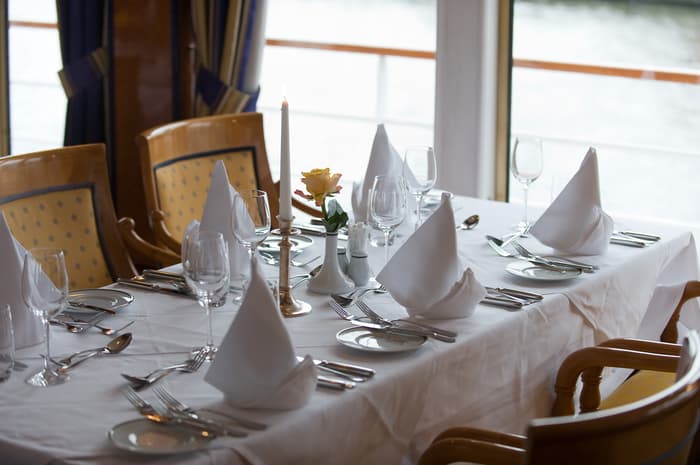 Hebridean Island Cruises Royal Crown Interior Restaurant 2.jpg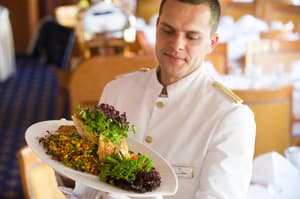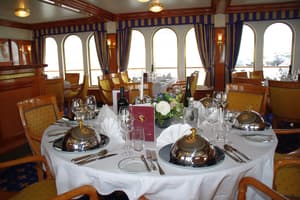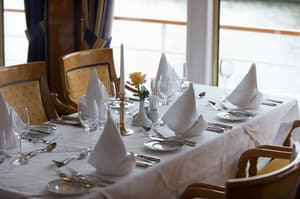 The Restaurant
The restaurant on board MS Royal Crown delivers a mix of british and European cuisine and the head chef, together with his team, has worked losely with Hebridean River cruises to produce the highest standard of menu choices, utilising some of the finest and freshest ingredients available.

Buffet breakfasts offer a large selection of continental and cooked items, including eggs of your choice cooked to order in the restaurant. For early risers, tea and coffee is available in the lounge prior to breakfast. Lunch varies depending on the day's activities and offers a mix of buffet style and full service three course meals.
Evening dinner is a full service, banquet-style four course meal. On the final Gala Evening no Hebridean river cruise would be complete without a traditional recital of Robert Burns' Address to a Haggis – a real Hebridean influence! Seating is with fellow passengers at tables of between four and eight. Guests travelling alone will be seated with other travellers and often at a hosted table.
Features
Experience: Complimentary
Food type: Wine
Entertaining
The atmosphere onboard is friendly and informal and within days you will have made new friends in the open-seating restaurant, on the shore excursions or whilst relaxing in the comfortable public areas onboard. You will find yourself amongst like-minded people in an English speaking environment and for those who seek peace and quiet, there will always be the opportunity to find a secluded spot on the sun deck or simply rest in your well-appointed cabin. A musician will play each evening whilst you relax in the lounge, guest speakers will provide a series of interesting talks and our cruise director will host informative port briefings. After a day exploring ashore, you will return to the comfort and peace of a well-run and exceedingly comfortable vessel.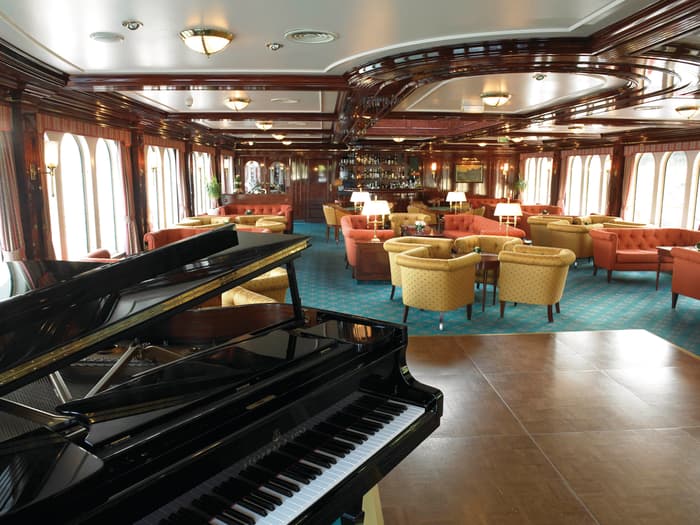 Hebridean Island Cruises Royal Crown Interior Bar Lounge 4.jpg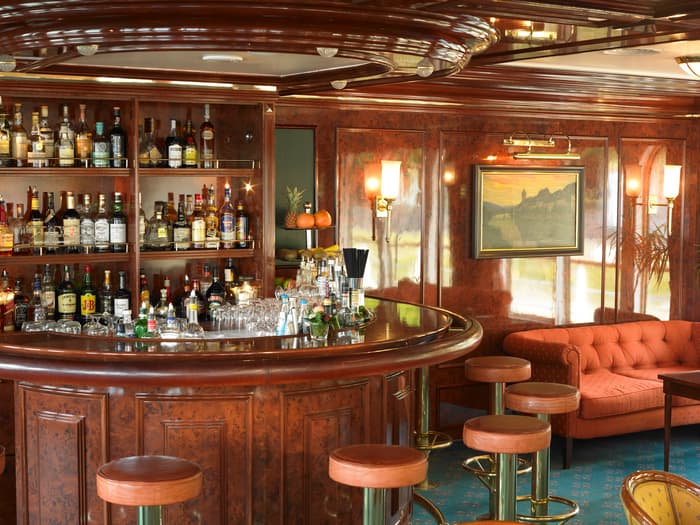 Hebridean Island Cruises Royal Crown Interior Bar Lounge 1.jpg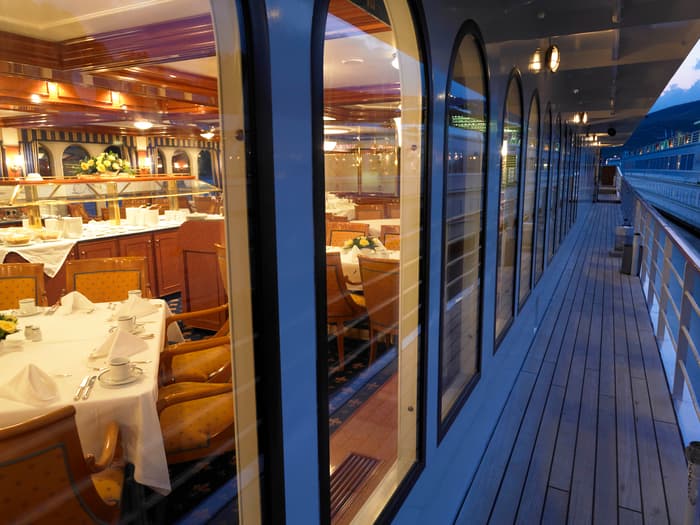 Hebridean Island Cruises Royal Crown Exterior Restaurant Gangway.jpg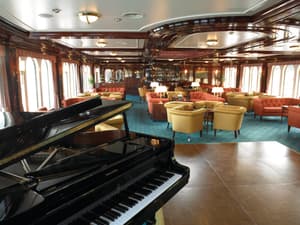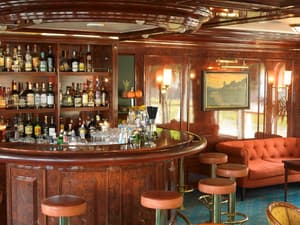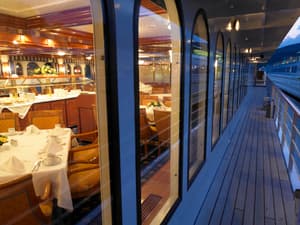 Panoramic Lounge Bar
The elegant Lounge Bar is defined by its 30s inspired Art Deco style, with textured carpets, carved mahogany and plush sofas which create a comfortable and relaxed atmosphere. Experience unforgettable views from the large windows as you enjoy coffee, tea or a light snack such as a salad or sandwich from the snack menu. The lounge is also where our guest speakers will entertain you with informative presentations. In the evenings, let the day come to an end with a choice of beverages from the extensive menu accompanied by a pianist playing a Steinway & Sons grand piano.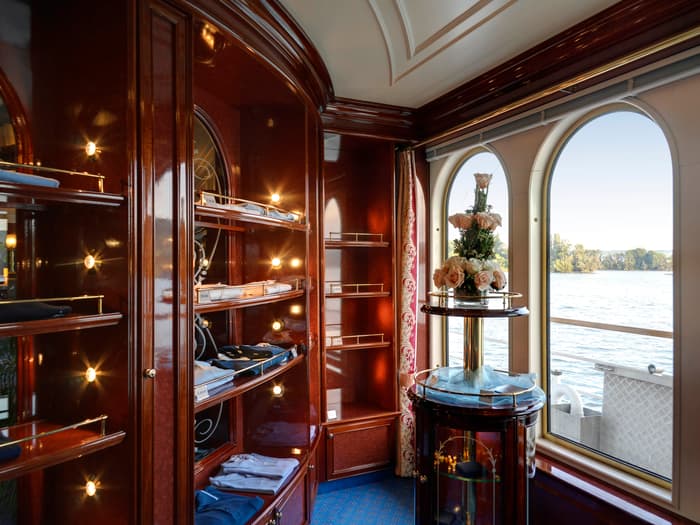 Gift Shop
A small gift shop stocks a small number of souvenir items including Hebridean branded gifts.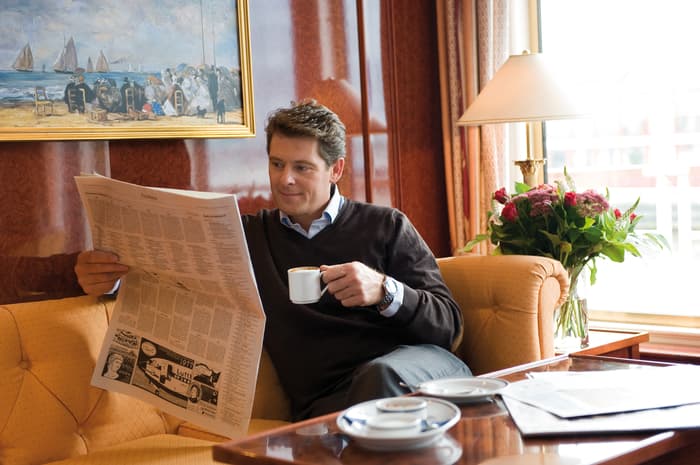 The Library
Should a spot of solitude appeal, the library contains a good selection of books and has two netbooks for internet access. Alternatively, if you have your own laptop, Royal Crown has a complimentary Wi-Fi connection. A selection of games and daily newspapers are also supplied.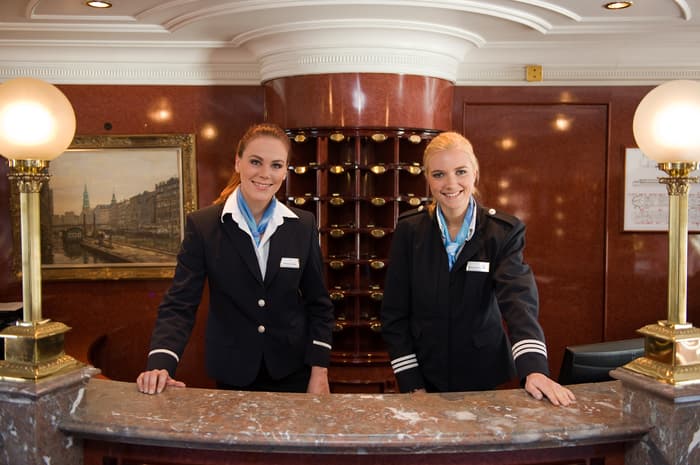 The Business Lounge
By the concierge desk there is a business lounge with facilities for internet, email, telephone and printing.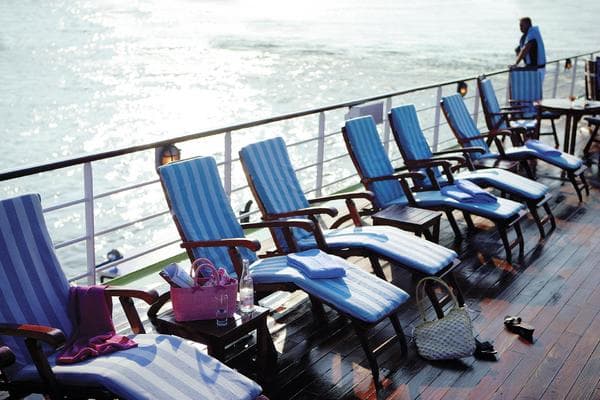 The Sun Deck
Covering almost the whole length of the ship, the Sun Deck is ideal for enjoying lazy days on the river, with traditional steamer deckchairs and sun loungers. Sit back with a coffee or a cocktail, try out your golf skills on the mini putting green or perhaps enjoy a game on the giant chess set.
Enrichment
a Hebridean river cruise will take you through some of Europe's most breath-taking scenery and our escorted tours ashore mean that your experience is unforgettable and exceptional, with so much to learn, enjoy and explore. Meticulous attention to detail is made possible by our Hebridean Team, whose aim is to ensure your cruise is as individual as possible.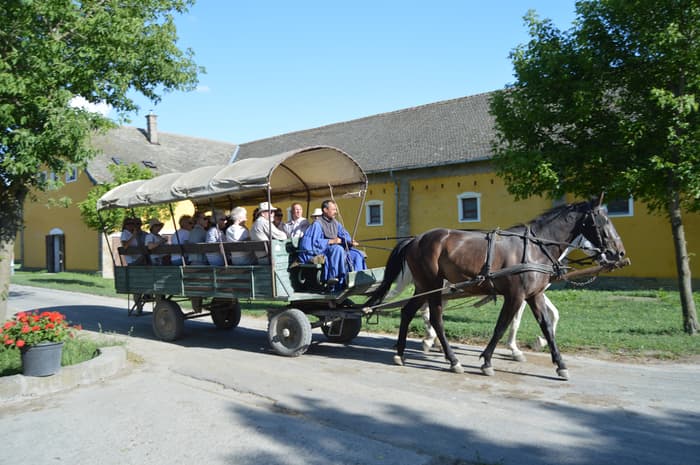 Shore Visits
Unlike most other river cruises, a Hebridean river cruise includes all shore visits. From architecture to history, music, wine and art – the possibilities to discover and explore are widespread. But if you prefer to just switch off, relax or read, walk and sightsee by yourself or enjoy fascinating discoveries with new friends, the choice will always be yours as a Hebridean guest.
We want to ensure that your every need is fulfilled and we have hand-picked each member of the on board Hebridean Team. Our characterful Chief Pursers, from on board the revered Hebridean Princess, accompany each itinerary to ensure the delivery of unobtrusive and attentive service. Their presence, together with that of our experienced and encyclopaedic Cruise Director, knowledgeable Tour Manager and talented Musician means that there is always a friendly face to answer your questions and look after you every step of the way during your cruise, even when ashore.
To maximise your enjoyment further, local guides and our specially selected guest speakers provide insights and captivating background to the surrounding areas and scenery.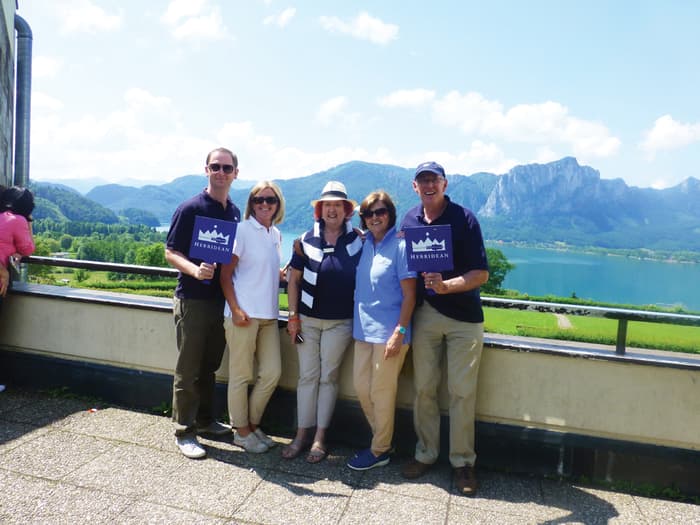 Guest Speakers
The enrichment of discovery and thrill of knowledge put these cruises in a category of their own. The on board speakers are chosen precisely because they are among some of the best authorities in their field. Passionate about their subject, these captivating orators bring each cruise alive and are delighted to share their knowledge with their fellow guests – a true meeting of minds.
Health and fitness
With its timeless elegance, the Royal Crown offers facilities and services of excellent quality.
Fitness Room
The ship has a well equipped gym onboard for those passengers who wish to keep fit and healthy during their trip.
Spa & Beauty Salon
For some time out, relax in the wellness centre which includes a sauna with shower facilities or indulge in a well earned massage. Or how about a new look? With their expert hairdresser and beauty therapist you are sure to look your best at dinner.
Kids and teens
There are no facilities on board for children under the age of nine.
Accommodation
On board MS Royal Crown, Art Decor style cabins offer a choice of accommodation and include Hebridean bathrobes and slippers as well as a large selection of Molton Brown toiletries for your convenience.
All cabins on board Royal Crown offer en-suite facilities, television and adjustable air-conditioning; ample wardrobe space and bedside drawers provide sufficient storage and there is a safe in the wardrobe for valuables.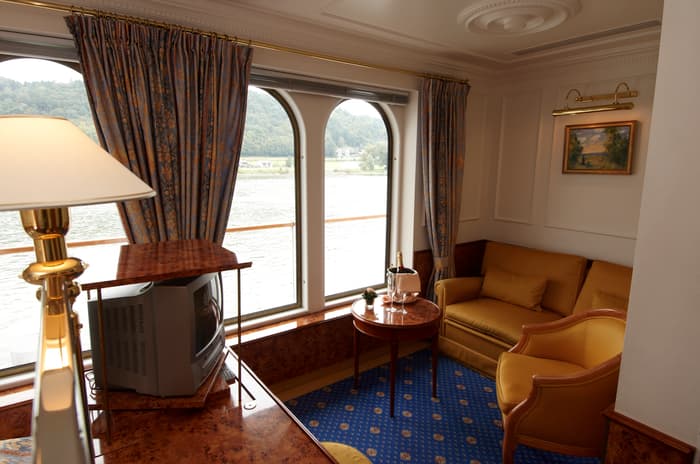 Hebridean Island Cruises Royal Crown Accommodation Royal Suite 2.jpg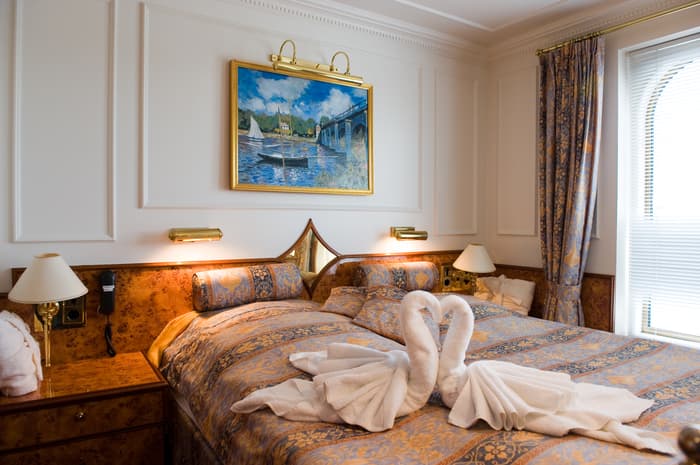 Hebridean Island Cruises Royal Crown Accommodation Royal Suite 1.jpg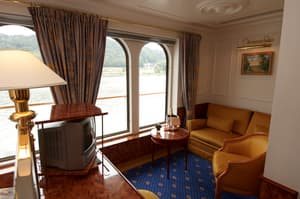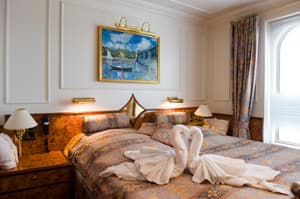 The Royal Suite
The Royal Suites are centrally located on the Panorama Deck, each with a king-size bed comprising two single mattresses in one solid bed frame with two duvets; the beds cannot be split into twin format. The suites also comprise a separate seating area with sofa, easy chair and dressing table/writing desk.
Features
Double
Shower
Toiletries Provided
TV
Safe
Hair Dryer
Desk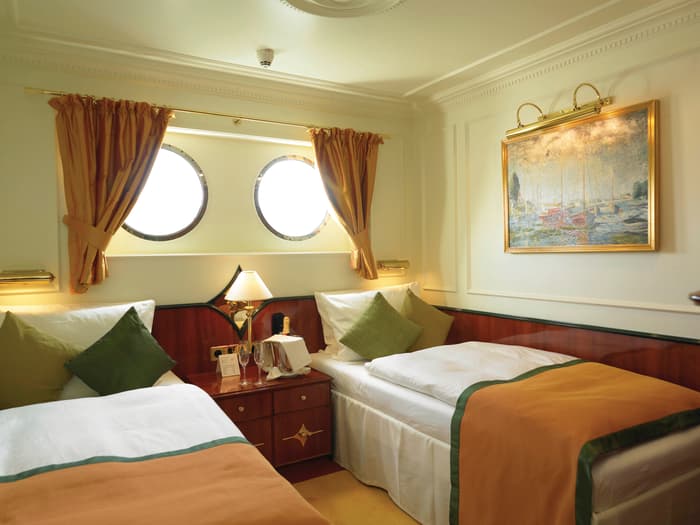 Deluxe Cabin Twin
The Deluxe Cabins are located on the Select Deck each with twin beds; the beds cannot be arranged as a double. Single guests who book a single occupancy cabin will automatically be allocated a Deluxe twin bedded room.

Features
Twin
Shower
Toiletries Provided
TV
Safe
Hair Dryer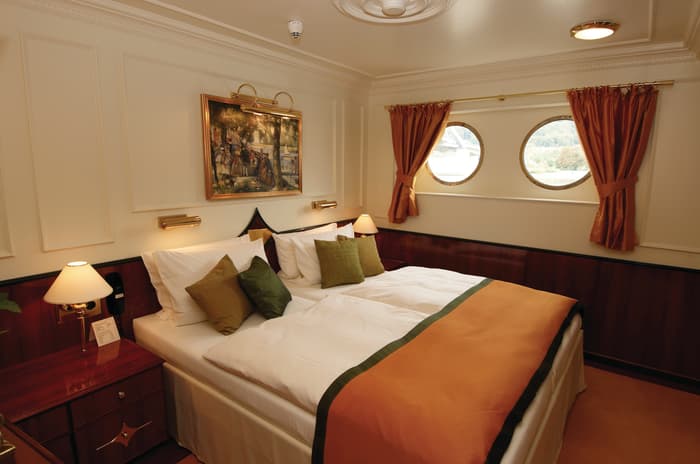 Premium Suite
The Premium Cabins are located on the Select Deck, each with a queen-size bed compromising two single mattresses in one solid bed frame with two duvets; the beds cannot be split into twin format.

Features
Double
Shower
Toiletries Provided
TV
Safe
Hair Dryer
Desk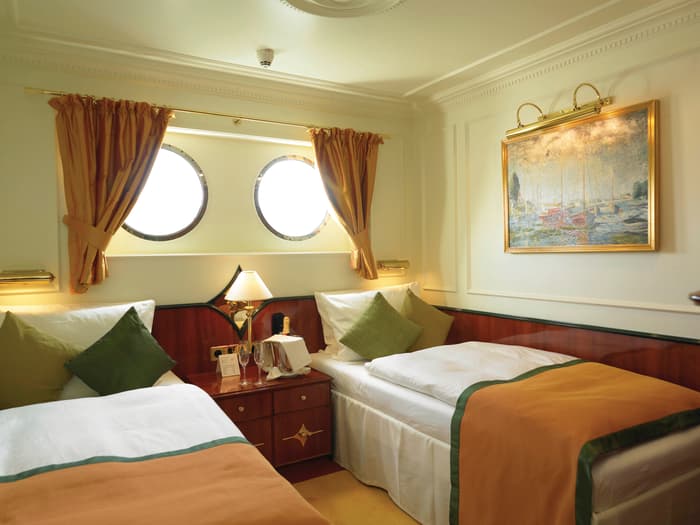 Deluxe Single
The Deluxe Cabins are located on the Select Deck each with twin beds; the beds cannot be arranged as a double
Features
Twin
Shower
Toiletries Provided
TV
Safe
Hair Dryer
Desk
Deck plans

Lido Deck
Lido Bar

Sun Deck
Putting Green
Giant Chess

Panorama Deck
Fitness Suite

Sauna

Restaurant

Library

Shop

Atrium

Reception

Lounge

Concierge
Royal Suites
Select Deck
Deluxe Twin Cabins

Deluxe Single Cabins

Premium Cabins