Search for your ideal Cruise
Why cruise on this ship?
The pioneering Ganges Voyager carries just 56 guests and offers a warm and relaxed experience. The ship takes you back in time with the grace and style of the colonial era with wood furniture and hand-stenciled murals.
find your perfect cruise
Dining
In the kitchen of the ship's elegant East India Dining Room, the Executive Chef oversees a team of experts that use fresh local produce to cater for a stunning range of specialty dining experiences. While each meal presents the chance to dine on exotic local cuisine, western-style favourites are always available should you desire a taste of home.
Entertaining
Catch a glimpse of India from the comfort of the ships Governor's Lounge a top the Sun Deck or from the Observation Deck.
Governor's Lounge
Located on the Sun Deck, the refined Governor's Lounge is a great place to relax over a drink and take in the views.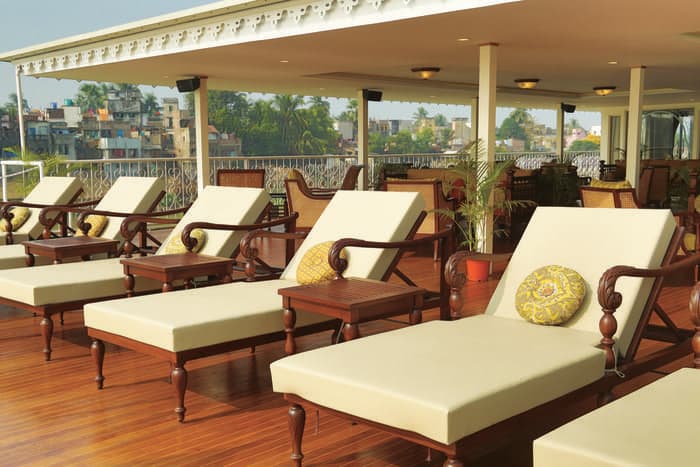 Observation Deck
Complete with chaise lounges and shaded areas, the outdoor Observation Deck offers sunshine, panoramic views, and a full drinks service.
Enrichment
On your cruise, exciting daily itineraries and shore excursions are enhanced by an impressive selected of onboard entertainment. Perhaps you might like to attend informative lectures by local guides on culture and history, or on select evenings you are also able to enjoy cultural performances, including a traditional puppet show.
Health and fitness
Relax in the on-board Spa before working out in the Fitness Centre.
Voyager Spa & Fitness Centre
The Voyager Spa offers an array of treatments, while the ship's Fitness Centre is fitted out with the latest equipment.
Kids and teens
Please note: There are no children's facilities on board.
Accommodation
All suites boast a private panoramic balcony.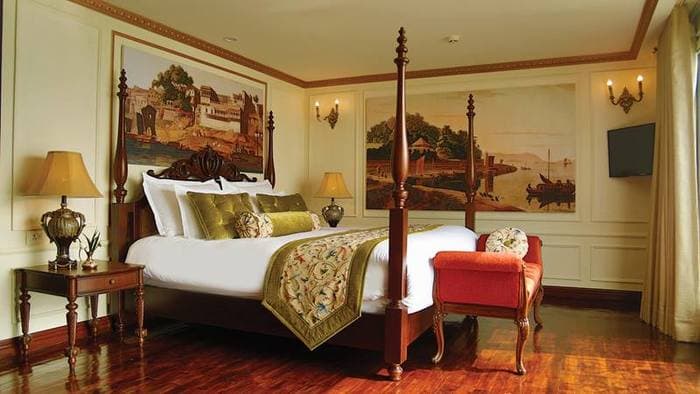 Viceroysuite.jpg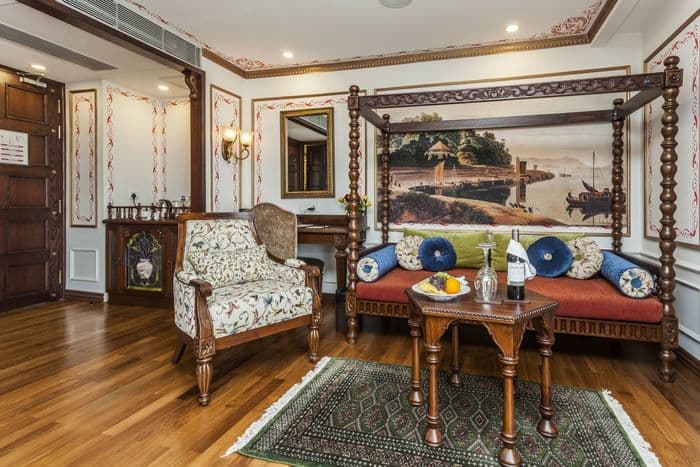 Avalon Waterways Ganges Voyager Viceroy Suite.jpg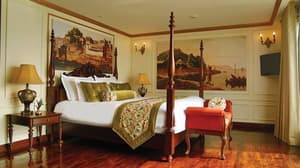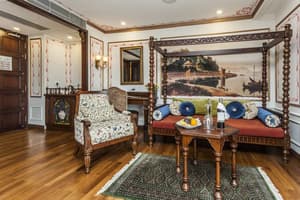 Viceroy Suite
Suite features:
In-house telephone
Mini-bar with complimentary local beer, soft drinks & bottled water
Premium mattresses
Fine linens & duvets
Soft & firm pillows
Nightly turn-down service
Bedside tables with reading lamps
Large French balcony with floor-to-ceiling glass doors
Comfortable sitting area with two chairs
Large private bathroom featuring full shower with rain shower head & glass door, hairdryer & premium bath amenities
Spacious closets with shelves for ample storage
Luggage rack
Flatscreen television with selection of on-demand movies
Writing desk/vanity with mirror & comfortable chair
Bathrobes & slippers
In-room safe
Individual climate control
Features
King or Twin Configuration
Lounge Area
Shower
Toiletries Provided
Room Service Available
Free Mini Bar
TV
Free Wi-Fi
Safe
Hair Dryer
Desk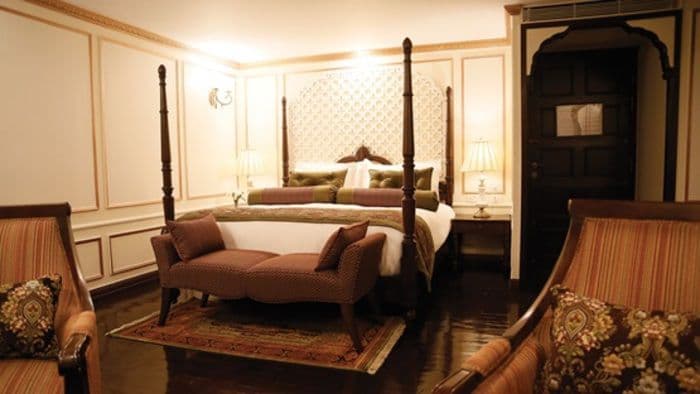 Maharaja Suite
Suite features:
In-house telephone
Mini-bar with complimentary local beer, soft drinks & bottled water
Premium mattresses
Fine linens & duvets
Soft & firm pillows
Nightly turn-down service
Bedside tables with reading lamps
Large French balcony with floor-to-ceiling glass doors
Comfortable sitting area with two chairs
Large private bathroom featuring full shower with rain shower head & glass door, hairdryer & premium bath amenities
Spacious closets with shelves for ample storage
Luggage rack
Flatscreen television with selection of on-demand movies
Writing desk/vanity with mirror & comfortable chair
Bathrobes & slippers
In-room safe
Individual climate control
Features
King or Twin Configuration
Lounge Area
Shower
Toiletries Provided
Room Service Available
Free Mini Bar
TV
Free Wi-Fi
Safe
Hair Dryer
Desk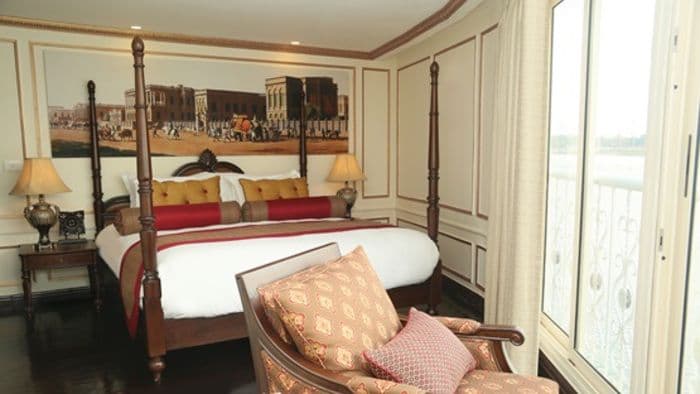 Heritage Suite
Suite features:
In-house telephone
Mini-bar with complimentary local beer, soft drinks & bottled water
Premium mattresses
Fine linens & duvets
Soft & firm pillows
Nightly turn-down service
Bedside tables with reading lamps
Large French balcony with floor-to-ceiling glass doors
Comfortable sitting area with two chairs
Large private bathroom featuring full shower with rain shower head & glass door, hairdryer & premium bath amenities
Spacious closets with shelves for ample storage
Luggage rack
Flatscreen television with selection of on-demand movies
Writing desk/vanity with mirror & comfortable chair
Bathrobes & slippers
In-room safe
Individual climate control
Features
King or Twin Configuration
Lounge Area
Shower
Toiletries Provided
Room Service Available
Free Mini Bar
Free Wi-Fi
Safe
Hair Dryer
Desk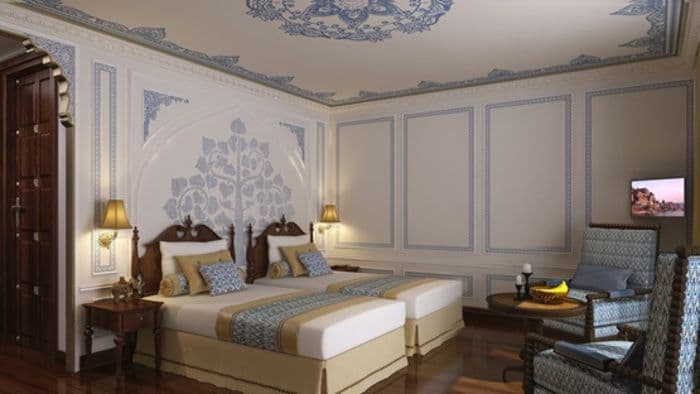 Deluxe Suite
Suite features:
In-house telephone
Mini-bar with complimentary local beer, soft drinks & bottled water
Premium mattresses
Fine linens & duvets
Soft & firm pillows
Choice of bed configuration (two twins or one king)
Nightly turn-down service
Bedside tables with reading lamps
Large French balcony with floor-to-ceiling glass doors
Comfortable sitting area with two chairs
Large private bathroom featuring full shower with rain shower head & glass door, hairdryer & premium bath amenities
Spacious closets with shelves for ample storage
Luggage rack
Flatscreen television with selection of on-demand movies
Writing desk/vanity with mirror & comfortable chair
Bathrobes & slippers
In-room safe
Individual climate control
Features
King or Twin Configuration
Lounge Area
Shower
Toiletries Provided
Room Service Available
Free Mini Bar
Free Wi-Fi
Safe
Hair Dryer
Desk
Deck plans

Sun Deck
Observation Deck

Lounge

Bar

Spa

Gym

Wheel House


Upper Deck
Maharaja Suite

Viceroy Suites

Heritage Suites

Colonial Suites


Main Deck
Dining Room

Kitchen

Offices

Signature Suites