Search for your ideal Cruise
Why cruise on this ship?
The Sanctuary Sun Boat III is an intimate river yacht representing the ultimate in luxury Nile cruises. Style, comfort and refinement are reflected throughout, with white and ecru tones combined to create warmth and depth. This elegant Egypt cruise boat accommodates up to 36 guests on three, four and seven night cruises.
find your perfect cruise
Dining
Breakfast, lunch, afternoon tea and dinner are included in your stay; as well as mineral water, tea and coffee during meals. There is also an early riser tea and coffee service for guests.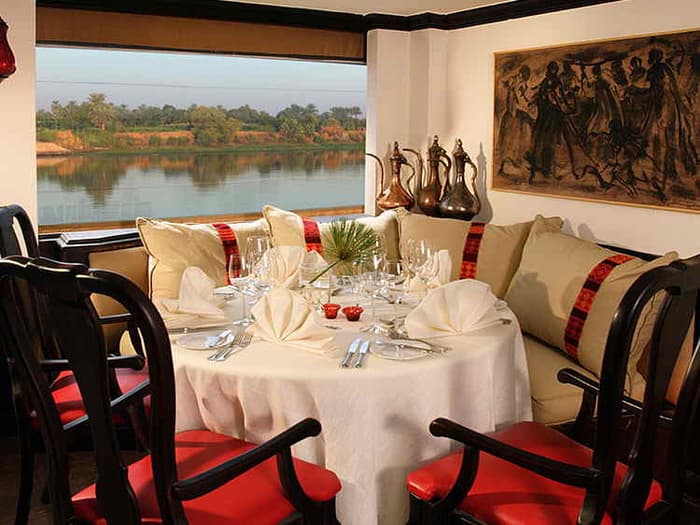 Dining
For each of your meals you will be served gourmet cuisine in the restaurant made by our award-winning chefs. Enjoy your food as you pass by beautiful scenery.

Meals typically consist of the following:
• Breakfast: American Buffet and a la carte Egyptian items
• Lunch: Buffet style (International, BBQ and Egyptian Buffets)
• Afternoon tea: (Selection of pastries, cookies and fresh fruits)
• Dinner: A la carte and choice menus
• Extensive local and international wine lists
• Open deck barbecues
Our expert chefs can also cater to specific dietary needs of guests. A vegetarian and also a children's menu is available to guests. Open door meals (Breakfast, Tea, BBQ, Egyptian dinner) are served on deck during sailing if the weather permits.
Features
Experience: Complimentary
Food type: Regional
Entertaining
The Sanctuary Sun Boat III has an upper sun deck known as 'Cleopatra's Oasis' with a swimming pool (heated to 28 degrees during winter), a shaded deck, the Sahara lounge and H. Carter lounge bar. The Copper Tray restaurant is spacious and seats 36. In addition, there is a games room with computer and internet access.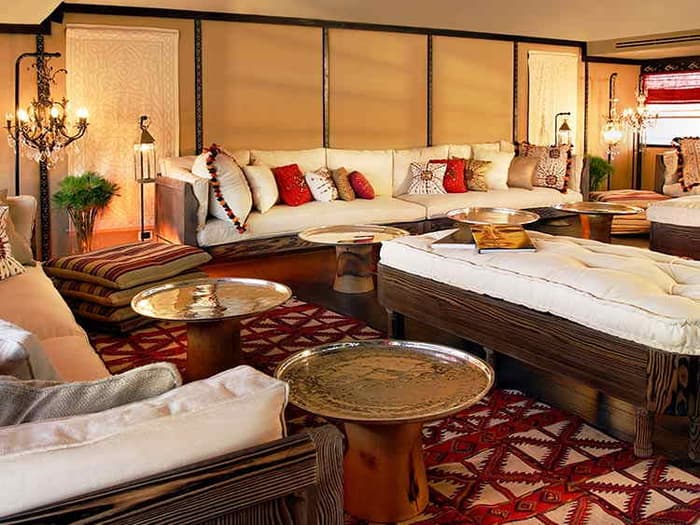 Sahara Lounge
Take a break from the heat and relax in the Sahara Lounge. This is the perfect place to socialise with the other passengers on board and talk about your adventures.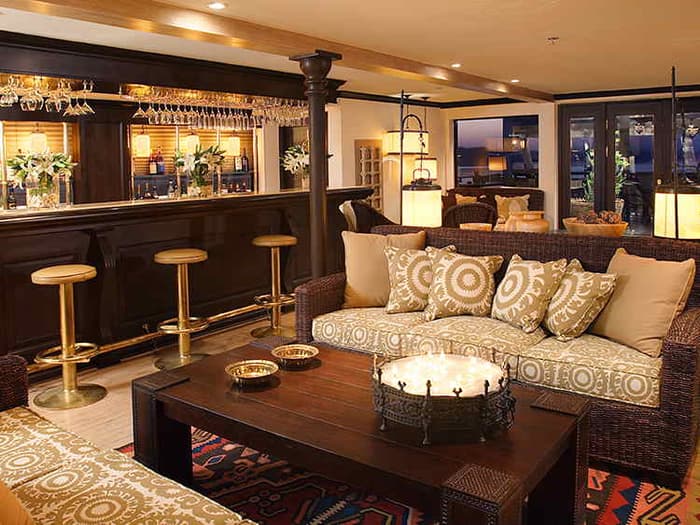 H. Carter Lounge
Next door to the Sahara Lounge is the H.Carter Lounge which is home to the bar. This is a great place to sit and talk with your friends and other passengers in the evening over a drink.
Lower Sun Deck
Step down a level from the sun loungers and relax in the shade on the lower sun deck. Enjoy the outdoor breeze under shelter from the sun.
Games Room
There is a games room on board with computer and internet access.
Enrichment
Every cruise on the Sanctuary Sun Boat III includes:
• A colourful 'galabeya party' which gives guests the opportunity to dress up in traditional Egyptian clothing and dance to Arabic music.
• There is also a performance by a belly dancer, accompanied by a whirling dervish show in Luxor.
• Cooking lesson (Three Egyptian items) and a lecture held by the Egyptologist guide on board.
• In-house movies and in-house cinema.
Health and fitness
The Sanctuary Sun Boat III has an upper sun deck known as 'Cleopatra's Oasis' with a swimming pool (heated to 28 degrees during winter).
There is a gym on board and also massage treatments available.
Sun Deck & Swimming Pool
A nice way to cool off in the Egyptian heat is by taking a dip in the Cleopatra Oasis pool on the sun deck of the Sun Boat III. Bask in the warm sun on the sun loungers while you are served a cooling drink.
Kids and teens
There are no dedicated children's facilities on board.
Children from the age of 3 years are welcome on the Sanctuary Sun Boat III.
Children aged 15 and younger are required to share with an adult.
An extra bed can be provided upon request in the Royal and Presidential Suites. Baby cots and baby chairs are provided upon request.
A children's menu is available at meal times.
Accommodation
The Sanctuary Sun Boat III has 18 beautifully designed unique cabins which include two royal suites and two presidential suites.
All cabins have Nile views, a mini-bar, safe deposit box, individual CD player and LCD television (with Information channel) with satellite and in-house movies, along with being fully air-conditioned with individual controls. Cabins' bathroom has shower, while suites bathroom have bathtub—all have a hairdryer. International telephone access is available through the reception. There is an auto wakeup call service and an extra cabin key is available upon request.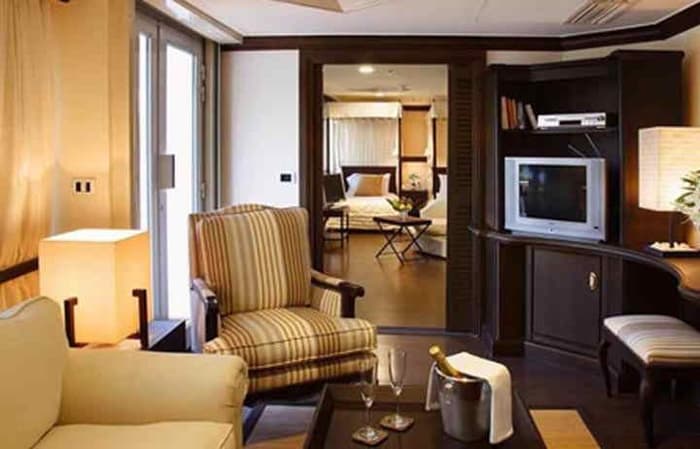 Royal Suite
Discover the essence of tranquility and elegance during your luxury Nile cruise in our two Royal Suites. Honey hues welcome you to these opulent and spacious suites.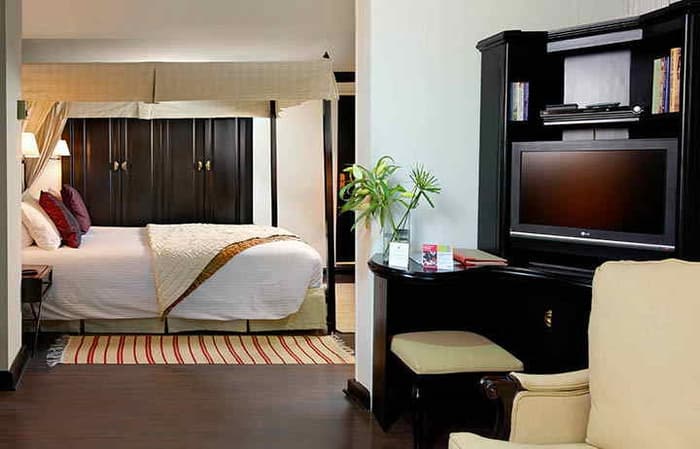 Presidential Suite
Indulge in this spacious, elegant suite decorated in cool calm tones that will leave you in absolute serenity. Comfort and style are reflected in all corners of the presidential suite to give a naturally astonishing look. There are two presidential suites.
Luxury Cabin
The 14 luxury cabins are all beautifully appointed with old fashioned four poster beds, draped with Egyptian linens. The shutters are the traditional focal point of the cabin and are a striking design element. The warm colours of the cabin and traditional tones evoke the glamour of the 1930s.
Deck plans

Sun Deck

Tower Deck
Royal Suite
Gift Shop
Sahara Lounge
H. Carter Lounge
Lower Sun Deck

Promenade Deck
Presidential Suite
Luxury Cabin
Reception
Restaurant
Galley

Nile Deck