Search for your ideal Cruise
Why cruise on this ship?
As the only Scenic ship sailing the Douro in Portugal, the 5-star Scenic Azure allows you to make the most of your time on-board.
find your perfect cruise
Dining
Guests can choose to dine at a choice of five on-board venues, from a casual cake and sandwich at the River Café to a six-course degustation menu at the exclusive Table La Rive where delicious dishes and complementary wines are expertly paired. And, for a spot of relaxation, guests can unwind in the Vitality Pool on Sun Deck or visit the dedicated fitness and wellness areas.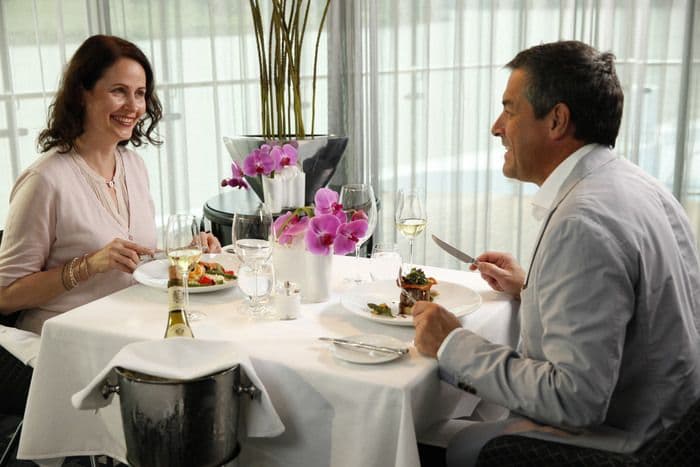 Crystal Dining Restaurant
The Crystal Dining Restaurant offers its own unique ambiance; bright and refreshing in the morning, relaxing in the middle of the day, intimate and warm as evening draws in. Catering for all guests to dine at a single sitting with open seating allows you to sit with friends or share a more intimate meal.
It's here you'll start each day with a wonderful buffet breakfast and cooked-to-order hot favourites. Why not enjoy a glass of Moët & Chandon, served for a Champagne breakfast- a perfect way to toast the day ahead!
At lunch you'll be spoilt for choice with generous buffets and a beautifully prepared à la carte menu.
In the evening, your Maître d' welcomes you to enjoy a delicious meal created by the award-winning chefs. A generous selection of complimentary beverages that include six red and six white premium regional wines handpicked by the sommelier, as well as beer, spirits, soft drinks and bottled mineral water, are available to accompany every meal.
Features
Experience: Complimentary
Food type: Classic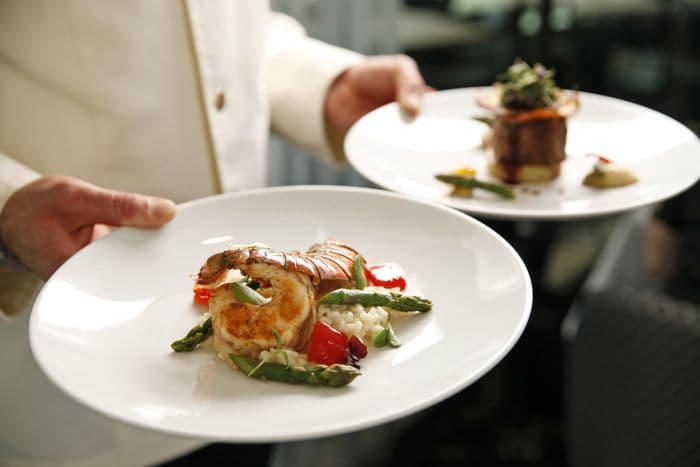 Portobellos Restaurant
No other river cruise ship in Europe offers a comparable dining experience like Portobellos Restaurant, which offers traditional Italian cuisine to a select group of just thirty guests. Be welcomed with a glass of Veuve Clicquot champagne and take your seat for this authentic culinary experience. Portobellos is perfectly located at the front of the ship, taking full advantage of the spectacular views. The skilled highly acclaimed chefs will treat you to a delicious five-course menu complimented by exceptional wines, handpicked by the sommelier. As you can imagine, an evening at Portobellos is a wonderful experience that should not be missed.
Features
Experience: Complimentary
Food type: Italian
River Café
If you're an early riser, you might choose to east at the River Café, which opens early for breakfast and serves casual Asian-inspired fare and snacks throughout the day.
Features
Experience: Complimentary
Food type: Casual
Table La Rive
An opportunity available to Royal and Junior Suite guests, this degustation menu showcases sensational seasonal produce, which are then paired skilfully with international and local wines by their sommelier. So for example, and perhaps to whet your appetite, the chefs will prepare a porcini cappuccino with blue potato chips, which is then served with Riesling. Or maybe marinated crayfish with mango and rocket, accompanied by a crisp Sauvignon Blanc from Burgenland. Each wine is carefully chosen to complement and enhance the flavours of the selected dish, creating an unforgettable dining experience.
Features
Experience: Complimentary
Food type: Fine
In-Suite Dining
If you're in a more relaxed mood, or simply want a little time to yourself, the inclusive room service ensures that you can also eat in the comfort of your own suite.
Features
Experience: Complimentary
Food type: Room
Entertaining
Scenic strictly limits the guest and cabin numbers. Not out of pretension or pride, but because in their experience, they know their guests appreciate a real sense of space. In fact, the wonderful scenery gliding by is often the only reminder you have that you're actually on a ship.
Panorama Lounge & Bar
Their Panorama Lounge is larger than any you'll find on ordinary river cruise ships, and there is plenty of space to relax at the bar while taking in the breathtaking views. It's here in the Panorama Bar and Lounge where you will enjoy a glass of champagne when you first board the ship. During your cruise, choose from a selection of wines, beers, soft drinks, cocktails and spirits, and help yourself to teas and coffee, all at no extra cost. It's worth noting that they store their wines in special EuroCave storage cabinets to ensure that your wine is matured and served at the perfect temperature.
The Sun Deck
The perfect area to relax with four types of seating to choose from. There are the traditional deck chairs or sun loungers which are perfect for the sun worshippers, or the directors chairs and bistro seating sets for parties of 4 should you wish for a more formal setting.
Enrichment
The Douro is intrinsically connected to wine. Grapes were first cultivated around 4,000 B.C and Port shipments began in 1678 when British traders blockading France sailed this 'golden' river to meet Portuguese vintners who stabilised red wine with brandy for the long trip to London.
The Douro's history is more than wine; you'll discover the significance of the Palaeolithic Vale do Côa rock paintings, witness traces of Spanish, Celtic, French and Arabic influences from across the ages, and revel in multiple World Heritage-listed sites including the living museum that is historic Porto.
The dramatic landscape of the Douro has protected a culture that has evolved since the Stone Age. Some of the ancient villages date back to Roman times whilst others are influenced by the agricultural practices of Benedictine monks.
You'll find handicrafts of metal, stone, ceramic and wool are aplenty and discover unique embroidery, black clay pieces and wooden masks. The cities are just as alluring. Get your Spanish fix in intriguing Salamanca and explore cosmopolitan Porto, rich in architecture, stories of the seas, and lush green parks and gardens.
You'll converse with the friendly locals who will share their close links to their land reflected in traditional farming methods and a great culinary tradition. The classic fortified Port style is exclusive to the Douro Valley, one of the world's oldest protected wine regions.
The family-run quintas (estates) are the best place to enjoy Port as an apéritif before you dine on the freshest of fish, goat and veal, smoked meats and artisanal cheeses. The fertile soil also yields olives and almonds, the latter starring in the traditional sweet treats best enjoyed with a speciality liqueur.
Health and fitness
Whilst aboard the ship, guests are provided with a Fitness centre and a Wellbeing centre where luxurious treatments such as a one-hour aroma therapy full-body massage are available*.
*Treatments are not included in the price
Vitality Pool
The new Vitality heated pool located up on the Sun Deck is perfect for unwinding after a days sightseeing, with its hydrotherapy jets and plunge pool.
Kids and teens
Please note: The Scenic Azure does not have any specific facilities to accommodate Kids/Teens.
Accommodation
Arranged over four decks, the Azure offers four accommodation grades, from stylish Standard Suites with river views to the incredible indulgence of the Royal Panorama Suites, each benefitting from a HDTV, pillow menu, complimentary minibar and WiFi and, of course, a personal butler service.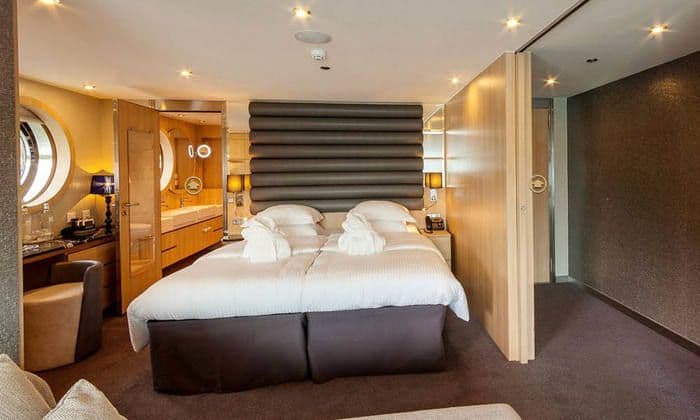 Royal One-Bedroom Suite
This is the largest suite on the ship. Located on the Diamond Deck, both suites enjoy fantastic views of the passing scenery from your private balcony complete with Scenic Sun Lounge. Each Suite has a separate lounge area and a luxurious bathroom offering a separate bath and shower.
Features
Queen or Twin Configuration
Lounge Area
Shower
Bath
Toiletries Provided
Room Service Available
Suite Benefits
TV
Free Wi-Fi
Safe
Hair Dryer
Desk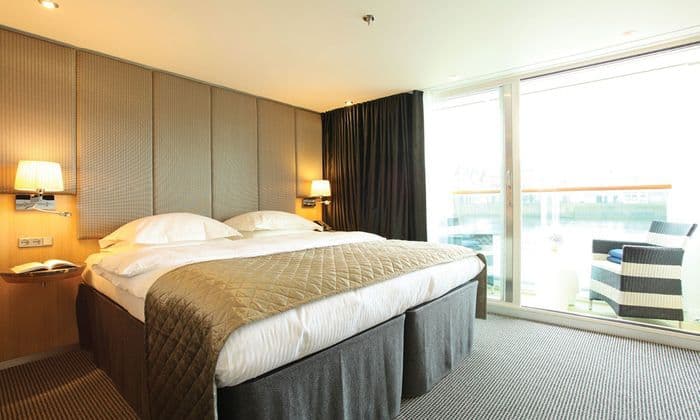 Junior Balcony Suites
These spacious Suites, located on the Sapphire and Diamond Decks, have a private full-length balcony complete with a Scenic Sun Lounge and elegant en-suite bathrooms featuring a large vanity basin and shower.
Features
Queen or Twin Configuration
Shower
Room Service Available
Suite Benefits
TV
Safe
Hair Dryer
Desk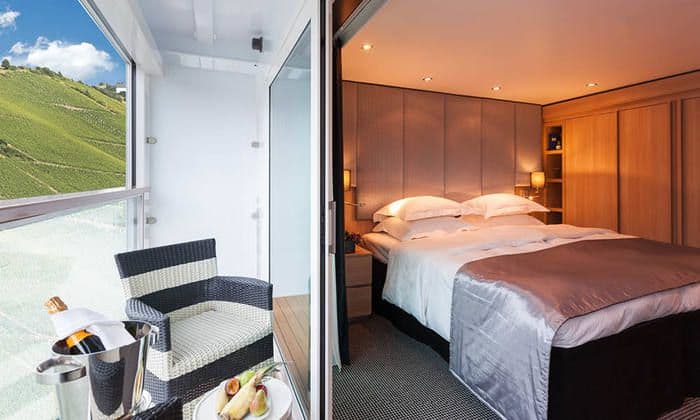 Balcony.jpg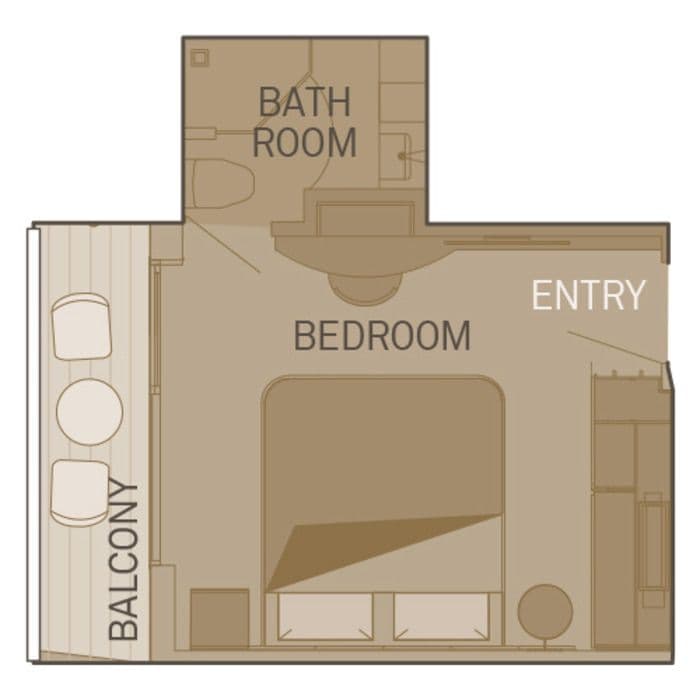 Balcony suite.jpg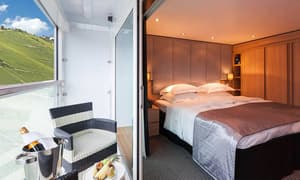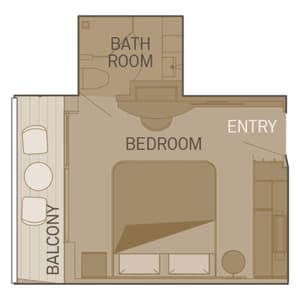 Balcony Suite
Located on the Sapphire and Diamond Decks these stylishly decorated suites feature a full-length outdoor balcony with the exclusive Scenic Sun Lounge system and offer private bathrooms with a luxurious vanity basin and shower.
Features
Shower
Toiletries Provided
Room Service Available
TV
Safe
Hair Dryer
Telephone
Desk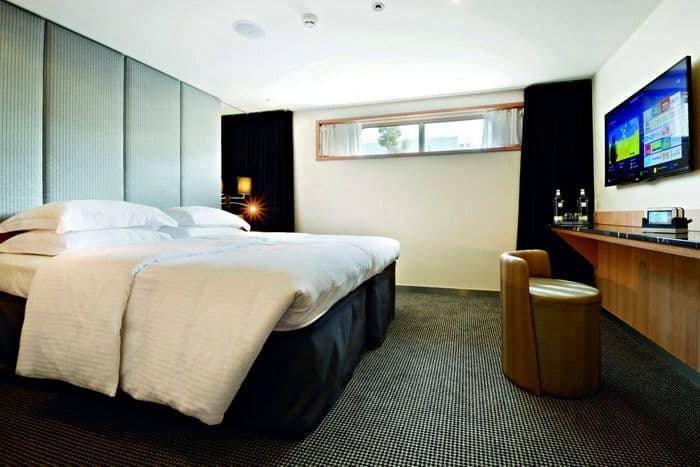 Standard Suite
Standard Suites are located on the Jewel Deck with large picture windows to ensure a great view. They have a spacious design and clever layout alongside all the usual luxurious amenities and furnishings.
Features
Queen or Twin Configuration
Shower
Toiletries Provided
Room Service Available
TV
Safe
Hair Dryer
Desk
Deck plans

Sun Deck
Sun Deck

Vitality Pool

Wheelhouse
Riverview Terrace


Diamond Deck
Portobellos Restaurant

River Cafe

Panorama Lounge and Bar

Gift Shop

Wellness Area
Reception

Balcony Suite- Cat P
Balcony Suite- Cat PA
Royal One-Bedroom Suite- Cat RP

Sapphire Deck
Crystal Dining Restaurant

Table La Rive

Fitness Centre

Wellness Area

Balcony Suite- Cat B

Balcony Suite- Cat BB

Balcony Suite- Cat C


Jewel Deck
Galley

Standard Suite- Cat D

Standard Suite- Cat E