Search for your ideal Cruise
Why cruise on this ship?
Having undergone a soft refurbishment in 2018, the Travelmarvel Diamond has a fresh modern feel. Our classic river ship includes spacious and premium suites filled with the finest amenities. Be spoilt for choice with an array of world-class facilities and be entertained with on-board performances each night.
find your perfect cruise
Dining
Enjoy four-course meals offering fresh regional cuisine in the ship's fine dining restaurant, or take advantage of a lighter option enjoy a delicious buffet served in the ships lounge area.
Wine, beer and soft drinks are included with your onbaord lunch and dinner, while hot drinks are available 24/7.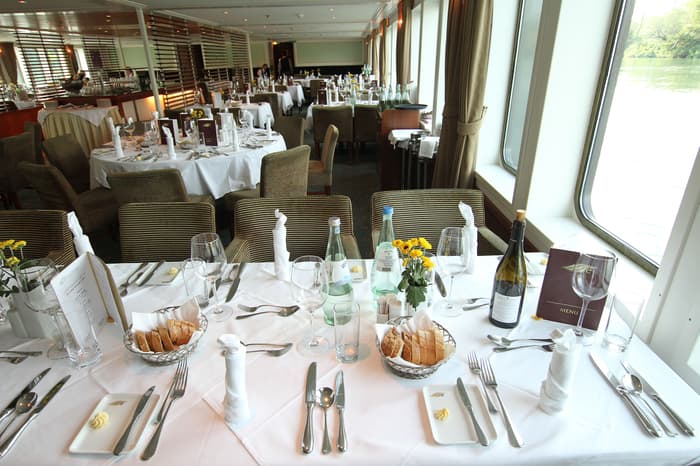 MS_Excellence_Bellinis Restaurant.jpg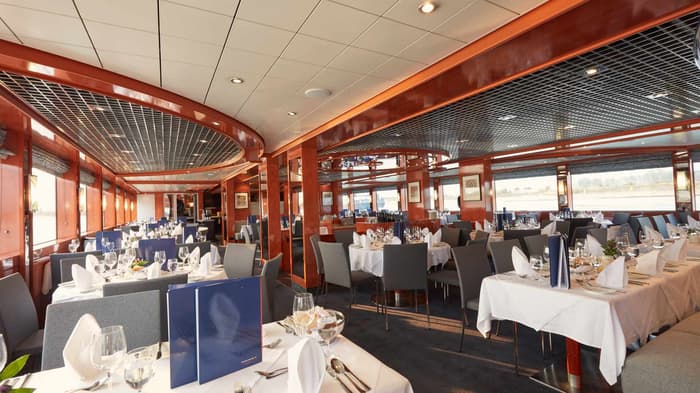 APT Travelmarvel Diamond Restaurant.jpg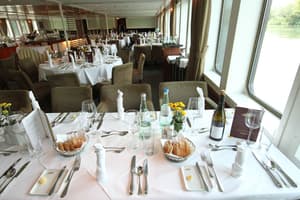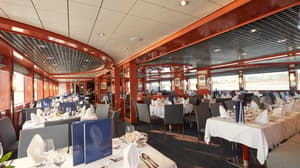 Dining Room
Local beer, wine and soft drinks are included with all lunches and dinners. Every morning you're provided with a full English breakfast or smorgasbord of gourmet delights. Supper is also included in the evening along with 24 hour complimentary tea and coffee.
Features
Experience: Complimentary
Food type: Continental
Entertaining
Depending on your itinerary, an exciting range of on-board entertainment awaits such as intriguing presentations on the regions you're visiting.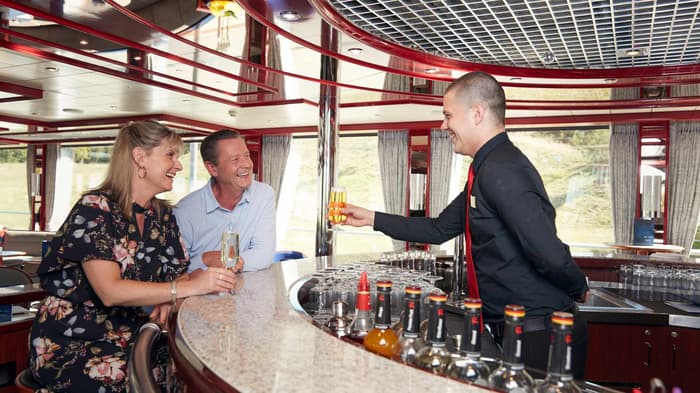 APT Travelmarvel Diamond Bar.jpg
APT Travelmarvel Jewel Lounge.jpg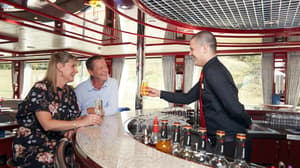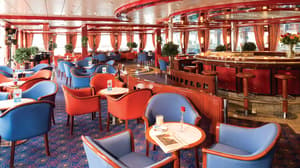 Main Lounge & Bar
This versatile space hosts a bar, dance floor, plenty of comfortable couches and is used for everything from the morning port talks, daytime reading and chatting to scenic cruising, afternoon tea and evening entertainment.
Sun Deck
Head to the Sun Deck to relax as you take in the European riverside scenery.
Library
All ships have a book collection available free of charge to all passengers. Please return any books that you borrow before the end of the cruise. The ship appreciates any donations that you may contribute, should you decide to leave books or magazines behind.
Gift Shop
The Travelmarvel Diamond and Jewel have an onboard gift shop offering souvenirs and gifts, as well as a small selection of personal and toiletry items.
Enrichment
Please note: there are no facilities dedicated to Enrichment onboard the ship.
Health and fitness
With an array of stylish public areas and premium facilities, your time on board will prove to be a memorable experience. Relax at the main lounge and bar with panoramic views or feel the fresh breeze on the Sun Deck. Pamper yourself at the hair salon or work out at the Fitness Centre. You'll also have access to free bottled water, Wi-Fi and onboard computers.
Fitness Room
The fitness room on board the Travelmarvel Diamond and Jewel is outfitted with exercise equipment and are available to all passengers. Use of the equipment is at the sole risk of the user. There is no attendant on duty and without limitation, Travelmarvel and its affiliates are not responsible for any accident or injury sustained during the use of any exercise equipment.
Complimentary Bikes
Each ship is equipped with a number of complimentary bikes for your use. It is not law to wear a helmet when cycling, however a limited number of helmets are provided on board.
Kids and teens
Please note: there are no facilities dedicated to Kids & Teens onboard the ship.
Accommodation
Whichever you choose, when you fling open the door of your suite, you will find an inviting home-away-from-home, offering glorious views no matter which category or deck you choose. Open and light-filled, your accommodation feels like a premium hotel room with maximum space and total privacy. Each feature in a suite was thoughtfully conceived with the comfort of their guests in mind. Suites start at 172 square feet, and can be as large as 255 square feet in the owner suite, giving you more space to sit back and relax in between meals and explorations. Artfully crafted to a first-class standard, each room is equipped with innovative designs, plush lining, and many other special touches that make you feel like you're getting the royal treatment.
To ensure guests have the most comfortable stay possible whilst on board, all suites receive fresh bottled water daily and are also serviced daily. In selected suites a Butler service is also available. In order to make your stay onboard as comfortable suites feature ample cupboard space allowing you to unpack once and relax. Each suite also has additional amenities including Entertainment-On-Demand, complimentary Wi-Fi, movies, music and English language TV stations; climate-controlled air conditioning; and an in-room safe. Each suite also has an ensuite bathroom complete with a hairdryer.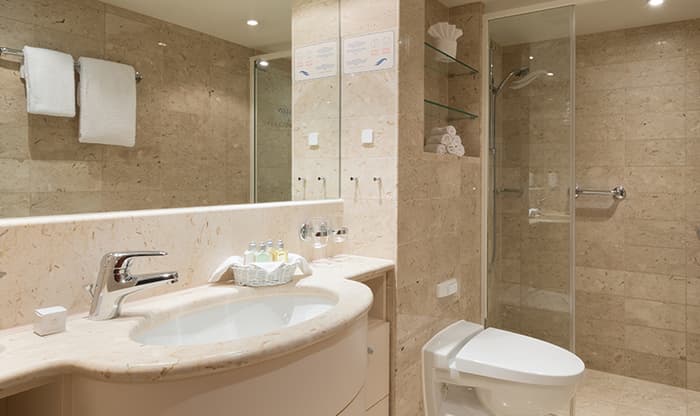 APT Travelmarvel Diamond, Travelmarvel Jewel & Travelmarvel Sapphire Accommodation Owner's Suite Bathroom.jpg
APT Travelmarvel Diamond Accommodation Owners Suite.jpg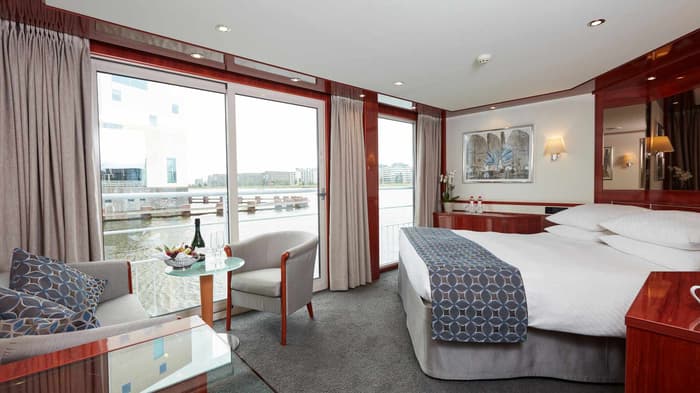 APT Travelmarvel Diamond Accommodation Owners Suite 2.jpg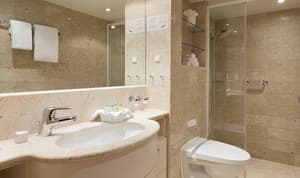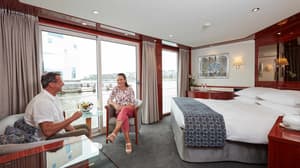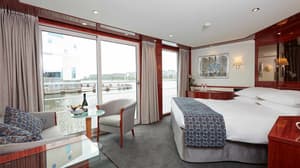 Owner's Suite
At 258 square feet, these have a host of benefits including an extra floor-to-ceiling window, an all-weather French Balcony and a larger ensuite. Adding to the indulgence, the larger sitting area and couches are perfect for entertaining guests.
Features
Double or Twin Configuration
Lounge Area
Dining Area
Vanity Area
Shower
Toiletries Provided
Room Service Available
Suite Benefits
TV
Free Wi-Fi
Media/Entertainment Station
Safe
Hair Dryer
Telephone
Desk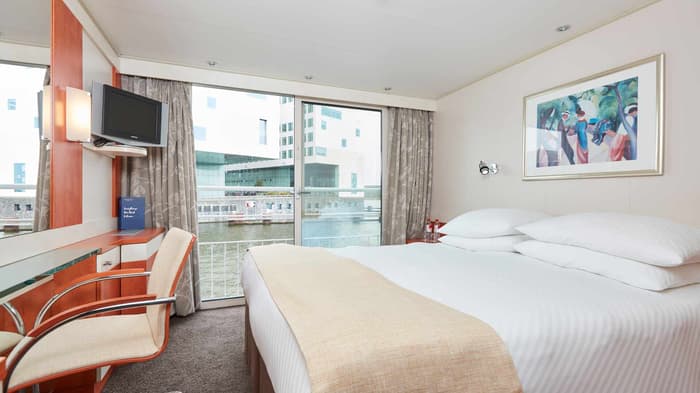 French Balcony Staterooms
Ideally located on the upper decks, these staterooms feature enhanced floor spaces thanks to their innovative French Balconies, allowing you to enjoy the Fresh air and unimpeded views as you cruise.
Features
Double or Twin Configuration
Shower
Toiletries Provided
TV
Free Wi-Fi
Media/Entertainment Station
Safe
Hair Dryer
Telephone
Desk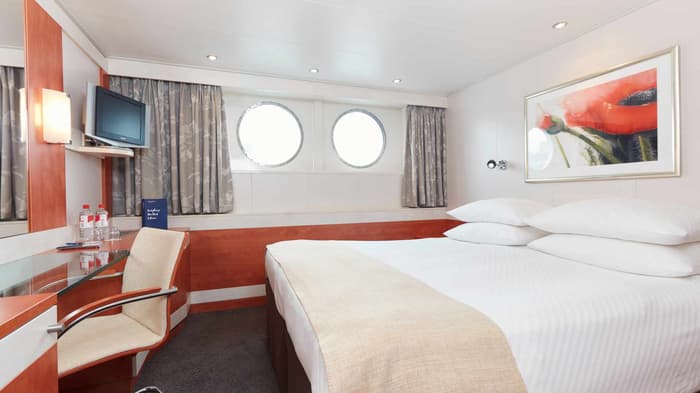 Window Staterooms
With 172 square feet of space, these are among the largest entry-level suite categories in Europe.
Features
Double or Twin Configuration
Shower
Toiletries Provided
TV
Free Wi-Fi
Media/Entertainment Station
Safe
Hair Dryer
Telephone
Desk
Deck plans

Sun Deck
Sun Deck with Sun Chairs

Lower Sun Deck


Rhine Deck
Hair Salon

Front Observation Deck

Main Lounge & Bar

Owner's Suites

French Balcony Staterooms (Category A)

French Balcony Staterooms (Category A+)


Danube Deck
Dining Room

Reception

French Balcony Staterooms (Category B)

French Balcony Staterooms (Category C)


Moselle Deck
Fitness Room

Window Staterooms (Category D)

Window Staterooms (Category E)