Search for your ideal Cruise
Why cruise on this ship?
The Viking fleet is the river cruise industry's largest and most innovative — designed to gracefully navigate Europe's tranquil waters and glide through the continent's most celebrated cities.
find your perfect cruise
Dining
It's been said that the best way to know a culture is through its food and wine. Both engage your senses and provide a window into the traditions and essence of a land. Viking's trained chefs are passionate about food and committed to providing a complete culinary experience. The ships' dining areas are hospitable and inviting; the service is friendly, attentive and personalised. Menu selections include regional dishes and contemporary cuisine to offer a variety of flavours designed to suit any palate.You have choices for breakfast, lunch and dinner. Not just in food selection, but also in where and how you enjoy them. Greet the morning with a croissant and cappuccino on deck, or begin your day with a sumptuous buffet breakfast. Have a casual lunch or dinner al fresco, or join friends in the restaurant. Open seating allows you to mingle with the same guests every evening or meet someone new each day.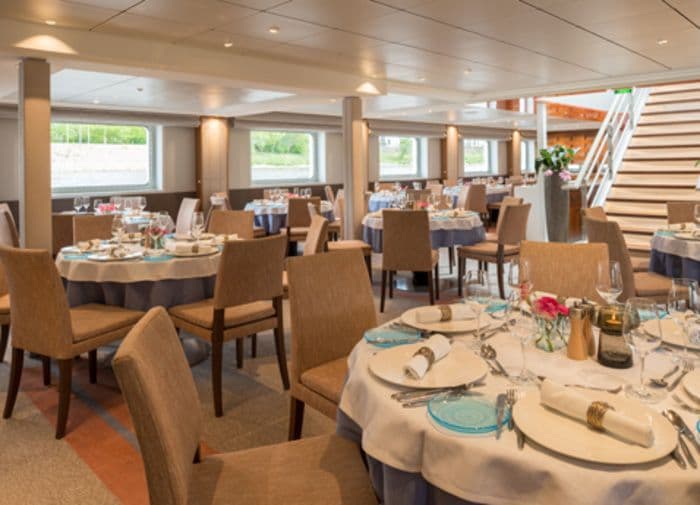 Main Restaurant
Gaze at breathtaking scenery through the Restaurant's large windows as you dine on regional specialties and contemporary cuisine. The atmosphere is casual yet elegant, with high-quality table linens, china, cutlery and glassware at every meal.
Features
Experience: Complimentary
Food type: Wine
Entertaining
As with your stateroom, the public areas are designed to make the most of the splendid views. Whether from the sun deck, the Panorama Lounge or the restaurant, a river cruise provides uninterrupted sightseeing, from the time the morning mist rises from the water to when the setting sun announces the end to another remarkable day.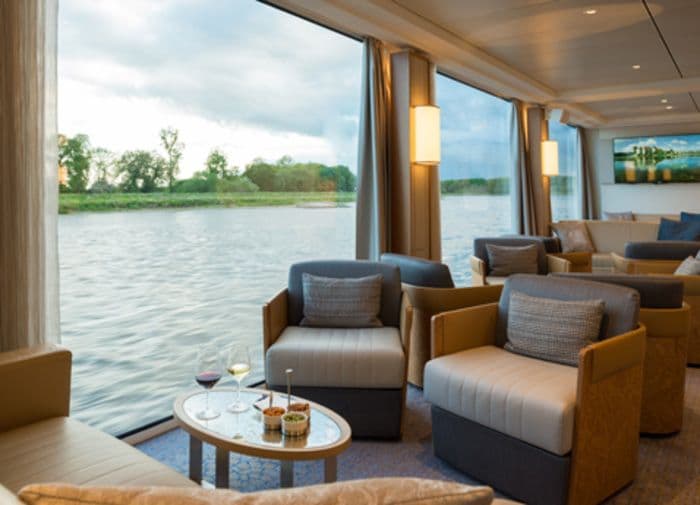 The Observation Lounge
Located at the fore of the upper deck, the Observation Lounge is a terrific place to meet friends before and after meals. Its panoramic windows surround a large sitting area with chairs, small tables and a bar area with barstools; there is a 24-hour tea and coffee station with a fruit basket. The lounge has a projector and screen installed in the ceiling, so slides can be shown, and there is a stereo system and dance floor. The observation lounge also serves as the ship's library.
The Library
The observation lounge also serves as the ship's library. The ships' libraries carry approximately 80 books, in various languages but mostly English, and several games such as chess, backgammon and playing cards.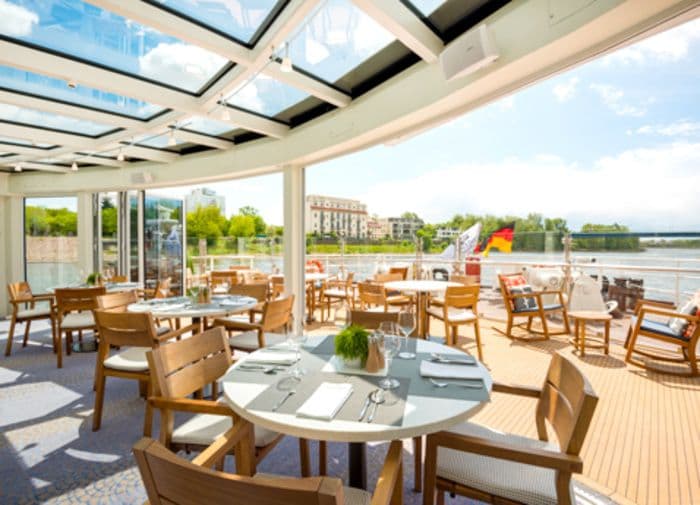 Aquavit Terrace
Revolutionary in concept and design, this innovative outdoor seating area at the bow of the ship is perfect for having a casual meal al fresco, meeting friends for drinks or reading a book, all while enjoying breathtaking views and basking in the fresh air.
Enrichment
Viking know that you travel to explore, to learn, to understand—to gain more insight and appreciation than can be obtained from simply passing through. Every aspect of your time with Viking, from local cuisine offerings to carefully created enrichment programs, is planned to bring you closer to your destination..
On & Off Shore Activities
Hands-on demonstrations, cooking classes, traditional dance performances, and local tastings. These in-depth experiences are included as an essential part of discovering more about the places through which you cruise, and each activity is planned specifically to illuminate each itinerary.
Sometimes you want to dig a little deeper. We offer a series of onboard multimedia talks to shed light on the history and culture of the places you visit. Topics may include the Dutch Masters or French impressionists, castles along the Rhine Valley, the formation of the European Union, the life and works of Wolfgang Amadeus Mozart, the wine and cuisine of southern France, and key words and phrases in the local language wherever you are traveling. These presentations provide a context for your own observations, enhancing your travel experience.
Health and fitness
Offering ample outdoor space, the Sun Deck boasts 360° views and comfortable shaded seating areas.
Kids and teens
Due to the nature of Viking cruises, they do not maintain specific facilities or services for children aboard cruise vessels. In the circumstances you and all members of your party must be aged 18 or over on or before the day you are scheduled to embark on the cruise vessel.
Accommodation
Viking cruise ships offer you a choice of stateroom category. From spacious French Balcony Staterooms with a sliding glass door, to our Standard Staterooms, each offers understated elegance and sweeping river views. These exquisite staterooms offer hotel-style beds, private bathrooms and roomy wardrobes.
French Balcony
The French Balcony suites provide guests with a Hotel-style beds measuring 79 inches x 63 inches (with optional twin-bed configuration), French balconies with floor-to-ceiling sliding glass doors, a Private bathroom with shower and premium bath products with Bathrobe and slippers available upon request. Guests have the use of a telephone, refrigerator, safe, hair dryer & bottled water replenished daily, Individual climate control, Space under bed for storing suitcases, a roomy wardrobe with wooden hangers and TV with premium entertainment package including: CNBC, CNN, National Geographic, MGM Movies, Sky Cinema and "View From the Bridge".
Features
Queen or Twin Configuration
Shower
Toiletries Provided
Room Service Available
TV
Free Wi-Fi
Safe
Hair Dryer
Desk
Standard Cabins
The standard cabins provide guests with a river-view stateroom with half-height picture window, hotel-style bed 79 in x 63 in (with optional twin-bed configuration); luxury linens & pillows, free Wi-Fi (connection speed may vary), 42" flat-screen TV with infotainment system featuring Movies On Demand, plus CNBC, CNN, National Geographic & more, 110/220 volt outlets & USB ports, telephone, safe, refrigerator, hair dryer & individual climate control, private bathroom with spacious glass-enclosed shower, premium Freyja® toiletries; plush robes & slippers available upon request, bottled water replenished daily, stateroom steward & twice-daily housekeeping, space under bed for storing suitcases, and a roomy wardrobe with wooden hangers
Features
Queen or Twin Configuration
Shower
Toiletries Provided
Room Service Available
TV
Free Wi-Fi
Safe
Hair Dryer
Desk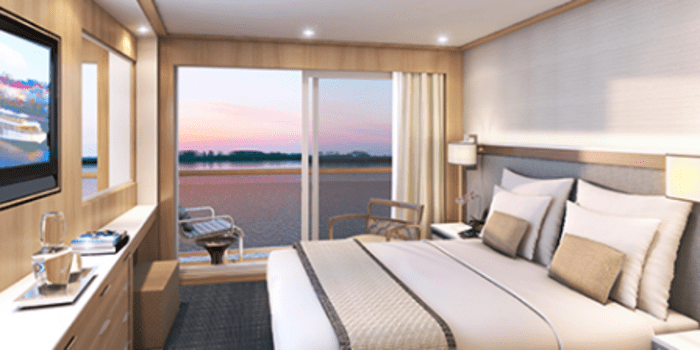 Veranda Stateroom
The veranda staterooms provide guests with a river-view stateroom with floor-to-ceiling sliding glass door opening to a full-size veranda, hotel-style bed 79 in x 63 in (with optional twin-bed configuration); luxury linens & pillows, free Wi-Fi (connection speed may vary), 42" flat-screen TV with infotainment system featuring Movies On Demand, plus CNBC, CNN, National Geographic & more, 110/220 volt outlets & USB ports, telephone, safe, refrigerator, hair dryer & individual climate control, private bathroom with spacious glass-enclosed shower, premium Freyja® toiletries; plush robes & slippers available upon request, bottled water replenished daily, stateroom steward & twice-daily housekeeping, space under bed for storing suitcases, roomy wardrobe with wooden hangers
Features
Queen or Twin Configuration
Shower
Toiletries Provided
Room Service Available
TV
Free Wi-Fi
Safe
Hair Dryer
Desk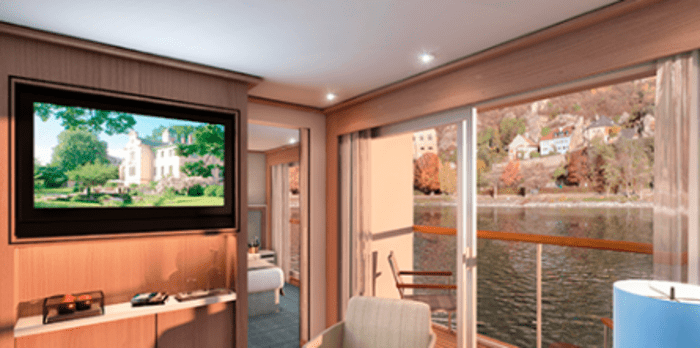 Veranda Suite
The veranda staterooms provide guests with a river-view suite with full-size veranda off the spacious, separate sitting room & floor-to-ceiling sliding glass door, known as a French balcony, in the sleeping quarters, hotel-style bed 79 in x 63 in (with optional twin-bed configuration); luxury linens & pillows, free Wi-Fi (connection speed may vary), two 42" flat-screen TVs with infotainment system featuring Movies On Demand, plus CNBC, CNN, National Geographic & more, 110/220 volt outlets & USB ports, telephone, safe, refrigerator, hair dryer & individual climate control, large private bathroom with spacious glass-enclosed shower, premium Freyja® toiletries; plush robes & slippers, bottled water replenished daily, stateroom steward & twice-daily housekeeping, space under bed for storing suitcases, roomy wardrobe with wooden hangers, early check-in (no later than 12 PM), complimentary Viking Air Plus, laundry & shoe shine services, welcome champagne; mini-bar with wine, beer & soft drinks (replenished daily); daily fruit plate, binoculars
Features
Queen or Twin Configuration
Lounge Area
Shower
Toiletries Provided
Room Service Available
Suite Benefits
TV
Free Wi-Fi
Safe
Hair Dryer
Desk
Deck plans

Upper Deck
Observation Lounge

Bar

Shop

French Balcony (AX)

Standard (A)


Main Deck
Restaurant

Standard (B)

Standard (C)

Standard (D)