Search for your ideal Cruise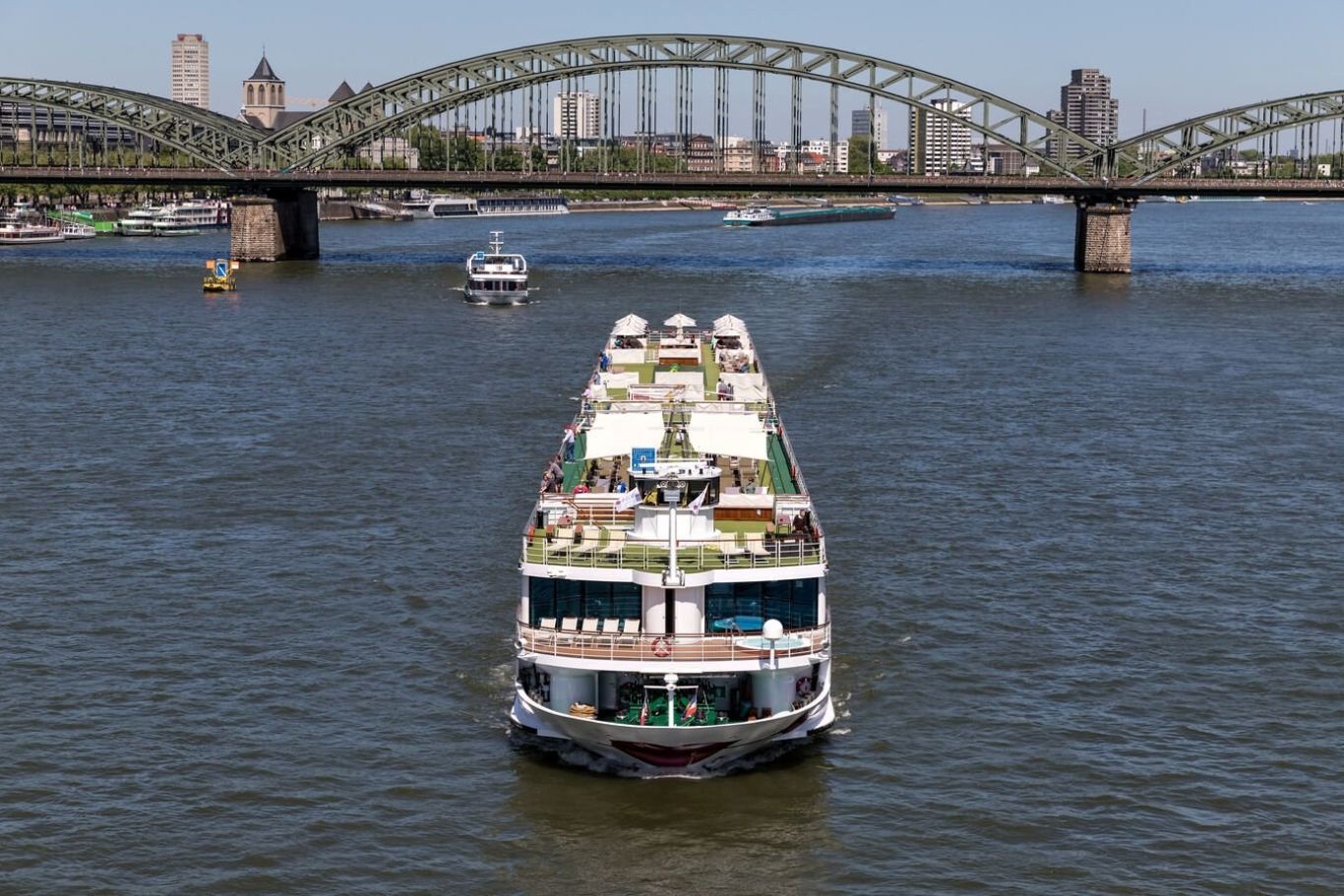 Danube River Cruise: A-Rosa Donna Sails the Beautiful Blue
A city break lover, Isabella Sullivan embarks on her first Danube river cruise, taking in dancing Lipizzaner horses, Hapsburg palaces and rolling emerald scenery
"Do you know the Danube stretches through 10 countries"? asks a fellow passenger as we touch down in Budapest. I didn't, but I am now fascinated by this romantic waterway even more.
This time we are only ticking off three, joining A-Rosa's Highlights of the Danube river cruise as she sails through the capitals of Budapest and Bratislava, finishing off in Austria's breathtaking Wachau Valley.
They say the Danube river is perfect for first-time cruisers, packed with bustling cities and some of Europe's most gorgeous scenery, complete with castles, abbeys, and chocolate-box villages.
As a lover of city breaks, there's no other place to pop by river cruise cherry than such a majestic waterway. After arriving in Budapest, it's just a short and seamless coach transfer to the banks of the Danube, where I first lay eyes on A-Rosa Donna.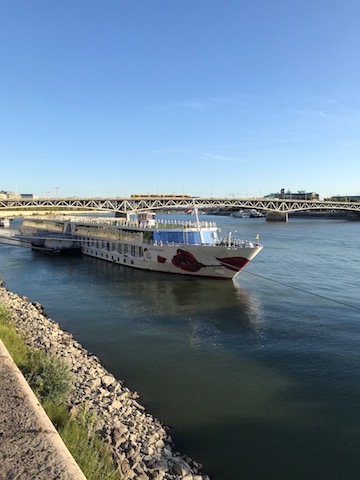 A-Rosa Donna is instantly recognisable with her artwork of tantalising red lips biting on a red rose smooching the side of the ship, flirtatiously welcoming her guests.
Inside, the quirky theme follows, with a sultry red, yellow and cream colour scheme giving the ship a more unique, edgy feel to its river cruise competitors. With a beautiful spa housing two saunas and a gorgeous outdoor drinking spot nestled under chic striped umbrellas, It's more boutique hotel than cruise ship.
For a river ship, the cabin is delightfully spacious, boasting a cosy shower room and heaps of storage strategically placed all over the cabin. A colourful striped awning hangs over the bed, and large sliding doors look out onto the blue waters.
Snacking on the complimentary welcome fruit certainty stokes the appetite, and the ship's main restaurant provides sustenance for the evening. There are two restaurants on board, a complimentary buffet and a specialty a la carte dining offering, but tonight the buffet is most welcomed.
With relaxed open seating and allowing guests flexibility to eat when they desire, everything you could think of is served, from a carb heaven bread basket to salads, stews, soups, pastas and meats.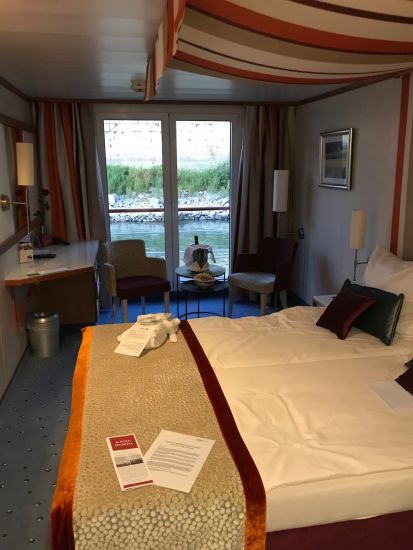 Chefs prepare handmade crepes and an ever-changing locally-inspired table offers guests a taste of destinations they might have missed out on. We may not have explored the city tonight, but after guzzling down of a bowl of steaming hot, spicy and superbly heartwarming goulash, we've certainly got a taste for what awaits us tomorrow.
The Hungarian Hinterlands
After a bright and early start there's no time to be wasted, as we have just 8 hours to take in this stunning city and its perimetersperimi, and it's a challenge we've accepted. Our introduction to Budapest begins an hour's drive from the bustle, on an excursion carefully pit together by the Shearings and A-Rosa team.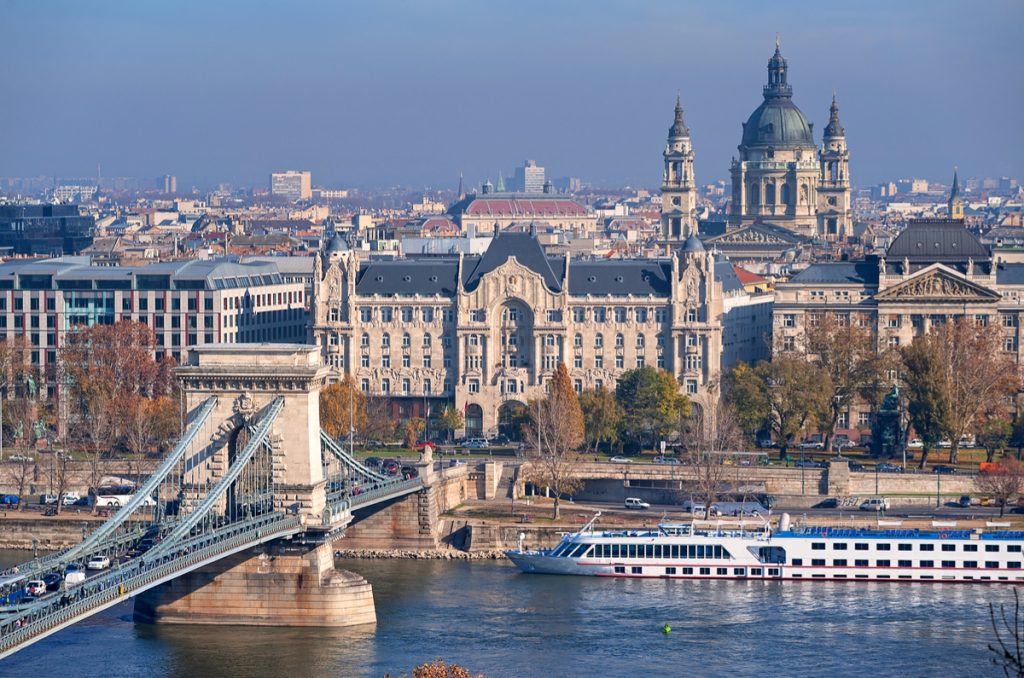 The trip is to the Pustza, Hungary's hinterlands of sprawling farm planes known for its traditional customs and Lipizzaner horses. We arrive at a ranch that is everything you'd imagine an Eastern European post-communist farm to be, with wooden carved gates and white-washed stabled. Riders in traditional Hungarian attire (I rather fancy their hats) and of course fantastic horses.
After obligatory apricot schnapps, unashamedly good bread made of pork fat and a carriage tour of the ranch we take our seats for the show, which sees one standing man simultaneously ride five horses. We're even offered the chance to successfully crack a whip to win a bottle of wine, I eagerly volunteer.
After a drive back into town and quick lunch on board, again, a buffet bursting with a new selection of warming foods and local produce the chefs have retrieved from Budapest's market, we disembark to explore the majestic capital, sprawled over both banks of the Danube.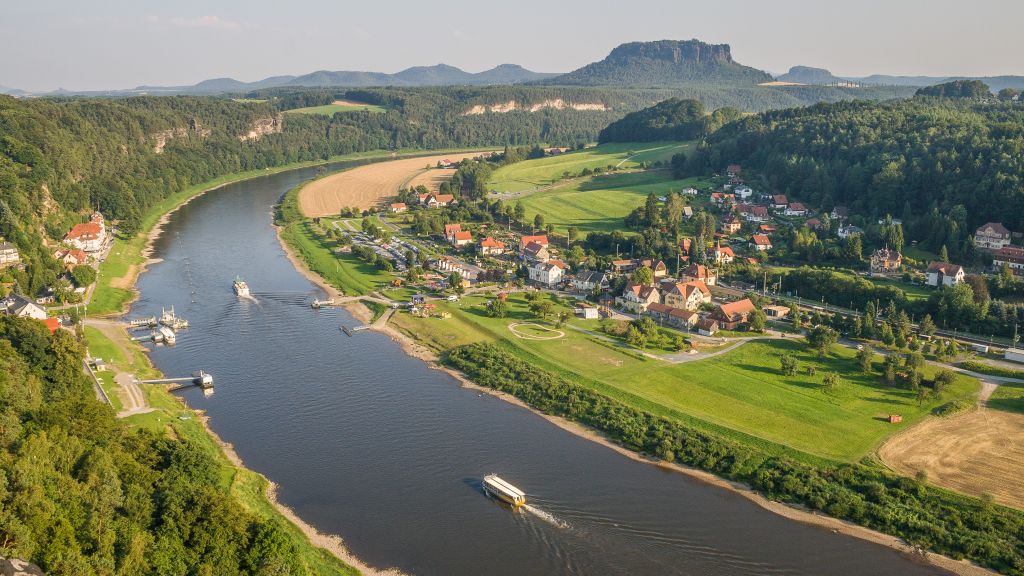 On the left, a fairy-tale town that no doubt inspired the Brothers Grimm, with the former royal palace, basilicas and pastel yellow Sylvanian Family houses, along with some of the city's oldest buildings pre-dating the Ottoman Empire.
In comparison, Pest is a modern cosmopolitan metropolis, and you can see why so many tourists embark on hedonistic trips here. It has vibrant cafes, nightclubs, shopping streets but also ornate coffee houses and the odd 18th century basilica.
It's this magical mix of old and new which makes Budapest such an enchanting city to visit, and I only wish I had more time to explore. But that's the beauty of a river cruise; you enjoy a delicious nibble of many destinations and some will have you dying to return for a large bite.
We sail onwards to Bratislava and manage to get the shot we've all been waiting for, the iconic Hungarian Parliament buildings glistening on one the banks of our Danube river cruise.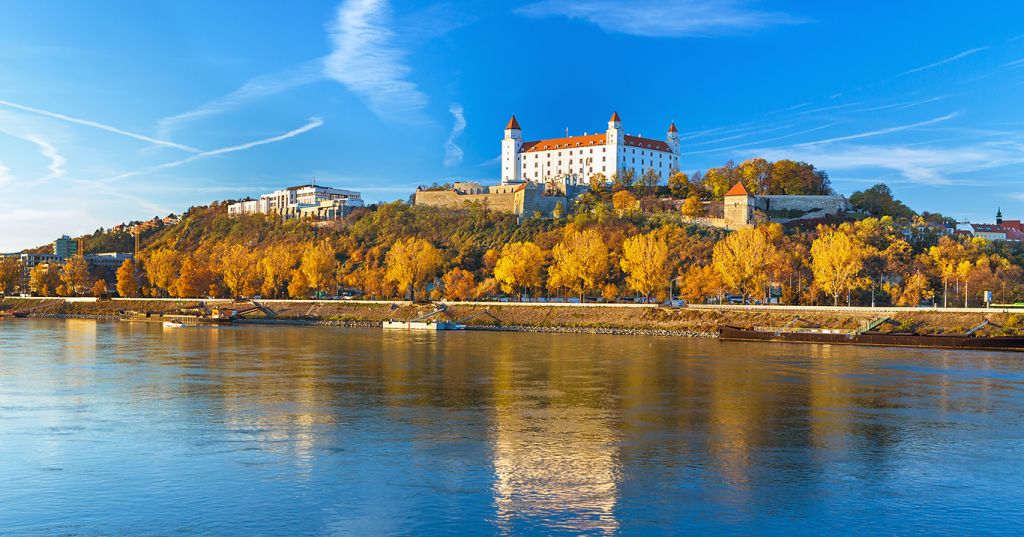 Biking in Bratislava
There's nothing quite like opening your curtains to see forest-clad mountains, pebbled beaches and glittering water rolling by, I'm like an excitable kid and it certainly makes waking up that much easier.
Today we're docking in Bratislava, Slovakia's pint-sized capital of just 450,000, and with four hours to take in the city A-Rosa and Shearings have organised a whistle-stop bike tour for us – a welcome relief after a day of coaching around and overeating.
Suitably relaxed after a glorious one-hour facial in the ship's unusually large spa and wellness centre, offering aromatherapy and hot stone massages, facials and beauty treatments, it's time to explore the city. We're guided around by Brani, a 6'4 smiling Serbian who works in the ship's spa – it's safe to say the ladies on the tour were a tad more excited.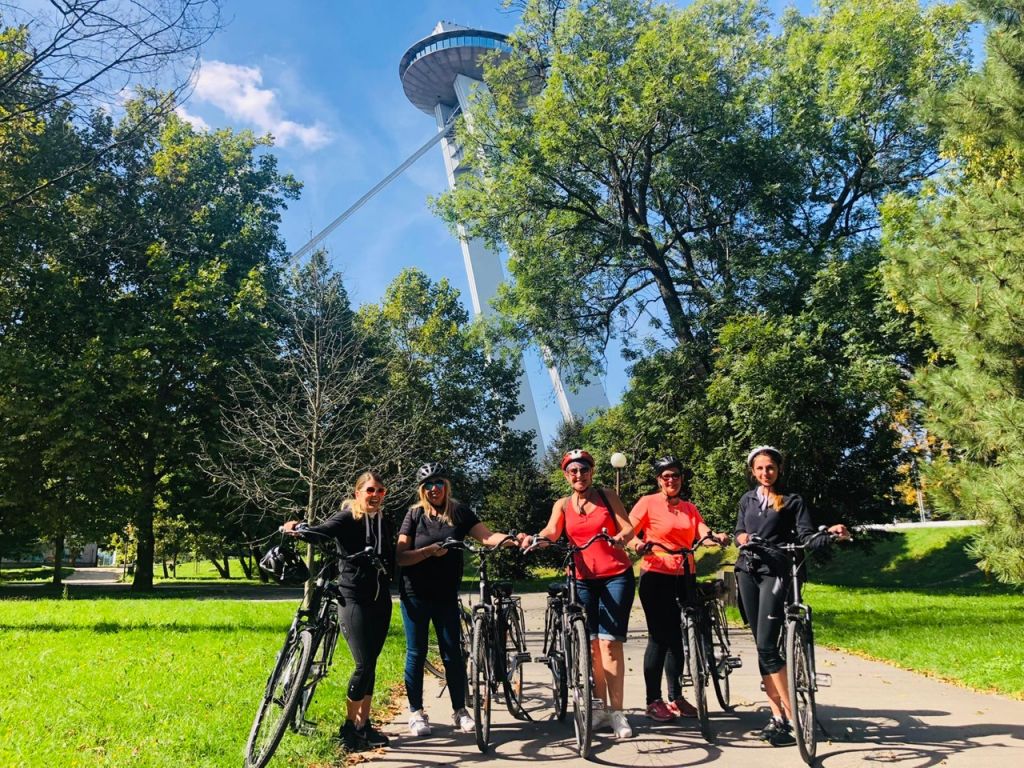 I have to admit, I came to Bratislava with a preconception of cheap beer and stag dos galore, but what I found couldn't be more different. Ornate Baroque opera houses and pink palaces stand grandly in squares lined with Slavic red-roofed buildings, quaint cafes and boutique shops.
There is, of course, cheap beer, around €2 a pint, but its cobbled streets and reconstructed Baroque castle are the highlights of the city. Bratislava was once the seat of Hungarian monarchs and place of their coronation, and a feeling of grandeur still remains. However, there's a distinctly cosmopolitan feel to the city, and new glossy tower blocks and shipping districts are in construction.
After a stop for ice cream in what Brani tells us is the best ice cream shop in the city (Luculus Ice Saloon FYI), it's back on the ship for sail away. Strangely we feel like we're seen a good slice of this city, and board the ship for sail away feeling satisfied – even more so with a glass of officer's cocktail in hands and a slice, or two, of traditional cream cake.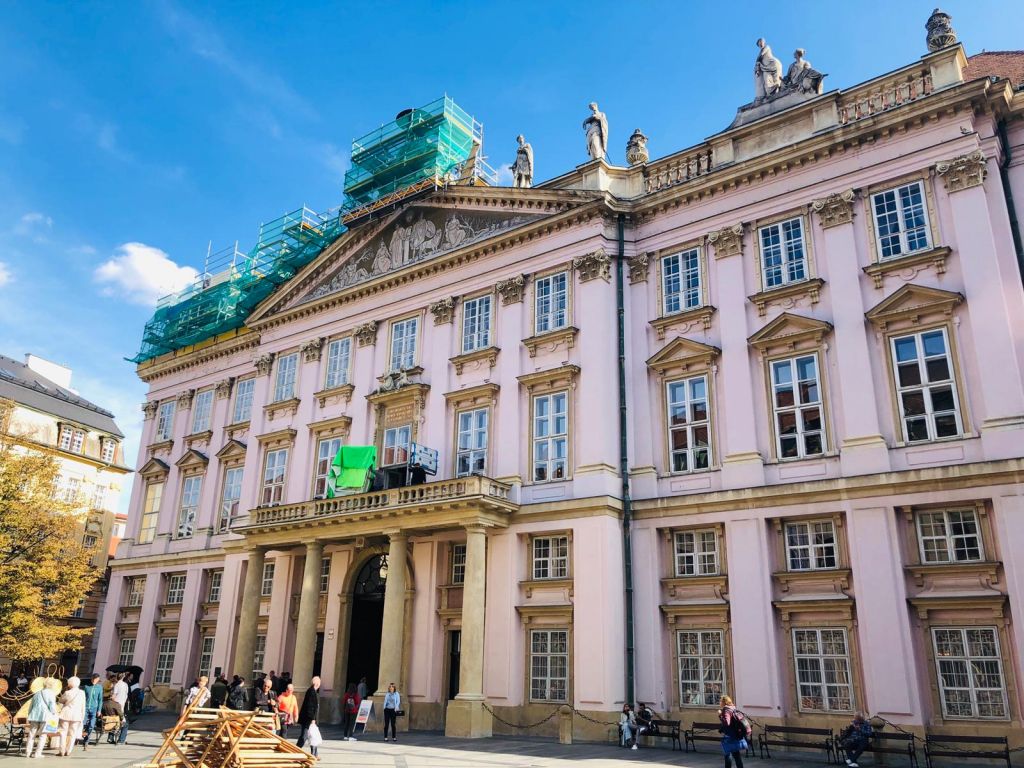 The glorious Wachau Valley
It's the final day and the scenery we've all been waiting for, the breathtaking rolling hills of Austria's Wachau Valley. After an early breakfast, we spend four hours sitting on the ship's sprawling sun deck, drenching ourselves in sun and absorbing the pure peacefulness of the glorious valley.
There's nothing to see but emerald and blue scenery, and even me, who is usually raring for an activity or something to do, feels utterly satisfied and entertained.
My phone drains of battery in no time due to constant photographs and our faces turn pinker by the hour, as every hill houses a grand ruined fortress, rolling hills are lined with vineyards and tiny little red-roofed villages with towering churches occasionally appear around corners. It's obscenely stunning and none of us can peel ourselves away from doing nothing but watching it go by.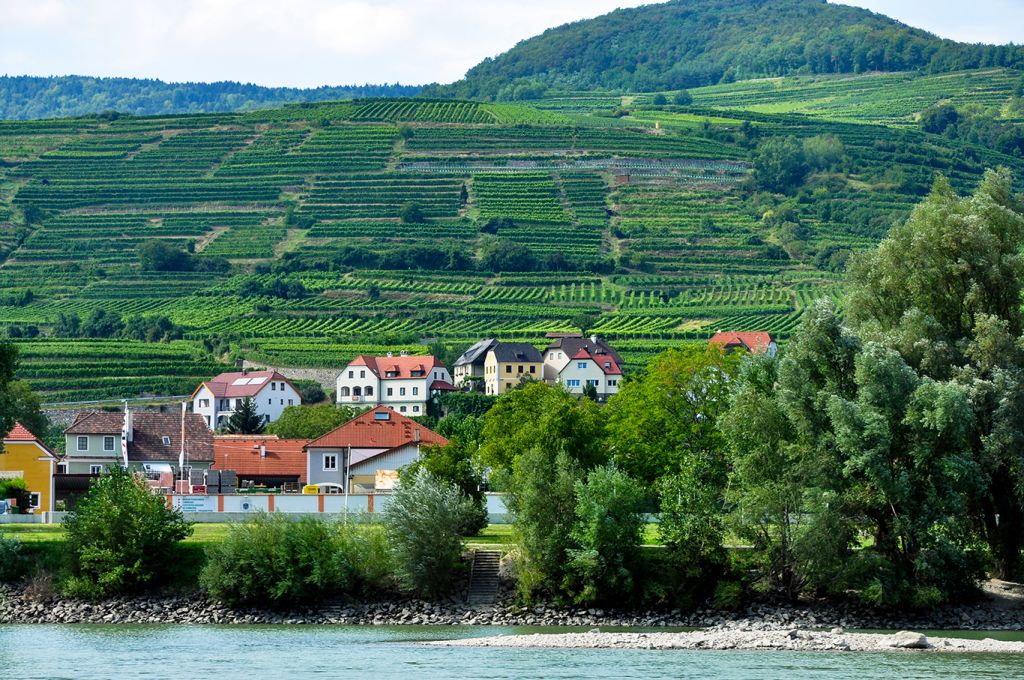 We're sailing to Melk, a small town on a curve of the Danube, and home to the ridiculously imposing Melk Abbey. Built in 1930 by Austria's Babenberg family, the imperial palace turned monastery and Abbey sits on a rocky outcrop overlooking the blue Danube.
The Abbey would look more in place in Vienna, with popping green palm trees gracing the elegant whole courtyards and walls in gold and pastel yellow. The Abbey is only to be entered in groups and with a tour guide, and A-Rosa and Shearings make sure all guests have their expert guide.
After returning to the ship we have a weird sensation not felt since boarding, hunger. It turns out Wachau Valley apricots are a huge thing (one of the only brands to be recognised by the EU), and our final sail away is a glorious glass of apricot schnapps and fat little apricot doughnuts drenched in custard.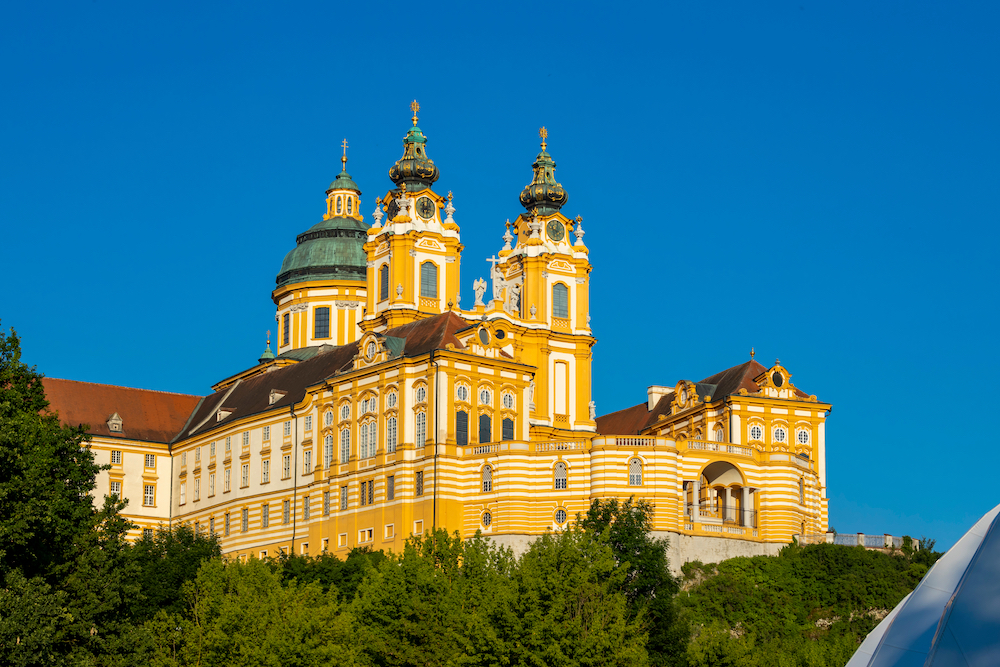 We joined A-Rosa Donna in Budapest, but after sailing from Engelhartszell, she docked in Vienna.
Get on Board
8-day Highlights of the Danube cruise on A-Rosa Donna round-trip from Engelhartzsell via Vienna, Budapest, Bratislava and the Wachau Valley, from £1,419 when reaching the cruise by coach. shearings.co.uk