Search for your ideal Cruise
Ocean Cruising in Hamburg, Germany
Hamburg is Germany's second-largest city with a history dating back to Charlemagne. A major port, this vibrant city is home to art and culture, extensive shopping facilities, Baroque buildings and waterfront vistas. With its well-known fish market, art galleries and Museums together with several beautiful parks including a botanical garden, this is a city with something for everyone. British visitors who remember the Swinging Sixties may like to visit the streets around Grosse Freiheit, where an unknown pop group called The Beatles gave their first public performances in various local clubs before achieving worldwide fame. Please note: Those on the Saga Pearl II P2216 cruise in December 2018 should be aware that the Christmas Market is likely to be extremely busy during your call.
Why cruise Hamburg
Known in German as Tor zur Welt — the Gateway to the World – Hamburg's location makes it easy for you to cruise to the majority of destinations in Europe and North America. The cosmopolitan metropolis boasts an impressive Hanseatic League heritage dating back 700 years, along with architectural landmarks, more museums than almost anywhere else in Europe and a lively restaurant, shopping and nightlife scene. Awash with historical sites, the city is also brimming with culinary delights.
find your perfect cruise
What to see and do in Hamburg
Elbphilharmonie
Hamburg has a long and storied musical history – the famous composers Johannes Brahms and Felix Mendelssohn were both born in the city – and classical music still holds a special place in the city's heart. The jewel in the crown is the stunning Elbphilharmonie, a world-class concert hall that hosts 2,100 people, and whose all-glass facade is noticeable from miles away due to it being perched on top of an old, converted warehouse.
Reeperbahn
A long street of bars, clubs and live music venues with a good dollop of sleaze on the side. That's the best way to describe Hamburg's famous Reeperbahn – best known for having one of the world's busiest red-light districts. However, the street also gave birth to one of the greatest bands of the 20th century. Yes, The Beatles, first started to make a name for themselves in the Indra Club on the Reeperbahn all those years ago – and there's plenty of tours and guides ready to take you back to the time of Beatlemania.
Miniatur Wunderland
It's not possible to get around the entirety of Hamburg in a single day. Or is it? Pay a visit to the brilliant – and incredibly family-friendly – Miniatur Wunderland in the centre of Hamburg – the world's largest model railway. The level of detail on these scale models is truly impressive and you can easily spend an afternoon travelling the world (there's models of Austria, Italy and the United States amongst others) in this fun exhibition.
Speicherstadt
Spiecherstadt – translated as 'the city of warehouses' – the largest warehouse district in the world, is located in the port of Hamburg in the HafenCity quarter, where buildings sit on timber-pile foundations. The Unesco-listed area, which features colourful red-brick buildings and neo-Gothic architecture, was built from 1883 to 1927 as a free zone to transfer goods without paying customs. Both the district and the surrounding area have been under redevelopment since 2009.
Fish Market
It's is only open from 5am until 9:30am every Sunday, but the city's bustling Fish Market is an absolute must for anyone who wants an authentic Hamburg experience. The lively auction hall plays energetic music to wake up sleepy visitors and if you get there early enough, you can enjoy the sunrise through the building's spectacular domed roof. And if you wish to sample Hamburg's fresh seafood, it doesn't get much better than Alt Helgoländer Fischerstube, a popular seafood restaurant located right next to the fish market. Fischbrötchenbude Brücke 10: Feeling brave? Take a bite out of Hamburg's favourite delicacy Bismarck (pickled herring sandwich) at this top lunch spot.
Neuer Wall
One of Europe's finest – and most expensive – shopping streets, this is the place to be if you prefer the more refined things in life. Alternatively, if you're looking for some German cool, then you'll want to explore Schanzenviertel. This trendy street is lined with boutique shops, cute cafes and cool bars.
Need to know when travelling to Hamburg
Getting around in Hamburg
There are three potential cruise ports you will be docked in upon your arrival in Hamburg: HafenCity, Steinwerder and Altona. HafenCity is the closest and is within walking distance of the city centre (roughly 20 minutes). Steinwerder and Altona will require you to hop on some public transport or your cruise line's shuttle bus. Both are on the public ferry route which would be the quickest way into the centre, should you decide to go it alone. Once in the city centre, you can either walk or use Hamburg's public transport system, which includes underground trains, a light-rail network, buses and ferries. If you're spending a day or longer in the city, then it's worth purchasing the Hamburg CARD, which includes free public transport and up to 50 per cent discounts on museums, musicals and tourist attractions.​​​​​​ ​Hamburg is also an incredibly bike-friendly city with plenty of rental bikes dotted around the city to help you get from A-Z. They are free-to-use for the first 30 minutes and cost eight cents per minute thereafter.
When to go to Hamburg
The best time to cruise to Hamburg is between May and September when the weather is warm.
Currency
Hamburg, Germany uses the euro. ATMs are widely available in Hamburg and credit and debit cards are largely accepted. Cash is king in Hamburg, so make sure you have a good amount of euros on you during your stopover.
Visas
If you hold a British Citizen passport, you don't need a visa to enter Germany unless you're planning a stay of longer than three months.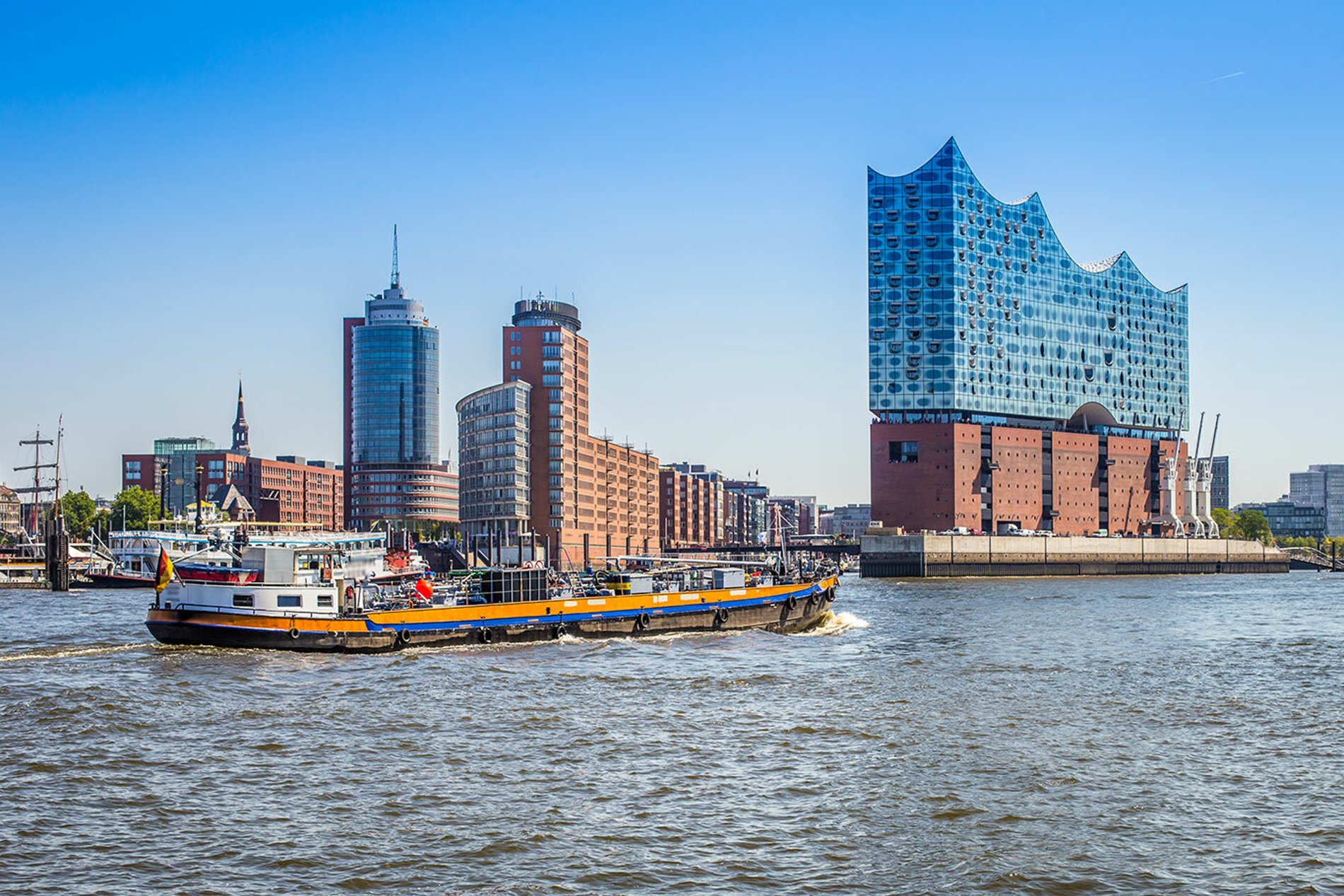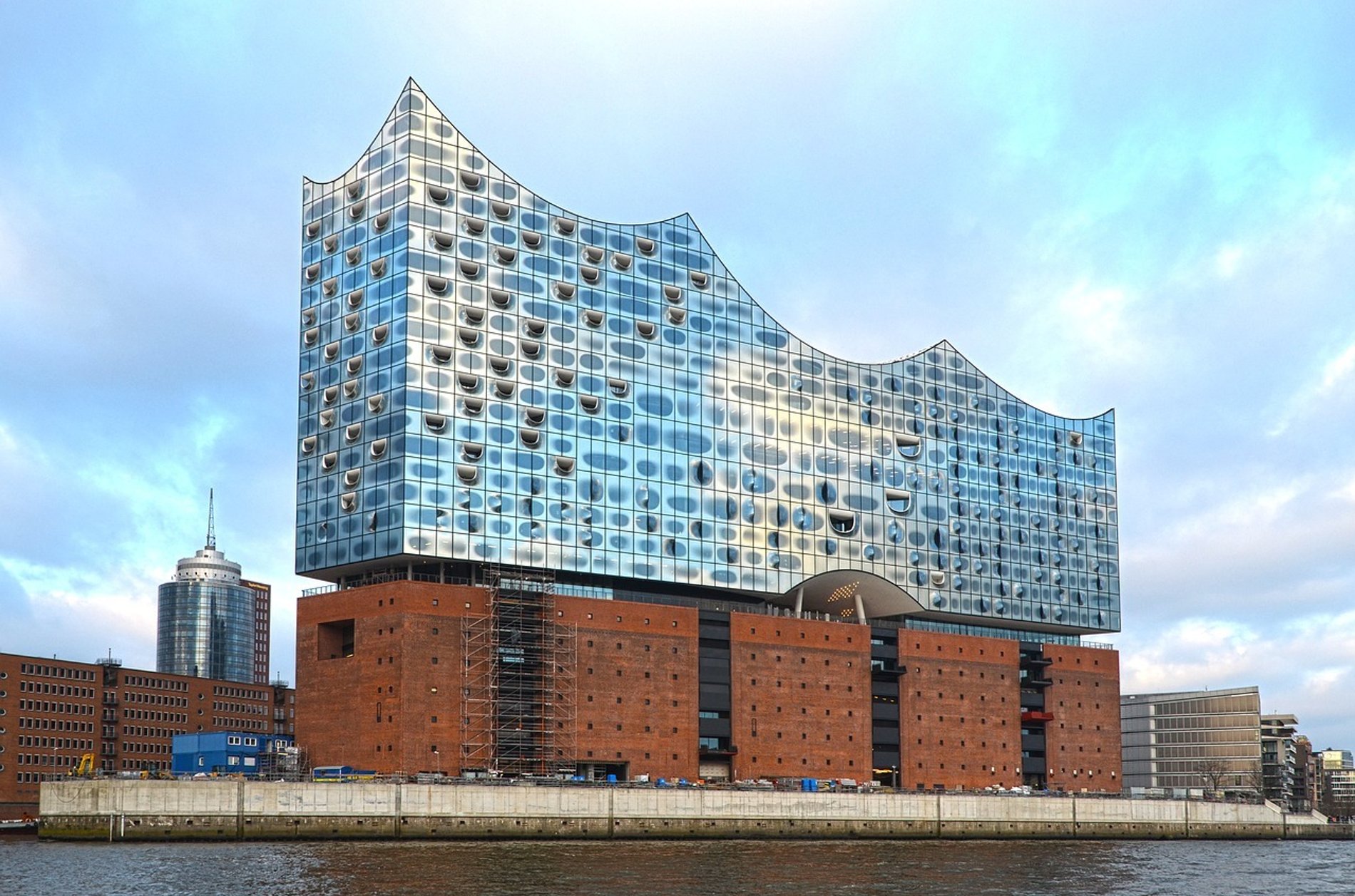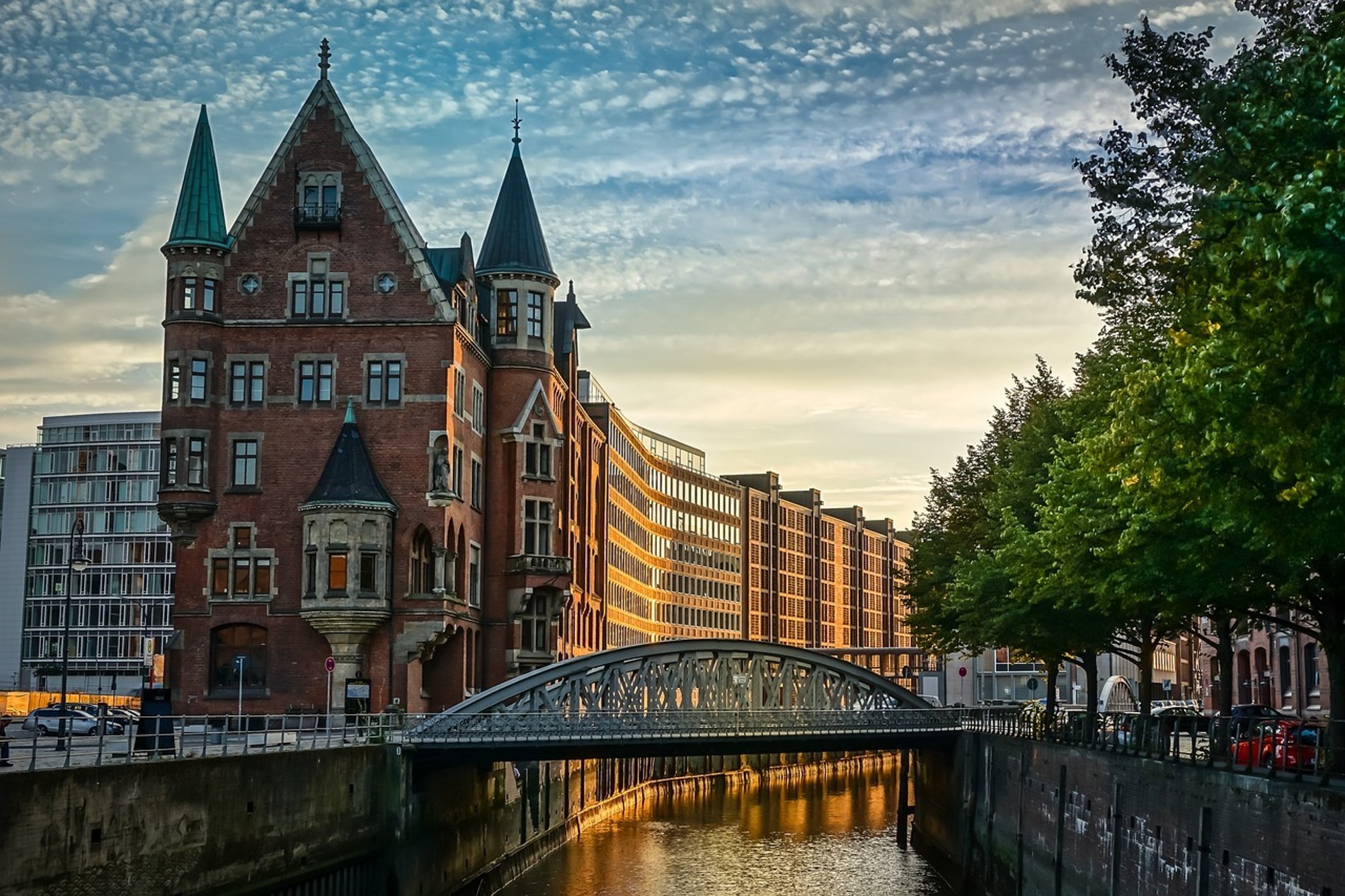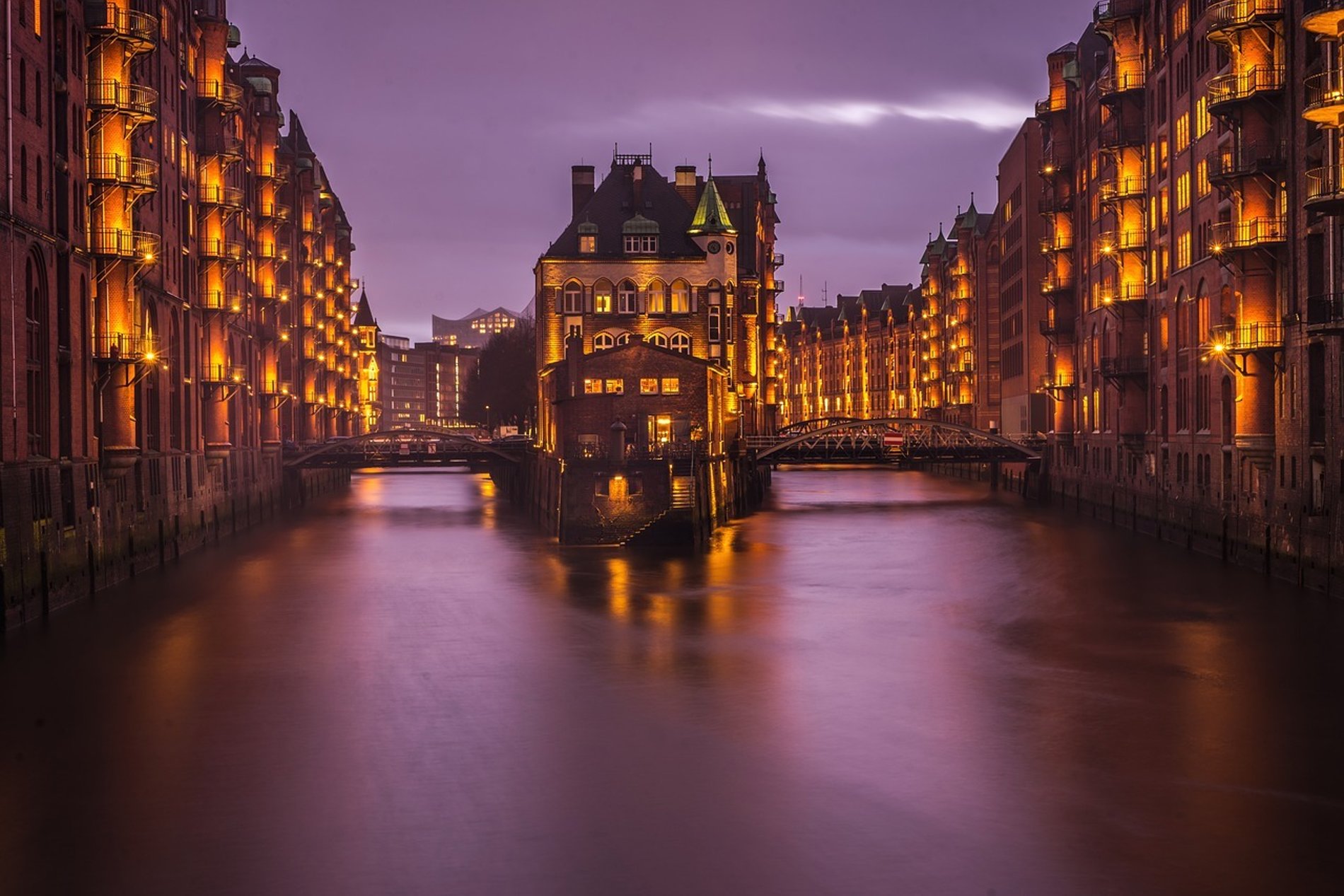 MSC Cruises: Explore Hamburg's buildings and parks. Credit: Shutterstock