Search for your ideal Cruise
NEW Princess Cruises' Summer Seacations
Book a summer seacation with Princess Cruises. Embark on an experience like no other, as you set sail from Southampton onboard the Regal Princess or the Sky Princess. Enjoy a star-studded three-night weekend voyage full of festivities.
Summer Seacations are available to UK resident COVID-19 vaccinated** guests only. Included in your cruise fare, is a simple pre-embarkation COVID-19 test at the terminal in Southampton. Testing and self-isolation are not required upon disembarkation, however, Princess recommends you follow Government advice on regular home testing.

If you're looking for a cruise this summer then look no further than Princess Cruises' Seacations. Regal Princess has recently returned from her first UK cruise and she and Sky Princess will now sail a series of cruises around the UK until September. Princess Cruises have been inventive in making sure that there are a range of styles and attractions on these cruises to ensure that there is something there to suit everyone. From non-stop 3 and 4 night cruises, some with special entertainment themes to 7-night cruises calling at some of the UK's best loved ports there's something for all tastes - especially with Princess Cruises All Inclusive options from only £30 per person per day.
Book with confidence policy
Cost of pre-departure Covid-19 test covered
Choose from this range of great offers on Princess Cruises' Summer Seacation Cruises
Princess Cruises' star-studded lineup:
Comedy Cruise Summer Seacation - Aug 7, 2021
Last Few Cabins Remaining - call now for details and to check availability
The stand-up Comedy Cruise departs 7 August 2021 for three nights on Regal Princess and features comedian and novelist Jenny Eclair; comedian and actor Jeff Stevenson; and character comedian and writer Tom Binns.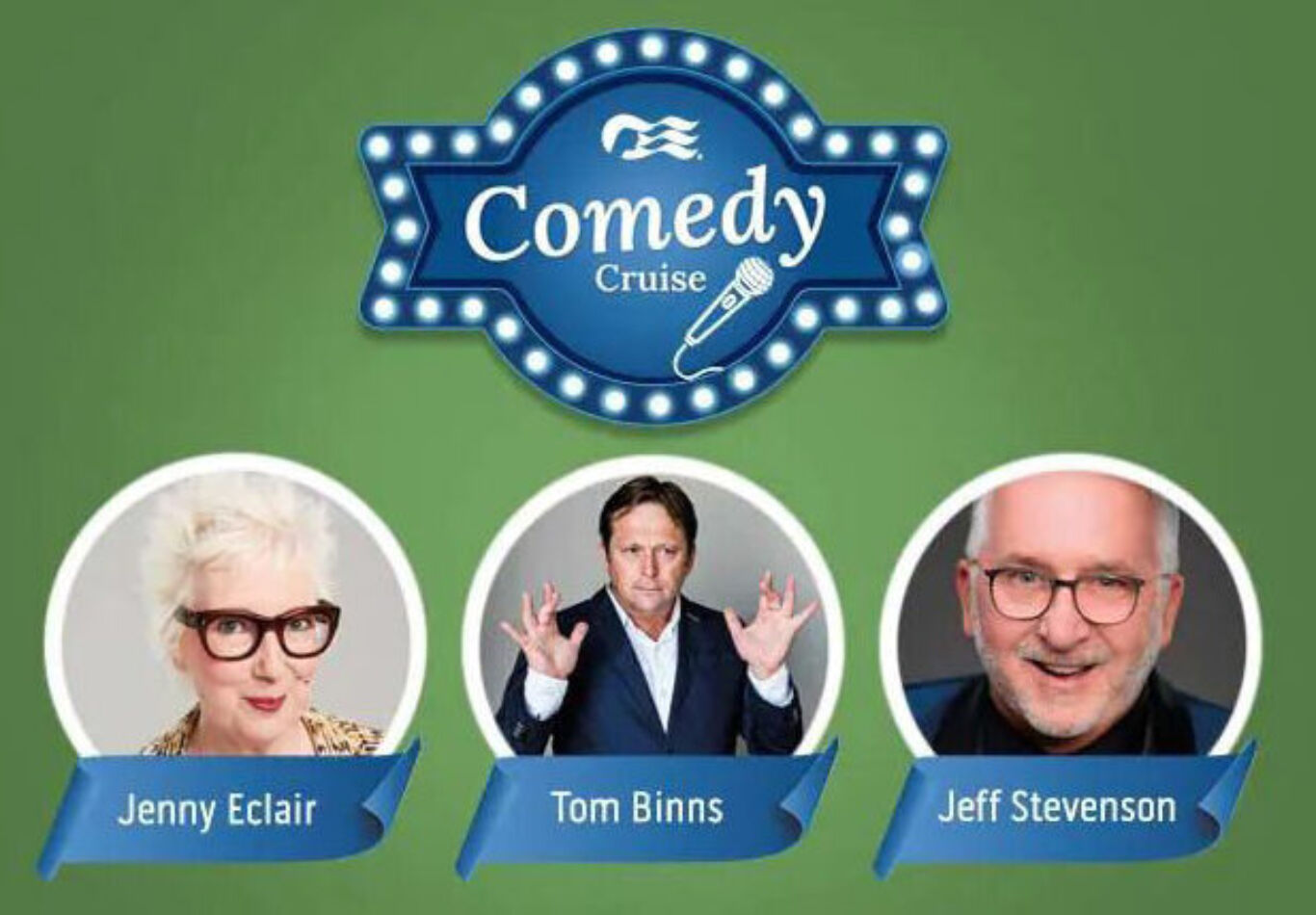 Mind, Body and Soul Summer Seacation - Aug 21, 2021
Reserve your place now
The Mind, Body and Soul cruise, departing 21 August 2021 on Regal Princess, will feature TV doctor Dr Ranj; Jenny Ryan, professional quizzer from ITV's The Chase, and the Reverend Kate Bottley, known for her time on Gogglebox and Songs of Praise. Hosted by Radio Times TV and film critic, Andrew Collins.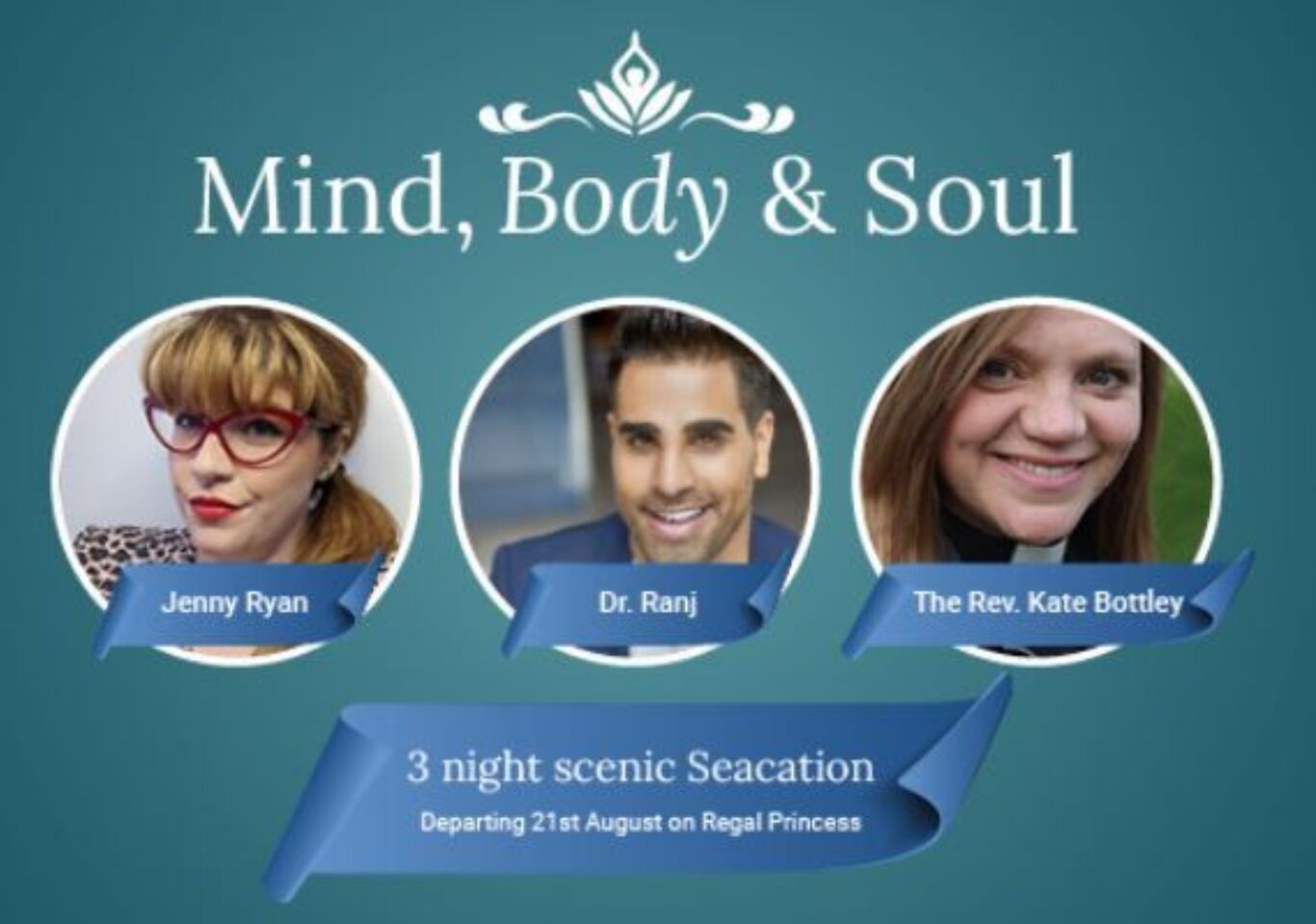 Culinary Stars Summer Seacation- Sept 10, 2021
Last chance to book - Last few cabins remaining
Culinary Stars – The three-night voyage, on Sky Princess, departing 10 September 2021 – will host two celebrity chefs: TV presenter John Torode, and Michel Roux Jr, chef-patron at London's two Michelin-starred restaurants Le Gavroche and presenter for BBC's Saturday Kitchen. Also joining this cruise will be the star of series 11 of Channel 4's The Great British Bake Off, Lottie Bedlow. Hosted by Radio Times TV and film critic, Andrew Collins.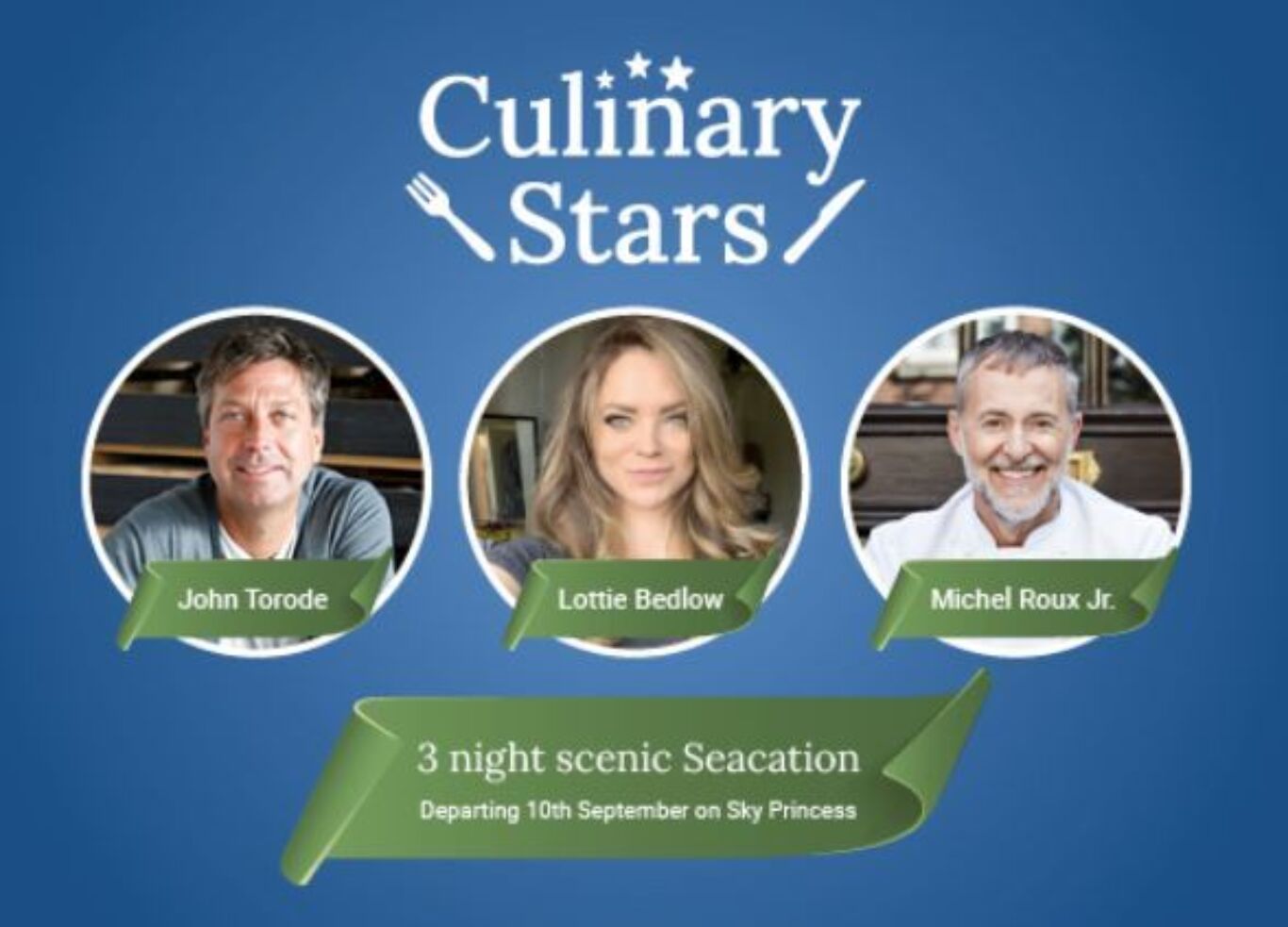 Other Summer Seacations starting from only £389pp for an all-inclusive balcony fare.
All-Inclusive Princess Plus Fare:
Enjoy all-inclusive drinks, unlimited Wi-Fi and crew incentive for just £30pp per day, worth over £65.
Unlimited Wi-Fi: Fast, reliable and wherever you are. You can video chat and text with family back home, stream your favourite shows and check email (but only if you want to). Learn more about MedallionNet™

Full crew incentive paid to our crew on your behalf: Princess Cruises ensures that the crew who takes care of you is taken care of too.
Upgrade your cruise and enjoy a suite experience
Whether you're travelling as a couple, with family or friends, a Mini-Suite offers luxurious living and is great value too. And after all, we all deserve a little luxury right now, which is why Princess Cruises are offering the chance to indulge in a Mini-Suite and all of its amenities, for the same price as a Deluxe Balcony cabin. All-inclusive fares start from just £489pp
Stay in a mini-suite and receive:
Stateroom luxuries - Relax in The Princess Luxury Bed with luxury mattress topper and pillows and 100% cotton, high-thread count linens as you gaze out of the floor-to-ceiling sliding glass doors at the ocean.
More space - With approximately 323 sq ft including a balcony with 2-4 chairs (perfect for our Ultimate Balcony Dining Experience), table and ottoman, a bathroom with bath and shower, separate seating area with sofa bed and coffee table, there's the space to unwind.
Luxury benefits - A complimentary welcome glass of bubbly on embarkation day, and special touches including flat-panel televisions, refrigerator spacious closet, hairdryer and bathroom amenities, digital security
safe and 24 hour room service ensure your stay is comfortable as well as luxurious.
Learn more about Mini-Suite experiences HERE.
Explore Princess Cruises with our brand ambassadors...
Choose from this Selection of Cruises
Book With Confidence:
Cancel up to 30 days before you sail, get your cancellation fees back as a Future Cruise Credit.*
Applies to bookings made through September 30, 2021.
Applies to voyages departing through December 31, 2021.
NEW: WIthin 30 days of your sail date, you'll be covered with the new COVID-19 Protection Program.
Final Payment has been moved to 60-days prior to sailing.
Applies to voyages departing through September 30, 2021

Princess Cruises COVID-19 Protection Program:
This new policy within the Cruise with Confidence program provides reassurance if you are within 30 days of sailing, all the way through to disembarking from your cruise. It is designed to assist you if, as a result of being suspected of having or testing positive for COVID-19 or as a result of government travel restrictions put in place within 30 days of embarkation, you may be unable to travel to your cruise embarkation port, may be denied boarding, may be quarantined on board or disembarked early.
COVID-19 Protection Program is available on all cruises sailing through December 31, 2021, for bookings made on or before September 30, 2021.
More Cruises from Princess Cruises