Cunard Line
British cruise line Cunard was first established in 1840 and once had dozens of ships to its name, but this has since been whittled down to three iconic ships: the Queen Mary 2, the Queen Elizabeth and the Queen Victoria. The cruise line has a long-standing relationship with the British royal family, who has travelled extensively with Cunard over the last 179 years and the Queen is godmother to two of the three ships in the current fleet, Queen Mary 2 and Queen Elizabeth. Queen Mary 2, the world's only ocean liner, underwent a £90 million makeover in 2016 – said to be the most expensive renovation job for any ship in Cunard's history. Cunard's fourth ship is due to debut in 2022 and she marks an exciting new chapter for the line, being the first new Cunarder for 12 years. Her arrival signals the first time Cunard has had four ships in its service since 2000.
Why choose this cruise line?
Cunard cruises offer a charming blend of old-world elegance and contemporary touches. While you are not going to find any water parks or roller coasters on board Cunard's fleet, there is still plenty to keep you entertained at sea, from classic games such as paddle tennis, shuffleboard and croquet, to dance lessons, movie screenings, cooking demos and lectures. In the evenings, guests can enjoy quizzes, karaoke, dancing and live bands, or else retreat for a nightcap in one of the ships' bars. Cunard is in the more luxury bracket when it comes to cost, but you are paying for the iconic cruising experience.
find your perfect cruise
Cruising with Cunard
The legendary cruise line is famed for its nostalgic transatlantic sailings, reminiscent of a bygone era with formal black-tie dinners, classically British afternoon teas and ballroom galas. The ships' elegant, art deco design features, grand furnishings and images of Hollywood starlets all serve as reminders of the golden age of cruising. Cunard has become known for its cultural enrichment voyages, including the annual Transatlantic Fashion Week cruise, which have seen the line partner with well-known designers including Zandra Rhodes, Julien McDonald and Badgley Mischka, as well as its Literary Festival of Sea, which has previously featured authors Ian Rankin, Alexander McCall Smith, Prue Leith and Joanne Harris. Cunard offers a stylish and traditional style of cruising that's in a league all of its own.
Who should travel with Cunard
Passengers seeking a traditional, glamorous and formal style of cruising will love travelling aboard Cunard's fleet of ships. Typically (and unsurprisingly), the transatlantic voyages predominantly attract older British and North American cruisers, but you will find some younger couples and families. You will also find some furry companions on board Cunard's Queen Mary 2, being the only ship in the world that permits pets to cruise with their owners between the two countries. While traditional in design, the ships are modern in terms of facilities, with wi-fi, computer lounges and shopping boutiques. However, the cruise line has one of the strictest formal dress codes at sea, with even informal nights requiring jackets and dresses, so those seeking a more relaxed and contemporary style of luxury cruising should look elsewhere.
Cunard cruise destinations
Along with its iconic transatlantic voyages, Cunard also offers sailings across the world. Destinations include the Mediterranean, US and Canada, Alaska, South America, Northern Europe, Canary Islands, the Caribbean, Africa, the Indian Ocean, Asia, Australia and New Zealand, and the South Pacific. Cunard's around-the-world voyages are also fairly legendary, with the cruise line's RMS Laconia having sailed the first one nearly a century ago in 1922.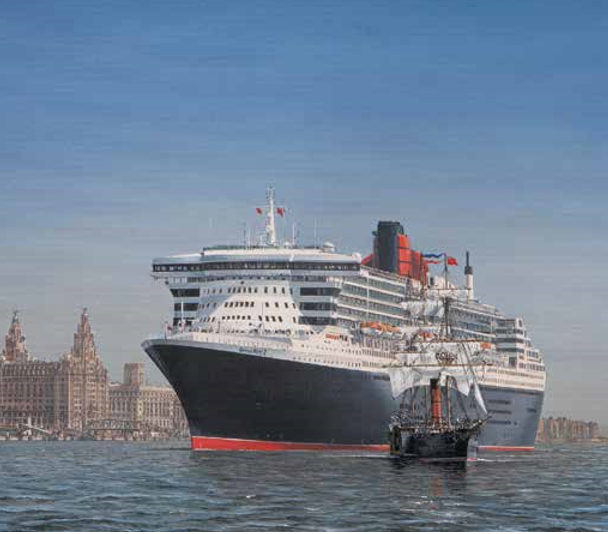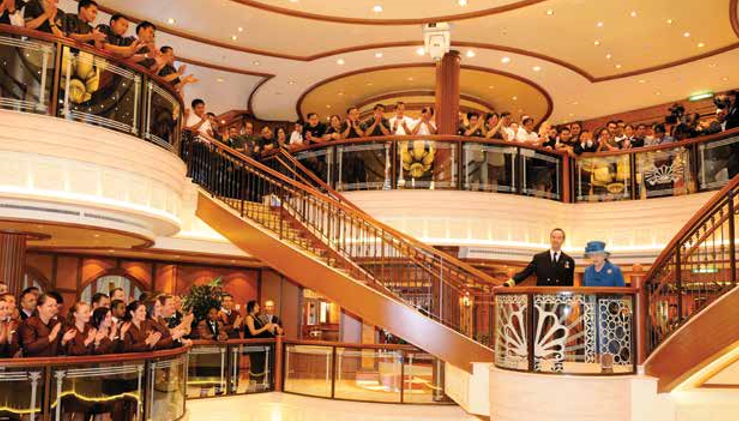 Cunard christening, Queen Elisabeth