Search for your ideal Cruise
Ocean Cruising in Casablanca, Morocco
Many of you might will have a picture of Casablanca in your head, that has no doubt been taken from the classic Humphrey Bogart and Ingrid Bergman 1942 film – all gin joints, Moroccan souks and old stone medina alleys. But of course, time has gone by and the Casablanca of today may still have an old-world, romantic charm, but it has moved with the times and is now a thriving commercial capital, packed full of cultural attractions, contemporary galleries and top-notch restaurants just waiting to be discovered. The multifaceted port city, which fronts the Atlantic Ocean in western Morocco, combines its French colonial heritage with traditional Arab culture and European Art Deco and modernist architecture.
Why cruise Casablanca
Most people associate Casablanca with the classic Hollywood movie, but today Morocco's largest city is an exciting commercial hub with a fascinating Islamist heritage and captivating culture. The former French colony still retains its old-world charm with its colourful Old Medina, but this has been combined with a modern, cosmopolitan and European vibe. Cruises to Marrakech are often combined with other popular Moroccan ports and visits to Cape Verde, an island country in the central Atlantic Ocean.
find your perfect cruise
What to see and do in Casablanca
Hassan II Mosque
Standing tall on a promontory overlooking the Atlantic Ocean, the towering Hassan II Mosque has become an iconic symbol of Casablanca. Completed in 1993, the mosque, which can house up to 105,000 worshippers, features the world's second-largest minaret (at 210 metres). Step inside and admire its grand interiors, which can house as many as 25,000 worshippers, with walls featuring hand-crafted marble and a retractable roof, or take a walk in the picturesque courtyard, which can accommodate a further 80,000 people.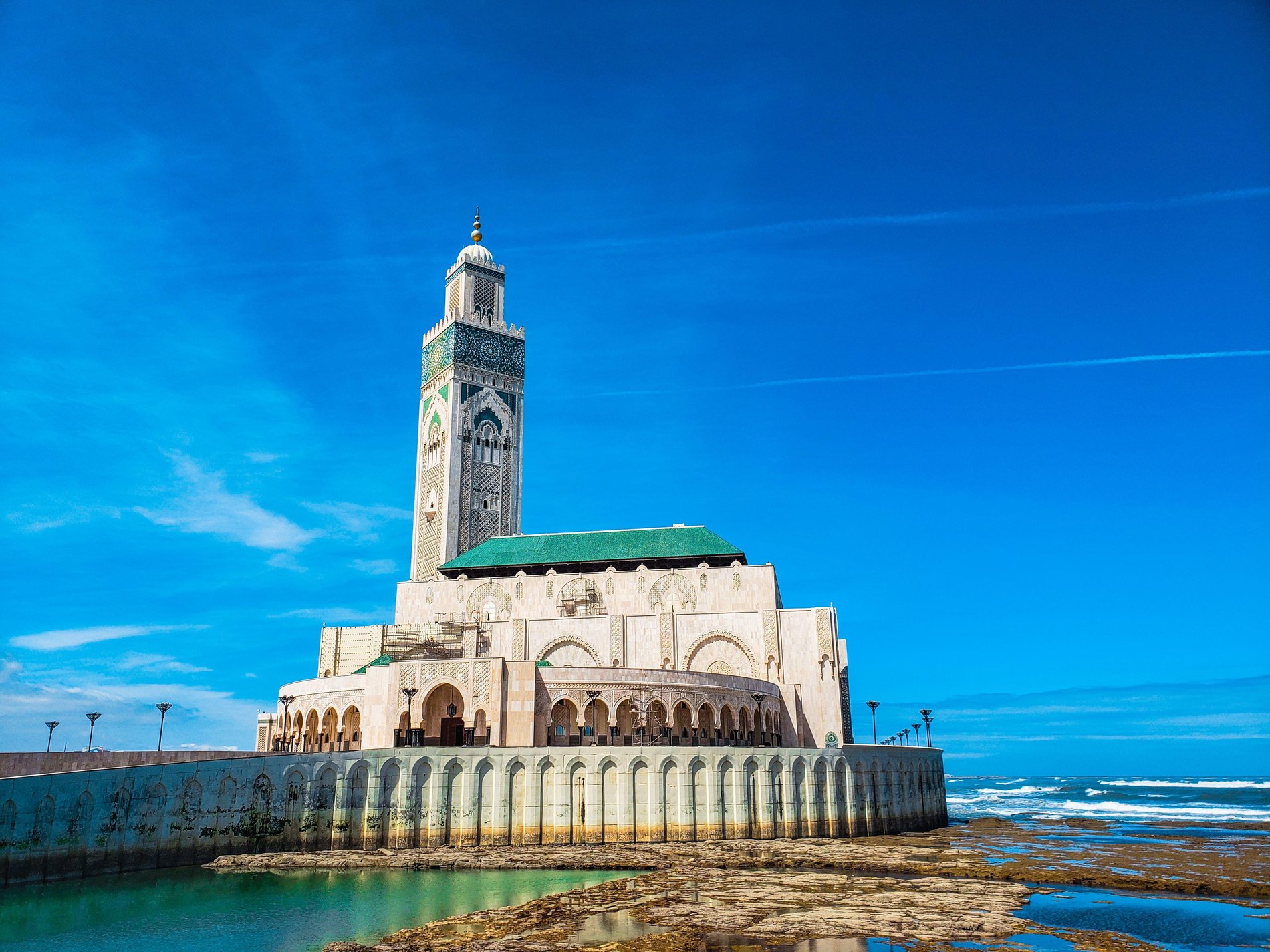 Grand Théâtre de Casablanca
Pritzker Prize-winning architect Christian de Portzamparc was given the job of designing the Grand Théâtre de Casablanca, which would be the largest theatre in Africa. Another iconic structure in Morocco's capital, the striking white building is made up of several pavilions inspired by a medina in the city and inside houses a multi-purpose hall with 1,800 seats, a flexible theatre, an amplified music room, and public rehearsal rooms. Along with this, you'll also find shops, restaurants, cafés, a library, showroom and art gallery. Situated in Mohammad V Square, here you will also see the work of the work of renowned 20th century architect Henri Prost.
La Corniche
Casablanca has several great beaches, which unsurprisingly attract thousands of tourists each year. Renowned for its string of glamorous Atlantic beach clubs, La Corniche – which is located in the same area as the Hassan II Mosque – is a trendy beach front district that's home to several beach resorts, hotels and restaurants. A great place to go and cool off on a hot day when you don't feel like sightseeing, be warned that it can get overcrowded so if you want to avoid this, then head to one of the more upmarket private clubs situated here, such as Tahiti Beach Club. Situated at the end of La Corniche, Moroccan Mall is another great place to escape the heat and has a good mix of contemporary shops ranging from high street to designer, as well as a number of dining options, an aquarium and even an indoor ice skating rink.
Rick's Café
'Of all the gin joints in all the towns In all the world, she walks into mine.' You cannot go to Casablanca without paying a visit to Rick's Café. A spot-on recreation of the bar made famous in the 1942 film (it's worth noting that the entire film was shot at Warner Brothers Studios in Burbank, California), inside it emulates the heady ambience as depicted in the film, all curved arches, balustrades, balconies and even an authentic 1930s Pleyel piano. Enjoy a bottle of wine while listening to the in-house pianist, who is by now well used to taking requests of As Time Goes By.
The Old Medina
The city's old Arab quarter is situated to the south of Casablanca's port. The walled old town featuring a labyrinth of narrow alleyways provides a fascinating insight into what life was like before French rule in Casablanca. It also provides insight into local way of life and is a great place to pick up souvenirs, with lots of shops and stalls.
Museum of Moroccan Judaism
Located in the Oasis neighbourhood, the museum is the only one of its kind in the Islamic world, devoted to the Judaism faith and the history and daily life of the Jewish community in the Moroccan world.
Villa des Arts
Another museum worth visiting in Casablanca in Villa des Arts. The small gallery, operated by the non-profit Foundation ONA, showcases contemporary Moroccan artists. The building itself is well-worth seeing, an elegant Art Deco villa dating back to 1934.
Need to know when travelling to Casablanca
Getting around in Casablanca
Casablanca's port is located approximately two kilometres away from the city centre and the medina. Some cruise lines provide a shuttle bus to the medina, or else you can walk. Once in town, the easiest way to get around is by taxi and there are two types: the petits red taxis and the larger white taxis. Drivers will often stop to collect passengers on the way and will rarely put the meter on, so make sure to negotiate the fare before getting in. There's also a bus system, but this can get quite crowded, along with trams which go across the city from east to west.
When to go to Casablanca
Thanks to its position on the edge of the Atlantic Coast, Casablanca enjoys good weather all-year round, but the best time to visit is the summer months of July and August, as the autumn months can be unpredictable and rainy.
Currency
The Moroccan currency is the dirham. You'll often find prices quoted in euros instead of dirhams, so you may be able to use foreign currency to pay for goods and services when you're there, but not everywhere. As dirhams is a closed currency, you will need to exchange your currency in Morocco. Remember to keep the receipts so you can exchange any leftover dirhams at the end of your trip. ATMs are located around the city if you need to withdraw cash.
Visas
British nationals do not need a visa to enter Morocco, as long as it's for the purpose of tourism and the visit is no longer than three months. Make sure your passport is stamped as otherwise you may experience difficulties leaving the country if your passport bears no entry stamp.