Search for your ideal Cruise
Cruising in St Kitts and Nevis
Jagged volcanoes soaring above azure and turquoise seas, dense rainforests in myriad shades of green, rolling fields of sugarcane, St Kitts is a dream-worthy island. Along with its neighbour, Nevis, St Kitts presents an exotic landscape more common to Polynesia than the Caribbean. The islands' terrain, rich soil, and climate made them ideal locations for raising sugarcane. In fact, St Kitts and Nevis were once the crown jewels of the Caribbean. During the 17th and 18th centuries, Spain, France and England vied for control of the islands, with the English finally winning out in 1787. Today, British and French heritage is evident on both islands. Basseterre, the capital of St Saint, boasts fine, restored colonial buildings. Impressive Brimstone Hill Fortress, called the 'Gibraltar of the West Indies', is one of the most impressive fortresses in the Caribbean.
Why choose St Kitts and Nevis cruises
Cruises to St Kitts are a nature lover's dream come true and will wow anyone looking for a laid-back Caribbean vacation full of postcard-ready scenery. Rainforests, waterfalls and lovely crescents of sand aren't far from the ship on your cruise to St Kitts. Cane fields climb the slopes of volcanic peaks, and the ruins of old mills and colonial plantation houses blanket the island. Luxury cruise lines like Crystal Cruises, Regent Seven Seas Cruises, Silversea, SeaDream Yacht Club and Seabourn visit St Kitts regularly as do luxury premium cruise lines such as Cunard, Oceania, Viking and Azamara. Princess Cruises, Holland America Line and Celebrity Cruises offer cruises visiting Port Zante, but usually only in the high season. Major European cruise lines such as Marella, Aida, P&O Cruises and MSC Cruises also visit St Kitts.
find your perfect cruise
Find your ideal Caribbean cruise
Sponsored listing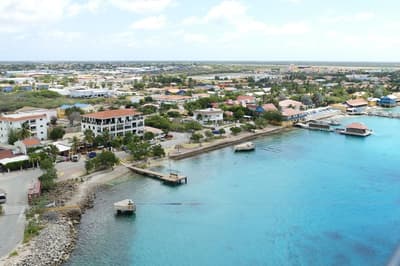 7 nights
Departs on the 18 Mar 2024
Norwegian Cruise Line, Norwegian Sky
La Romana, Catalina Island, Willemstad, + 5 more
Starts at: La Romana
Your search has not returned any results
Register now to receive regular email updates in the latest cruise news, best offers, and cruise deals.
St Kitts and Nevis cruises: Best places to visit in St Kitts and Nevis
Basseterre
From the port, you can easily walk into Basseterre and The Circus and Independence Square, are just a few streets away. The first takes its name from London's famous Piccadilly Circus and is where you can always find a taxi, the second used to be known as Pall Mall Square and is now a small public park where you can watch Kittitian life roll by.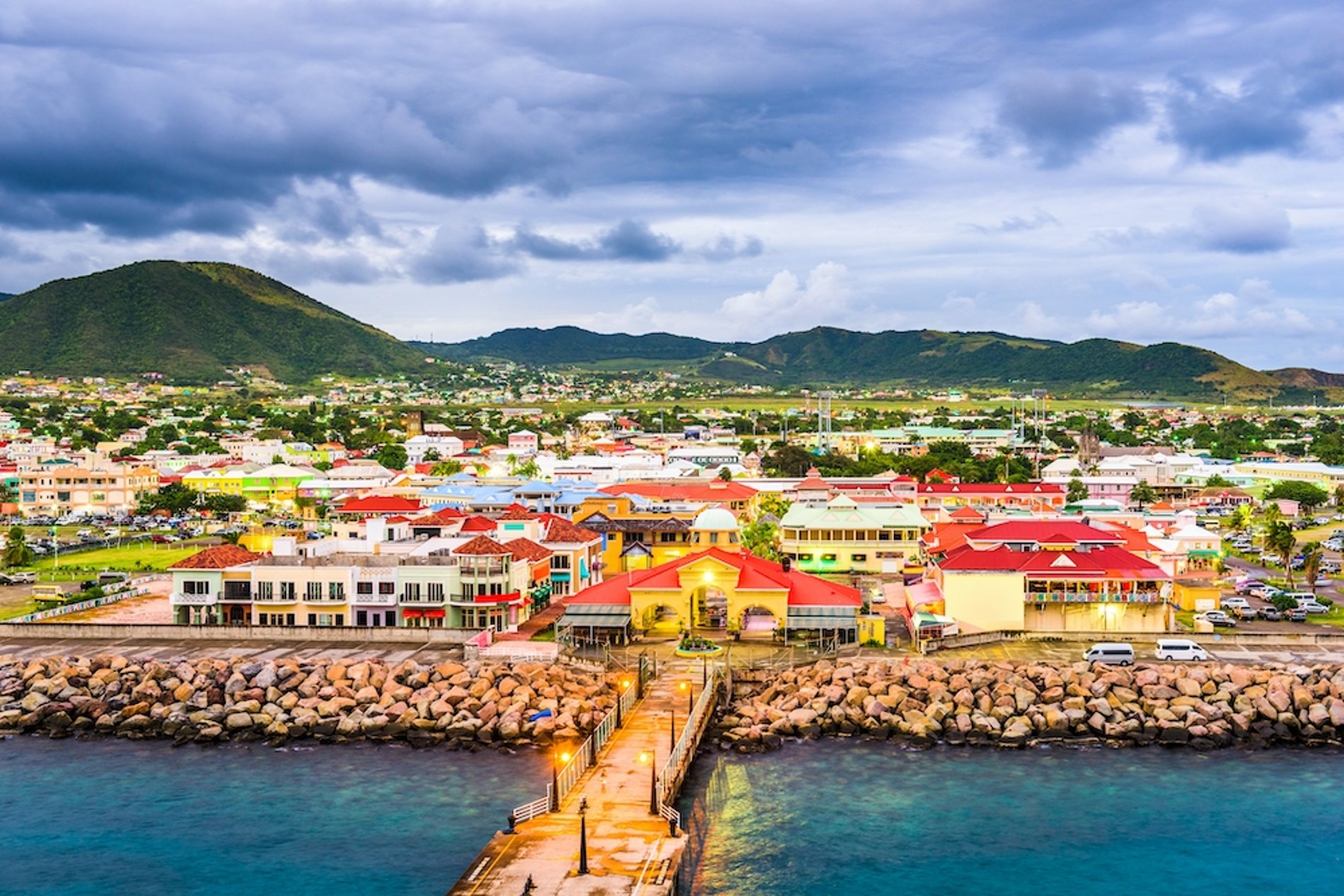 Brimstone Hill Fortress National Park
Built in the 17th century and lying on top of an 800-foot hill that overlooks the Caribbean Sea, the fortress was designed by British military engineers, and built and maintained by African slaves. Dubbed as 'the Gibraltar of the Caribbean' on the welcoming fountain at the port, it's easy to see why. This fort is the most preserved in the Caribbean, still retaining its original look and as such is a Unesco World Heritage Site. When visiting, you can enjoy the view of the calm sandy shores as seen from the park.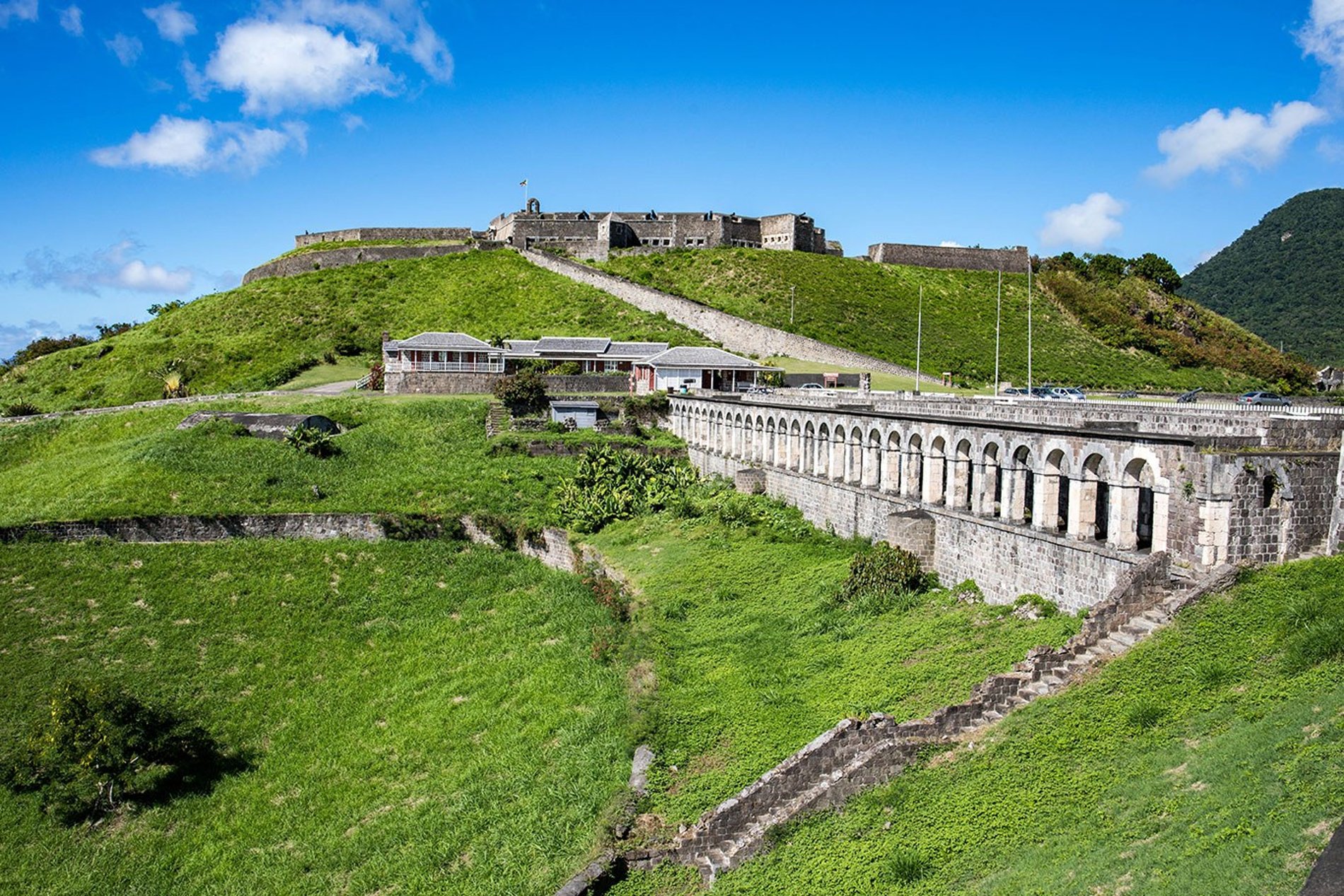 Mount Liamuiga
The island is dominated by three volcanic peaks, the highest being the 3,792ft (1,156m) Mount Liamuiga. Not for the unfit traveller, a hike up Mount Liamuiga – a dormant volcano is a unique adventure as you trek pass waterfalls, the tropical rainforest and the cloud forest at higher elevations. The spectacular view from the peak is a rich reward for this over four hour guided hike. Or opt for a guided rain forest tour, that gives you the opportunity to explore and spot colourful hummingbirds, lizards, mongooses and monkeys indigenous to the island.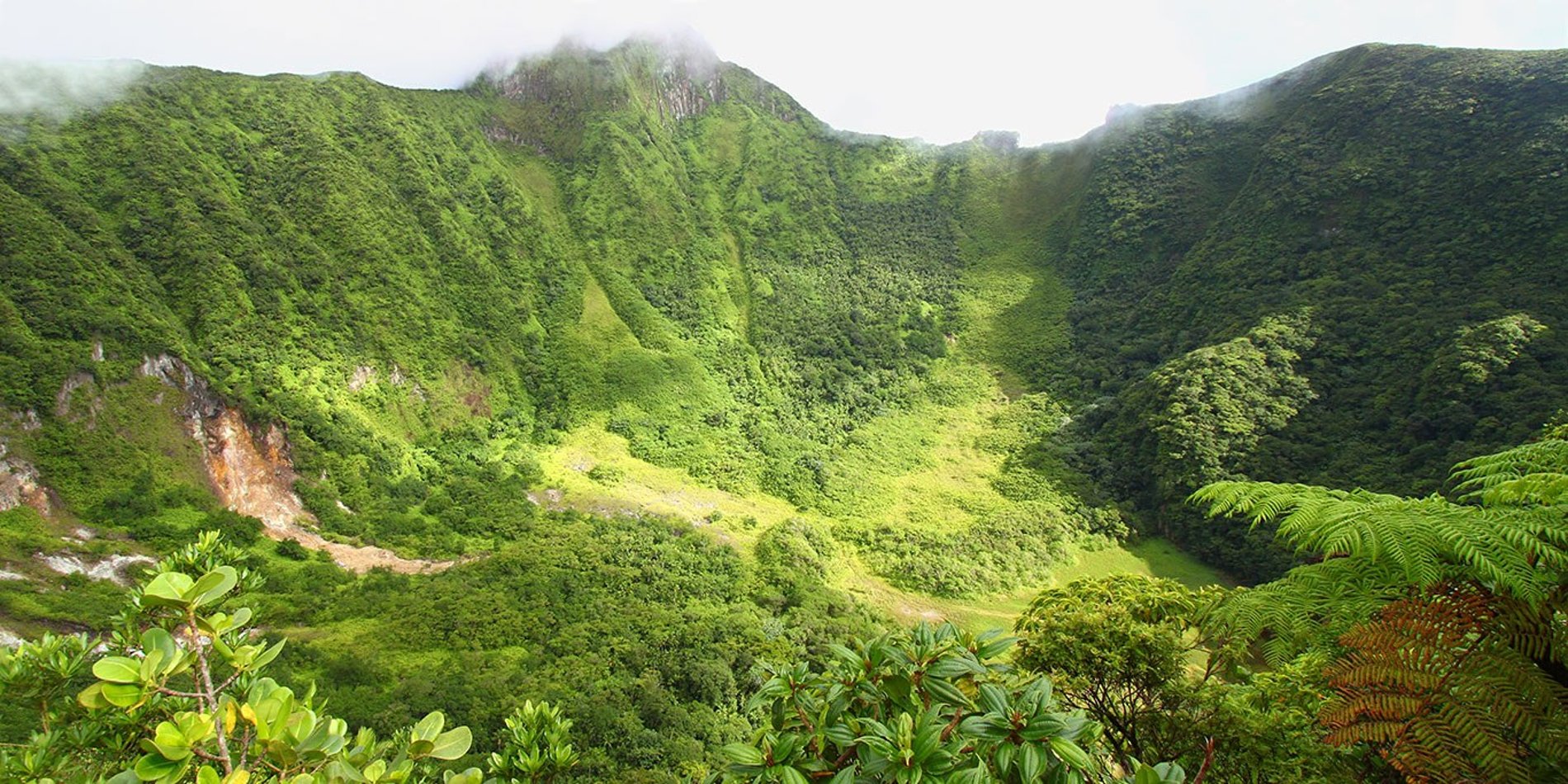 Dieppe Bay
This small, palm-lined, black sand beach is protected by a major reef, making it ideal for exploring. As home to a variety of marine life, the reef also makes for excellent snorkelling. When you settle back for some sun, you'll find the tanning process enhanced by the shiny volcanic sand that draws so many visitors to this exotic beach. As you gaze out at the water, you will be looking at the Caribbean Sea on your left, and the Atlantic Ocean on your right. A stunning view of nearby Sint Eustatius lies to the north.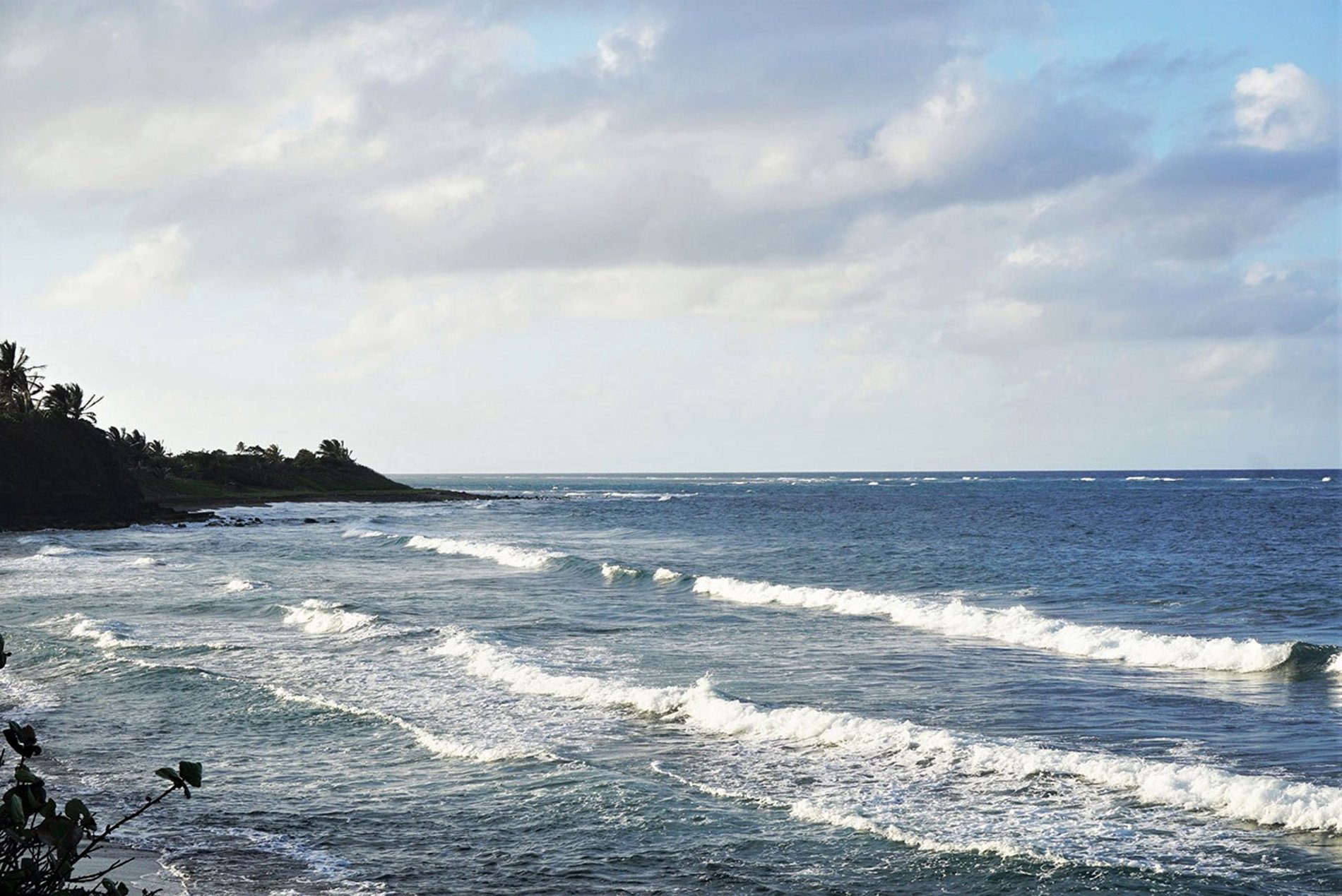 Bloody Point
About a mile west of Basseterre on Old Road, you find Bloody Point, a spot that represents a grim moment in Kittitian history. This was where, in 1626, about 2,000 Carib Indians were massacred by joint French and British forces, pre-empting a plan by the Caribs to drive the foreigners from the island and take back their native land. Legend has it that the blood from the slaughter ran for three days. There's not much here these days apart from a plaque, but the road from this point sweeps up to a headland from where you can clearly see the islands of Saba and St Eustatius – a good stop for photographs.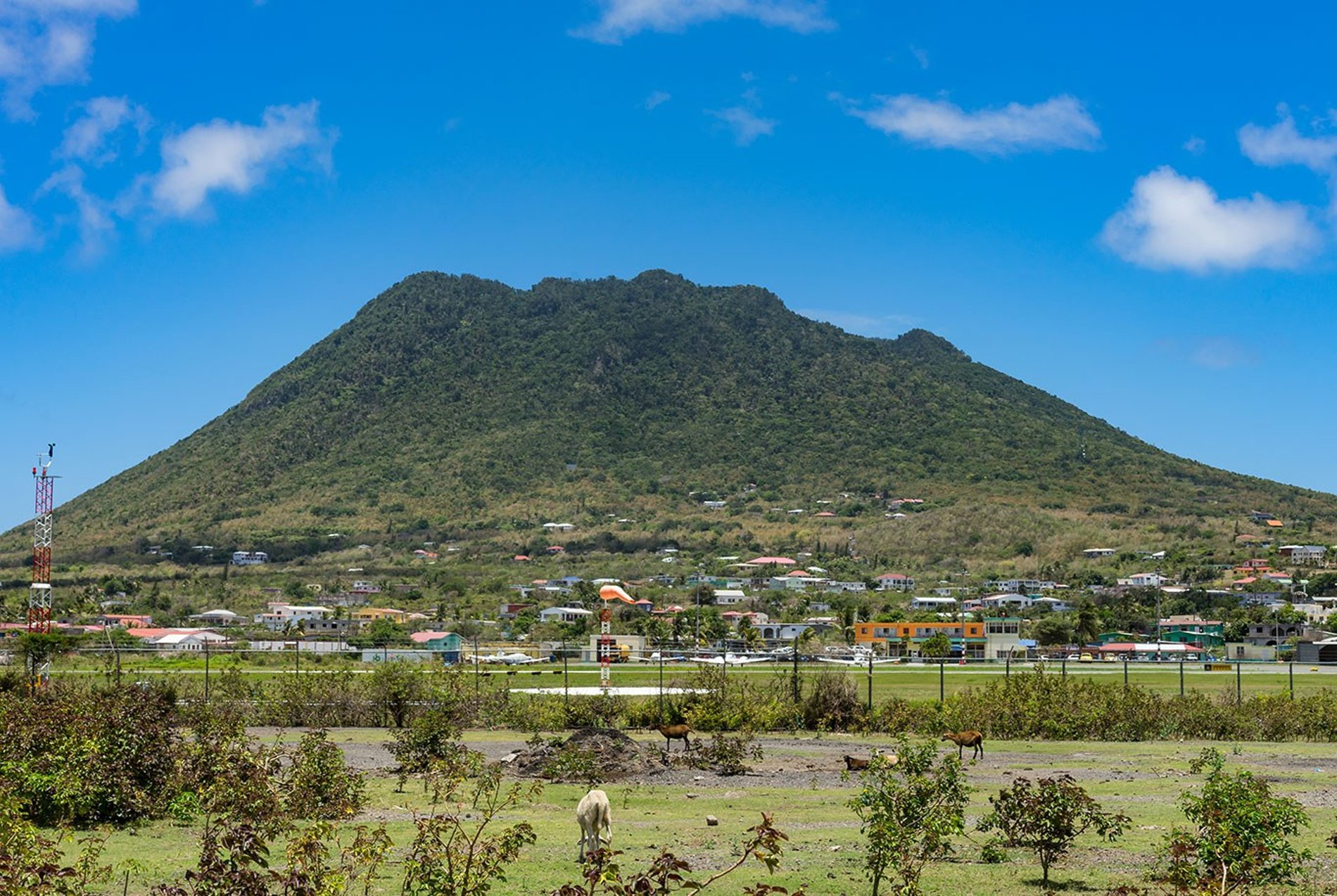 Romney Manor and Old Road
Old Road was the first British town in the entire Caribbean. Sir Thomas Warner landed at Old Road Bay on 28 January 1623 with 15 settlers. Just above Old Road Town is the 17th-century Romney Manor sugar estate, now home to Caribelle Batik. Artisans at the workshop provide live demonstrations of the batik process and sell their products here as well. Best of all are the beautifully restored gardens surrounding the manor and featuring a magnificent saman tree said to be 350 years old. Nearby, the church of St Thomas – the first Anglican church in the British Caribbean – is still standing.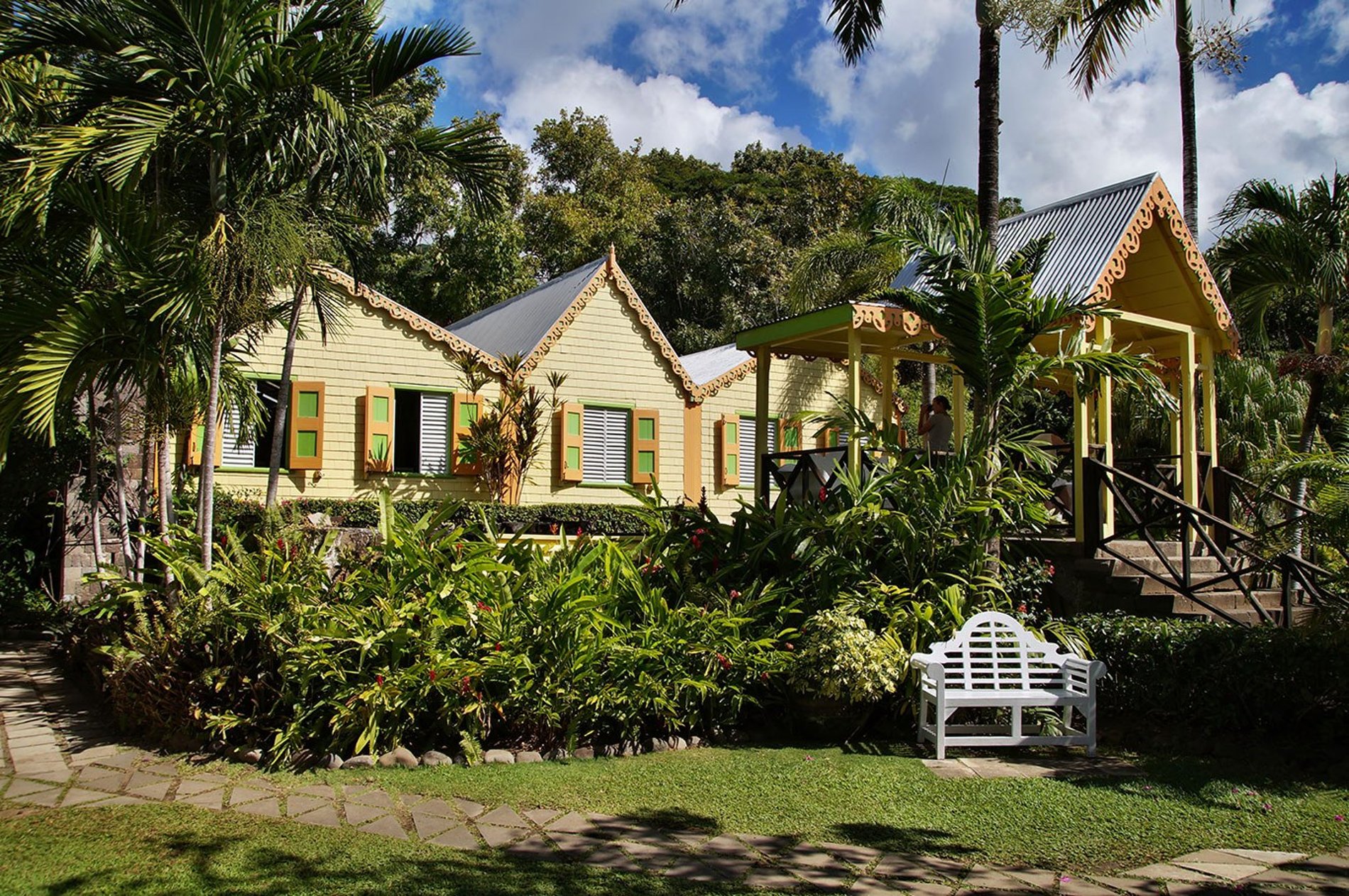 Iconic ports
St Kitts and Nevis cruises: Best things to do in St Kitts and Nevis
Ride the sugar train
If you could do just one thing on a St Kitts cruise, it should be to board the Scenic Railway – the last one in the West Indies. Built for the sugar trade in the early 20th century, today the train takes sightseers on an 18-mile journey. The double-decker carriages have open-sided top decks, so you can enjoy the breeze with your complimentary rum punch and the sounds of the train's own choir.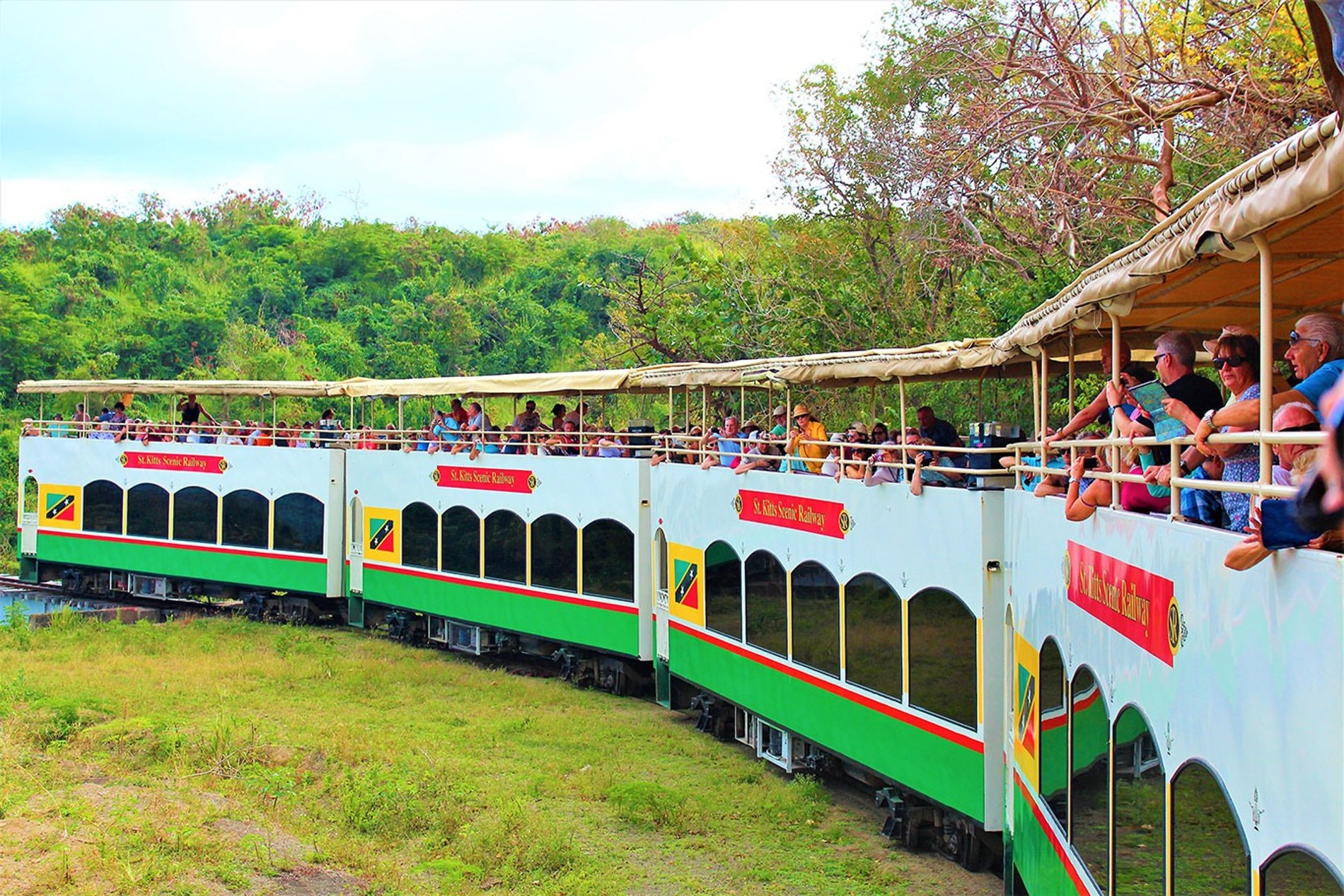 Splash around
Surrounded by warm blue seas, the island is great for all manner of watersports. Kiteboarding has become a challenge for thrill-seekers visiting the island and there are several places to hire windsurfers, sailing dinghies and the exhilarating Hobie Cats. For a less intense experience, glide across the sea in a kayak, which is also a good way to spot wildlife or just splash around on one of the beaches littering the coast.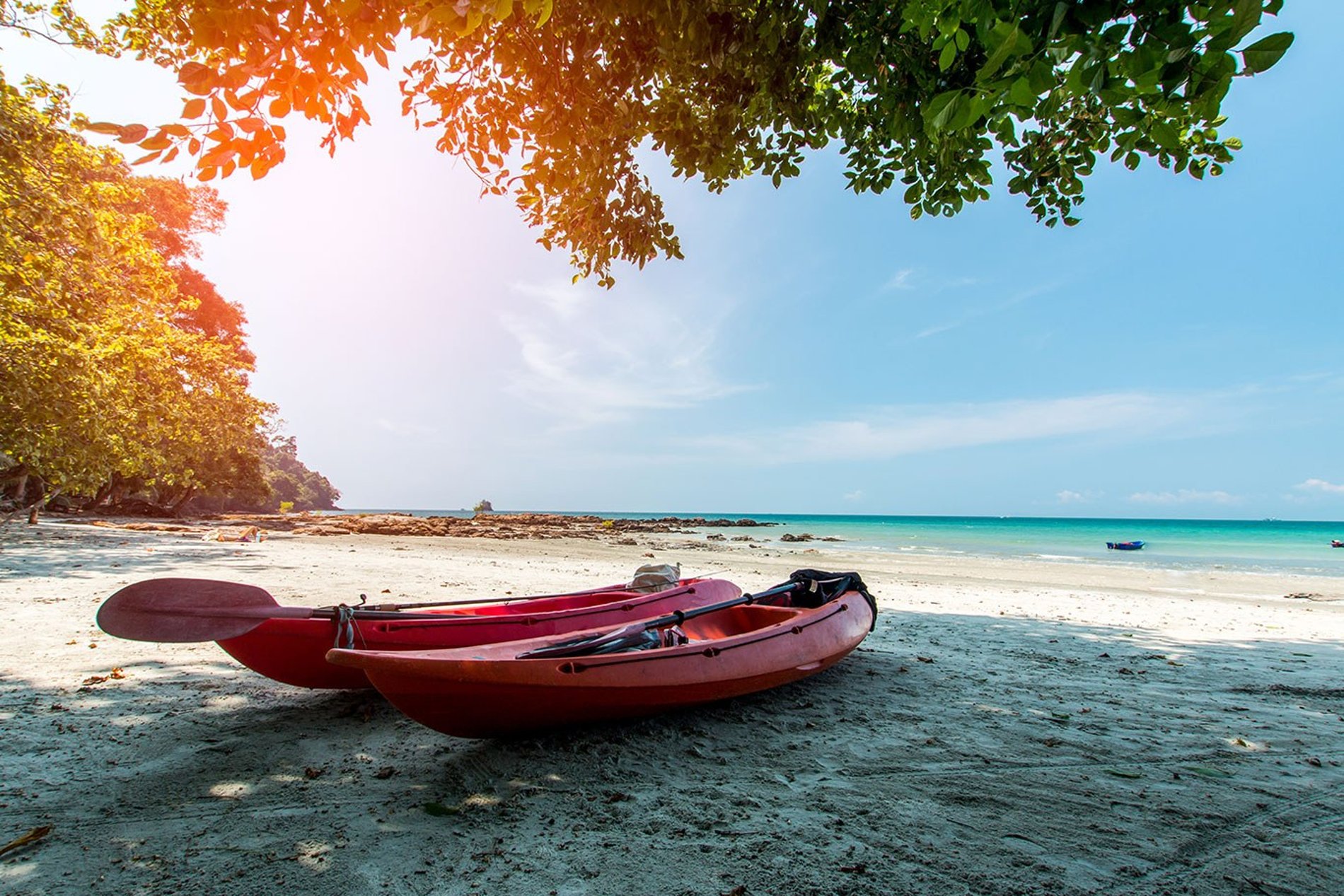 Spot the turtles
Between April and June, endangered leatherback turtles turn up at the island's Atlantic coast to lay their eggs. The event is closely monitored by a local naturalist group who will let you join them for a one-in-a-lifetime opportunity for after-dark observation while teaching you about these enchanting creatures. It's a magical experience and your permit fee even goes towards conservation efforts.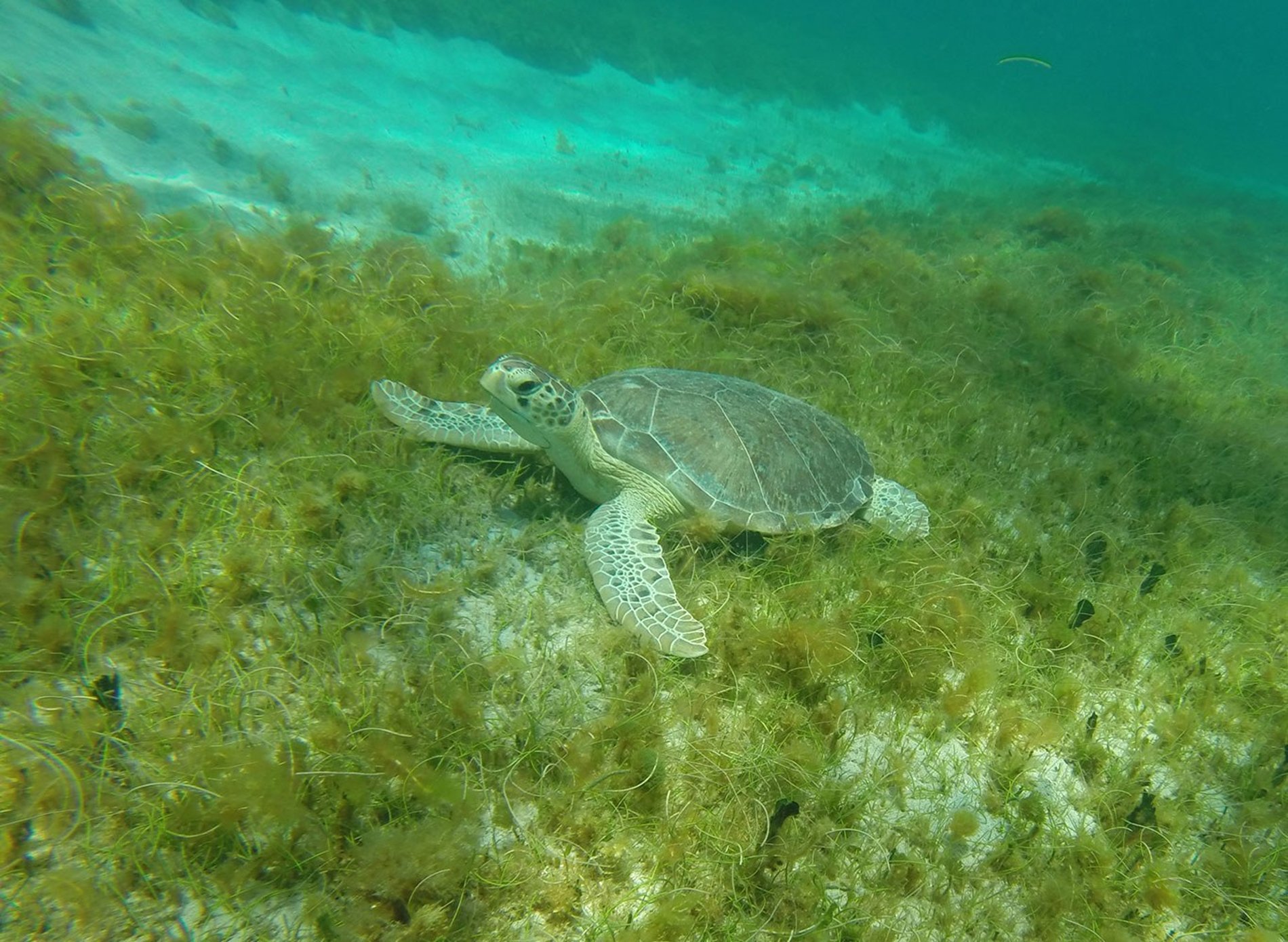 Zip, zip away
Friendly and professional zip-line staff guide you through a total of five lines up to 1350ft long, that offer breathtaking views as you soar through a tropical rainforest. An adrenaline-fuelled experience that allows you to reconnect with nature and perhaps catch a glimpse of green vervet monkeys in the trees. Zipline through the ravine, get a glimpse at Brimstone Hill and listen to the teeming sounds of the forest.