Search for your ideal Cruise
Ocean Cruising in Ketchikan, Alaska
Ketchikan is famous for its colorful totem poles, rainy skies, steep–as–San Francisco streets, and lush island setting. Some 13,500 people call the town home, and, in the summer, cruise ships crowd the shoreline, floatplanes depart noisily for Misty Fiords National Monument, and salmon-laden commercial fishing boats motor through Tongass Narrows. In the last decade Ketchikan's rowdy, blue-collar heritage of logging and fishing has been softened by the loss of many timber-industry jobs and the dramatic rise of cruise-ship tourism. With some effort, though, visitors can still glimpse the rugged frontier spirit that once permeated this hardscrabble cannery town. Art lovers should make a beeline for Ketchikan: the arts community here is very active. Travelers in search of the perfect piece of Alaska art will find an incredible range of pieces to choose from.The town is at the foot of 3,000-foot Deer Mountain, near the southeastern corner of Revillagigedo (locals shorten it to Revilla) Island. Prior to the arrival of white miners and fishermen in 1885, the Tlingit used the site at the mouth of Ketchikan Creek as a summer fish camp. Gold discoveries just before the turn of the 20th century brought more immigrants, and valuable timber and commercial fishing resources spurred new industries. By the 1930s the town bragged that it was the "salmon-canning capital of the world." You will still find some of Southeast's best salmon fishing around here. Ketchikan is the first bite of Alaska that many travelers taste. Despite its imposing backdrop, hillside homes, and many staircases, the town is relatively easy to walk through. Favorite downtown stops include the Spruce Mill Development shops and Creek Street. A bit farther away you'll find the Totem Heritage Center. Out of town (but included on most bus tours) are two longtime favorites: Totem Bight State Historical Park to the north and Saxman Totem Park to the south.


Why cruise Ketchikan
As the 'Gateway to Southeast Alaska', Ketchikan is one of the most popular ports of call on an Alaska cruise. Visitors flock to Ketchikan to enjoy outdoor activities such as hiking, kayaking and fishing – it is the canned salmon capital of the world – as well as to discover the Native American culture and heritage, being famously home to the world's largest collection of Northwest totem poles. Nature-lovers are in their element, with the nearby Misty Fjords National Monument and Tongass National Forest boasting dramatic landscapes and amazing flora and fauna. Cruise lines including Princess, Celebrity Cruises, NCL, Carnival, Royal Caribbean and Holland America Line sail to Ketchikan as part of their Alaska cruise itineraries.
find your perfect cruise
What to see and do in Ketchikan
Creek Street
Located five minutes from the cruise terminal, Ketchikan's historic Creek Street area is a great first port of call. Listed on the National Register of Historic Places in 2014, the street itself is actually a boardwalk mounted on stilts on a high slope and is infamous in having been Ketchikan's red light district between 1903 and 1954. Take a walk down the street lined with evocative buildings that were once houses of ill repute, including Dolly's House, which is now a museum open to visitors. Creek Street is also famous for being one of the best salmon viewing areas in Ketchikan and visitors are welcome to fish for salmon off the bridge.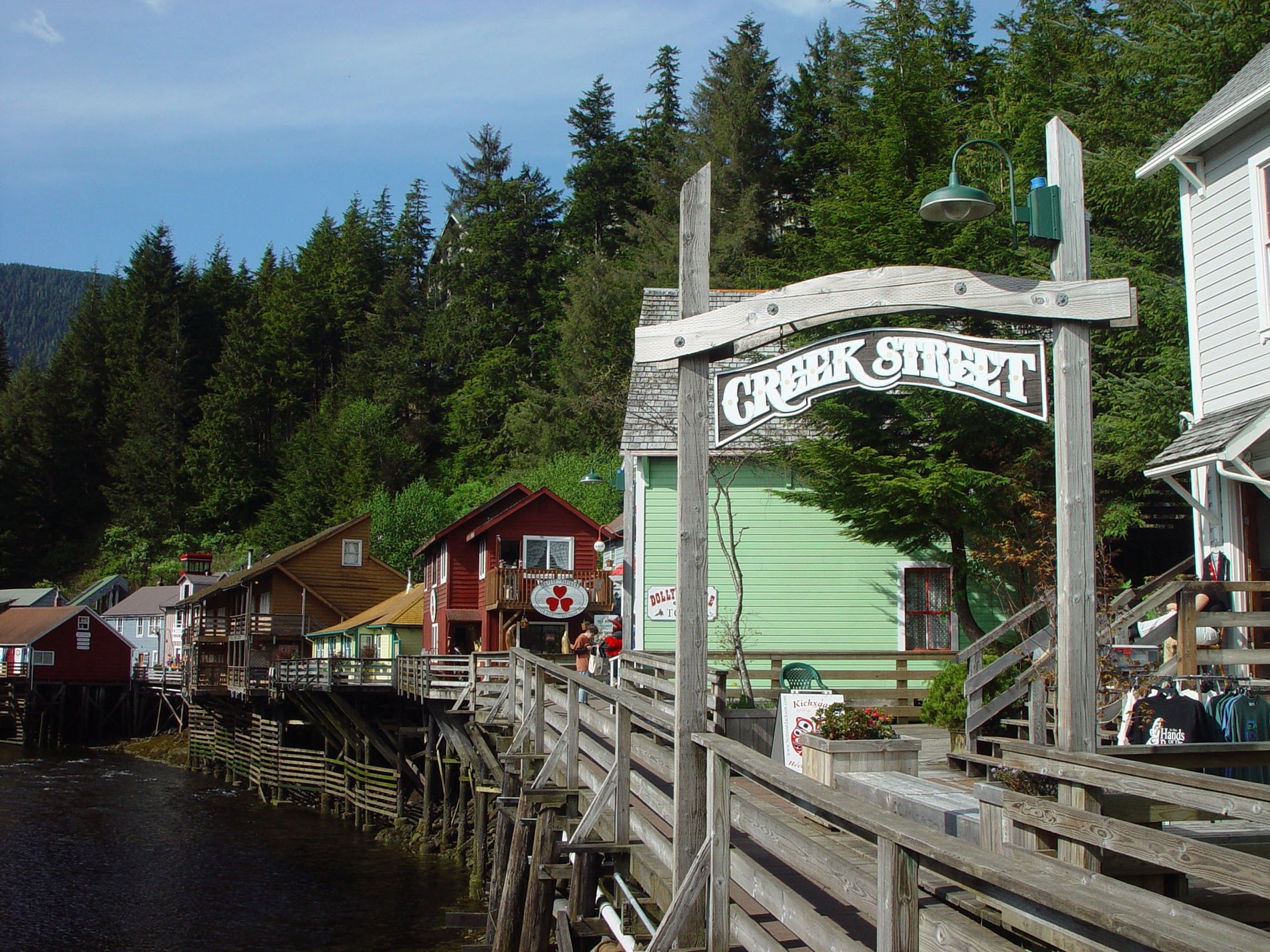 Totem Heritage Center
Hand-carved totems that line Ketchikan's streets and parks serve as a colourful reminder of the city's Native American heritage. While in Ketchikan, make sure to visit the Totem Heritage Center, which houses the US' largest collection of original totem poles. Those of you who wish to see more totem art while in Ketchikan should pay a visit to Potlach Park and the Totem Bight Historical Park. Located 10 miles north of downtown Ketchikan, these two distinct parks sit next to each other and have dedicated to the preservation and celebration of this ancient native craft.
Alaska Discovery Center
Those of you wish to learn more about the land, people and culture of the region should visit the U.S. Forest Service's Southeast Alaska Discovery Center, situated on Mill Street in downtown Ketchikan. Here you can learn about the unique natural and cultural history of the Tongass National Forest, a place where people have lived in harmony for thousands of years.
Misty Fjords National Monument
Ketchikan's star scenic attraction, the Misty Fjords National Monument is about 20 miles from the city and can only be reached by seaplane by boat, but is well-worth the trek. The 2.3 million acre park offers spectacular scenery, with glacial cliffs, lush rainforest and secluded bays. Small ships often include a day in the park as part of their itinerary, but its narrow fjords are inaccessible to larger cruise ships so passengers will need to take a separate boat or plane. Operators such as Ketchikan Shore Tours organise combined cruise and flightseeing tours, which lasts almost four hours and costs $369/£278. Alternatively, floatplane excursions include Misty Fjords Air, which lasts just over two hours and costs $269/£240 in total.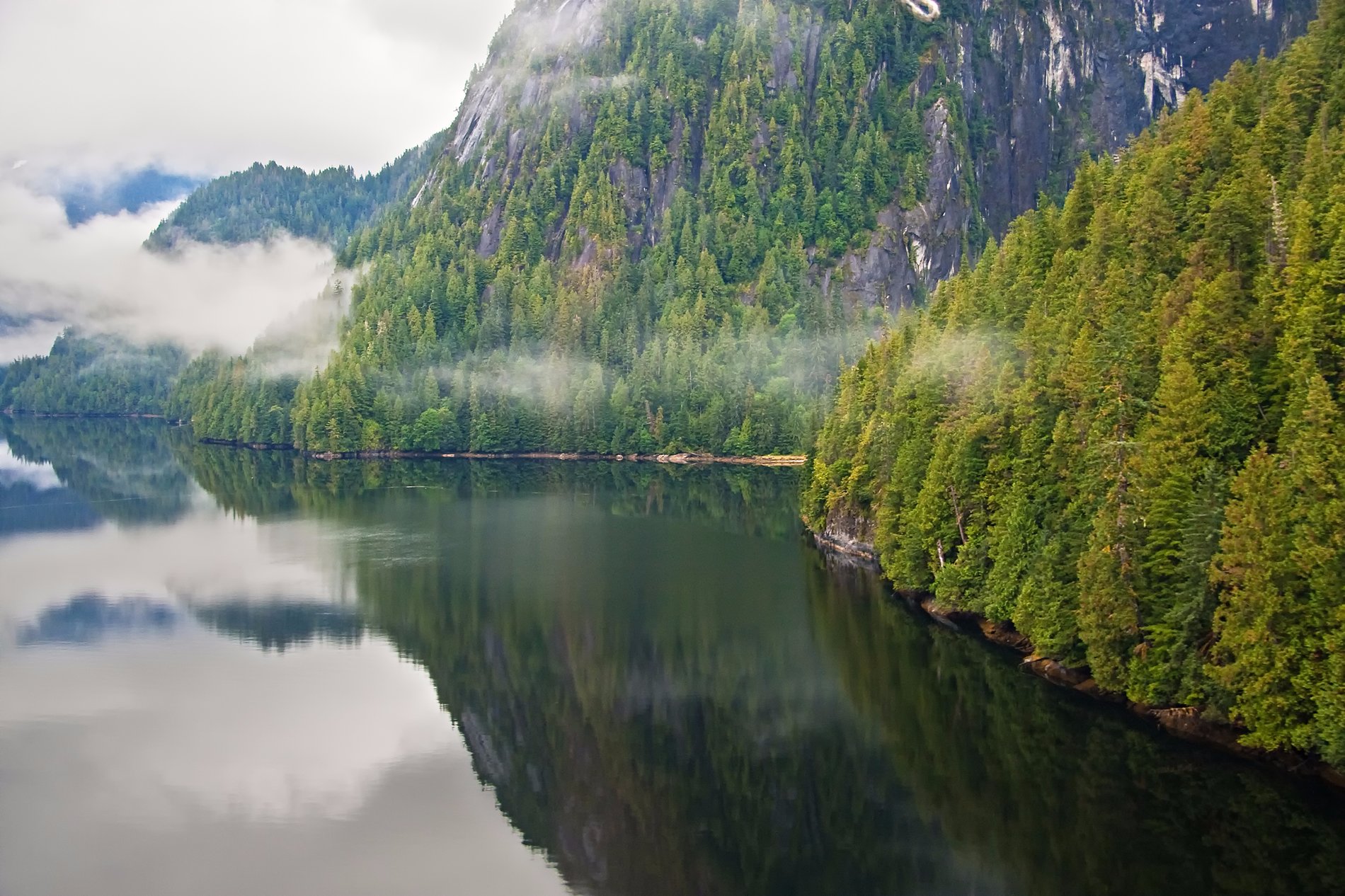 Tongass National Forest
At 16.7 million acres, Tongass National Forest is the largest natural forest in the US. A nature-lover's dream, the remote forest is home to many species of rare and endangered flora and fauna, as well as local wildlife. Watch out for deer, seals, black bears and bald eagles.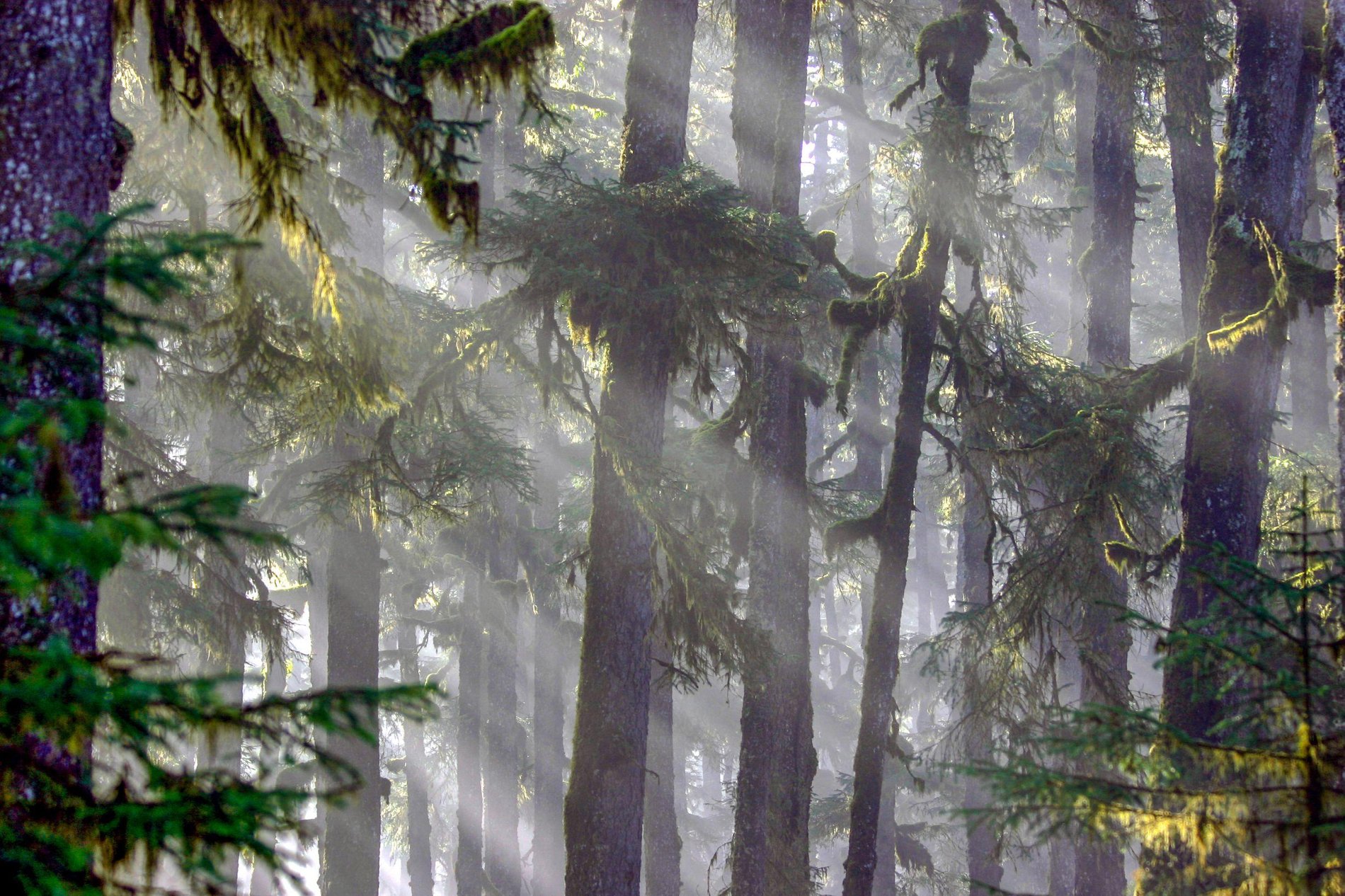 Zipline Adventure Park
Thrill-seekers should definitely pay a visit to the Zipline Adventure Park. A 25-minute drive from town, the park features eight lines and eight aerial traverses. Both Norwegian Cruise Line and Princess offer this as a shore excursion, which lasts three hours and 30 minutes, in which you will glide through old growth cedars, fly into an ancient cedar tree onto the Eagle's Nest Platform, traverse a swaying log, swing across rope loops and climb a 50-foot climbing tower.
Hiking trails
Ketchikan has several excellent hiking trails, many of which boast amazing views of the city. These include the Deer Mountain Trail – a two-mile hike that goes up 2,500 feet to the summit – and the Rainbird Trail, which starts above the Third Avenue bypass. Others include two in the Ward Lake Recreational Area, seven miles north of Ketchikan—the Ward Lake Trail and the Perseverance Trail, the latter of which takes you into the rainforest.
Need to know when travelling to Ketchikan
Getting around in Ketchikan
Ketchikan's cruise terminal, one of Alaska's busiest, has four berths. If there are more ships in port, you may be required to tender ashore as your ship drops anchor offshore. The cruise ship pier is located right in front of the town and is only separated by a waterfront Melancon. Once you disembark, you are in walking distance of the town. You can easily explore Ketchikan's downtown area on foot, or you can also rent bikes – both regular and electric. If you wish to venture further afield, use the local transit system.
When to go to Ketchikan
The cruise season runs from May to September. The best and most popular time to visit is during July and August when the city is at its warmest. Ketchikan is also one of the rainiest towns in the US, receiving about 13 feet of rain each year, so make sure to pack your waterproofs no matter when you visit.
Currency
Alaska uses the US dollar.
Visas
The Visa Waiver Programme allows UK citizens to enter the US for 90 days without a visa. You'll need to register online with the Electronic System for Travel Authorisation (ESTA) before travelling, as well as showing proof of a return trip, or an onward ticket.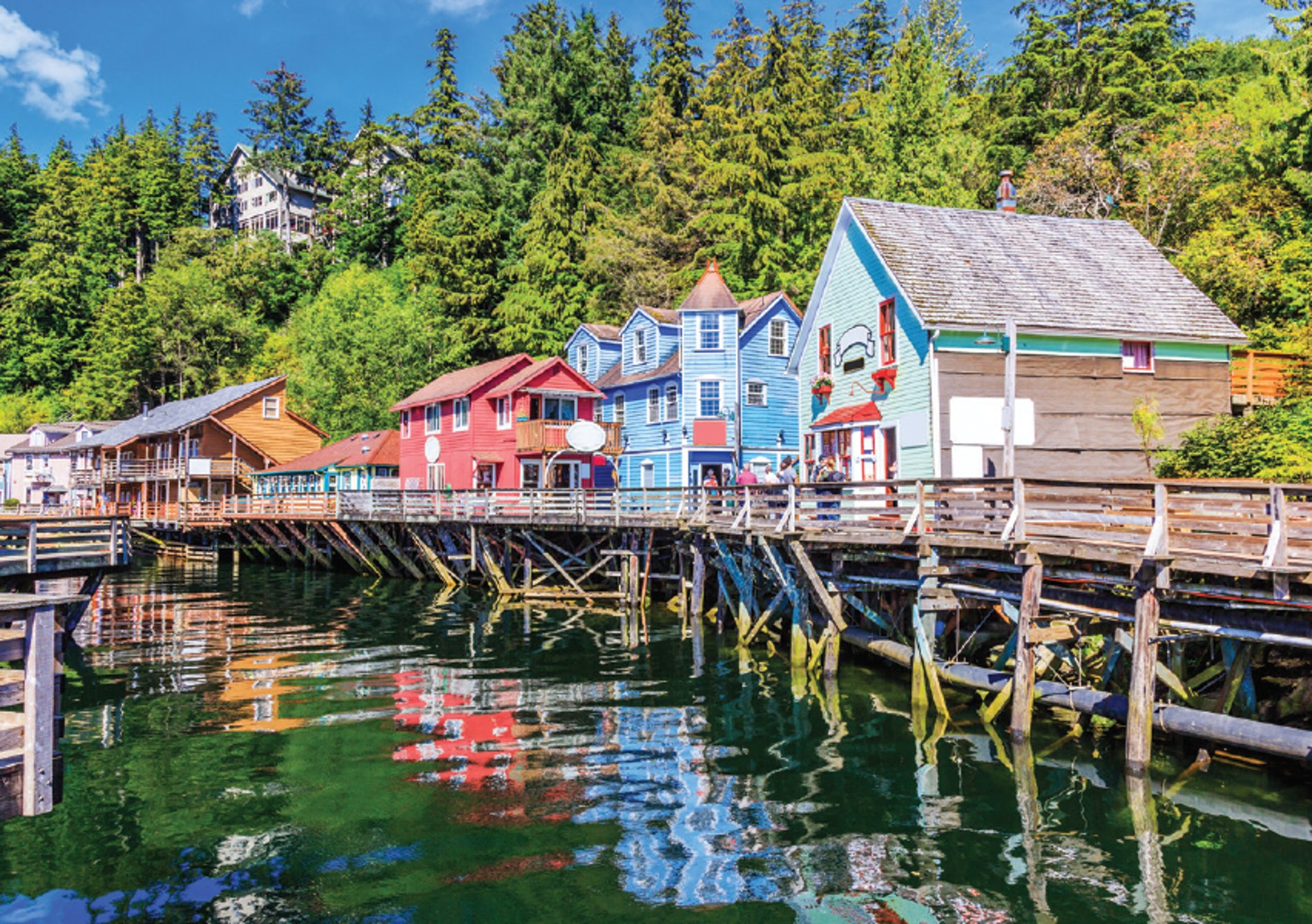 Ketchikan's photogenic waterfront