Flåm
Sitting at the end of Aurlandsfjord, a branch of the vast Sognefjord, Flåm is another village in southwestern Norway that is famed for its fjords. The tiny village, home to just 350 inhabitants, is known for its unique mountain railway, which offers unrivalled views of valleys and waterfalls as it climbs to a station on the Hardangervidda plateau. Cruise passengers visiting Flåm on a Norwegian fjords sailing can expect some of the world's most spectacular and dramatic scenery.
Why cruise Flåm
The fairytale village of Flåm is in the innermost sidearm of the world's deepest and second-longest fjord, the 1,308m deep Sognefjord. Nature lovers are in their element in Flam, which boasts towering mountain cliffs, cascading waterfalls and narrow valleys, all of which can be enjoyed either by boat, scenic rail or hiking trail.
find your perfect cruise
What to see and do in Flam
Flåmsbana
By far the most popular attraction in Flåm is its famous mountain railway. Located a few minutes from the harbour, the Flåm Railway follows a picturesque route through the beautiful valley to the Myrdal Mountains, an elevation of up to 2,841ft above sea level. The majority of cruise lines which sail to Flåm – including P&O Cruises, Royal Caribbean and Norwegian Cruise Line – will offer this as an excursion and to avoid disappointment, make sure you book your ticket with your operator as soon as you get on board.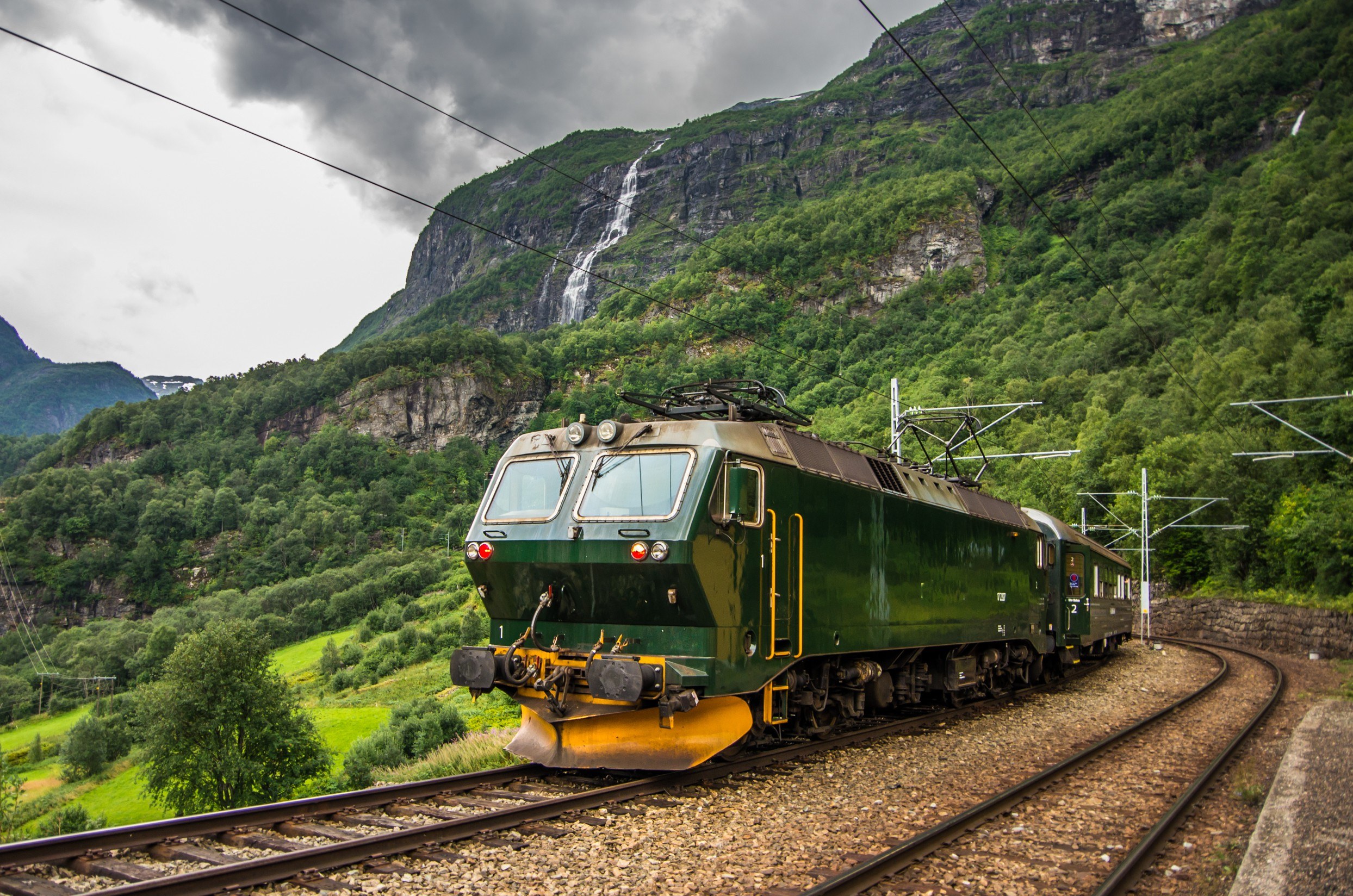 Næroyfjord
Another popular and worthwhile excursion (particularly if you miss out on the train ride) is a cruise up Næroyfjord. The 11-mile long Unesco-listed fjord, another branch of the large Sognefjord, is burrowed between towering, majestic cliffs and in some parts is just 1,600ft wide, which is why only small ships can make this scenic journey past cascading waterfalls and picturesque farms. MSC Cruises offers this cruise as an excursion, which also includes a bus ride through the narrow Nærøydalen Valley to the Stalheimsfossen and Sivlefossen waterfalls.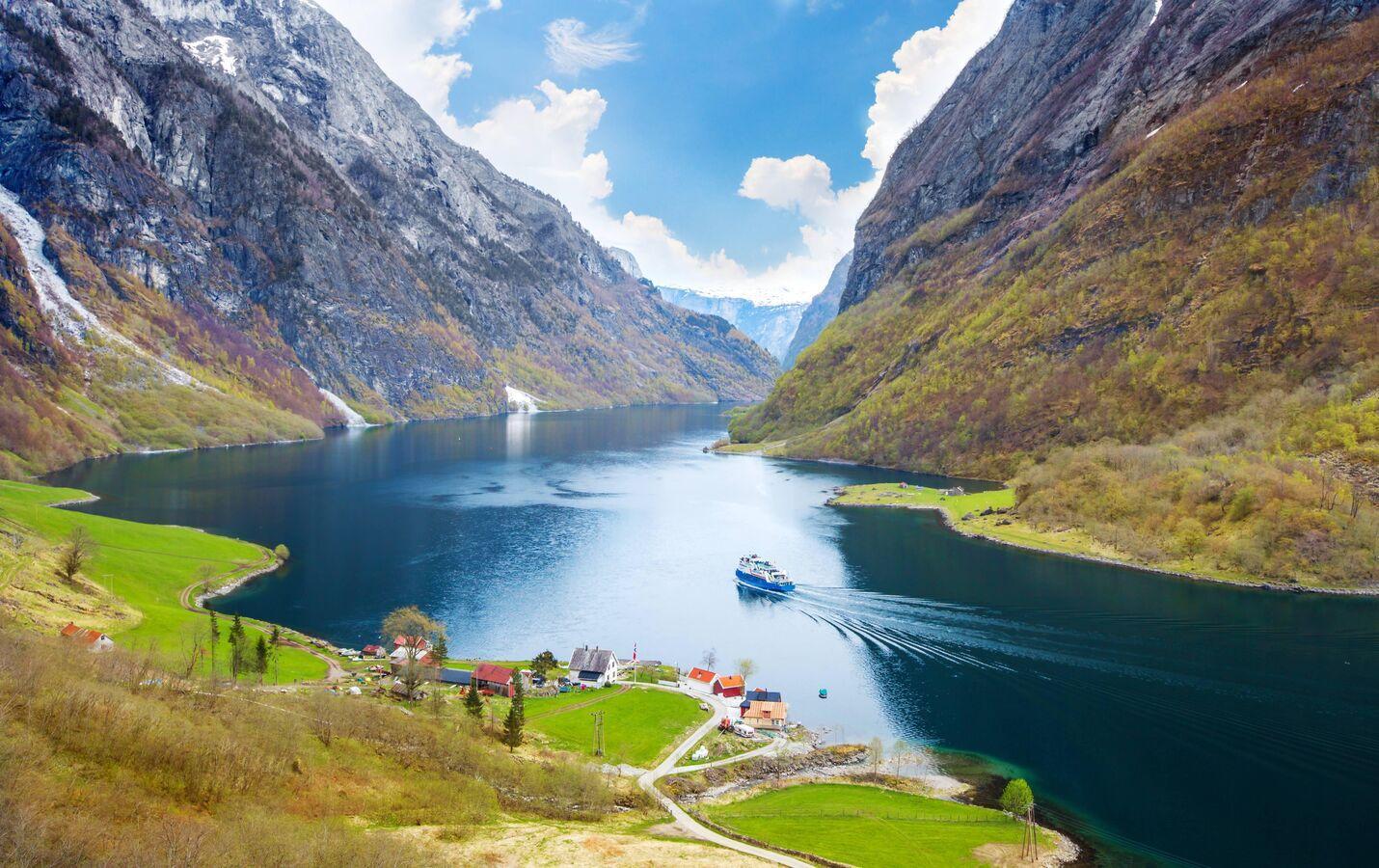 Lærdal
If you prefer to stay on dry land, there are plenty of options, too. The historic Lærdal village is made up of heritage buildings dating back to the 18th century. Lærdal is also well-known for its salmon fishing, with the Lærdal River often referred to as 'Queen of the Salmon Rivers'. Both MSC Cruises and Costa visit Laerdal by coach on an excursion that also includes the world's longest tunnel at Lærdal, the 'Snow Road' back to Flåm, and the historic wooden Borgund stave church.
Stegastein Viewpoint
This spectacular viewpoint overlooking Aurlandsvangen and the Aurlandsfjord is an absolute must on your visit to Flåm. Built in 2006 as part of a project to promote national tourist trails, the steel and laminated pine platform juts out almost 100 feet from the mountainside, thereby giving visitors a completely unobstructed panorama of the fjord. Costa is one of the many cruise lines that goes to Stegastein Viewpoint on a coach excursion that also includes a tour of the village of Aurland, which can be spied 650 metres below the viewpoint.
Otternes Farm Village
Located just three miles to the north of Flåm, this charming farm village is home to a cluster of 27 houses dating back to the 17th century. Both P&O Cruises and Royal offer to Otternes, which also boasts serene landscapes and lush rolling hills.
Need to know when travelling to Flåm
Getting around in Flåm
Only one cruise ship can dock at the village at a time, while another ship can anchor in the fjord and passengers can be brought over by tenders. The rail station, along with some shops and cafes, are situated close to the quayside.
When to go to Flåm
Late spring is typically the driest in Flåm, but if you value warmer weather, then head there in July.
Currency
Flam uses the Norwegian krone.
Visas
If you hold a British Citizen passport, you don't need a visa to enter Norway unless you're planning to stay longer than three months.
Stegastein Viewpoint, Norway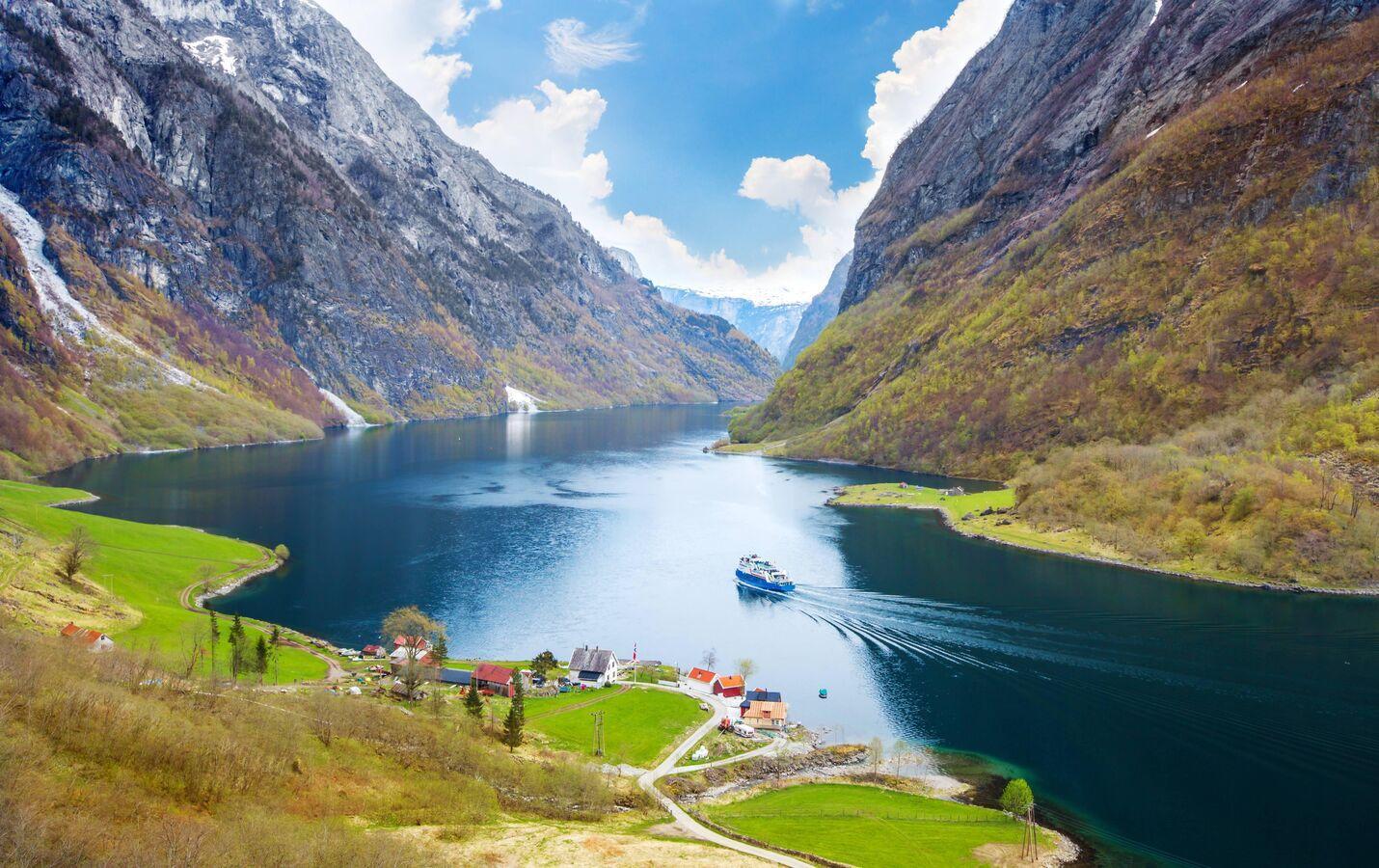 Naeroyfjord fjord landscape in Sogn og Fjordane region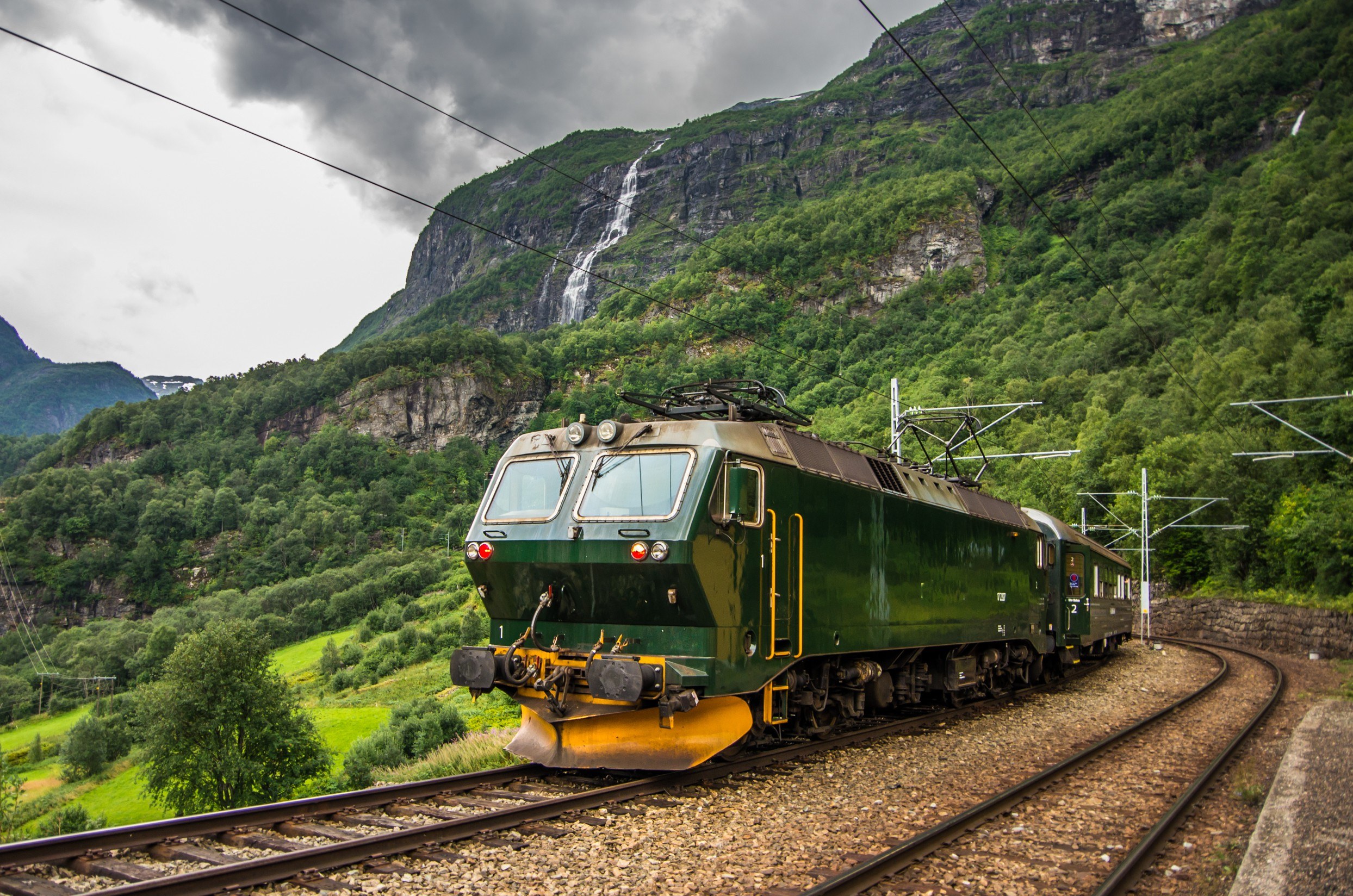 Train at famous Flam railway Flåmsbana line in Flam valley in Norway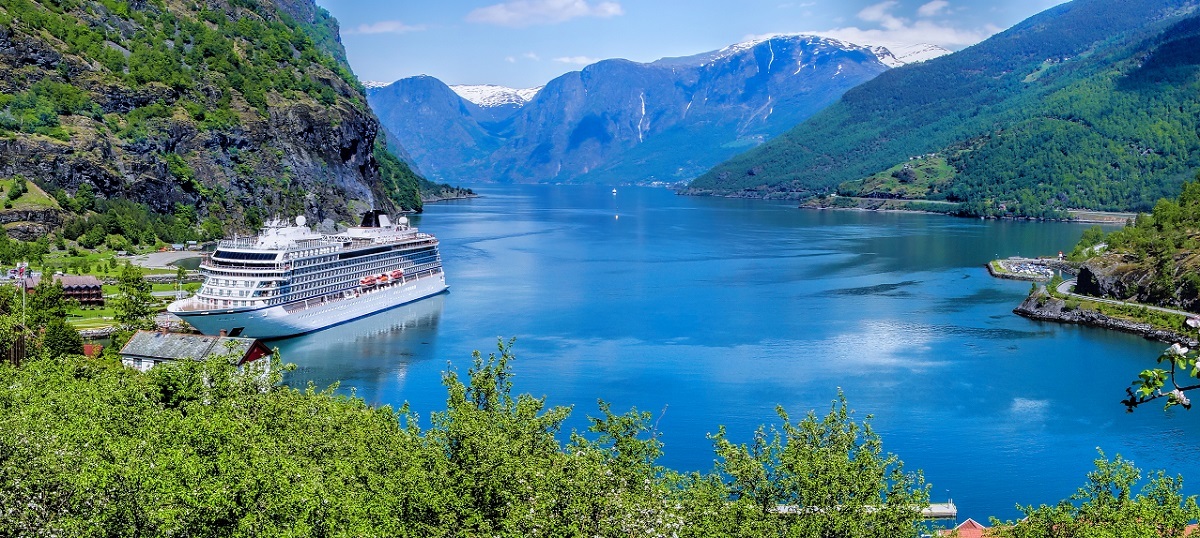 The pretty village of Flam nestles in the Norwegian Fjords – and it's within easy reach on a bargain cruise from the UK