Search for your ideal Cruise
Ocean cruising in Brazil
Brazil is one of the world's most vibrant countries, covered in white sandy beaches, lush green rainforests, and lively metropolises. It is the fifth largest country in the world and occupies half of South America's landmass. Brazil's energizing culture is rivalled by few and is epitomised by the country's famous celebration of Carnaval, which roars through the streets of its many cities. Brazil is Portuguese-speaking, owing its European heritage to the Portuguese colonialists who arrived on the country's shores in 1500. Brazil's crown jewel is of course the Amazon Rainforest, which covers 60% of its land and provides a home for hundreds of thousands of diverse species of wildlife.
Why choose Brazil cruises
Brazil has more than 7,000 kilometres of coastline along the Atlantic Ocean, making it the perfect location for cruising. Although Brazil is a vast country, the top destinations locations such as Rio de Janeiro, São Paulo and Salvador are all easily accessible from the country's ports. Oceangoing cruise ships can even travel as far "inland" as the port of Manaus, which is situated on the Rio Negro at the heart of the Amazon Rainforest. Cruise lines which operate to Brazil include Azamara, Celebrity Cruises, Costa Cruises, Cunard Lines, Holland America Lines, MSC Cruises, Norwegian Cruise Lines, P&O Cruises, Princess Cruises and Royal Caribbean.
find your perfect cruise
Find your ideal Brazil cruise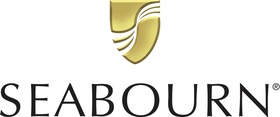 Sponsored listing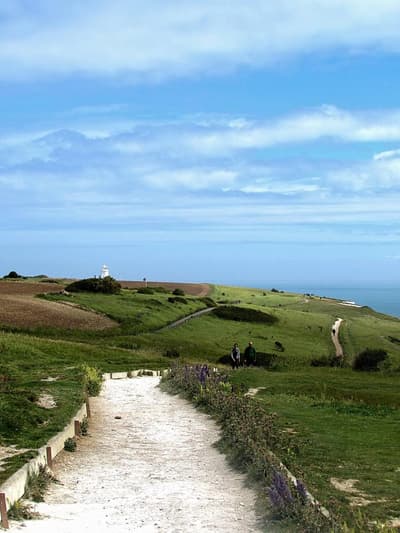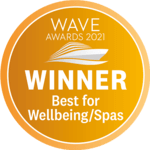 From Seabourn - 2021 Wave Awards winner
7 nights
Departs on the 03 Sept 2022
Seabourn, Seabourn Ovation
Dover, Antwerp, Farsund, + 4 more
Starts at: Dover
Brazil cruises: Best places to visit in Brazil
Rio de Janeiro
Nicknamed the Cidade Maravilhosa (Marvelous City), Rio de Janeiro sits extravagantly between forest-covered mountains and gorgeous sandy beaches. Sugarloaf Mountain towers over this dynamic city, while the nearby Tijuca national park draws in tourists with its mysterious allure. Take a dip in the clear blue waters of Ipanema or stretch out under the sun on the famous Copacabana Beach. For stunning views, jump on the cog train up Corcovado and stand at the base of the magnificent Christ the Redeemer. For a treat to the eyes and ears, head to one of the city's samba clubs in Lapa and stroll through the quaint streets of Santa Teresa. If you a few days to spare along a cruise to Brazil, you might want to venture further out to Ilha Grande, which is just an hour's journey from Rio. The island once served as a prison and a lepers' colony. The cobbled streets, glittering waters and gorgeous beaches, along with the absence of vehicles on the island, make it a tropical heaven.
Sao Paulo
The state of São Paulo merges cityscape with mountain-range and throws some rainforest in the mix for good measure. It is also the proud possessor of one of the world's most beautiful coastal routes along the Costa Verde, which cruisers can gaze at in awe from the decks. Along a cruise to Brazil, soak in the soaring skyline and search for secluded beaches to the north of Ubatuba. Hiking the peaks of Serra a Mantiqueira is an absolute must for alpine-fanatics, while keen cavers should check out Parque Estadual do Alto do Ribeira, near Iporanga. São Paulo City also comes alive at night-time, with its thousands of restaurants, bars and clubs. For a night of boozing, booming beats and boogie, swing by Itaim Bibi and Jardins or, if you're after something a little more edgy, poke your head in at Baixo Augusta.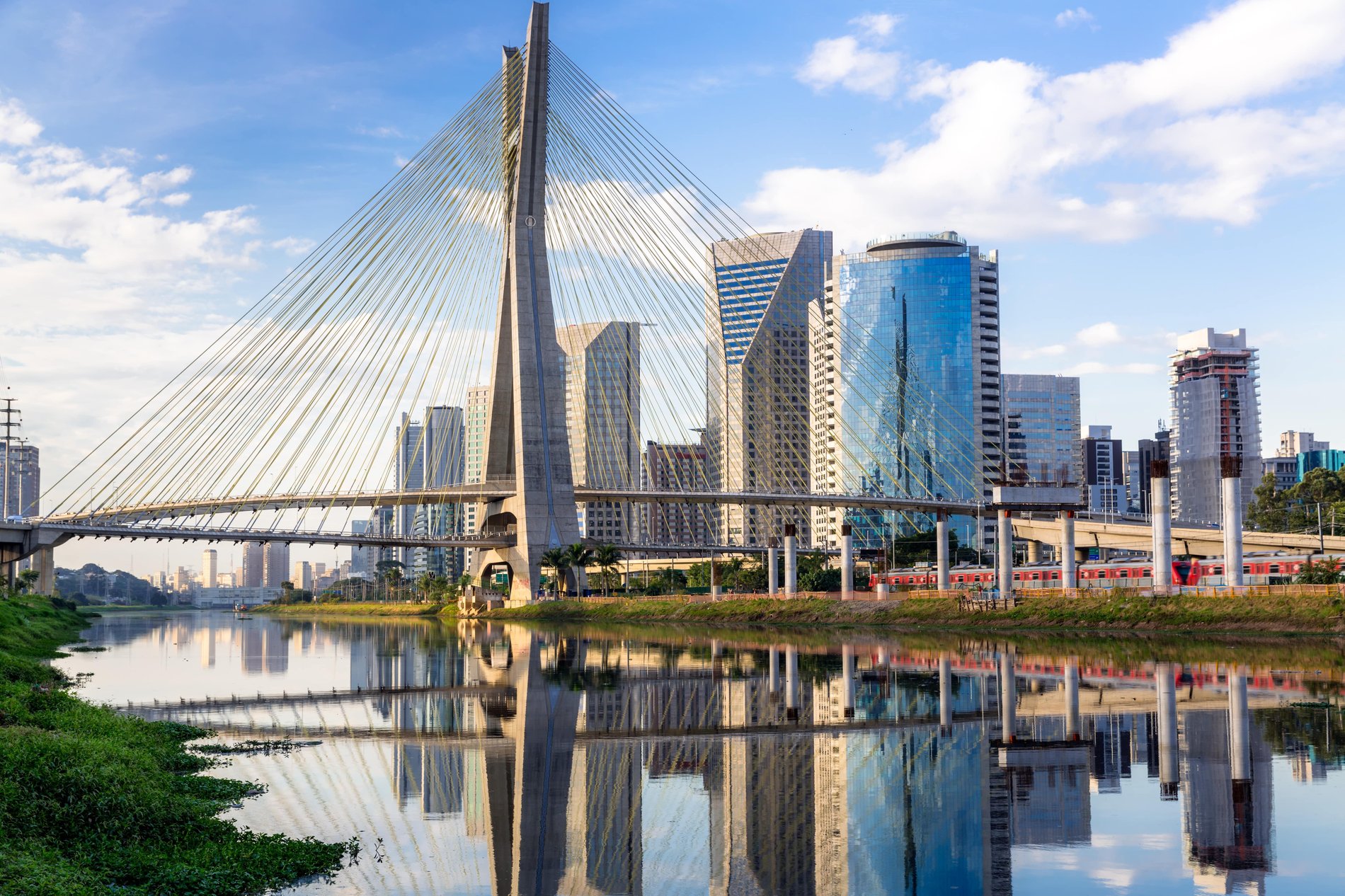 Salvador
The Afro-Brazilian hub of Bahia, Salvador has an unmatched vitality that manifests in its frequent festivities and roaring arts movement. Historically the landing point for slaves brought to South America from Africa, Brazilians of African heritage have retained much of their culture and traditions. You'll find African influences in the food and dance traditions, as well as numerous religious communities rooted in African beliefs. Learn more about this cross-cultural city at the Museu Afro-Brasileiro and see history in the architecture at the Pelourinho, a UNESCO World Heritage site full of colonial buildings, churches and the sombre Largo De Pelourinho which was once the grim site of a whipping post for slaves. The Igreja NS do Bonfim, the famous 18th century church is also an eye-catching attraction and the Mercado São Jaoquim is a dream for market-fans.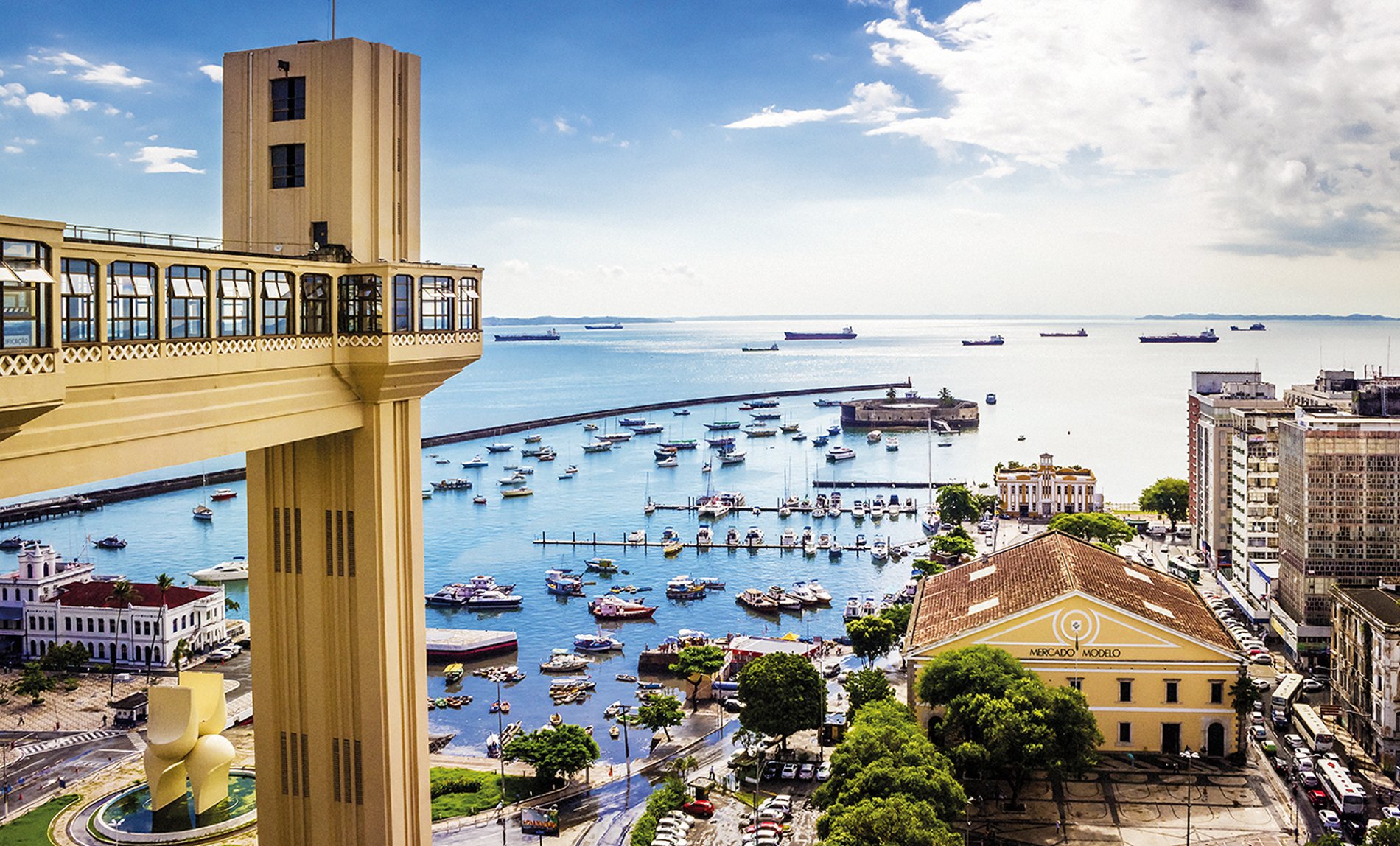 Ouro Preto
Devoid completely of 20th or 21st century buildings, Ouro Preto is one of Brazil's most well-preserved and striking colonial towns. It has particular historical significance in that it was once the centre of goldmining, and it served as the stage for Brazil's first independence movement. Ouro Preto is divided into three separate parishes: Pilar, Antônio Dias and Santa Efigênia. Wander round Praça Tiradentes, the town's centre, then head to each of the parishes to find an array of museums, churches and parks.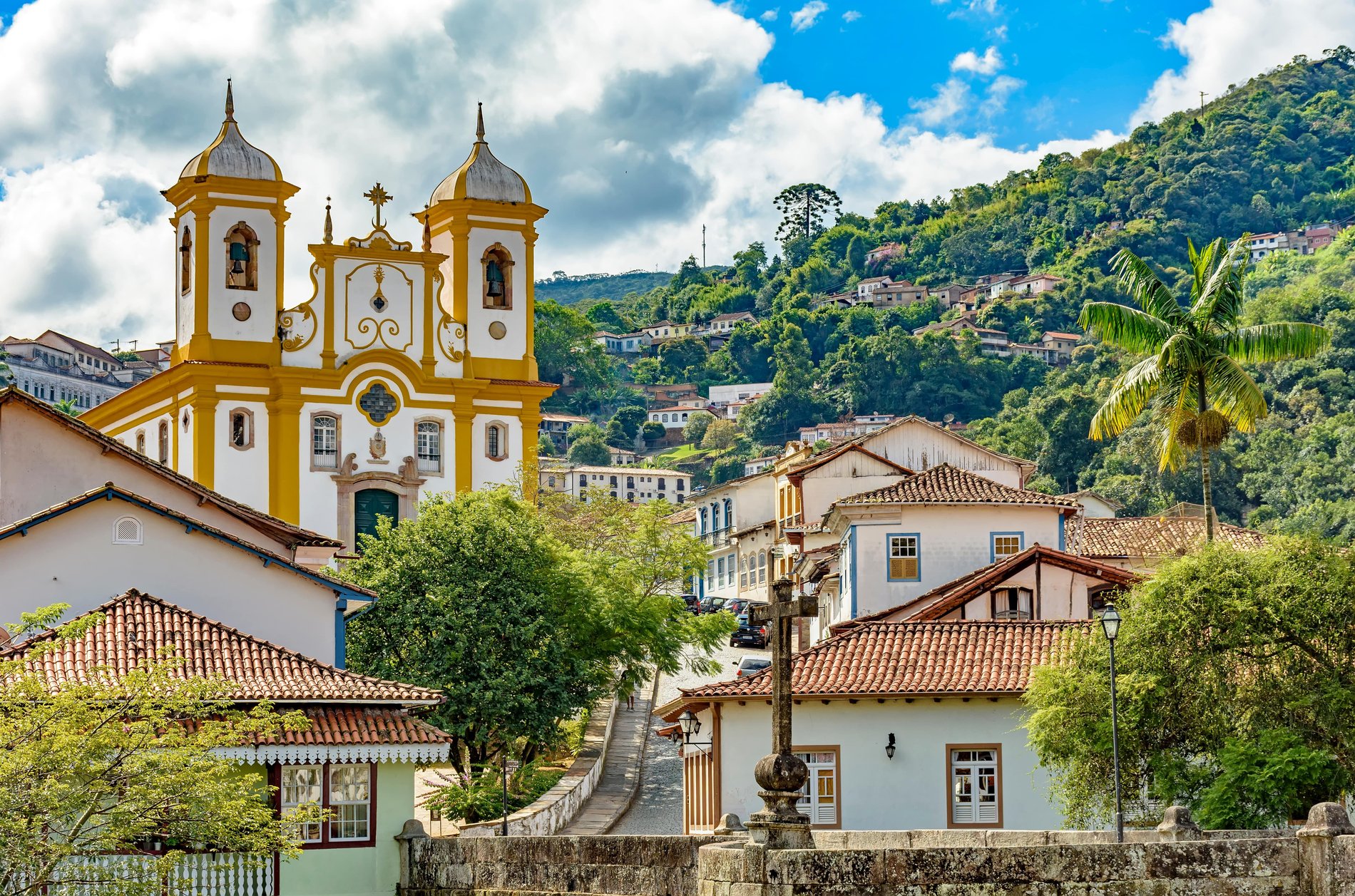 Recife and Olinda
The narrow streets can hardly contain the vibrant energy of Recife. The city is a gritty haven of stylish high-rise buildings and bustling metropolitan charm. In the centre, concrete office blocks meet colonial churches, while bridges and waterways form a mishmash of transport routes through the city. The Recife Antigo district is steeped in history, and the Marco Zero marker in the middle of Praça Rio Branco marks where the Portuguese founded the city in the 1500s. In the west of Recife, the Oficinia Cerâmica Francisco Brennand stands in tribute to Brennand, considered Brazil's greatest ceramicist. The abandoned factory is now dedicated to collections of his work. In close proximity to Recife is the tree-covered town of Olinda. Cruise ships can dock at Recife port along a cruise to Brazil and visitors can travel to this small town, full of colourful houses and churches with red-tiled roofs. During Carnaval, Recife and Olinda join together to celebrate their shared heritage in the 18th century feud of the Guerra dos Mascates.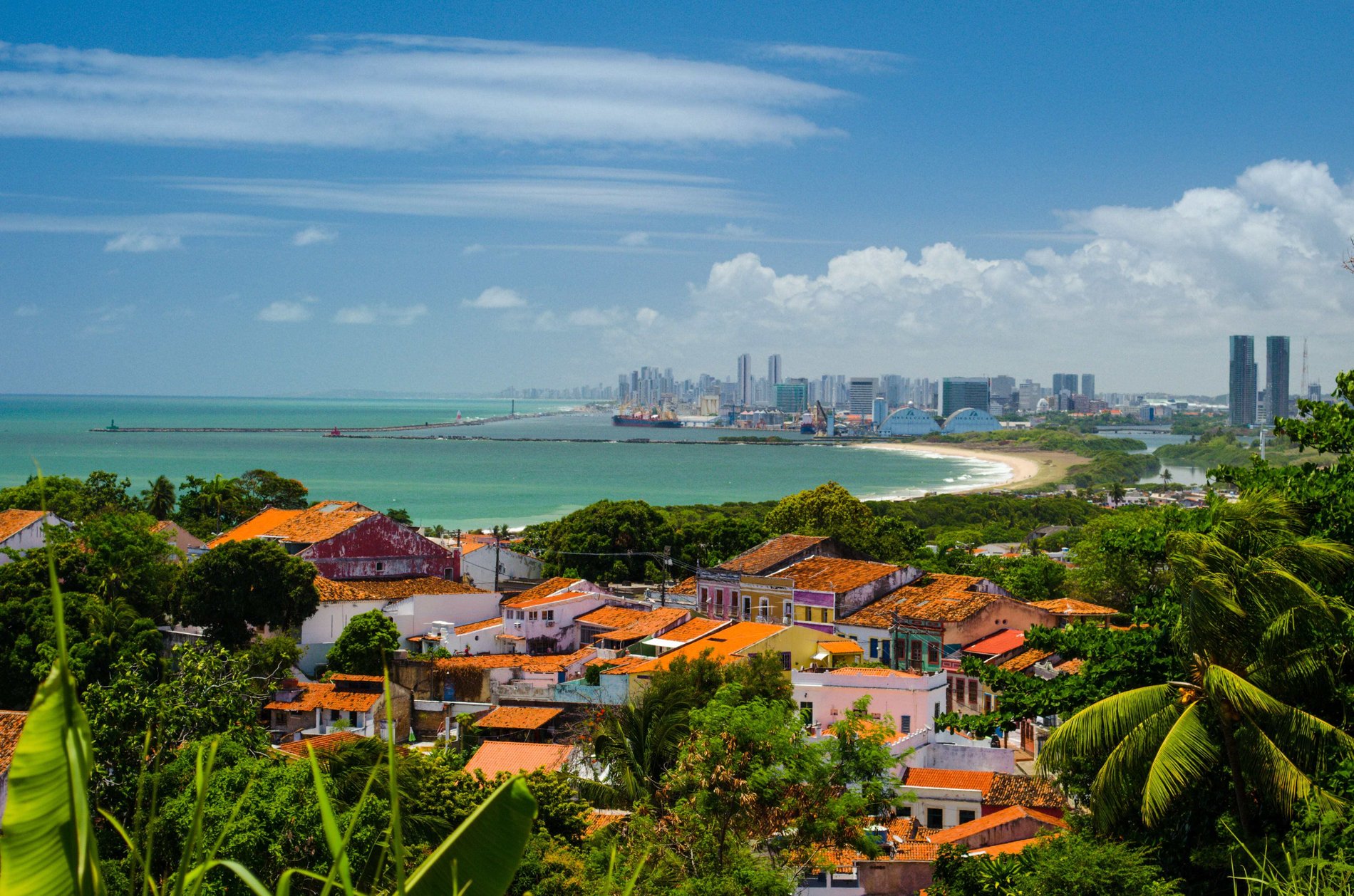 Lençois Maranhenses
Slightly off the beaten track is the stunning and unique Lençois Maranhenses National Park, located halfway between São Luís and the Piauí border, and accessible via short transfer from the cruise port of São Luis. Its name Lençois, meaning bedsheets, echoes the appearance of the sand dunes that spread across the landscape and span 70 kilometres of the coast. Hauntingly still pools of glassy water appear, forming lagoons during May to September when the rain gets filtered through the sand, creating a sublime natural phenomenon. Lucky visitors might also come across a Brazilian Slide Turtle or two. Lençois Maranhenses is also a popular destination for hikers and quad bikers.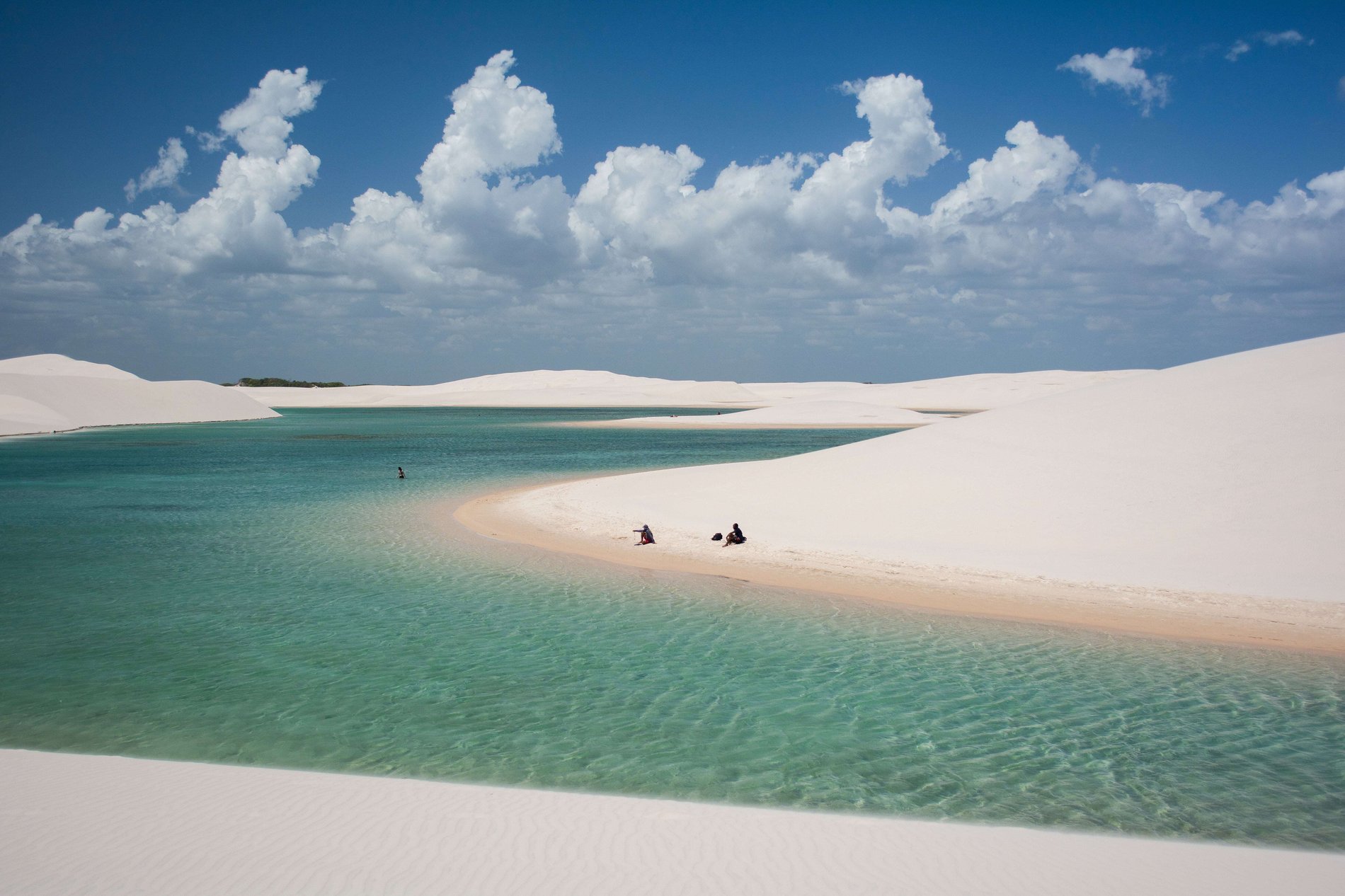 Iconic ports
Brazil cruises: Best things to do in Brazil
Participate in Carnaval
Brazil's Carnaval is a whirlwind of iridescent colour, local Latin American beats and world-class dancing. The biggest of the carnivals takes place in Rio de Janeiro ahead of Lent in the spring. Around two million people descend on the streets to join bandas and blocas (street parties), to watch open air concerts at the Arcos do Lapa and to attend the exquisite parade of samba-dancing schools at the Sambódromo. If you don't make it to the Rio festival, fear not! There are a multitude of smaller carnival celebrations in other city such as Recife and Olinda; and São Paulofeatures extravagant acts such as parades of men in drag and costumed re-enactments.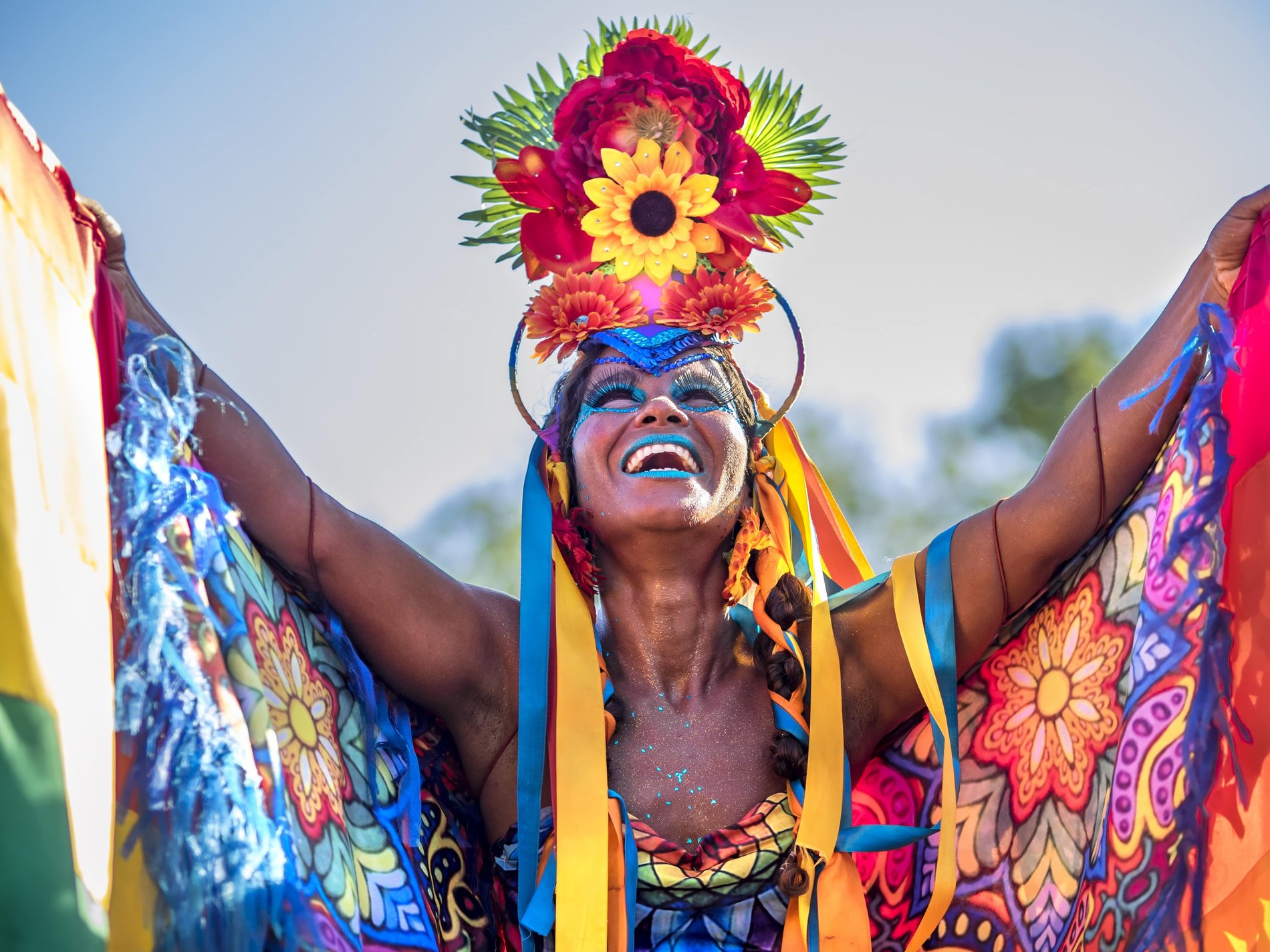 Watch for wildlife
Brazil has five different ecosystems making it an environment that supports huge varieties of species. The swampy wetlands of the Pantanal are wildlife-rich and the best area to go wildlife watching along a cruise to Brazil. It is home to iconic creatures such as the giant anaconda snake, the jaguar, the puma and the giant anteater, amongst myriad others. Aquatic animals including dolphins, manatees and whales thrive in the Amazon River Basin and howler monkeys and sloths swing from the trees in Amazonia. Bird-lovers will also be thrilled to see scarlet macaws, toucans and waterfowl sweeping through Brazil's skies and rivers.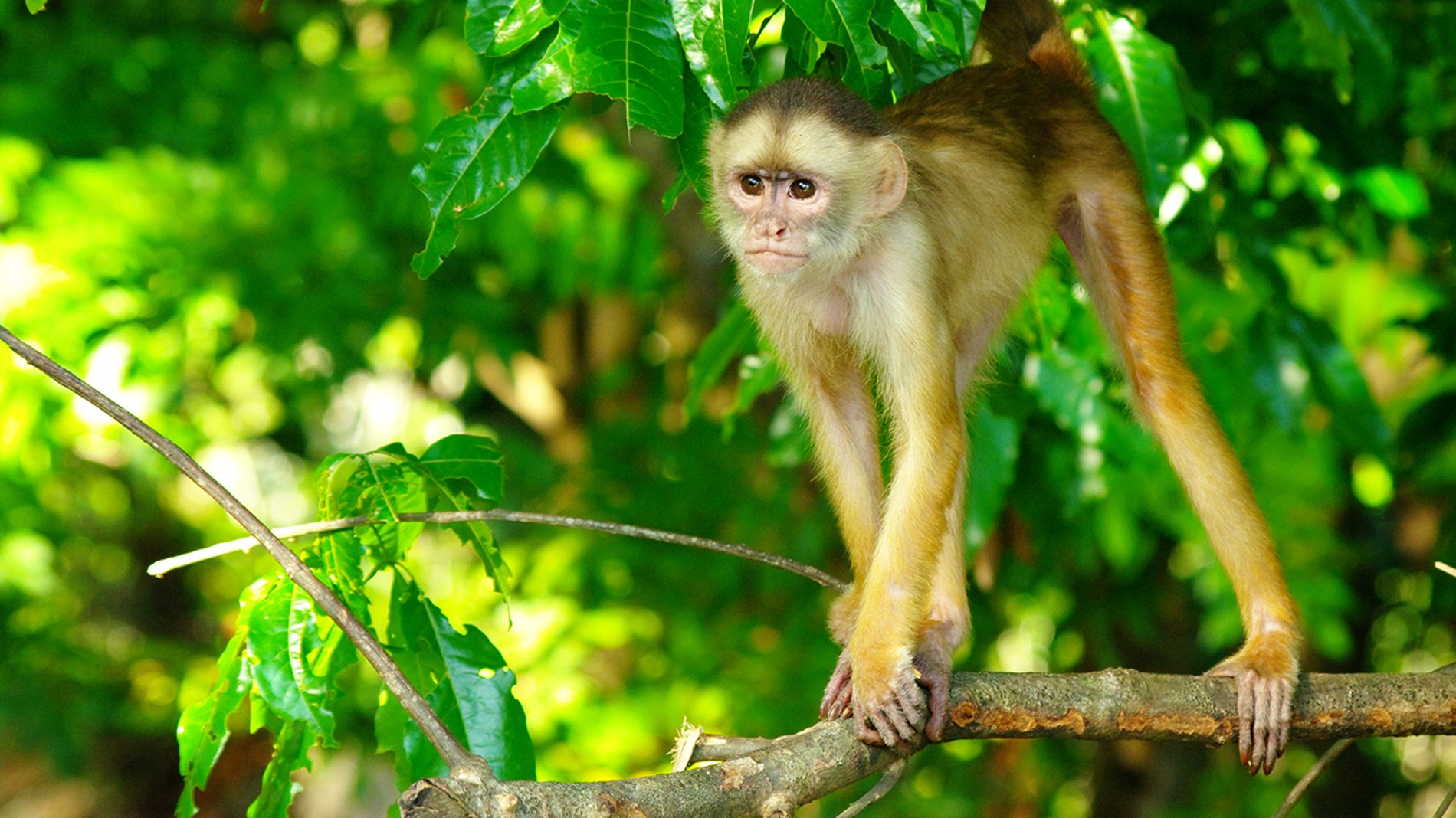 Visit the Amazon Rainforest
The Amazon Rainforest has justifiably earned every superlative in the book and more. Cruise ships will take you into Manaus where local guides are available to take visitors through this sumptuous forest. Activities include canoeing through flooded forests and experiencing the phenomenon of the Meeting of the Waters, where the dark Rio Negro and pale Amazon River meet but run alongside each other without mixing. There are a mixture of jungle and river tours on offer, of varying lengths to suit every traveller along a cruise to Brazil.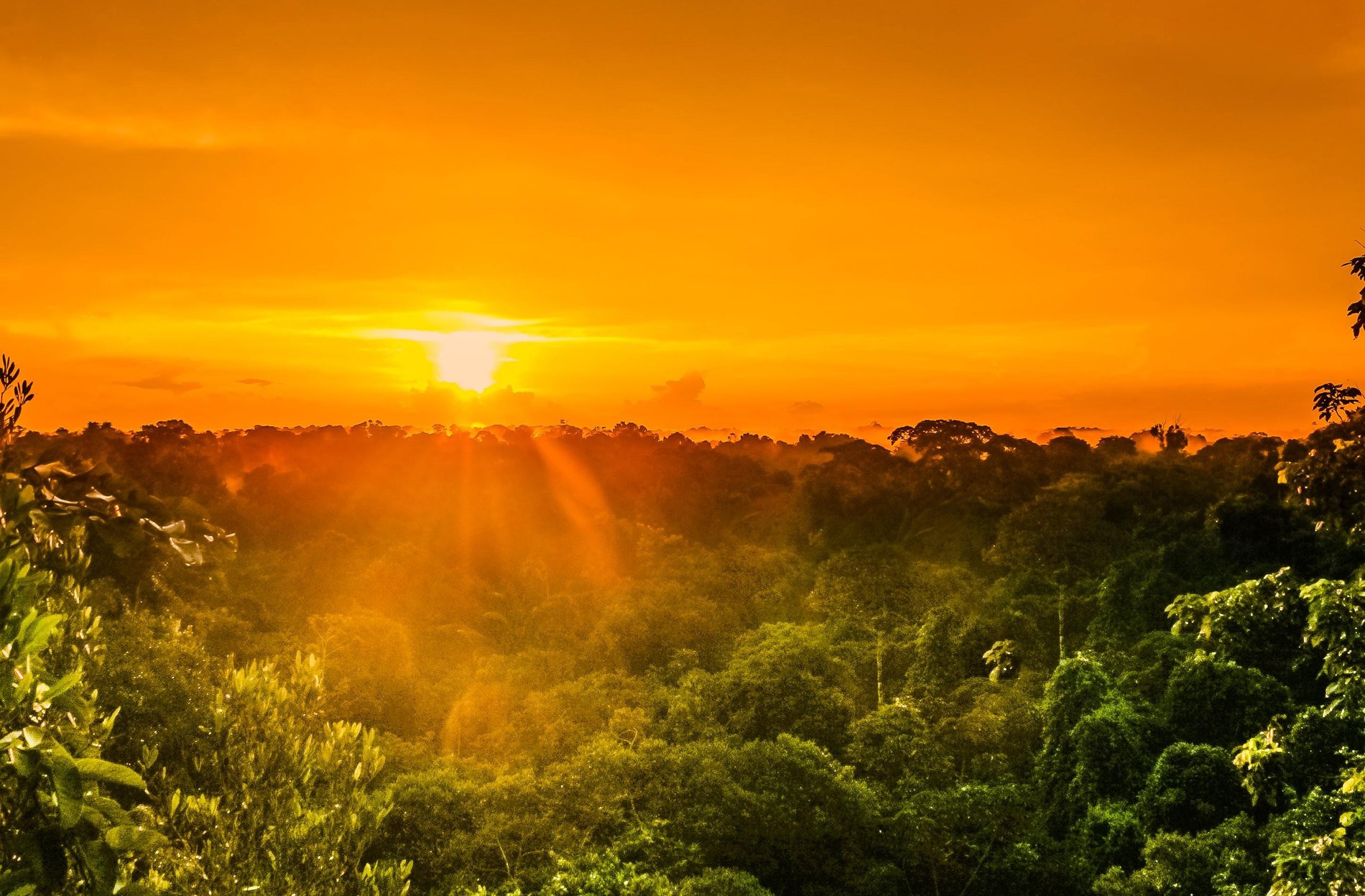 Hit the beach
Brazil is famed for its spectacular beaches, with the shoreline of Ceará, Piauí and Maranhão claiming the top spot as the country's best. The world-famous Copacabana Beach is a tourist highlight, although it may not appeal to those seeking a more secluded shore. The nearby Ipanema offers a more peaceful experience; while north of Rio, Armação dos Búzios is a favourite for visitors seeking some privacy.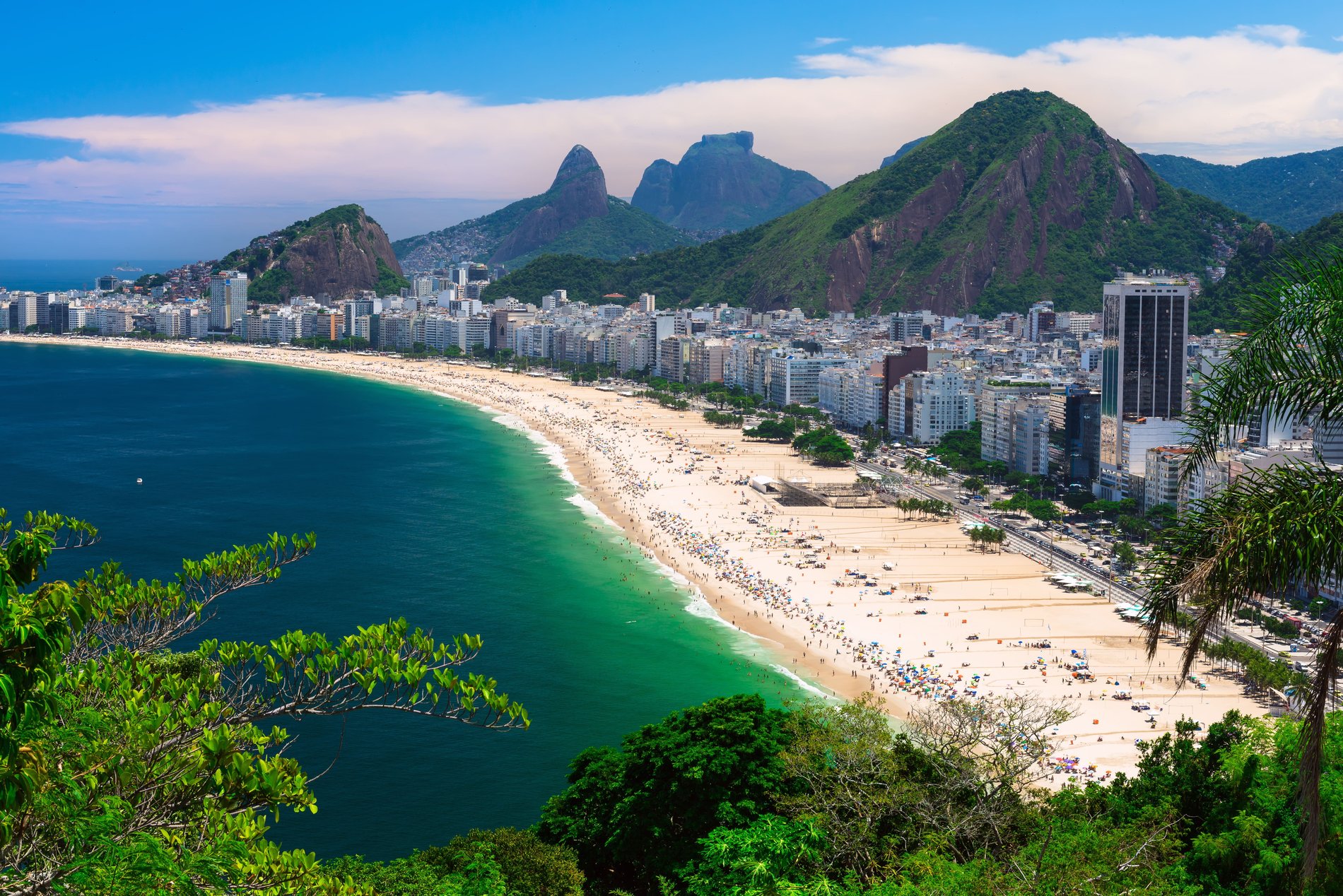 Indulge in Brazilian cuisine
The differing regional flavours of Brazilian cuisine across the country create a varied and exciting culinary experience. In Bahia and the Northeast, you'll find seafood stews with coconut milk (moqueca), dried and salted beef (carne seca) and fritters of brown beans and fried shrimp (acarajé). Amazonian cuisine consists of freshwater fish, caiman meat and pato no tucupí, a regional dish made with duck, garlic and jambú leaves. In Rio, São Paulo and the southeast, local favourites include chicken stewed in blood (frango ao molho pardo) and a bean and meat stew served with rice, farofa, kale and sliced orange (feijoada).