Ocean cruising in Florence, Italy
The cradle of the Renaissance, Florence is a city where romance, art and history linger on the warm orange-scented breeze. As the capital of Italy's Tuscany region, Florence is associated with artists, poets and romantics. In fact, Botticelli, Michelangelo and Donatello all have their works here. The city's streets are packed with galleries, frescoed churches, museums and quaint Tuscan eateries, and culinary delights include local Tuscan chianti, Florentine gelato and pappardelle with wild boar.
Why cruise Florence
As the capital of Tuscany and one of Italy's most beautiful cities, Florence is a popular cruise destination. It is reached from the port of Livorno just over an hour's drive away, and the most popular cruise excursion from the Tuscan port. Being such a world-renowned city, most major cruise lines sail to Livorno (for Florence), from big-hitting commercial lines like NCL, Princess Cruises, P&O Cruises and Carnival Cruise Lines to Italian lines such as MSC Cruises and Costa. Luxury cruise lines like Azamara, Oceania, Regent Seven Seas and Silversea. Livorno is a popular stop on Mediterranean cruise itineraries.

What to see and do in Florence
Cathedral of Santa Maria del Fiore
The Cathedral of Santa Maria del Fiore hardly needs an introduction, dominating Florence's skyline and is perhaps the most famous and celebrated cathedral in the world. The cathedral is known in Florence as the Duomo, a grand terracotta-domed building covered in white marble, pink red and green polychrome designs. It's truly breathtaking can and seen from every point of the city. It was constructed in 1436, while its facade was only finished in the 19th century. While the interior isn't as grand as its exterior, it's worth wandering around its echoey chambers to see pieces such as the large clock face and the Last Judgement fresco painted on the underside of the dome. Visitors can also climb the dome's 463 steps for unrivalled view of the beautiful city.
Uffizi Gallery
Adjacent to the Piazza della Signoria and the Palazzo Vecchio in the heart of historic Florence is the Uffizi Gallery – one of the city's (and world's) most prominent art museums. The building itself is grandiose and spectacular with an inner court of columns and arches with marble statues, and inside you'll find an incredible collection of Renaissance Art from the leaders of the movement. Botticelli, Da Vinci, Titian and Raphael are all displayed here, the most famous pieces being Da Vinci's The Baptism of Christ, Botticelli's The Birth of Venus and Caravaggio's Sacrifice of Isaac. There are few places like it for lovers of art and history.
Ponte Vecchio
One of the most popular things to do in Florence is walk over the Ponte Vecchio, a historic stone arched bridge across the Arno river that features pastel-hued shops along it. Back in the times of the Renaissance, the Ponte Vecchio was a hub for butchers, tanners and farmers, and travellers can still shop on the bridge to this day, albeit in slightly different shops. Today you'll find boutique jewellers, art shops and stalls selling handicrafts and souvenirs. The Ponte Vecchio was Florence's only bridge across the Arno until 1218, but now acts more as an open-air museum.
Galleria dell'Accademia
The Galleria dell'Accademia is one of the city's most famous art museums, housed in a simple building that you might just pass by without knowing what was inside. The museum is home to a large collection of masterpieces from the Renaissance, including Michelangelo's most famous work of art – the David of Michelangelo sculpture. While David – which is 500 years old and carved from a single block of marble – is the main attraction, the museum also houses other works by Michelangelo, along with various halls focusing on art and history in 14th and 15th-century Florence. There's also a museum of musical instruments displaying old Florentine instruments.
Piazza della Signoria
While the Piazza del Duomo is the most visited square in the city, Florence's Piazza della Signoria is also not to be missed. This grand square is the centre of Florentine political life and has seen many sites, such as the return of the Medici in 1530 and the Bonfire of the Vanities in 1497. It houses the Pallazo Vecchio – Florence's grand town hall with a huge clock tower and statues of David and Hercules – and the fountain of Neptune, along with the Loggia dei Lanzi with its grand arches and Renaissance sculptures. Other highlights include a grand statue of Cosimo Medici and gelato-hued buildings hiding fancy shops.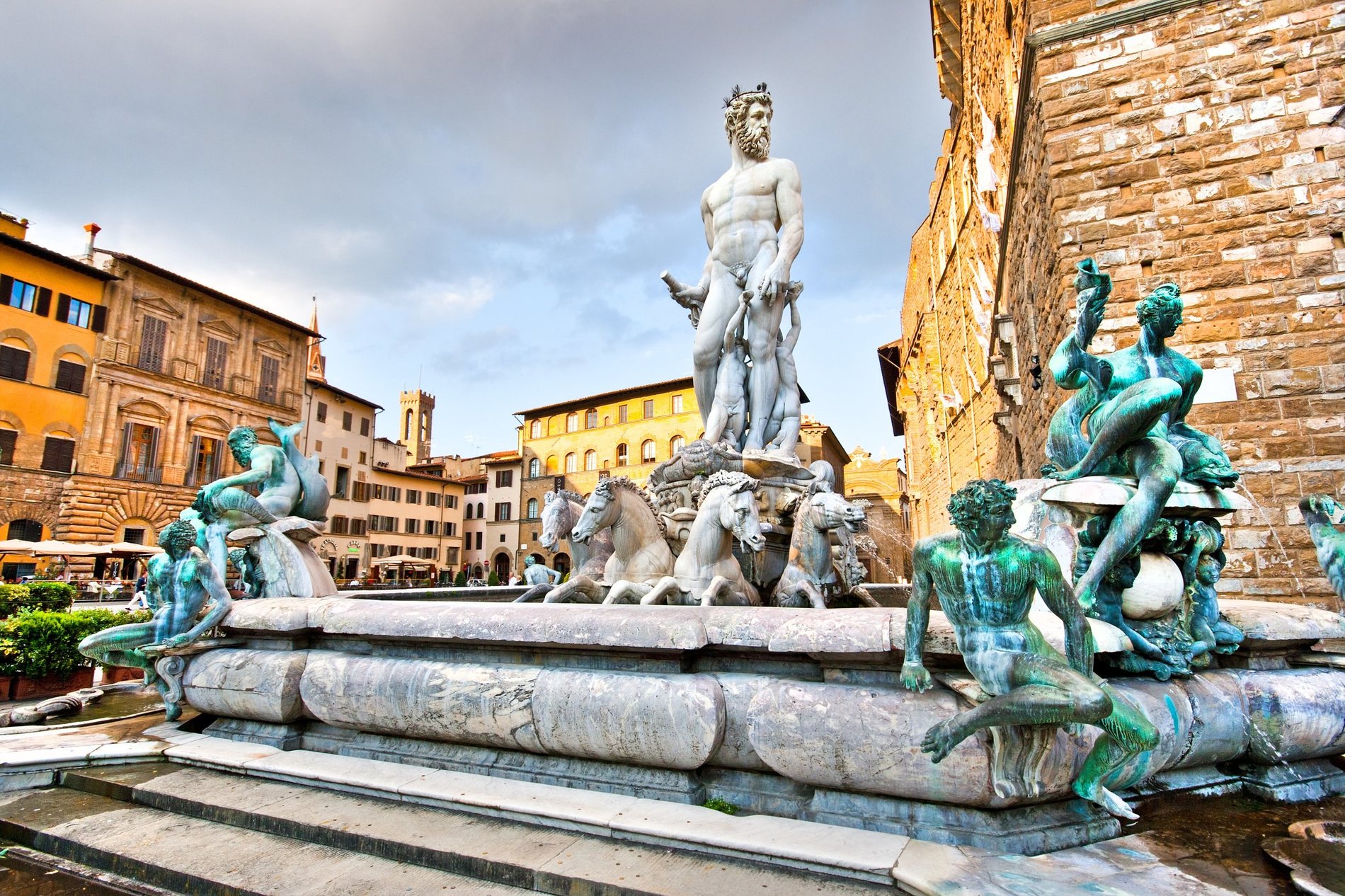 Baboli Gardens
After a morning spent hopping between art galleries and wandering historic streets, take a break in the sprawling Baboli Gardens, connected to the Palazzo Pitti. These 16th century gardens are an oasis of tranquillity, said to have inspired the gardens of Versailles and spread over 45,000 square metres. In the gardens you'll find trees from all around the world, flora and fauna, large ponds with water features and a main fountain with an obelisk. Highlights include Neptune's Fountain, the sloping Viottolone avenue flanked by cypress trees and rose-hued Giardino del Cavaliere accessed by a double staircase designed by Giuseppe del Rosso.
Need to know when travelling to Florence
Getting around in Florence
As Florence is inland, cruise ships dock at Livorno – just over an hour's drive away from the city centre. Most cruises offer excursions and transfers into the city, but it can also be reached by high-speed train, which goes via Pisa. From the cruise port of Livorno you can travel to both Florence and Pisa.
When to go to Florence
The best months to visit Florence are between May and October, with the exception of August where crowds and the temperature soars. These months bring about al-fresco dining and art festivals. In May, you can catch the Maggio Musicale (May Music Festival), the Florence Dance Festival in June and July and the La Festa delle Rificolone (Festival of the Paper Lanterns) on 7 September – where Florentines walk through the city carrying paper lanterns and there are speeches and processions.
Currency
Florence uses the euro.
Visas
Any UK citizen who holds either a full UK passport or a BOTC, BOC, BPP or BS passport can travel to Italy visa-free.
Ponte Vecchio over Arno river in Florence, Italy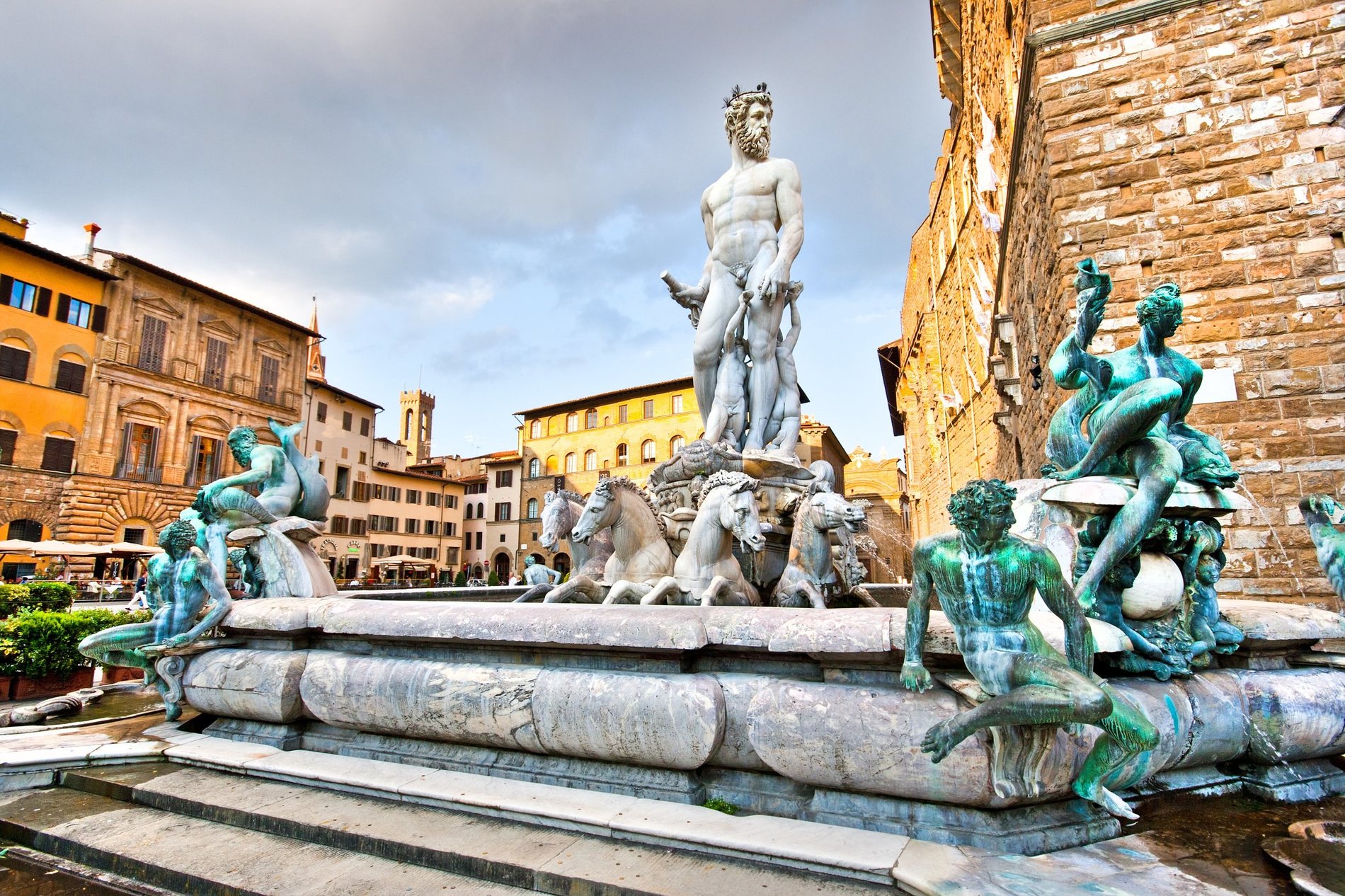 Uffizi Gallery in Florence, Italy
Cathedral of Santa Maria del Fiore in Florence, Italy