Search for your ideal Cruise
Ocean cruising in Venice, Italy
Venice is a city unlike any other. No matter how often you've seen it in photos and films, the real thing is more dreamlike than you could imagine. With canals where streets should be, water shimmers everywhere. The fabulous palaces and churches reflect centuries of history in what was a wealthy trading center between Europe and the Orient. Getting lost in the narrow alleyways is a quintessential part of exploring Venice, but at some point you'll almost surely end up in Piazza San Marco, where tourists and locals congregate for a coffee or an aperitif.
Why cruise Venice
From world-famous bars and world-class restaurants to Renaissance treasures and the romance of the Grand Canal, Venice is a jewel-box of a city that every cruiser should experience at least once. While Venice has put a ban on large cruise ships from entering its historic centre as of April 2020, the city and its wealth of historic sites and attractions are still within each reach for cruisers, making Venice the perfect port of call.
find your perfect cruise
What to see and do
Grand Canal
Once the main route into and out of Venice, the Grand Canal is still a vital artery. Along its banks stand beautiful palazzos, featuring the intricate stonework for which this city is renowned. If you're here in high season, avoid the crowds by taking a boat ride early in the day or at night, when the regal palaces are lit up and you can marvel at the ceiling frescos and grand chandeliers on show.
Burano
It might be a 40-minute vaporetto ride, but the little island of Burano is well worth a day trip (even the journey is a delight). With a population of around 3,000, it's a densely built-up little spot where brightly coloured fishing boats jostle on the narrow canals that weave between equally rainbow-hued houses. Every view is like a picture postcard, but don't miss the 13th-century church of Santa Caterina. Foodies will be in heaven, too, thanks to a plethora of excellent restaurants (don't miss fresh seafood and mouth-watering homemade pasta at Trattoria al Gatto Nero).
Peggy Guggenheim Collection
The legendary art collector and heiress made her home here in the 1950s, living in a bohemian waterside palazzo where she enjoyed entertaining both local visitors and those from overseas while building up an incredible treasure trove of works by the likes of Picasso, Salvador Dali and Jackson Pollock. It's all open to the public now – and as well as admiring the incredible artworks you can wonder at the fun Peggy and her friends must have had before the tourist hordes hit town. In fact, Peggy loved it so much she's even buried in the garden along with her dogs.
Bridge of Sighs
Venice has more than 150 canals running through it. And all that water means that there's a pressing need for some way to cross them. Enter Venice's famous bridges. Although the Grand Canal-spanning Rialto and Ponte dell'Accademia bridges are suitably impressive, it is the famous (and original) Bridge of Sighs which draws the crowds. This tiny, white bridge spans just 11m and its story of being the last view of Venice prisoners would get before being thrown in jail is incredibly romantic.
St Mark's Basilica
This incredible cathedral is laced with architectural styles ranging from Byzantine to Arabic, and its magnificent interior has more frescoes and mosaics than you'll know what to do with. If you are only in Venice for a few hours, it might be worth pre-purchasing a 'skip the lines' ticket to ensure you get in.
Venice's best restaurant and bars
Harry's Bar

Not too many bars are famous all over the world, but this one is known far and wide as the birthplace of the Bellini – that delicious blend of fresh peach juice and sparkling wine. Harry's is always busy, and you'll be hard pushed to find a table at its top-class restaurant come dinner time. But if you can get a seat, be sure to knock back a Bellini (or two), order the fillet of sole and soak up the atmosphere of Italy's national heritage.

Venissa

A winery and restaurant on the island of Mazzorbo (a lovely journey that leaves the tourist crowds behind), Venissa is earning rave reviews for its modern Italian take on fine dining. Treat your tastebuds to dishes such as turbot with potatoes, followed by porcini mushrooms, black summer truffle and bay leaves – and feast your eyes on the lush vineyards and organic vegetable gardens that surround you.

Skyline Rooftop Bar

Housed in what used to be a grain mill at the west end of Giudecca island, this chic and stylish cocktail lounge enjoys the city's most beautiful sunsets, thanks to views that stretch right to the southern end of the Venetian Lagoon. Furnished with invitingly squashy sofas, Skyline offers hand-crafted cocktails plus a mouth-watering menu of small bites for when you're feeling peckish.

Antiche Carampane

Hidden within the labyrinth of San Polo district, close by the Rialto Bridge, family-run Antiche Carampane is a temple to fine, fresh local ingredients. Signature dishes include a spectacular seafood platter, lightly battered and fried to perfection. Forget pizza and lasagne – this is classic Venetian cuisine at its finest. But it's also ever-popular with a smart, convivial crowd, so book well ahead to be sure of a table.
Best buys
Venetian masks

These are probably the ultimate souvenir, and Ca' Macana is one of the oldest and most famous workshops in the city. You can buy masks here, or even enroll in a one or two-hour course and learn how to make your own.

Murano glass

Glassware from the little island of Murano is famous the world over, and no wonder. Beautiful in every colour, it makes a great gift – but look out for the official trademark to avoid cheap imitations.

Gondolier hats

Gondolas and their pilots are one of the great sights of the city, so why not snap up an item of authentic headgear from official supplier Emilio Ceccato, just by the Rialto bridge? OK, you may not have too many occasions to wear it back home, but when in Venice...
What to expect when travelling to Venice
Getting around in Venice
As of April 2020, large cruise ships must dock at the Fusina and Lombardia terminals away from the city centre. Smaller ships are still permitted to dock in either Venezia Terminali Passeggeri or Stazione Marittima, both of which are within walking distance of the city centre. You may want to catch a ride on one of Venice's famous water taxis but be warned as they are very expensive, and you could be looking at as much as €20 for a five-minute ride.
When to go to Venice
While summer months are famously crowded, winter in Venice has a magic all of its own, and early spring is probably the best time of all.
Currency
Italy uses the euro, which you can easily withdraw from ATMs throughout the city, and it shouldn't cost you a penny (we recommend taking a no-transaction fee debit card to avoid unnecessary withdrawal charges).
Visas
Hold a British passport? Under EU rules, UK citizens don't need a visa to enter Italy for a short visit (no longer than 90 days).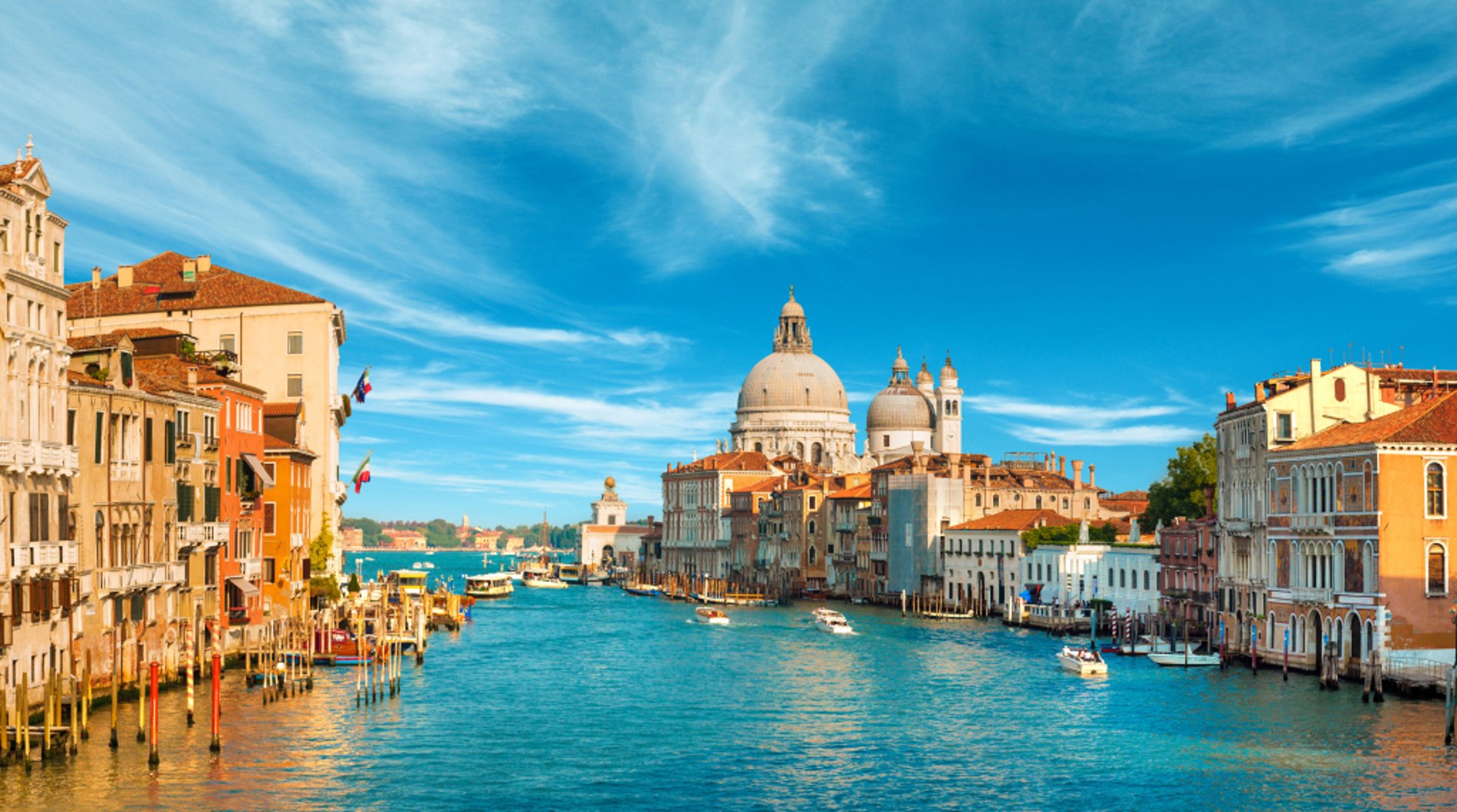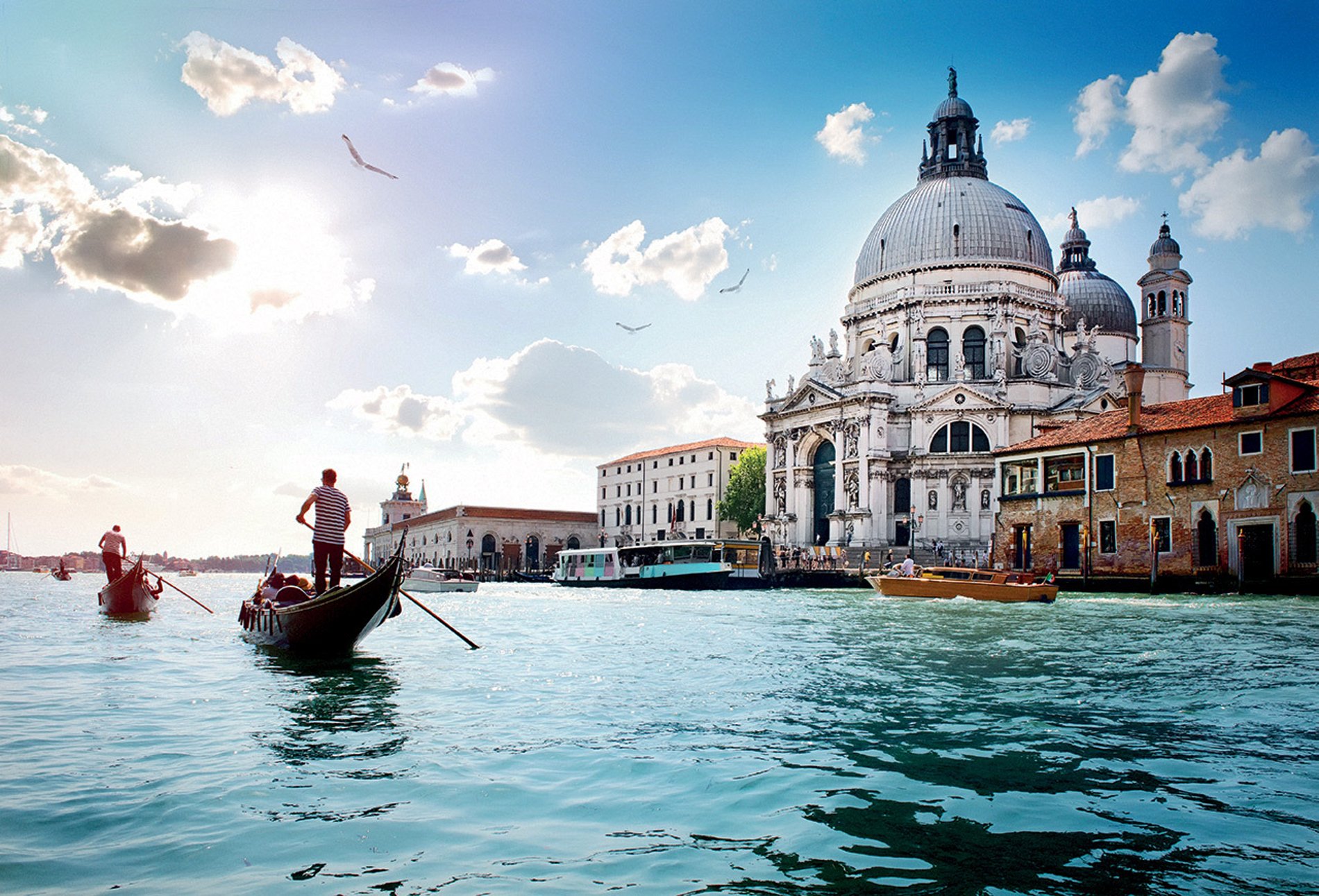 The ship will dock in the Venetian lagoon and act as a floating hotel