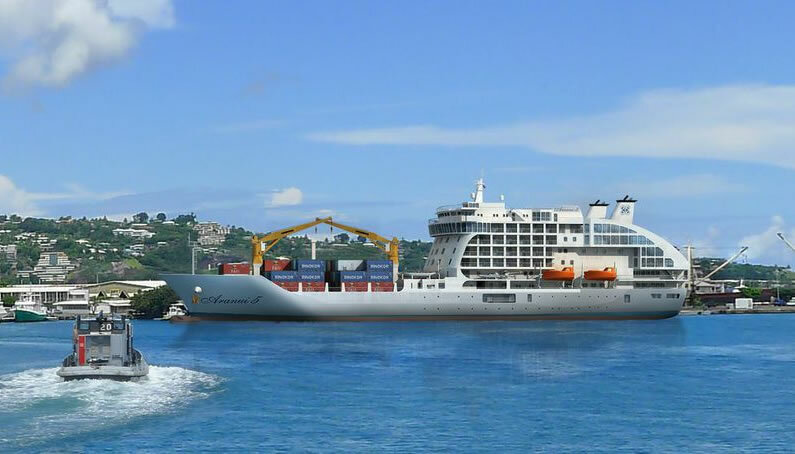 Aranui 5 – part cruise ship, part container ship – to launch in November
Aranui 5, a cruise ship/container ship hybrid, will make its maiden voyage from Tahiti to the Marquesas Islands in the South Pacific Ocean at the end of November 2015. When construction in China is completed the 126-metre long Aranui 5 will replace Aranui 3 and will become the only vessel to travel the 2,200-mile trip
Aranui 5, a cruise ship/container ship hybrid, will make its maiden voyage from Tahiti to the Marquesas Islands in the South Pacific Ocean at the end of November 2015.
When construction in China is completed the 126-metre long Aranui 5 will replace Aranui 3 and will become the only vessel to travel the 2,200-mile trip from Papeete in Tahiti to all six inhabited Marquesas Islands in the remotest archipelago in the world. It will also stop at Takapoto and Rangiroa in the Tuamotu Archipelago and idyllic Bora Bora in the Society Islands.
Dubbed 'The Freighter to Paradise', the vessel will combine comfort with cargo, delivering essential supplies to each port on its itinerary and transporting copra (dried coconut meat), citrus fruit and fish to Papeete.
On-board there will be 32 suites, 31 superior deluxe cabins and 40 staterooms. There will also be 24 berths spread across five shared dormitories, each accommodating up to eight guests. In total the ship will accommodate 254 passengers. Facilities will include fitness and massage rooms, a library, shops, a restaurant, four bars and a swimming pool, as well as several lounges and conference rooms in which guests may attend lectures on the region's history, culture and art.
Passengers will be able to take whaleboat transfers to shore to enjoy picnics on white sand beaches, swim and snorkel in the lagoons, listen to Polynesian music and meet local artists and craftspeople.
The South Pacific region is home to pristine jungles, remote mountain villages, sacred ritual sites, mysterious stone tiki gods and an array of archaeological discoveries. Other highlights of the islands include a visit to the former home of world-renowned artist, Paul Gaugin who, along with author of Moby Dick, Herman Melville, and writer of Treasure Island, Robert Louis Stevenson, took so much inspiration for their work from the beauty of French Polynesia.
Journeys of seven, 10, 11 and 14 days are available on Aranui 5. Cruise-only prices for 14-night voyages start from €2,370 (approximately £1,712) per person with shared dormitory accommodation, or from €4,014 (approximately £2,900) per person for a deluxe double cabin. The cruise fare includes accommodation, three meals with complimentary wine daily, guided excursions, picnics and meals ashore, plus taxes.
(Image credit to Compagnie Polynesienne de Transport Maritime)