Search for your ideal Cruise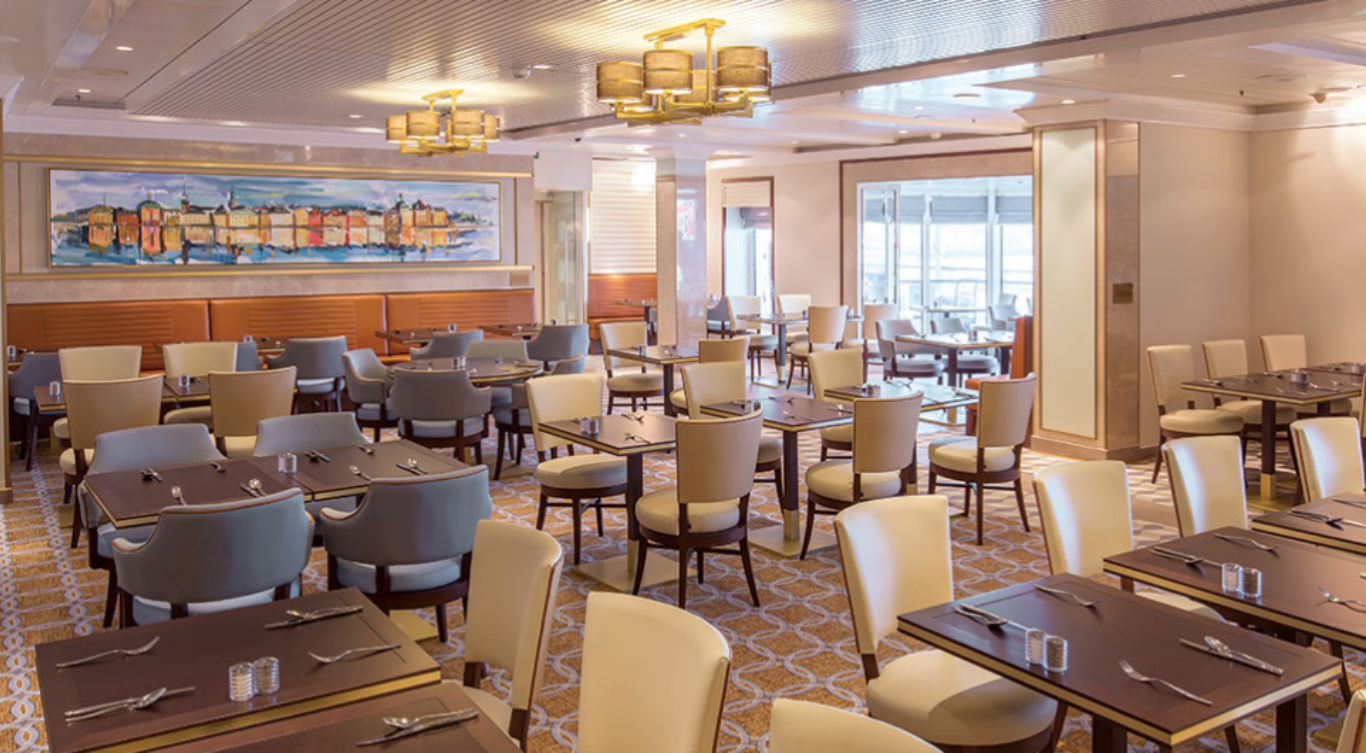 Best possible taste – Cunard's Queen Mary 2
Cunard's Queen Mary 2 has an elegant new look – but, thanks to Masterchef Nick Oldroyd, the improvements are much more than skin deep, as John Honeywell reports. Even on a ship as grand as Queen Mary 2, £90 million buys a lot of enhancements. Among the headline-grabbers after her recent spell in dry dock were
Cunard's Queen Mary 2 has an elegant new look – but, thanks to Masterchef Nick Oldroyd, the improvements are much more than skin deep, as John Honeywell reports.
Even on a ship as grand as Queen Mary 2, £90 million buys a lot of enhancements. Among the headline-grabbers after her recent spell in dry dock were the first cabins for single passengers, a new block of balcony suites on the top deck, and a genuine Victorian lamp post for the convenience of travellers in kennel class (I kid you not). But to ensure their flagship liner continues to stand apart from mere cruise ships, Cunard's extensive 're-mastering' extends far beyond the tangible to every aspect of the onboard experience. And now that executive chef Nick Oldroyd and his team have waved a magic wand over her kitchens, restaurants, and menus, QM2's passengers can look forward to some of the finest dining afloat.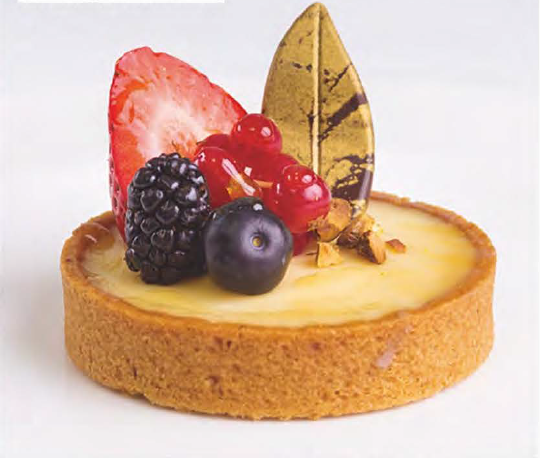 "The wow factor is back," Nick told me when I boarded the ship in Southampton for her maiden post-refit crossing to New York. "Queen Mary 2 is still a traditional liner but with a modern, contemporary twist."
Nowhere is the change more apparent than in the new Carinthia Lounge. Formerly the underused Winter Gardens, whose whimsical waterfalls and tacky trompe l'oeil ceilings never caught on, this has been transformed into a popular lounge and espresso bar that also serves light snacks at breakfast and lunch. Depending on the hour, its small stage might feature a harpist, a classical guitarist or a jazz band, but you'll find it equally welcoming at any time of day.
Gone too is Todd English restaurant, replaced by the Verandah, already a popular feature on Cunard's other two ships. For me, the presence of the American celebrity chef on such a quintessentially British vessel was always an anomaly, accentuated by the bizarre decor, which evoked images of a Bedouin encampment.
Now the space is much lighter and brighter, with a circus theme to the artwork. There's a cover charge of $35 per person for a three-course dinner ($20 for lunch) – a step up from the $29 a la carte allowance on Queen Victoria and the $24 on Queen Elizabeth – but what a dinner! Starters included white crab and sea urchin salad, Scottish langoustine ravioli, frogs' legs sucettes (or lollipops) and oak-smoked Highland venison tartare. You can follow that with lobster tail, octopus and red mullet, liquorish magret of Chalosse duck, loin of Gloucester Old Spot pork, rack and shoulder of Dorset lamb, or Galician dry-aged beef. Vegetarians are not forgotten – there's asparagus spears with egg and grapefruit among the appetisers, and a confit byaldi with spiralised Provencal vegetables, piperade of peppers and tomato consommé as a main. And dessertaholics will love the light-as-a­-feather pistachio soufflé.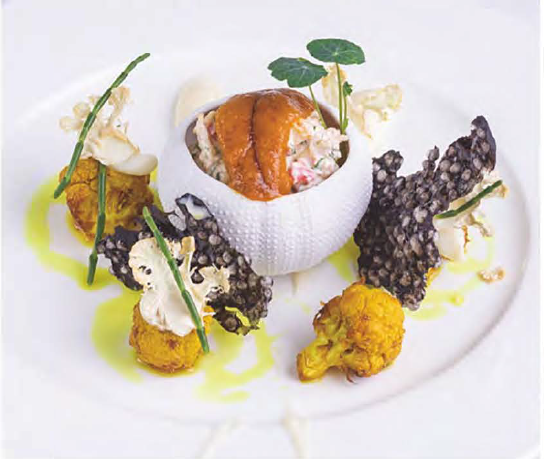 While the Verandah might be a once-a-cruise treat, most passengers will eat at Kings Court at least once a day – and I'm happy to say that this previously derided 'motorway service station buffet' has been reborn. Two panoramic lifts from the Grand Lobby have been stripped out to create more space, so passengers can now jump from soup to salad without hindering those filling their plates with roast meat and veg, thus putting an end to those frustrating queues. Thousands of new floor tiles and a dressed-up ceiling give the whole place a lighter look, further enhanced by some themed artwork depicting the skylines of major cities around the world.
The Chef's Galley now serves as a burger bar at lunchtime, though it's a shame that it offers pre-cooked meat patties for self-assembly. If McDonald's and Burger King can cook their snacks to order, is it too much to ask of a luxury brand like Cunard? The same goes for the adjacent pizza servery, where triangles of Margherita sweat unappetisingly under a hot lamp.
Kings Court shows its best side at dinner time, when a small section is closed off and turned into a themed restaurant for the evening. This might be La Piazza – a family-style Italian trattoria – or Bamboo, where the menu is pan-Asian. Or it could be Coriander, which showcases Indian regional cuisine, or Aztec, which takes its influences from Mexico, with tortillas, chimichangas, fajitas, and spicy burgers topped with pulled beef and guacamole. And let's not forget Smokehouse, where they serve classic American barbecue fare mixed with Cajun classics (think Buffalo chicken wings or Maryland crab cake for starters, followed by buttermilk Southern fried chicken or Memphis-style baby back ribs marinated with a rich sauce of Jack Daniels and Coca Cola). Book early to make sure you don't miss out on these $15-a-head feasts.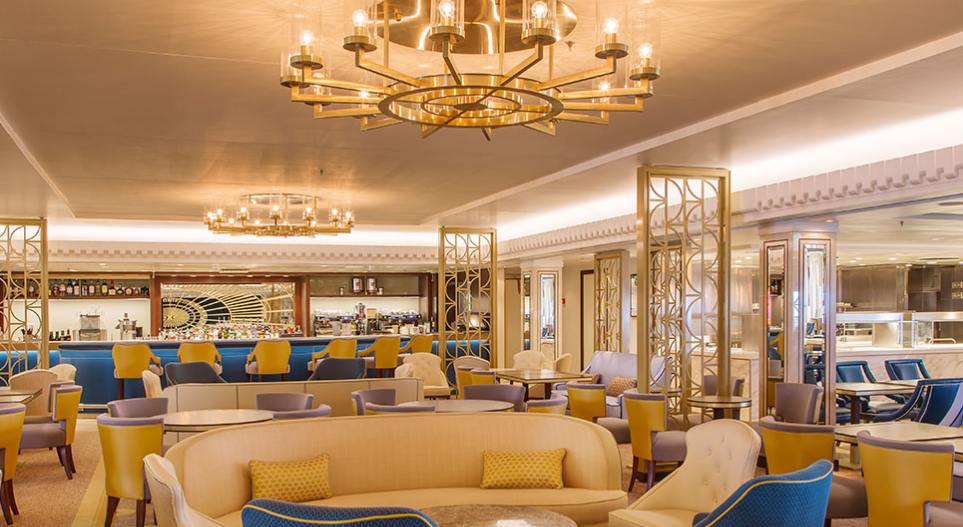 Each themed restaurant has its own wine list, chosen to match the food, and for $22 guests can choose a 'wine flight' consisting of three different glasses. The Smokehouse, for example, goes for a Californian Chardonnay – Velvet Devil from Washington State – and a late-harvest Sauvignon Blanc from Chile. While in Coriander, curry-lovers are guided towards a Sauvignon Blanc and a Zinfandel, both from India, and a Moscato d'Asti from Italy.
Most passengers will choose to dine in the main Britannia Restaurant, and menus have been refreshed here too, although the two-deck high room, with its spectacular tapestry showing a stylised Cunard ship against a New York skyline, remains much the same.
The two Grills – Princess and Queen's – have also been updated, and in response to popular demand there are now many more tables for two. Princess Grill is a distinct step up from Britannia Class – with Onley Grounds beef from Rugby, for example, instead of the Argentinian or Australian joints and steaks served to the masses – while at Queen's Grill, opulently decorated in red and gold, and exclusively for passengers in the ship's most expensive suites, the menu is merely a guide to what might be offered for dinner. In addition to the daily-changing selection there's a lengthy a la carte, and guests are encouraged to request anything they might fancy, even if not listed. Subject to availability, the chefs will do their best to comply.
But why go off-piste when the menus are as enticing as this? To create them, chef Nick (a Yorkshireman who now lives in Florida) sought inspiration far and wide. "I try as many things as possible, it's an endless journey," he told me.
Before re-mastering QM2's menus, Nick took a team from the Southampton head office on a gastro­tour of London. "We went to the two-Michelin-star Helene Darroze at the Connaught, and the Club Gascon in Smithfield. At Petrus, Gordon Ramsay's restaurant in Belgravia, I was amused to find they had just started serving Loch Duart salmon, which Cunard have been using for two years.
"We didn't just look at the top-end restaurants, though. We spent time at Harrod's Food Hall, and we ate in Lebanese-style restaurants and smokehouse barbecues."
Sounds like a tough job, doesn't it? But the team's research has paid off, and foodie cruisers will now find that QM2's cuisine is second to none. And with her freshly-painted hull and her lighter, brighter interiors too, it looks as though Cunard's flagship will be setting the standard for some time to come.
SOMETHING TO DRINK
The culinary makeover extends to QM2's wine list, with more than 450 fine wines on offer, including some modern classics such as California's Screaming Eagle, available for $4,500 a bottle or $495 for a 75ml glass. More traditional labels include Chateau Lafite-Rothschild, 1er Cru Classe ($950, or $105 per 75ml glass) and Chateau Mou­ton-Rothschild, 1er Cru Classe ($775, or $85 per 75ml glass).
QM2 has also acquired a col­lection of vintage ports, which are on display in the Carinthia Lounge. The earliest is a Ferreira from 1840, the year Cunard's Britannia made her first scheduled Transatlantic cross­ing. Three bottles of this extremely rare vintage have been bought, though at $4,445 apiece they are not expected to sell. More recent (and modestly priced) vintages can be bought by the glass.
Port tastings, from $10.95, will be a feature of evenings in the Carinthia Lounge, and on longer voyages QM2 pas­sengers can take part in The Cunard Wine Academy, involving food and wine pairings, tast­ings and producer masterclasses.
Cocktails have not been over­looked, and the popular Commo­dore Club bar has devised a selection inspired by Cunard's 175-year history.