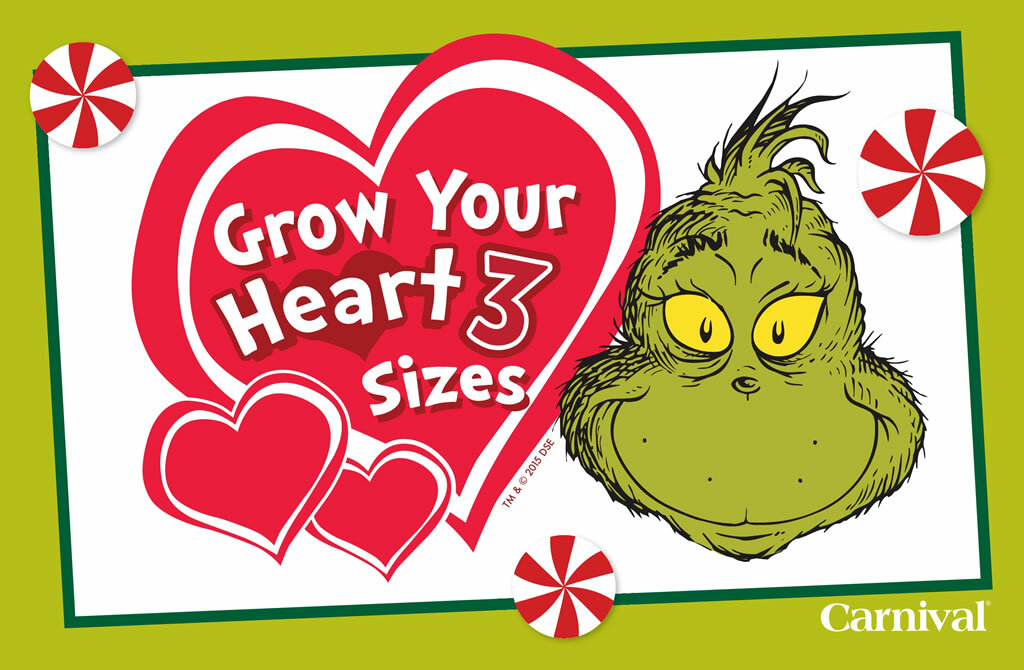 Carnival adds The Grinch to its on-board Christmas celebrations
Carnival Cruise Line is to add The Grinch to its on-board Christmas celebrations this year. The "Grinchmas" experience is part of the line's exclusive Seuss at Sea programme in partnership with Dr. Seuss Enterprises. The partnership dates back to 2014 and features a variety of youth, family, dining and entertainment experiences inspired by the words
Carnival Cruise Line is to add The Grinch to its on-board Christmas celebrations this year.
The "Grinchmas" experience is part of the line's exclusive Seuss at Sea programme in partnership with Dr. Seuss Enterprises. The partnership dates back to 2014 and features a variety of youth, family, dining and entertainment experiences inspired by the words of Dr. Seuss.
Dressed in his signature "Santy Claus" costume, the legendary green character will surprise guests of all ages as he makes appearances on all Carnival cruises taking place throughout the month of December.
The young, and the young at heart, can catch a glimpse of the character as he slinks throughout the ships with both scheduled appearances and spontaneous pop-up visits. Photo and autograph opportunities will also be available.
In line with his personality, The Grinch will attempt to "stop Christmas from coming". He will playfully disrupt the on-board festivities and steal various items from crew members throughout the ship. He will also participate in the end-of-cruise holiday show.
Christine Duffy, Carnival Cruise Line's president, said: "The Grinch is an iconic and beloved Dr. Seuss character and we're looking forward to incorporating his mischievous personality into our fleet wide holiday activities next month."
Arts and crafts sessions where kids can create their own Grinch-themed Christmas ornaments and masks, as well as Grinch-themed face-painting sessions, will be available.
The Grinch will also be incorporated into the Green Eggs and Ham Breakfast, a speciality Dr. Seuss character breakfast experience.
Kids can also complete their own Grinch Good Deed Tracker and, once the card is filled, receive a certificate affirming that they, just like The Grinch famously said, grew their heart "three times its size".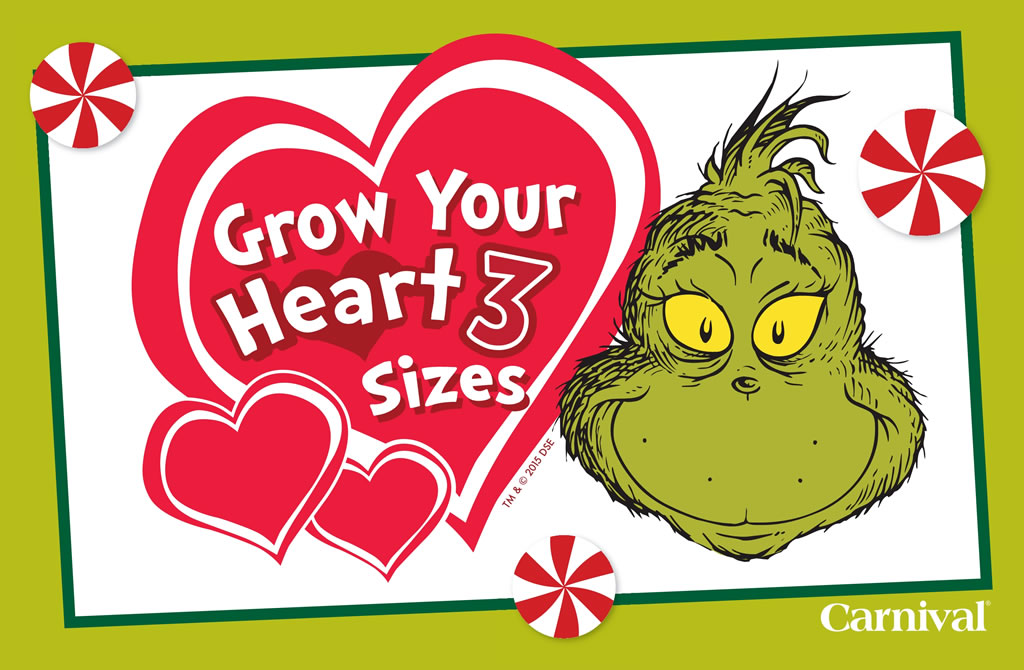 Special screenings of both the live action and animated classic "Dr. Seuss' How The Grinch Stole Christmas" will be shown on Christmas Day.
"Grinchmas" will complement Carnival Cruise Line's annual Christmas celebrations where the ships are decorated with Christmas trees, wreaths and mistletoe with carolling and other activities held on-board. Santa Claus will make an appearance toting a bag of gifts that are distributed to children and a special menu is offered on Christmas Day with traditional foods.
(Photo and image credits to Carnival Cruise Line)