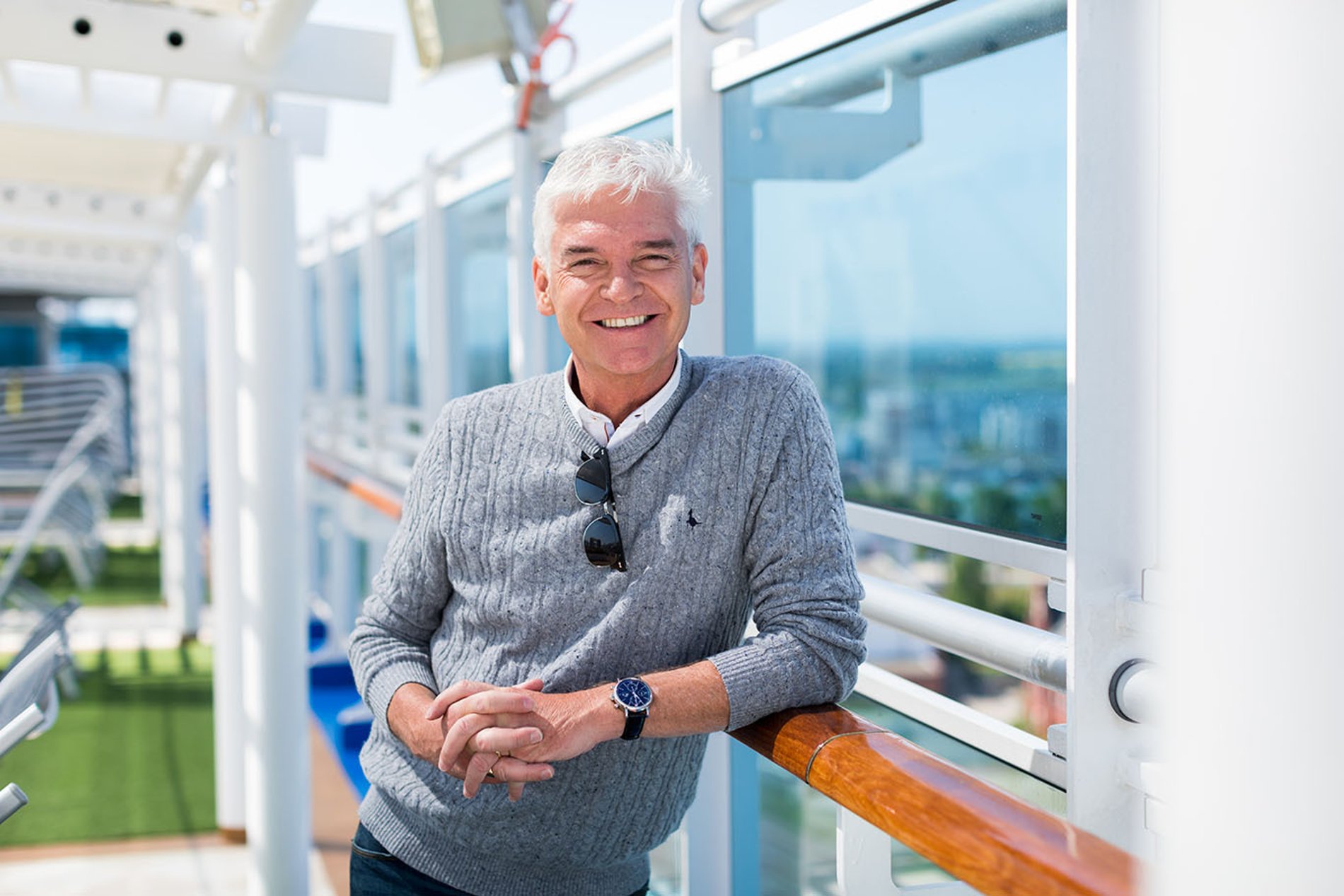 Celebs At Sea: Phillip Schofield cruises with Princess Cruises
Phillip Schofield experiences the joys of a cruise holiday with Princess Cruises
[vc_row][vc_column][vc_column_text]
Phillip Schofield experiences the joys of a cruise holiday with Princess Cruises
It seems celebrities can't get enough of the wonderful world of cruising at the moment.
We've all loved watching Jane McDonald's exploits on her Channel 5 TV show and now This Morning's Phillip Schofield is getting in on the act.
The TV presenter swapped the comforts of the This Morning sofa for the even-more luxurious comforts of Princess Cruises' Regal Princess ship and a sailing to the Baltic – his second sailing with the cruise line for which he is a brand ambassador.
But what did Schofield get up to?
Well, Phillip sampled the onboard facilities, including 'The Sanctuary', a luxurious spa-inspired top deck retreat, complete with serenity stewards.
A self-confessed wine enthusiast, Phillip also experienced the Chef's Table Lumiere, which included a behind-the-scenes galley tour followed by a multi-course dinner created by the ship's executive chef and served on a table surrounded by a curtain of light.
Ashore, Phillip proved a dab hand at the art of glass-blowing during a lesson in Oslo, before temperatures drop during a visit to an ice bar.
Phillip Schofield said: "After our first cruise with Princess the bar really had been set high. We couldn't wait to get on Regal Princess and from the moment we boarded, the ship, crew and destinations did not disappoint. I loved sampling the wealth of onboard facilities available during the calm of a day at sea and the excitement of discovering new activities such as glass blowing.
"Cruising has opened not just my eyes, but those of my family, to any number of possibilities available both on Princess' ships and a wealth of eye-catching destinations. We can't recommend it enough."
Find out what Phillip got up to in the video below.[/vc_column_text][vc_video link="https://www.youtube.com/watch?v=E8L-lOxKrwo"][/vc_column][/vc_row]