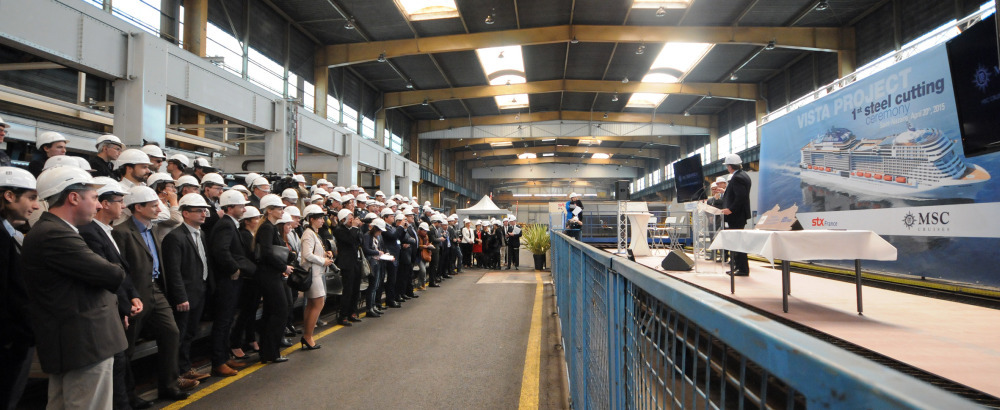 Construction begins on MSC Meraviglia
MSC Cruises has revealed the name of their first 'Vista Project' mega ships as MSC Meraviglia, Italian for "wonder". The announcement was made at a steel cutting ceremony which saw construction work on building the new 167,600 gross ton cruise ship officially begin. MSC Cruises Executive Chairman Pierfrancesco Vago said "MSC Meraviglia will be the
MSC Cruises has revealed the name of their first 'Vista Project' mega ships as MSC Meraviglia, Italian for "wonder".
The announcement was made at a steel cutting ceremony which saw construction work on building the new 167,600 gross ton cruise ship officially begin.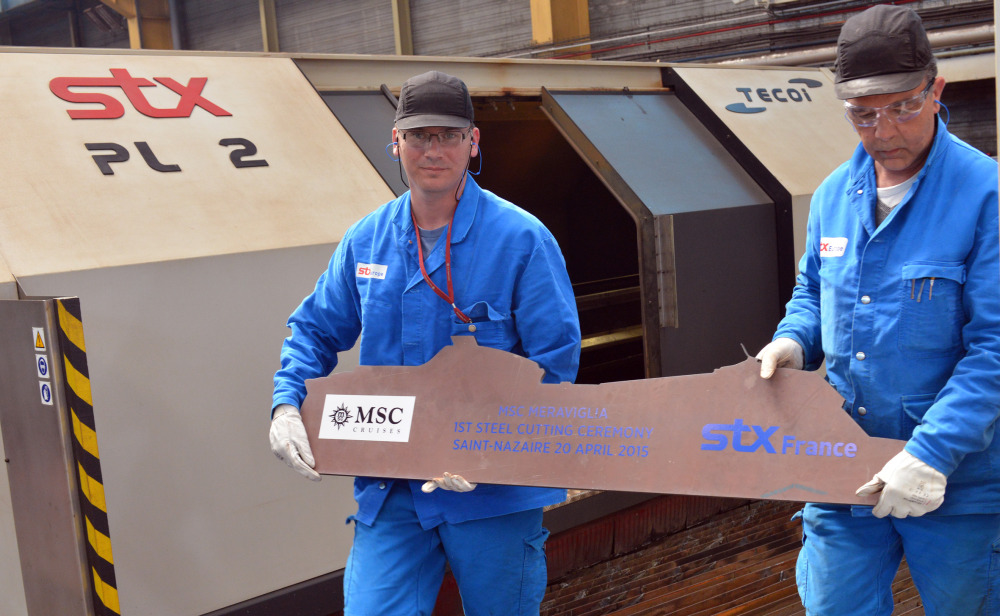 MSC Cruises Executive Chairman Pierfrancesco Vago said "MSC Meraviglia will be the biggest and most innovative cruise ship ever built by a global European-based cruise line. We chose a name that denotes a sense of awe and wonderment, because of the many stunning features planned. Today, building started on a true maritime marvel."
Gianni Onorato, MSC Cruises Chief Executive Officer added: "This steel-cutting event is a milestone in the company's development plan. By investing €5.1 billion on up to seven new ships MSC Cruises will double its capacity by 2022. MSC Meraviglia will be one of the greenest and safest ships in the industry, as well as one of the most technologically advanced. We are thrilled that in just a few weeks guests can start booking this truly remarkable ship, which will take cruise guests to the most exciting destinations around the world in outstanding comfort and style."
A number of innovations are set to début on this ship. 'Cluster cabins' will enable up to three cabins to be opened up to accommodate larger families. Near Field Communication (NFC) technology will be installed meaning guests can make payments, book spa treatments and speciality restaurants, access their cabin and safe, and even geo-locate their children using NFC-enabled wrist bands, cruise cards and smart-phones.
MSC Meraviglia will boast a large outdoor water-park connected to a two-storey indoor amusement park, a two-storey aft lounge and entertainment space and a two-deck interior promenade styled like a Mediterranean village packed with shops, bars and speciality dining and covered by an awe-inspiring 480 square metre LED dome ceiling. This 'digital sky' will be used to wow guests with visual shows at scheduled times.
The MSC Yacht Club ship-within-a-ship concept will be expanded on-board this ship and will feature duplex suites, its own solarium, lounge and fine-dining restaurant.
The steel cutting ceremony took place at the STX France shipyard in Saint-Nazaire, the same ship yard where Royal Caribbean's Harmony of the Seas is currently under construction.
Bookings for cruise sailings on-board MSC Meraviglia will open in June 2015. She will benefit from a trio of home-ports – Genoa (Italy), Marseille (France) and Barcelona (Spain) – which will give UK guests the flexibility to choose where they start and finish their cruise holiday.
MSC Meraviglia is due to be delivered in May 2017 with a second yet-unnamed Vista-class vessel due for delivery in 2019. MSC Cruises has options for two further Vista project ships to be delivered by 2022.
Meanwhile under the separate Seaside-class project MSC Seaside is currently under construction at the Fincantieri ship yard in Italy and is scheduled to launch in November 2017, with the second ship in the Seaside-class due for delivery by May 2018. MSC Cruises have an option for a third ship in this class which if taken would be delivered in 2021.
(Photo credits to MSC Crociere)