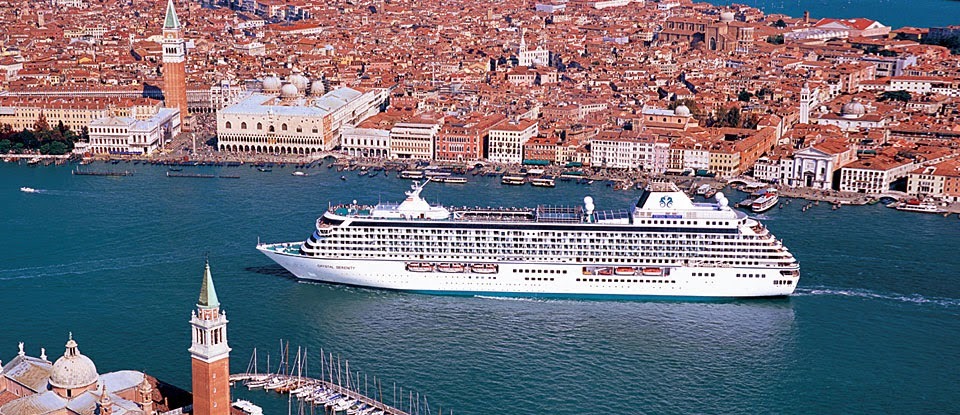 Crystal Cruises celebrates its 25th anniversary
Luxury cruise line Crystal Cruises is commemorating its 25th anniversary with a range of celebrations planned for 2015. This year they are offering 63 itineraries sailing to 224 ports of call spanning 65 countries. 24 of the ports will be maiden calls for the cruise line. Maiden calls are scheduled for: Albany, Australia; Ambodifotatra and
Luxury cruise line Crystal Cruises is commemorating its 25th anniversary with a range of celebrations planned for 2015.
This year they are offering 63 itineraries sailing to 224 ports of call spanning 65 countries. 24 of the ports will be maiden calls for the cruise line. Maiden calls are scheduled for: Albany, Australia; Ambodifotatra and Taolanaro, Madagascar; Arrecife, Canary Islands; Richards Bay, South Africa; Sanary-sur-Mer, France; Santo Domingo, Dominican Republic; Souda Bay/Chania, Greece; Aomori, Japan; Archangel, Korsakov and Solovetsky Islands, Russian Federation; Belawan, Indonesia; Rijeka, Croatia; Bodo, Narvik and Oye/Hjorundfjord, Norway; Helgoland, Germany; Londonderry/Greencastle and Galway, Ireland; Kochi, Japan; Sanya, China and Scarborough, Trinidad and Tobago.
This year sees the cruise line offer its first circumnavigation of the globe. Crystal Serenity will set sail on 14 January on a 108-day round-trip from Miami, USA.
Crystal Symphony begins the year in Asia offering itineraries covering Indonesia, Malaysia, Vietnam, China and Japan. Crystal Symphony recently emerged from a $20 million dry-dock redesign in late 2014
On-board 25th anniversary celebrations will include parties and receptions plus European voyages hosted by Edie Rodriguez, the company's President and Chief Operating Officer, and Nobuyoshi Kuzuya, the company's Chairman. Four Trans-Atlantic, South America and Asia itineraries will also be hosted by Crystal captains Glenn Edvardsen, Reidulf Maalen, Helge Brudvik and John Økland.
Crystal Cruises have also recently launched a range of short excursions to cater to specific needs. Late Risers' Adventures are leisurely excursions that normally depart between 11am and noon. For those that like to stay active their Sightseeing in the Run program is the perfect sightseeing adventure.
Previous guests who are part of the Crystal Society are also eligible for 60 minutes of complimentary WiFi internet access per person for every day of the cruise. The total credit is calculated based on the voyage length and can then be used any time throughout the voyage.
(Photo credit to Crystal Cruises)