Search for your ideal Cruise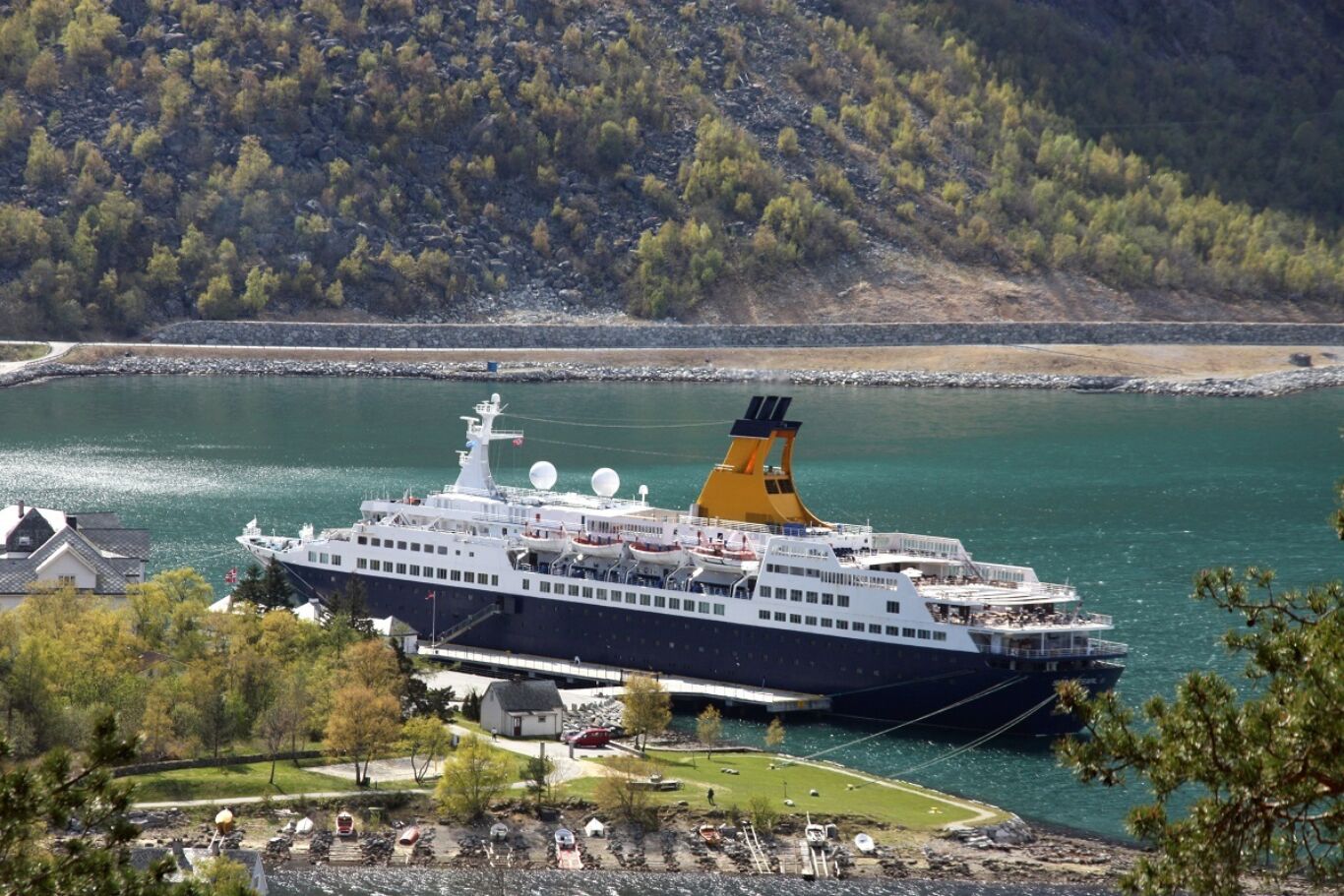 Farewell to Saga Pearl II
Epic cruise to South Africa will be the final voyage for a much-loved favourite that holds many memories. There will be much to celebrate in 2019 with the arrival of Saga Cruises' first new-build ship, Spirit of Discovery. But there will be sadness, too, as the much-loved Saga Pearl II sails off to a new
Epic cruise to South Africa will be the final voyage for a much-loved favourite that holds many memories.
There will be much to celebrate in 2019 with the arrival of Saga Cruises' first new-build ship, Spirit of Discovery. But there will be sadness, too, as the much-loved Saga Pearl II sails off to a new future, or into retirement.
She's been a favourite among more energetic Saga passengers since joining the fleet in 2010, for a short time changing her name to Spirit of Adventure.
We have been together for a number of memorable adventures, notably on a visit to Cuba long before the island began welcoming American tourists again. In Havana, I made friends with Ernest Hemingway at El Floridita, one of his favourite bars. A few days later, I bumped into Noel Coward in the garden of Firefl y, at his home in Jamaica. Neither of them had much to say for themselves.
On another expedition, to the frozen wastes of Svalbard, my encounters with the locals were a little more distant, for safety's sake. You don't mess with polar bears, even when there's a couple of armed rangers at hand.
In the 2010 General Election that brought David Cameron to power, it was the ship's captain who kept us up to date with the negotiations to form the coalition, and in 2015 high winds prevented us going ashore in Valencia, hundreds of dolphins off Gibraltar.
Saga Pearl II was built in 1981, by a shipyard in Hamburg, for the German Hadag Cruise Line who soon sold her to South African company Safmarine.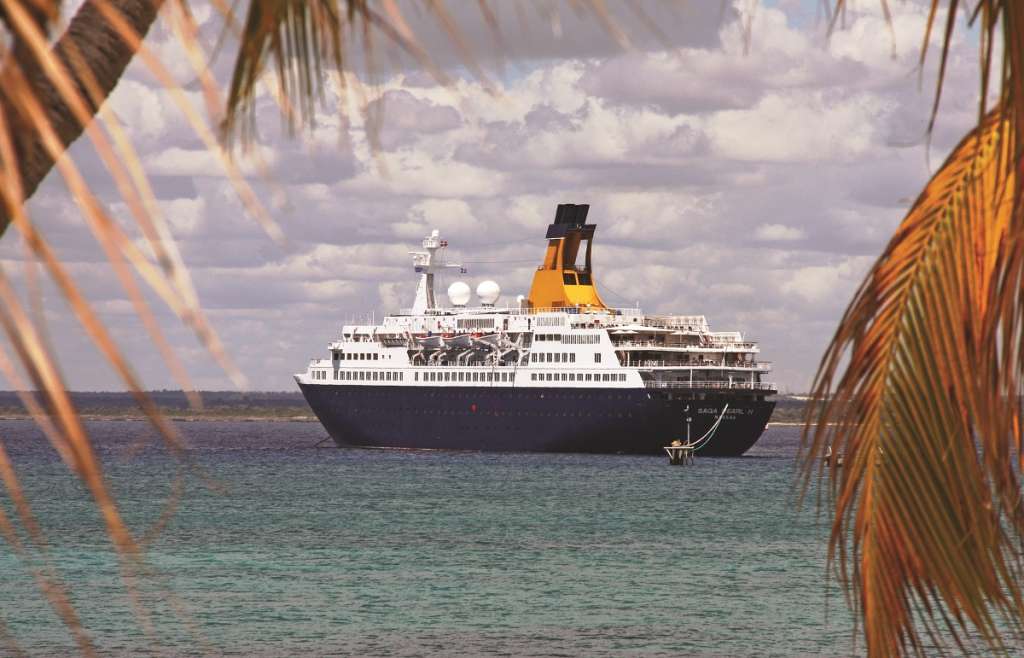 The ship was renamed Arkona in 1985, and later changed again to Astoria. In 2002, Transocean Tours began using the ship mainly for cruises in Germany, Sweden and Norway.
During a refit in 2008, serious mechanical problems were discovered and the vessel was laid up for more than a year before being bought by Saga Cruises at auction. She was taken to Swansea for a £20 million refit and sailed on her first cruise as Saga Pearl II in March 2010, travelling to the Norwegian fjords.
In May 2012 Saga re-named the ship Quest for Adventure, replacing the smaller Spirit of Adventure, operating Discovery-style adventure cruises. But the brand was dropped in November 2013 and she became Saga Pearl II once more with the retirement of Saga Ruby.
MOMENTOUS 54-NIGHT AFRICAN JOURNEY TO MARK SAGA PEARL II'S RETIREMENT
Saga Pearl II's momentous final cruise is a 54-night journey that travels to the exotic shores of Africa while celebrating this elegant ship's nine years of Saga cruises. Also stopping at St Helena and ports in Madeira, the Canary Islands and Spain, this convivial cruise is sure to be an emotional journey that leaves its passengers with lifelong memories.
Inspiring experiences to enjoy… observing the colourful birdlife that inhabit the Gambia's mangroves, watching the sunset over Cape Town's Table Mountain, going in search of the 'big five' in the Pumba Game Reserve, heading out on a kayak safari to see the turtles of Simangaliso Wetland Park and enjoying a tailor-made event in Cape Town to commemorate Saga Pearl II's final cruise.
Saga price includes…
All meals on board, including 24-hour room service
A choice of wines at lunch and dinner
All on-board gratuities
Optional travel insurance and additional cancellation rights, or a reduction if not required
Entertainment and activities
Welcome cocktail party and Captain's dinner
All port taxes and visas
UK mainland travel service to and from the port
ITINERARY
From February 16 to May 11, 2019
Day 1 Depart Portsmouth
Day 2,3,4 At sea
Day 5 Funchal, Madeira. Just a morning here to enjoy the scenery on the "floating garden of the Atlantic."
Day 6 Santa Cruz, Tenerife. Largest of the Canary Islands and dominated by the Mount Teide volcano, Spain's highest mountain.
Day 7, 8 At sea
Day 9 Porto Grande, Sao Vicente. The Cape Verde archipelago lies 300 miles off the coast of Senegal
Day 10 At sea
Day 11 Banjul, the Gambia. Established as a British naval trading post in the early 19th century, and a key part in the battle to abolish slavery
Day 12, 13 At sea
Day 14 At sea, crossing the Equator. King Neptune will be ready to play tricks on passengers and crew who have never 'Crossed The Line' before
Day 15, 16, 17 At sea
Day 18 Luanda, Angola. A fascinating day in what has become – thanks to the civil war that ended 15 years ago – one of the world's most expensive cities
Day 19, 20, 21, 22 At sea
Day 23, 24 Cape Town, South Africa. A full day stay (departing just after midnight on day 2) gives time to explore Table Top Mountain, the Victoria and Alfred Waterfront, Robben Island, and the city's famed botanical gardens
Day 25 At sea
Day 26 Port Elizabeth, South Africa. Take a mini-safari to the Pumba Game Reserve, or a 4×4 ride through Addo Elephant Park.

African elephants drinking water at waterhole in Addo Elephant National Park, Eastern Cape, South Africa.

Day 27, East London, South Africa. With one of the most attractive settings on the Eastern Cape coast, and sometimes referred to as Buffalo City, East London is renowned for its golden beaches
Day 28 At sea
Day 29 Maputo, Mozambique. There's an opportunity to join a two-night overland excursion to the Kruger National Park, re-joining Saga Pearl II in Durban
Day 30 Richards Bay, South Africa. More opportunities for big game hunting (with a camera) in the Hluhluwe Game Reserve
Day 31 Durban, South Africa. Third largest city of South Africa, and capital of the KwaZuku-Natal region – with a famous 'Golden Mile' of beaches.
Day 32 At sea
Day 33 At sea, cruising the Cape of Good Hope
Day 34 At sea
Day 35 Luderitz, Namibia. Famed for its German colonial architecture, and wildlife that includes seals, penguins, flamingos and ostriches
Day 36 Walvis Bay, Namibia. Former whaling station that is now a bustling fishing town close to some of the biggest sand dunes in the world.
Day 37, 38, 39 At sea
Day 40 Jamestown, St Helena. Fingers crossed the weather doesn't prevent passengers going ashore by tender at the tiny, remote island where Napoleon was exiled and died almost 200 years ago
Day 41, 42 At sea
Day 43, At sea, crossing the Equator
Day 44, 45 At sea
Day 46 Dakar, Senegal. The westernmost point of West Africa, this French- speaking city is a short hop away from the Pink Lake, where salt is harvested by locals
Day 47, 48 At sea
Day 49 Las Palmas, Gran Canaria. Claiming to be the prettiest of the Canary Islands, and with a glorious subtropical climate perfect for growing exotic fruits
Day 50, 51 At sea
Day 52 Ferrol, Spain. The final port of call is convenient for a pilgrimage to Santiago de Compostela
Day 53 At sea
Day 54 Portsmouth. There won't be a dry eye on board as the captain flies the paying-off pennant from Saga Pearl II's mast and orders "Finished with engines" for the last time
BOOK IT
Fares from £11,324 per person for an inside cabin (two sharing); £14,611 for an outside cabin, and £21,712 for a superior cabin. www.saga.co.uk/cruise 0808 278 4783