Search for your ideal Cruise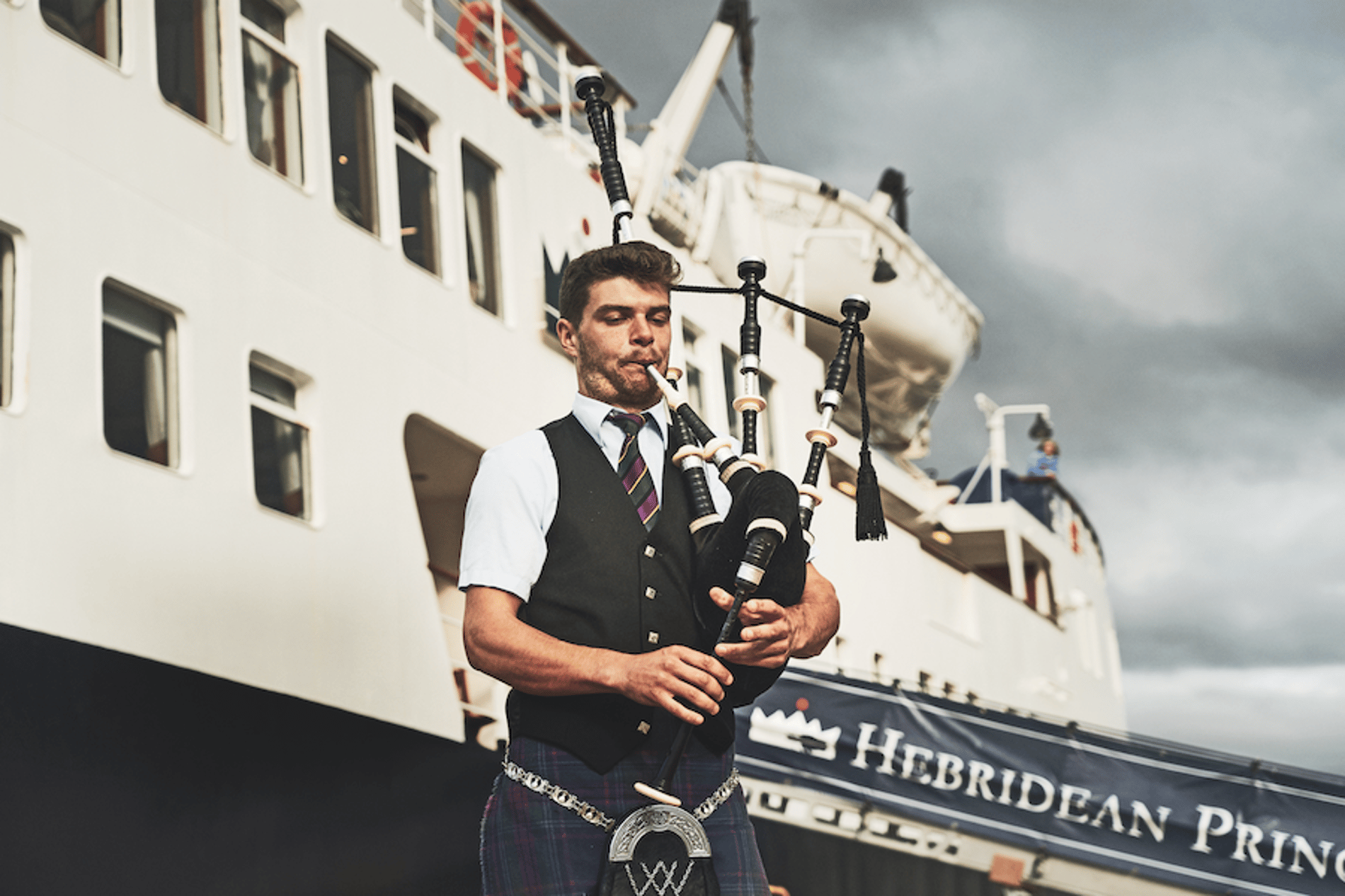 Hebridean Princess: A Cruise Around Scotland's Western Isles
On a tour of Scotland's Western Isles, Dave Monk discovers the quirky delights of Hebridean Princess – the Queen's favourite ship
From the moment we stepped aboard, it was obvious that Hebridean Princess is a cruise ship like no other. For a start there was no electronic 'bing' to welcome us to the start of our voyage around Scotland's Western Isles; just the skirl of a lone piper and the firm handshake of a senior officer.
Walking into the main bar we were greeted by a brick inglenook that wouldn't look out of place in a Highlands stately home. Our own room – you couldn't call it a cabin – was furnished with tartan armchairs, with a full-sized tub in the bathroom.
On the desk was a whisky decanter that we later discovered would be topped up whenever we'd had a tot. Other staterooms, rather than being lined up neatly in long corridors, were scattered around four of the five decks, even in the depths of the ship.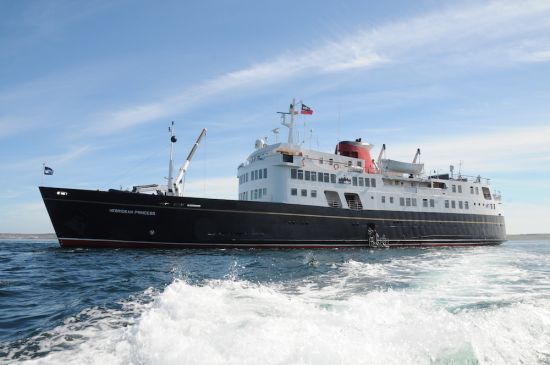 Here and there we spotted oil paintings hanging from nails, a Welsh dresser with plates, and an ornate brass letterbox. If you think all that is bonkers, the ship's history is equally bizarre.
Commissioned in 1964 by the Secretary of State for Scotland, she was designed to act as a floating bunker in the event of nuclear war. Thankfully never required in that capacity, she served the Western Isles as the car ferry MV Columba before being converted into a luxury vessel and renamed in 1989.
Now operated by Hebridean Island Cruises, she carries just 50 guests (plus nearly as many crew) and has twice been chartered for holidays by the Queen – ironically one of the very VIPs who might have boarded her, had the Cold War hotted up.
If you want to compare Hebridean Princess with other ships, it's easier to list what she doesn't have. There are no numbers on the 30 cabins, only names of Scottish islands (we were in Colonsay). The rooms have no keys, just 'do not disturb' signs (the doors can be locked from the inside).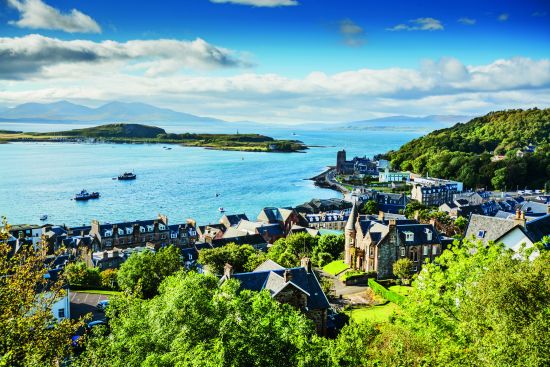 You needn't expect to find a theatre, casino, spa, pool, hot tub, lifts or organised games (apart from the odd rubber of bridge). But neither will you be presented with a bill, because everything is covered by the fare, including drinks, tips and excursions. Hebridean will even pick up the tab for your cup of tea on shore visits.
The ship does offer a small library, a shop and a gym, as well as bicycles to take ashore. And her small size – just 72m long – means that nowhere is far to walk.
Our room was eight steps from reception and 30 from the Columba restaurant, which is neatly arranged in tables for couples, with solo passengers invited to dine in groups with officers (10 cabins are for single occupation). Steep steps lead to the top deck and the bridge which, besides its array of new technology, has a traditional ship's wheel and a gleaming brass engine telegraph.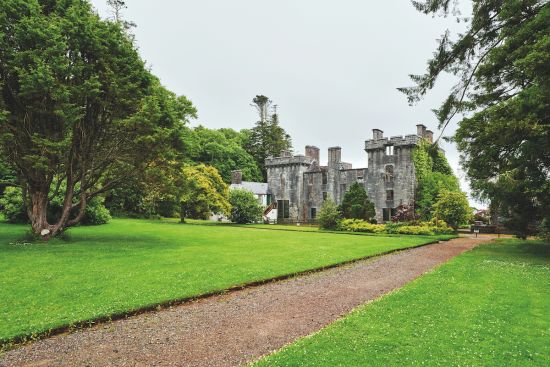 Setting sail from Oban, the first call on our six-day voyage was the island of Rum. Here, after going ashore in two small boats called Shona and Sanda, we were served soft drinks with tots of Bacardi and Captain Morgan. Yo ho ho.
Our itinerary was entitled 'Castles and Clans' and we strolled through woods and along spectacular shorelines to the first sprawling mansion, Kinloch Castle.
More craziness here. The house was built for Sir George Bullough, a hugely wealthy Victorian playboy. The private ballroom with a mechanical 40-piece orchestra sparked lurid tales of orgies (it was inaccessible to servants, apart from a small serving hatch). Bullough also kept hummingbirds, turtles and alligators, all of which seem to have met unhappy ends.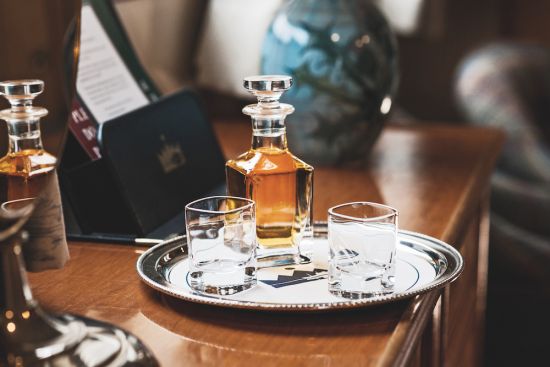 We were still talking about our visit that night at dinner – a gala affair with the officers in kilts, and guests in tuxedos or gowns (on other nights, men were 'advised' to wear a jacket and tie, which most did).
Next stop was Barra, which gave the world the story of Whisky Galore when 260,000 bottles of Scotch were salvaged by the locals after a shipwreck in 1941. From here we took a boat to the enchanting 'castle in the sea', Kisimul.
As sometimes happens on Hebridean Princess, the Scottish weather then intervened, and a planned visit to Dunvegan Castle on Skye had to be cancelled as 40-knot winds whipped up the waves. We took shelter at Kyle of Lochalsh before making an unscheduled passage up the coast to Plockton and then taking a boat trip on Loch Carron to see seals bathing in now glorious sunshine.
Such unexpected pleasures are part of the fun on this ship, where the captain may adjust the route and the itinerary as the voyage progresses.
The next day brought us to Scotland's most famous and picturesque fortress, Eilean Donan. As a special treat, we later sailed past it on the way to see Armadale Castle and some spectacular gardens on Skye.
Heading on to Mull we hit a force 9 storm, but Princess showed her mettle as she ploughed through the waves to safe harbour. Dinner was delayed for half an hour but still served.
On our last full day we visited the beautiful and multi-coloured seafront of Tobermory – famous from the children's TV show Balamory – dropping by an aquarium that keeps its exhibits for only a few weeks before releasing them back into the ocean.
Sailing down the island to Craignure and Duart Castle, we enjoyed a champagne reception as guests of clan chief Sir Lachlan Maclean, before a final gala meal on board that included a spirited rendition of Robert Burns' famous Address to a Haggis.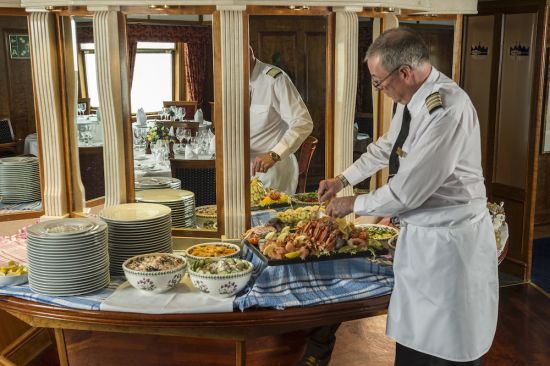 When we set our sights on more distant shores, we cruisers often overlook the wonders of Scotland – its beauty, wildness and charm, from soaring, moss-covered mountains to placid lochs, gushing rivers and jagged coastlines.
Even when the weather worsens and the seas turn grey, the brooding skies hang dramatically over the landscape, evoking memories of the country's long and often bloody history.
But on any cruise it is the crew who make the difference, and the cheerful bunch we saw every day aboard Hebridean Princess all felt like friends by the end of the trip.
The food, too, was excellent, featuring Scottish dishes such as salmon, potato scones, Argyllshire ham and porridge 'with a wee dram, should you wish'.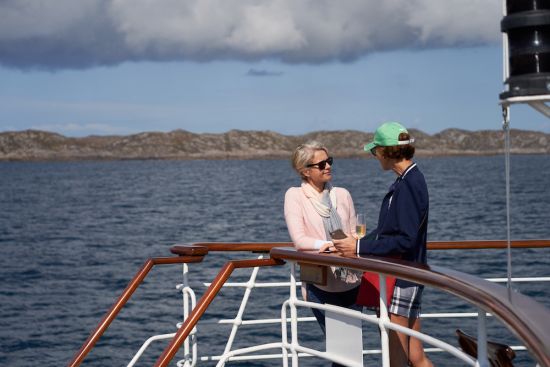 One night there was a ceilidh, where passengers were invited to dance the Gay Gordons and other traditional reels (the large selection of whiskies and other complimentary drinks – including plenty of wine at dinner – probably helped in that respect).
Shore excursions took place at civilised times and, although they involved a fair bit of walking, none was too arduous. And we spent many joyous hours just relaxing on the ship, finding an armchair to curl up in with a book and pretending the log fire was real.
As we returned to Oban, it was sad to say goodbye to Hebridean Princess – a true treasure in today's world of megaships. You can sometimes feel her beating heart of an engine, hear the ringing signals between the captain and the engine room and occasionally you sway as she meets a large wave.
Walking down the gangway the last time, to the sound of fond farewells from the crew, I vowed one day to return to this most unusual of cruise ships.
The Captain's View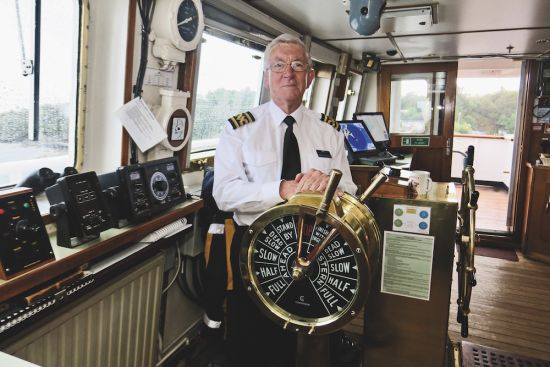 "I started at sea aged 18, on tankers, and later spent 24 years on ferries, until I retired in 2013. I came on this ship as relief master, working on and off for four years until I retired a second time. Then I returned last year. Princess has character because it's like a floating country-house hotel. The crew are one big happy family and I enjoy meeting the guests. We get lots of regulars, and for them it's a home from home. They love the atmosphere of the ship and the scenery of the Western Isles." David Kirkwood, 74
The Guests' View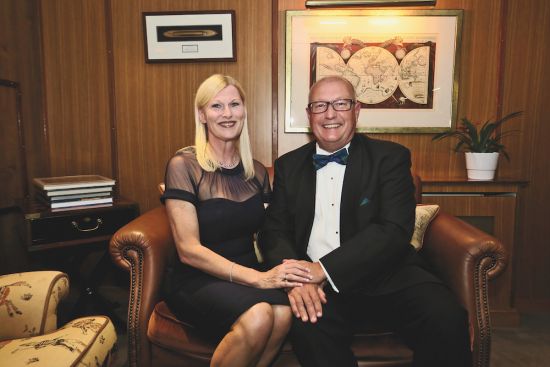 "This is our third voyage with Hebridean. Because the ship is so small, the atmosphere on board is very personal. The pace is lovely and slow – our lives are normally 200mph, so it's really nice to have breakfast, then just go and potter about for a few hours. The feel of the ship is very smart but it's not over-the-top or showy. The service is all in the detail – they remember little things, and nothing's too much trouble. We'd definitely do another cruise on this ship." Martin and Michaela Lamb,
55 and 51, from Hockley, Essex
Get on Board
7-day 'Historic Houses and Castles of the Clyde' cruise aboard Hebridean Princess, round trip from Greenock via Rothesay, Campbeltown and Largs, departing 10 March 2020, from £2,440. hebridean.co.uk