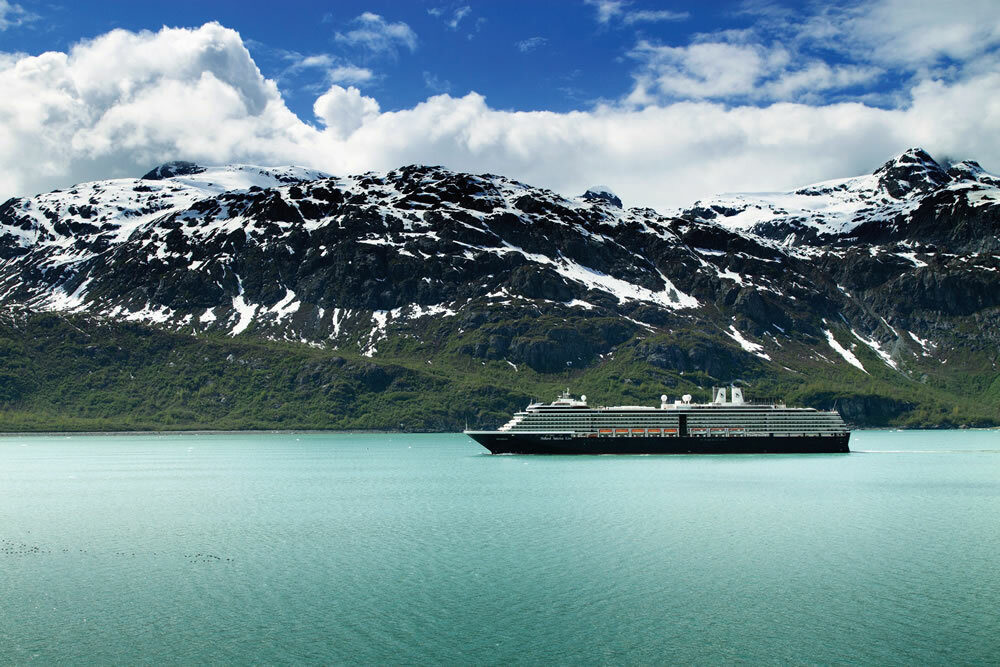 Holland America Line announces new partnerships and suite upgrades
Holland America Line has announced three new partnerships alongside suite upgrades on its Signature, Vista and R class ships. Partnerships The cruise line is partnering with BBC Earth, AFAR Media and Utrip. Its partnership with BBC Earth will bring fun and factual entertainment on-board its fleet. Guests will enjoy ground-breaking concerts, films, shows, children's activities
Holland America Line has announced three new partnerships alongside suite upgrades on its Signature, Vista and R class ships.
Partnerships
The cruise line is partnering with BBC Earth, AFAR Media and Utrip.
Its partnership with BBC Earth will bring fun and factual entertainment on-board its fleet. Guests will enjoy ground-breaking concerts, films, shows, children's activities and themed cruises. The BBC Earth programme is set to roll out across the fleet from April 2016 and will be on all ships by September 2016.
A highlight of the partnership will be a live concert adapted for the cruise line based on the Frozen Planet programme. The production will feature footage from the television series, accompanied by live musicians.
Guests will also be able to enjoy activities including a game show uncovering the weird and wonderful in the natural world, and BBC Earth theatre screenings with special introductions from those behind the programmes. Kids will enjoy an on-board explorer trail, fun workshops, BBC Earth animal and dinosaur fact shows, and can even try their hand at being a journalist.
Themed cruises will include access to the creators of the BBC Earth shows, who share their behind-the-scenes stories of how the programmes are made. Younger guests will also have the opportunity to attend film workshops with the BBC Earth YouTube team. Itineraries and dates will be announced at a later time.
Holland America Line is also partnering with AFAR media to help travellers plan, choose and prepare for their cruise holiday with destination guides covering approximately 400 ports of call and scenic cruising areas. The guides, available on Holland America Line's website, will provide recommendations for top attractions, restaurants and shopping experiences in each destination curated by local experts.
Holland America Line's collaboration with Utrip will give guests access to a comprehensive and interactive personalised planning tool. The destination guides from AFAR Media will be incorporated and guests will receive customised recommendations on the line's cruise itineraries, port highlights, and shore excursions, tailored to their interests.
Utrip aims to simplify searching the cruise line's itineraries and shore-side activities by enabling guests to narrow down their options and save specific ports and interests.
Suite Upgrades
As part of a $300-million brand development initiative, Holland America Line is planning new furnishings, décor, amenities and upgrades for all suites on the line's Signature, Vista and R-Class ships. The first ships to undergo the suite transformation will be ms Eurodam and ms Oosterdam, followed by ms Nieuw Amsterdam, ms Westerdam, ms Zuiderdam and ms Noordam. Additionally, ms Amsterdam, ms Rotterdam, ms Volendam and ms Zaandam will receive the suite enhancements as they head into their scheduled dry docks over the next few years.
Eurodam is scheduled to go into refit from 7 to 20 December 2015 at Freeport, Bahamas, and Oosterdam will head into dry dock from 3 to 18 April 2016 at Fincantieri's yard at Palermo, Sicily.
The main living area in each suite will be refreshed with a new sofa, lounge chairs and desk chair. A new headboard, carpet and wall coverings will bring a contemporary feel to the suites, while soft goods — including a privacy curtain, drapery, bed runner and bed skirt — will add a touch of elegance. A quartz stone top on the desk, dresser, night-stands and dressing table will also be added along with vanity lighting.
Electrical upgrades will include a new USB outlet added to the bed's headboard, bedside LED lights, upgraded electrical outlets and a lighted closet rod. A new interactive television system will be installed, with complimentary movies on demand, as well as easy access to the daily programme and shipboard information including restaurant overviews, spa services and guest billing.
Suite bathrooms will also receive a makeover. Designer glass tiles will serve as a backdrop to the new dressing area that includes new stone tops, modern taps and under-mount sinks. Contemporary mirrors with integrated side-by-side LED lighting, stylish floor tiles, as well as a night-light will also be fitted.
Starting in January 2016, all suites across the fleet will receive new amenities including a premium duvet, superior bathrobes and slippers, Bose docking station, binoculars for use during the voyage, complimentary mimosas with in-suite breakfast and an in-suite coffee and espresso machine.
(Photo credit to Holland America Line)