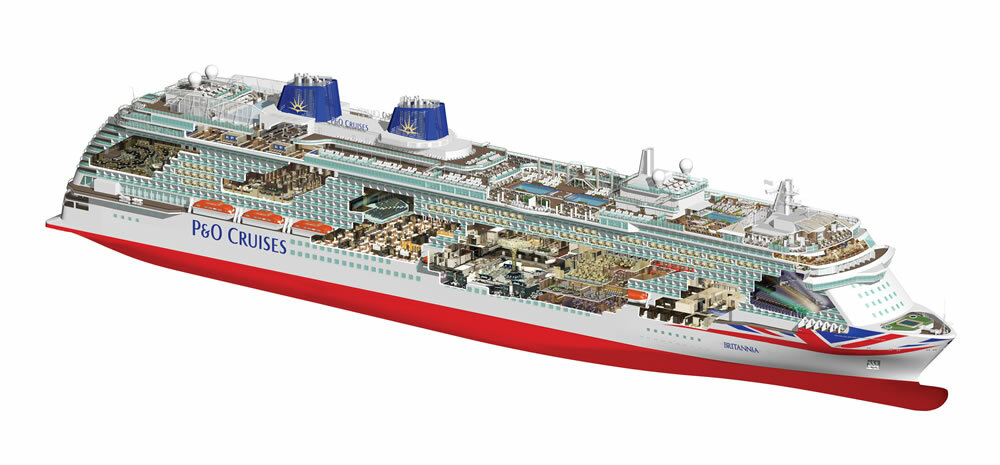 A look at the interior design on-board P&O Cruises' Britannia
The team given the task of designing the interiors for P&O Cruises' Britannia pored over every aspect of the ship. It wasn't just grand statements like the spectacular Starburst in the ship's cavernous atrium. The attention to detail went as far as the ship's signage, attractive artwork, and – even more important for many passengers
The team given the task of designing the interiors for P&O Cruises' Britannia pored over every aspect of the ship. It wasn't just grand statements like the spectacular Starburst in the ship's cavernous atrium. The attention to detail went as far as the ship's signage, attractive artwork, and – even more important for many passengers – the bathrooms. The ship might be ushering in a new era of hotel-style décor, but as Gary Buchanan finds, it's also saying goodbye to clingy shower curtains.
"We've pushed P&O Cruises into thinking outside the box," says Terry McGillicuddy, director of Richmond, the acclaimed hospitality interiors company who were commissioned to create the interiors for Britannia. Having designed some of the world's finest fi ve-star hotels, Richmond have a wealth of experience in creating peerless interiors. Their portfolio includes hotels such as the luxurious Langham in London and Chicago, the award winning Gresham Palace in Budapest, the recently opened Four Seasons Moscow, and Corbin & King's first acclaimed hotel, The Beaumont, in London's Mayfair.
For the first time, P&O Cruises approached a new ship's entire interior design scheme from a different tangent, handing over every aspect of cabins, suites and public areas to one design consultancy. "Whilst we have enjoyed control of the overall design, the P&O Cruises board of directors have been involved throughout the evolution of Britannia," says McGillicuddy who headed up the design team which has been up to 20 strong since they started working on this project in September 2011.
"Many legacy concepts that have been an integral part of P&O Cruises' philosophy since the Canberra have been rethought and conceptualised for passengers who today have much higher expectations," says the enthusiastic designer. Indeed McGillicuddy and several senior executives of P&O Cruises visited some of London's grandest hotels such as the Berkeley in Knightsbridge with its famous Blue Bar; The Mandarin Oriental in Hyde Park; the inimitable Claridge's; and the Dorchester. These visits created the genesis of the concept of Britannia's interior design.
You can read more about the interior design on-board P&O Cruises' Britannia in the February / March 2015 issue which is available now. If you aren't a subscriber then click here to sign up here. You can also find back issues available here.