Search for your ideal Cruise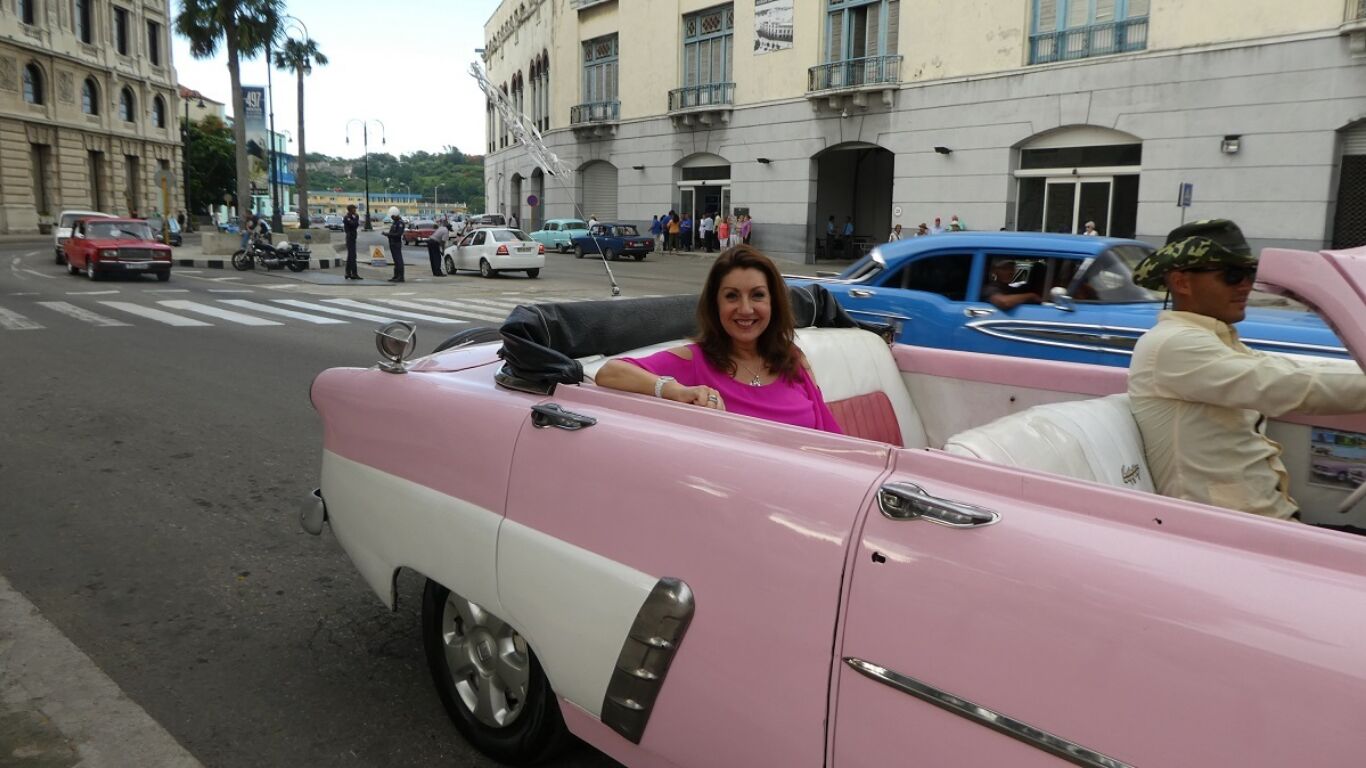 Jane McDonald Cruises Cuba with Celestyal Cruises
Cruising royalty Jane McDonald is back doing what she does best – taking her audience with her on the high seas to explore cruising life in the second series of the hotly anticipated 'Cruising with Jane'. The final episode airs tonight at 9 pm on Channel 5 and sees Jane fall in love with Cuba on the
Cruising royalty Jane McDonald is back doing what she does best – taking her audience with her on the high seas to explore cruising life in the second series of the hotly anticipated 'Cruising with Jane'. The final episode airs tonight at 9 pm on Channel 5 and sees Jane fall in love with Cuba on the grand ship Celestyal Crystal.
Beginning and ending in Havana, Jane experiences Cuba's firebrand spirit both on and off-shore with visits to Cienfuegos, Santiago de Cuba as well as a stop in Montego Bay, Jamaica. Back on board the classic Celestyal Crystal, viewers will get a feeling for life on-board including the lively on-board entertainment, outstanding Celestyal hospitality and cocktails with the captain.
Commenting on Cuba, Jane said;
"Cuba was like being in the film La La Land. Everywhere we went people were singing and there were bands on every street corner. I was serenaded with guitars. Cubans are the happiest people I've ever met, and it was really enlightening to be with folk who love life. We blagged our way into a house party and it was like the set of Fame."
The Celestyal Cuba cruise offers the most Cuban ports of call on a single itinerary, the complete circumnavigation of the island includes many of this fantastic hidden gems that other operators cannot offer. The 2017-2018 season features a seven-day cruise program which includes two full days in Cuba's vibrant capital, Havana, the charismatic Cienfuegos, an 18th-century fortress, historic Santiago de Cuba, capital of the Spanish colony of Cuba and Montego Bay in Jamaica.
Kyriakos Anastassiadis, CEO of Celestyal Cruises and CLIA Europe Chairman commented;
"We are honored to be part of this series and to have had the opportunity to host Jane McDonald, who is of course synonymous with cruising in the UK. Cruising continues to grow in popularity in the UK & Ireland and we hope that this series will generate further interest in cruising and Celestyal Cruises."
Experience Cuba with Celestyal Cruises
Hays Travel is offering a 7-day Celestyal Cuba Cruise from £1899 per person based on a departure of 1st March 2018. The price includes; return flights from London Gatwick to Havana, private transfers, 4 nights B&B in Havana, 7 nights Cuba Cruise in standard inside cabin on all-inclusive basis and two shore excursions. For more information visit: hayscruise.co.uk/celestyal-cruises.phtml
For more information on itineraries and dates please visit Celestyal Cruises website (celestyalcruises.uk) or call the UK toll free number: 448004118038