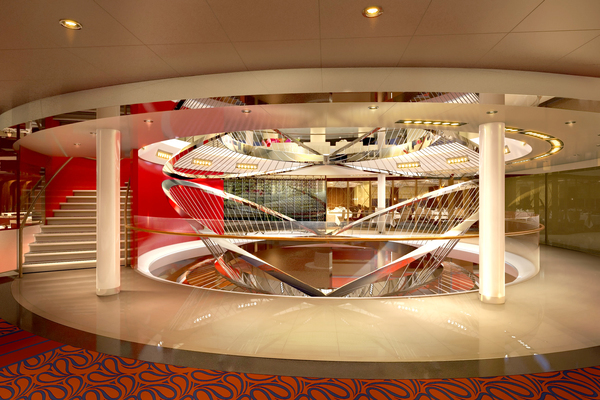 Koningsdam's summer 2016 itineraries unveiled
Holland America Line have released details of the summer 2016 itineraries for new vessel Koningsdam due for delivery on 20 February 2016. Previously only the itineraries up to May had been released. As of 21 May the vessel will be home ported in Amsterdam following a repositioning sailing from the Mediterranean. "For the first summer
Holland America Line have released details of the summer 2016 itineraries for new vessel Koningsdam due for delivery on 20 February 2016.
Previously only the itineraries up to May had been released. As of 21 May the vessel will be home ported in Amsterdam following a repositioning sailing from the Mediterranean.
"For the first summer sailing season of our beautiful new ship ms Koningsdam, we've crafted some incredible itineraries to Europe's most beautiful ports," said Orlando Ashford, president of Holland America Line.
The ship will sail a selection of seven- and 14-day cruises to Norway that showcase the country's scenery and landscapes. A seven-day itinerary planned for May, July and August will call at Flam, Stavanger, Kristiansand and Oslo, and will offer scenic cruising around Sognefjord and Oslofjord.
Another seven-day itinerary planned for June and July will call at Eidfjord, Alesund, Geiranger and Bergen, and will offer scenic cruising around Hardangerfjord and Geirangerfjord.
A third seven-day itinerary in August will call at Bergen, Hellesylt, Geiranger, Alesund and Eidfjord, and offer scenic cruising around Hardangerfjord and Geirangerfjord.
A longer 14-day Norwegian voyage will depart on 29 May and 17 July which will cross the Arctic Circle and will call at eight ports in Norway. Guests also will enjoy memorable scenic cruising around Hardangerfjord, Geirangerfjord, Trondheimsfjord, the North Cape and Sognefjord.
Koningsdam will also briefly visit the British shores. The 14 August itinerary will call at Newcastle upon Tyne, South Queensferry (for Edinburgh) and Invergordon (for Inverness) as well as Reykjavik (overnight), Isafjordur and Akuruyri in Iceland plus Alesund and Bergen in Norway.
Two 14-day Baltic itineraries in June and September are also planned. The ship will call at Copenhagen, Denmark; Warnemunde (Berlin) and Kiel (Hamburg), Germany; Tallinn, Estonia; St. Petersburg (overnight), Russia; Helsinki, Finland; and Stockholm and Gothenburg, Sweden.
At the end on the season, Koningsdam will sail from Amsterdam to Civitavecchia on a 12-day voyage that calls at England, Gibraltar, Portugal and four ports in Spain. On 24 October the ship repositions to Fort Lauderdale, Florida (USA) on a 14-day transatlantic voyage with calls planned at Alicante, Malaga (Granada) and Huelva (Seville), Spain; and Funchal, Madeira.
These itineraries will be available to book in early February 2015.