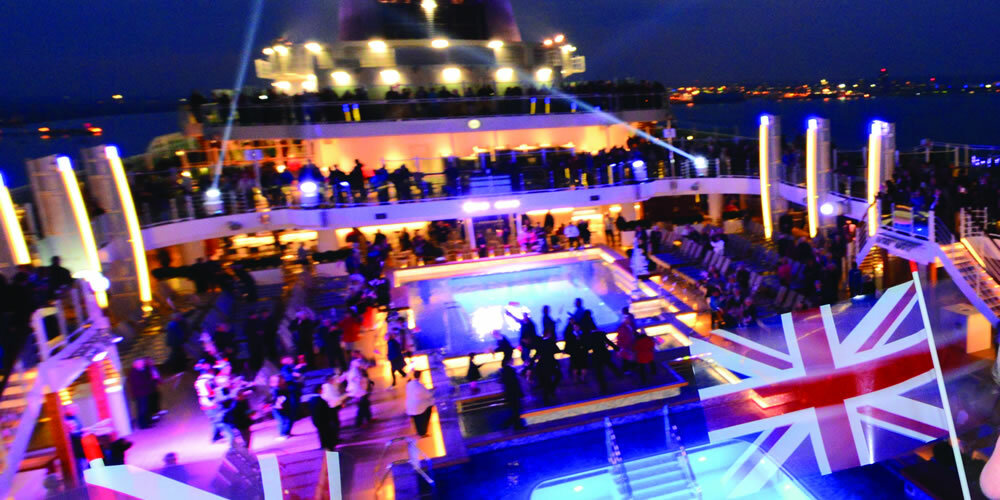 Maiden memories for the first privileged passengers aboard Britannia
Passengers were prepared to pay top dollar and book a year or more ahead just to get the chance to be first on board… and editor John Honeywell was fortunate enough to be able to join them for part of the journey. Britannia's maiden voyage to the Mediterranean left Southampton just four days after the
Passengers were prepared to pay top dollar and book a year or more ahead just to get the chance to be first on board… and editor John Honeywell was fortunate enough to be able to join them for part of the journey.
Britannia's maiden voyage to the Mediterranean left Southampton just four days after the ship had been christened by The Queen.
Her Majesty might be used to the smell of fresh paint and new carpets that follow her on every Royal visit, but for most of us the unique aroma is something we get the chance to savour only occasionally.
As the first 3,500 passengers leading the way for millions more who will follow over the next 30 years, we are privileged that our cheeks will be the first to rest on crisp new pillowcases. No-one else will have dried themselves on the fluffy bath towels, and our deckchairs have yet to be imprinted with tanning lotion from a host of sun worshippers.
Walls remain un-scuffed, there are no tell-tale marks of spilt drinks on table-tops or floors, and not a single smoker has left an illicit cigarette burn on the side of the pristine white washbasin. There are all sorts of special treats to look forward to on a maiden voyage. P&O Cruises long ago abandoned ticker-tape farewells and brass bands on the quayside to mark every departure. But the band of HM Royal Marines was out at Ocean Terminal and there must have been some leftover red, white and blue confetti from the naming ceremony because it was blizzarding across the open decks as Captain Paul Brown gave the order to cast off and Britannia nudged gently astern.
Heading down Southampton Water, the crowds on deck – wrapped up against a chill breeze but determined to make the most of their free glasses of bubbly – were treated to a brief fireworks display in the gathering dusk.
Members of a group of Britannia fans sharing their obsession on Facebook were uniformly attired in custom-made T-shirts and some were even togged out in garish Union Jack suits to match the red, white and blue emblem on the ship's bow.
But with the light fading fast, and the ship not yet at Calshot Spit, most of us had adjourned inside, where the party continued in Britannia's spectacular three-deck-high atrium. Its ever-twinkling Star Burst central sculpture-cum-space-age-chandelier, surrounded by tiers of minstrel galleries, is the perfect party venue. On the following evening the gala welcome reception returned to the same venue, where the Captain addressed the throng – in their best bow ties and ballgowns, and once again sipping free bubbly – at 6.00pm and 8.15.
The lavish dinner in the trio of main restaurants – Peninsular, Oriental and Meridian – featured special treats devised by chef Marco Pierre White, and a night of celebration continued with ballroom dancing in the Crystal Room, comedy pianist Kev Orkian in the Headliners Theatre, and for the obsessives, the Syndicate Quiz at 10.30.
When passengers returned to their cabins they discovered, alongside their nightly pillow chocolates, a commemorative gift from P&O in the shape of a Wedgwood teacup and saucer whose design was inspired by the Star Burst.
The partying continued throughout the two-week voyage. The first port of call was Gibraltar, which refused to join in the fun, providing a cold, wet day that was more like Dartmoor in December than the Mediterranean in March. High winds had closed the airport – sending celebrity chef James Martin on a detour to Malaga – but they did not stop the effervescent and ever-smiling cruise director Neil Oliver from marshalling his troops by the pool for the first sailaway party. It was a shame that fewer than 200 passengers were prepared to brave the elements.
Martin had flown in to teach £100-a-head classes in The Cookery Club and to host £150-a-head dinners at its refectory table. In Barcelona, he led two dozen passengers on a tour of the city's vibrant La Boqueria market. He pointed out which were the best hams, cheeses, and fish to buy, but tactfully ignored the offal stalls piled high with sheep's heads, tripe, and bulls' cojones.
One startling tip he had learned from the famed elBulli restaurant nearby (now closed) was that in a blind tasting, slices of water melon fried in liberal quantities of butter, were indistinguishable from foie gras. He had another tip for a guest at lunch in the Torre de Alta Mar restaurant, who complained that her salad was full of "dirt" which she had laboriously removed and left on the side of her plate. That dirt, he told her, was grated truffle costing thousands of Euros per kilo!
When Britannia arrived in Monte Carlo next morning, Martin was aboard one of the first tenders ashore, rushing to fly home for his weekly appearance in TV's Saturday Kitchen.
He was lucky – not because he was leaving the ship, but because he was able to leave the ship. By lunchtime, and with hundreds of passengers on excursions, Capt Brown decided that the wind and waves had become too dangerous and no more passengers were allowed ashore. The ship's crew spent the remainder of the afternoon ensuring everyone was able to return safely. As we made our delayed departure, the Captain's message of apology to the passengers for conditions that were out his control, and his thanks to the crew for their brave efforts, was greeted with a spontaneous burst of warm applause.
There had been a few other niggles – inevitable on a brand new vessel. But nobody was unduly concerned when a short-lived water pressure problem shut down all the tea, coffee, and soft drink dispensers in the Horizon buffet one afternoon. Why worry when there's a kettle and supply of teabags in every cabin.
And who needs soft drinks when there are 20 different brands of gin in the ever-popular Crow's Nest and 64 varieties of beer on sale in Brodie's pub – Timothy Taylor's proved the most popular in the first week, by the way, with Brewers Gold from Essex, and the oddball Banana Bread from Wells & Young filling the other two podium places.
Sadly, the weather in the first week didn't encourage too much sunbathing, but after my return home I saw some pictures of a packed pool deck celebrating a rowdy sailaway party as the ship left Cadiz behind for the final leg of the journey back to Southampton. It really was a memorable voyage for all. I've avoided saying it so far, but it's almost inevitable… Britannia will rule the waves for years to come.