Search for your ideal Cruise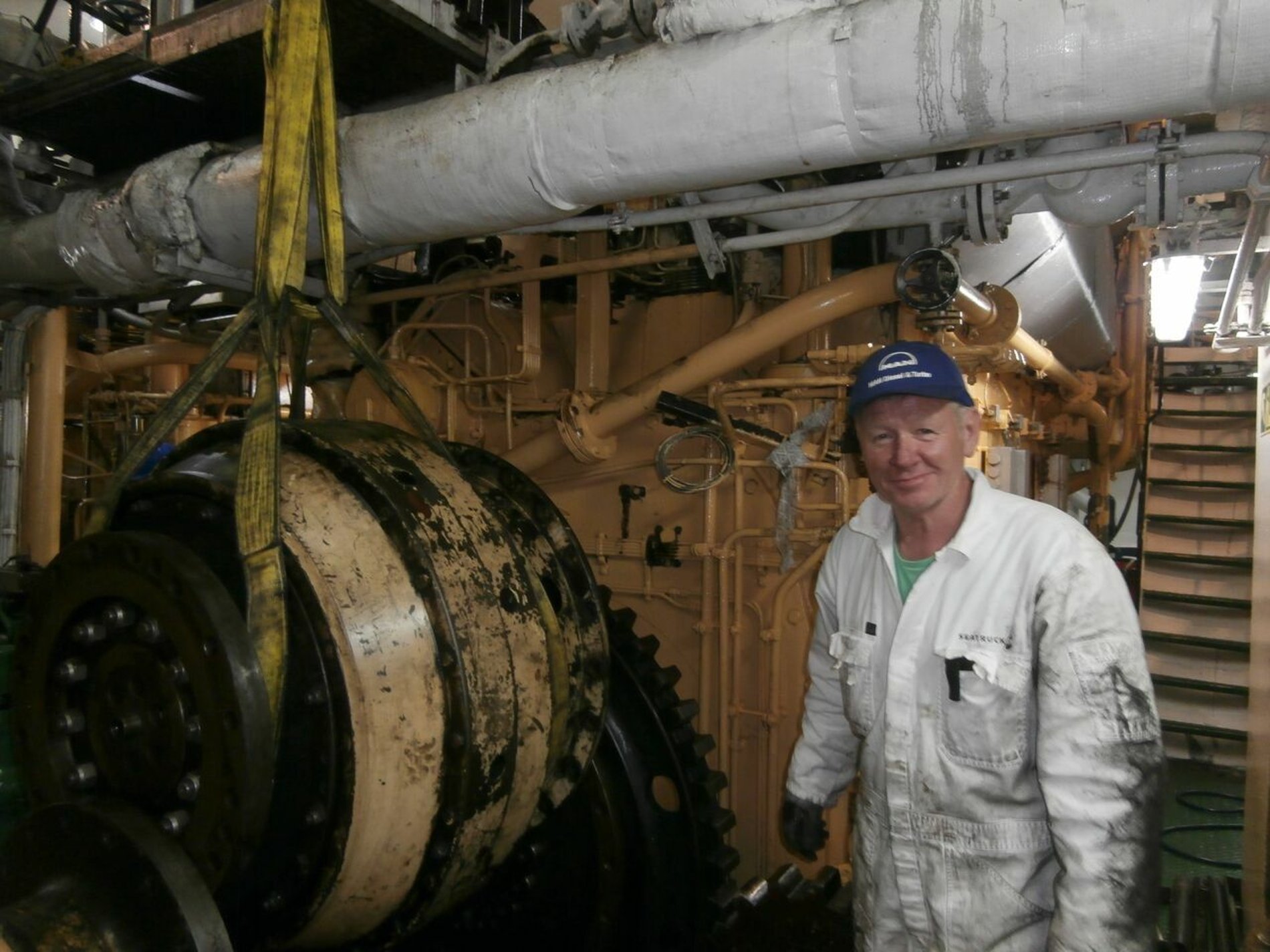 Life on board with Mark Cameron, Chief Engineer, Saga Pearl II
Read our interview with Mark Cameron, the Chief Engineer on-board Saga Pearl II. Do you come from a family of seafarers? My father was a chief engineer with Elder Dempsters and Port Line. He was away for sometimes up to a year on his contracts. My two brothers both went to sea with Cunard and
Read our interview with Mark Cameron, the Chief Engineer on-board Saga Pearl II.
Do you come from a family of seafarers?
My father was a chief engineer with Elder Dempsters and Port Line. He was away for sometimes up to a year on his contracts. My two brothers both went to sea with Cunard and United Arab Shipping, and now my son Jonathan has a career at sea with Disney Cruise Line. I think it's in my blood .
Last month was a double celebration as I completed my 40th year at sea and my 25th as Chief Engineer. I was once told that if you choose a career which you love it will not seem like work so I am lucky to have chosen a life at sea.
How did you begin your career as an engineer?
When I left school at 16 I spent six weeks in Swan Hunters shipbuilding yard on the River Tyne, I looked at some of the ships coming into the repair yards and after seeing the officers on board, I thought "That's the job for me." I applied to Cunard Steamship Company and they gave me a cadetship.
What were your first ships?
I attended Riversdale College of Technology in Liverpool for my City and Guilds in Marine Engineering before starting my sea time, my first ship being a container ship called the ACT 3. I can still recall flying out to Panama to join her and how excited I was for what lay ahead. We were trading between Australia, New Zealand and the east coast of the United States and Canada, so my travels got off to a good start.
Cunard had 56 ships in their fleet at the time, including 10 refrigerated fruit carriers. Saxonia and Scythia were my next two ships carrying bananas from Central America to Europe, apples from the Cape in South Africa and citrus fruits from the West Coast of the States. It was a fantastic start to my life at sea.
In 1982 I married Gail, and she travelled with me for the next five years on various cargo vessels. In a bid to overcome her seasickness we got her to steer the ship in a force nine across the Atlantic. It did the trick, Gail enjoyed seeing some diverse countries in Central America as we sailed on the banana boats for a number of years.
Our first son, Daniel, was born in 1987 and I took a position working on the supply vessels and diving vessels in the North Sea Oil fields so I could spend more time at home – unlike my own father. In 1990 I was promoted to Chief Engineer.
How did you make the move to cruise ships?
When my three children, Daniel, Jonathan and Jessica were all at school I moved from the oil Industry onto Stena Line's passenger ferries. One wet day in Dunkirk, I saw in a marine publication that the holiday company Airtours was adding ships to their cruise brand of Sun Cruises, so I suggested to a couple of colleagues that we all sent them our CVs. A week later we were all on the way to Barbados and I was assigned as Chief Engineer on board the Carousel. During the next eight years I sailed on all four of the vessels in their fleet, adding Sunbird, Sundream, and Seawing. They were fantastic ships to work on and the atmosphere created by the passengers was amazing.
Airtours sold the fleet in 2004 and my next appointment came at Royal Caribbean joining Vision of the Seas, which became one of my favourite ships running from Los Angeles down to Cabo San Lucas and the Mexican Riviera. Although I enjoyed the Vision I only sailed one contract there before I received a call from the Technical Director I had worked with at Sun Cruises. He needed a Chief Engineer for the Discovery which was starting up ownership at Voyages of Discovery. When he told me of the itineraries, I was sold. Three Antarctica seasons and two visits to Galapagos were just the highlights.
Voyages of Discovery added to their fleet in 2010 with the purchase of Alexander von Humboldt and I was assigned as Chief Engineer to her for a series of charters in the German and Turkish cruise sectors.
After seven interesting years at VoD I was told of a position at Saga Cruises; having sailed with three of Saga's Captains who were all at Sun Cruises, the chance to work with them was quite appealing. So in 2012 I joined Quest for Adventure which is now Saga Pearl 2.
What does the job of a Chief Engineer entail? Your responsibilities don't end at the door to the engine room; what other parts of the ship are you in charge of?
Generally a Chief Engineer on any ship is responsible for the safe and efficient operation of the machinery spaces, ensuring the maintenance of the main engines, generators, and boilers is kept up to date, survey inspections are all carried out in a timely manner, the spare parts and fuel oil budgets are all in order. On passenger vessels, the Hotel Services is also a big area to maintain: air conditioning, the galley equipment, laundry and domestic fresh water systems are all covered by the technical department on board. Environmental and safety equipment also come under our responsibilities. There is always something different to carry out and it gives me the chance to meet the passengers as we go about solving any little problems they may have. On Saga Pearl 2 we have 40 people in the technical department to cover all the aspects of the vessel's maintenance. Some of them have served with the ship 10 years so they have a wealth of experience and they know the history of the ship. Saga also partake in Cadet training and it is pleasing to see that so many still see a career at sea as their goal.
Describe a typical day on board.
My day starts quite early as the Chief Engineer is present in the control room for arrivals and departures when the vessel is manoeuvring in and out of port, so I am generally up at at 5.30 as we prepare the engines and generators.
When the day workers arrive we discuss the plans and maintenance for the day and if we are overhauling any major components I will get a call to inspect them once they are stripped down. When time is restricted and we need to get a job completed before sailing I will join the team and get involved.
A lot of my day is spent in the office, on jobs like ordering spares and dealing with the other department heads. We have to carefully plan any maintenance within the hotel areas to avoid any disturbance to the guests.
Where in the world is your favourite destination?
There are so many! The Caribbean is a particular favourite area, the South Pacific another, especially sailing on a smaller ship like Saga Pearl 2 as we can get into some pretty small ports that are unspoilt by the mega ships visiting! I enjoy the sun and was somewhat apprehensive about cruising in Antarctica but was thrilled by its absolute beautiful scenery. I have been fortunate to dive around the world, Belize, Maldives and the Seychelles being some of my favourites but the two visits when we spent a week in Galapagos allowed me to get some fantastic dives in and they were probably my most memorable. It's a beautiful world underwater.
Tell us a bit about your Home life in Sunderland.
The time passes far too fast as I generally have a work list from Gail, with a list of rooms that she would like decorating. We both spend time at the gym and enjoy road running; this year will see me take part in my 10th Great North Run – it gets tougher every year.
We have recently had two new additions to the family: our two Cockapoo puppies Murphy and Lottie. They
are very intelligent dogs and we have put a lot of time into training them. The North East has some fantastic countryside and coastline to take them out for their walks. My guilty pleasure is following Sunderland FC. Daniel and Jonathan somehow ended up following Newcastle and my daughter Jessica and I followed Sunderland, but they have had more lows than highs over the last 45 years.
What's the daftest question a passenger ever asked?
There's always comments each cruise that we find amusing, but one comment recently came when we were three days into an Atlantic crossing on our way to the Caribbean and I went to dinner on the formal evening with my wife Gail. I introduced her to all at the table and one sweet lady asked if she was staying on board !
The only thing I get nervous about working on cruise ships is when being asked to accompany ladies on the dance floor, I was once approached by a young 82-year -old who said she would like to dance. "Not a problem," I replied. "I'll get one of the gentlemen hosts." She was not to be deterred and made it clear that it was me she wanted to dance with, so off we went. Then she said: "That was the first dance out of the way, when are we going to have dinner?
I hastily arranged a table for two in the restaurant and what I had thought could possibly be a long evening turned out to be one of the most fascinating dinners I have had. Joan had been a nuclear scientist at Sellafield and she was possibly one of the most entertaining dinner guests I have encountered. So in the end I agreed to have one dance each evening whilst she was on board.
Some months later when the ship was in the Falklands, the mail arrived. I received a Christmas card from Joan and in with it she had enclosed a book entitled "Social dancing for beginners" with all the steps for popular waltzes and so on. Joan had just written one word on the inside of the book: "Practice."