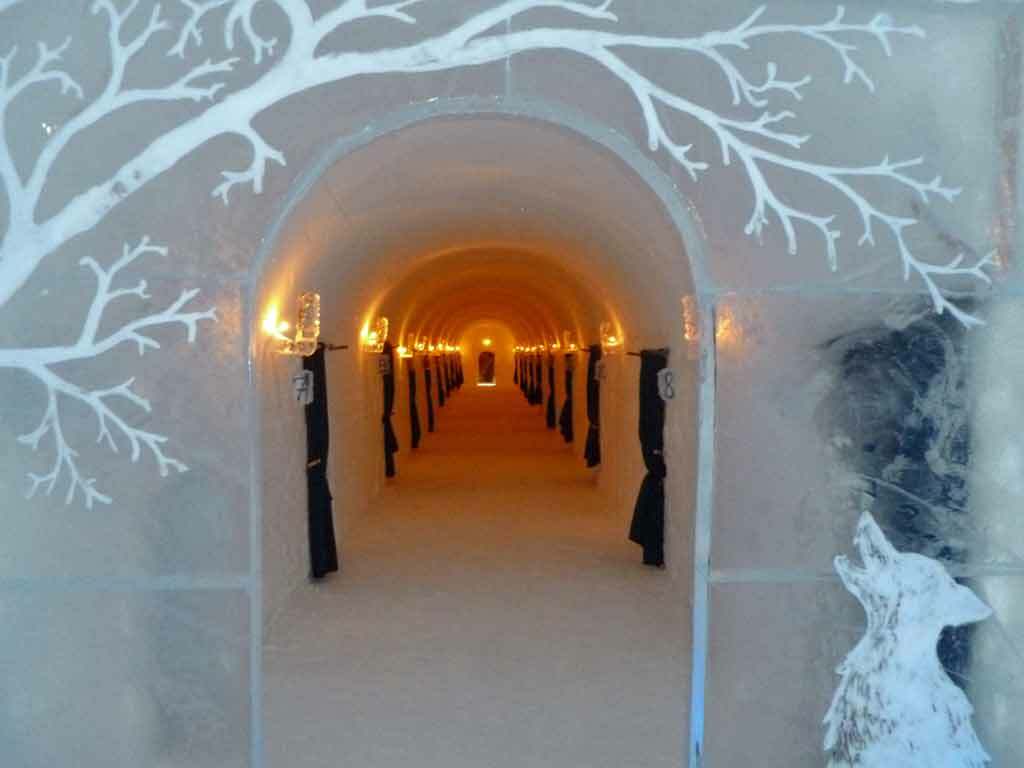 After a night in the Igloo Hotel, the cold doesn't bother me any more
You probably guessed that I'm not a big fan of Frozen. When it's cold outside and looking decidedly inhospitable, my reflex reaction is to pull on another layer of cashmere, throw a log on the fire, and reach for a mug – or glass – of something to warm me from inside. This week I did
You probably guessed that I'm not a big fan of Frozen. When it's cold outside and looking decidedly inhospitable, my reflex reaction is to pull on another layer of cashmere, throw a log on the fire, and reach for a mug – or glass – of something to warm me from inside.
This week I did just the opposite. I joined 29 other passengers from Saga Pearl II who left the comforts of the ship behind in Alta, Norway, to spend the night in a hotel carved out of snow and ice..
The Sorrisniva Igloo Hotel, 30 minutes drive from the port, is built in January each year, and has to close when it starts to melt in April. Joanna Lumley spent a night on one of its reindeer skin beds when she was filming a TV documentary about the Northern Lights. If it's good enough for her ….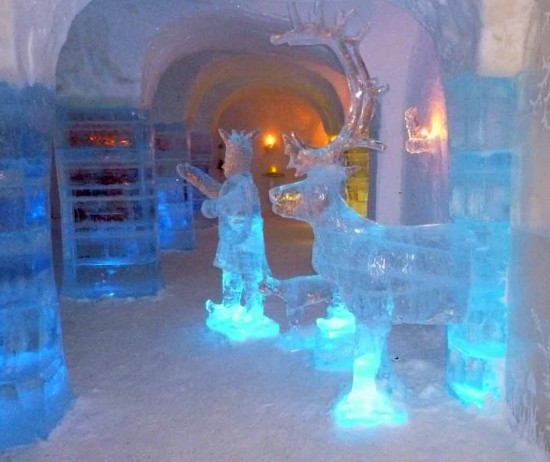 Inside the ice hotel, the temperature is a steady 4 degrees below, and freezing fog hangs in the air. The floor is trampled snow, the vaulted ceilings are carved from snow, and supported by pillars of solid ice. Pictures of local wildlife are framed in ice, and there are ice carvings depicting scenes from mythology and normal life in the frozen north – including a seal trapper going clubbing for the night.
There 30 bedrooms, a wedding chapel, and a bar serving just one drink – a vivid blue vodka cocktail that looked like anti-freeze. Some say it tasted like anti-freeze as well, but how would they know? I didn't have the heart to tell one guest that it would be futile trying to take his souvenir glass (carved from ice) home with him.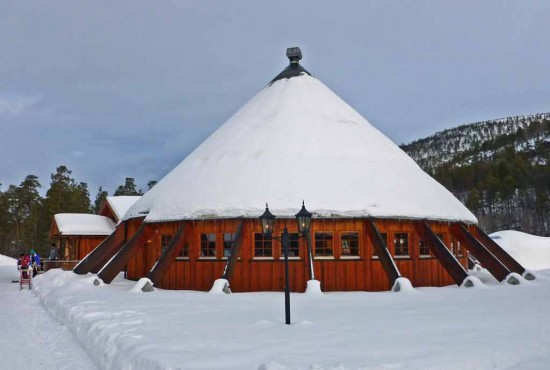 A lavish dinner, built around a hearty elk stew, was served in the hotel's heated, Laksestua restaurant – a wooden building whose design is based on the traditional Sami lavvu tent. It set us up for a stroll in the deep snow along the frozen River Alta, for most visitors an opportunity to work up a sweat to take to bed.
It also left us ready for a visit to the bathroom before retiring for the night; without exception, the major concern among Saga guests was the fact that there were no en suite facilities, and a loo break in the middle of the night would involve a major undertaking to reach the main block. We were careful to follow advice not to drink tea, coffee or beer, and we avoided the showers in case our wet hair froze.
Finally grabbing two down sleeping bags and a pillow each, we made for our accommodation. Once our boots were left on the floor, decisions had to be made about just how much clothing to remove before climbing inside and zipping up the bags – bearing in mind the advice that nothing should be left outside the bags as it would become cold and clammy during the night.
Keeping gloves and hat on seemed like a good idea, and then I succumbed to sleep – only to wake about an hour later with a nose as shiny and cold – and probably just as red – as Rudolf's.
The rest of me was possibly too warm, So off came one layer of fleece, and burrowing deeper inside the sleeping bag effectively solved the cold nose problem.There were a couple more disturbances during the night, partly thanks to the fact I seemed to be slipping between two mattresses. In the end, it was not the worst night's sleep I've ever had, although by 8.00 am, it was time to dress and make for the facilities.
Sad to say, I did not avail myself of the sauna or the hot tub, but I did find the fried eggs and bacon.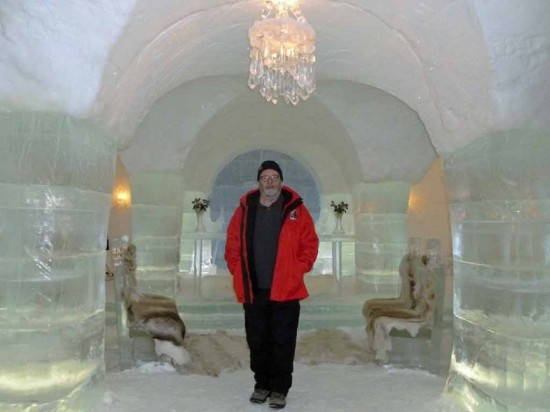 Another walk around the hotel grounds, an envious glance towards the snowmobiles – why hadn't I booked a ride on one of those beasts? – and then it was time for the bus to take us back to the ship, where a warm and welcome shower was waiting.
I have to agree with Joanna Lumley that while it was an interesting experience, it is probably not one that I will feel the need to repeat. But at least I can now say that The Cold Doesn't Bother Me Any More.