Search for your ideal Cruise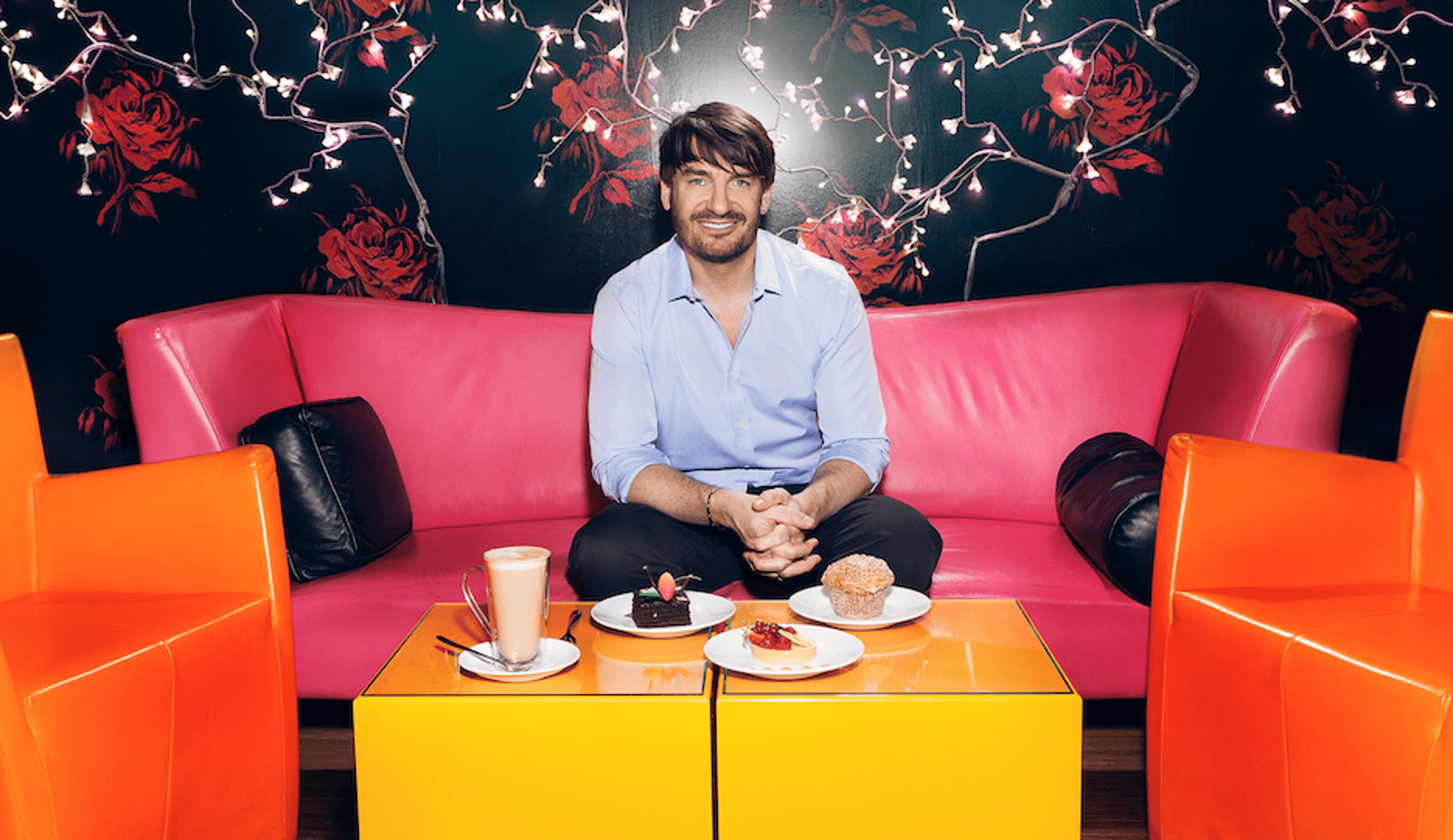 Master Patissier Eric Lanlard Talks P&O Cruises and Shares His Perfect Valentine's Day Recipe
Master patissier and P&O Food Hero Eric Lanlard reveals why he's so excited about the launch of Iona – and shares his sweetest treats for your Valentine
January can always be a bit depressing, but when you're in the company of chatty French patissier Eric Lanlard, the mood is definitely sunny. We're meeting in his popular shop, Cake Boy, where perfect eclairs and macarons are lined up like guardsmen on parade.
Eric has been working as one of P&O Cruises' famous Food Heroes for the past seven years, and the line's lucky guests will already be familiar with his sumptuous afternoon teas.
"I've loved working with P&O on their teas, and running the Market Café, too," he says. "But it wasn't easy at first. I had to prove I had the skill to master the task, so I invited P&O's bosses here to my cafe. I knew I had cracked it when one of the team declared, "This is delicious – it will be porn for the over 50s!"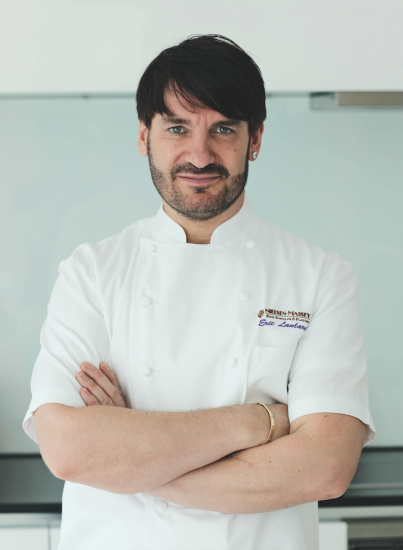 "Our initial brief was to provide the signature afternoon tea just for Britannia but it took off with a bang so now we provide two versions of it on every P&O ship. It's served in the fine- dining restaurant and it's a real treat for customers. At £15 a head, it's also a bargain when you consider tea is £60 per person at the Ritz."
P&O Cruises will launch their eagerly awaited new ship, Iona, in May, and Eric is already working out what he and his team will serve on board.
"As well as my signature tea we will be looking after the new Café Vista," he says. 'Here you'll be able to eat from breakfast time to evening, and we'll be offering delicious savoury bites and fine pastries."
So how will Iona be different from P&O Cruises' existing ships?
"The whole feeling will be younger and more urban, so we're creating some special new treats like fruit-flavoured white chocolate cakes and colourful croissants decorated with raspberries and chocolate."
Eric will also be offering delicious vegan pastries on board the new ship, reflecting the growing trend for plant-based fare. "The days when you gave vegans something that tasted like cardboard are long gone," he says. "We try to keep the ingredients as natural as possible, so we don't use any artificial fats, but our vegan cakes must taste the same as those made with eggs and milk. For a baker that's a real challenge, but it's one I love.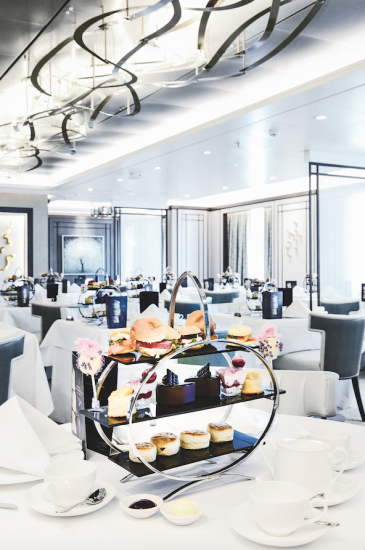 "We have a very popular vegan afternoon tea here at Cake Boy," he continues. "People adore it, and on Britannia, we've found that non-vegans will try a vegan cake and enjoy it. On Iona, we're expecting younger guests to try the vegan bakes, as they will already be familiar with plant-based dishes, but older passengers also like them as they are often easier to digest."
Eric is a naturally gregarious character so it's no surprise that he loves appearing on board, meeting guests and hosting baking classes. As part of the Food Heroes team he'll be joining Iona in the summer, and he's looking forward to seeing P&O's glamorous debutante – and his new menus – in action.
He can't join every cruise, of course, so how does he maintain the high standard of his dishes when he's not on board? "That's easy," he laughs. "Social media does the job for me. Every day, guests post images of their afternoon teas, so if something doesn't look right or a decoration is missing. I get straight on to the head chef on the ship to fix the problem."
With Valentine's Day fast approaching, Eric also has a solution for anyone who's stuck for a gift. "I recommend buying something fabulous you can both share," he says, "like an exotic sundae or a cake baked for two. After all, what's more romantic than using two spoons? Anything you can eat together that's heart-shaped will also be great."
Recipe: Chocolate ganache hearts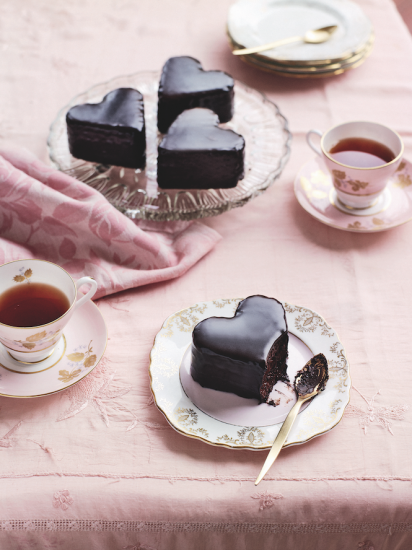 For the sponge
Butter, for greasing
1 large egg
200g (7oz) golden caster sugar
175g (6oz) Greek yogurt
75ml (21/2fl oz) vegetable oil
2 tsp vanilla bean paste
3 tbsp espresso coffee
70g (21/2oz) unsweetened cocoa powder
125g (41/2oz) plain flour
• 1/2 tsp baking powder
• Pinch of salt
For the ganache
• 300g (101/2oz) 70% cocoa dark chocolate, roughly chopped
• 150ml (1/4pint) double cream
• 1 tsp vanilla extract
Method
1. Preheat the oven to 170C (fan 140C/ 325F/gas 3) and grease four individual 7cm heart-shaped cake tins.
2. Whisk the egg, sugar, yogurt, oil and vanilla together until smooth. Add the coffee and cocoa and whisk vigorously until free from lumps. Sift the flour, baking powder and salt together, then add to the mixture and whisk vigorously for about one minute.
3. Pour the mixture into the tins and bake for 25 mins, or until a skewer inserted into the centre comes out clean. Leave to cool in the tins for 10 mins, then carefully turn out on to a rack.
4. To make the ganache, melt the chocolate in a bowl over a saucepan of barely simmering water (the bowl must not touch the water). Meanwhile, heat the cream until just below boiling point.
5. Remove the chocolate from the heat and slowly pour in the cream, gently stirring with a balloon whisk until smooth. Add the vanilla and stir. Leave to stand for 10 mins until cool and slightly thickened.
6. Stand the cakes on a wire rack over a baking sheet. Beat the ganache briefly, then pour it over the cakes, lightly spreading it with a palette knife. Leave to stand until set before serving.