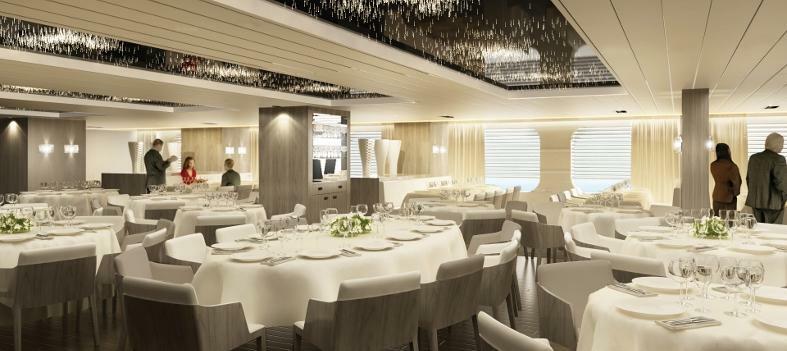 Ponant partners with catering centre Ducasse Conseil
Luxury French cruise line Ponant has announced that it is joining forces with Ducasse Conseil, a catering centre of excellence run by Alain Ducasse Entreprise. In its quest for culinary excellence the cruise line has chosen to work with Ducasse Conseil, the Alain Ducasse Entreprise expert consulting arm. Established in 2000, Ducasse Conseil offers businesses
Luxury French cruise line Ponant has announced that it is joining forces with Ducasse Conseil, a catering centre of excellence run by Alain Ducasse Entreprise.
In its quest for culinary excellence the cruise line has chosen to work with Ducasse Conseil, the Alain Ducasse Entreprise expert consulting arm. Established in 2000, Ducasse Conseil offers businesses support on strategy, operations and finance to assist with the redesign or creation of catering services.
The partnership will include auditing, culinary concept creation and training for all the cruise line's chefs. The ambition of the programme is to provide consistently high levels of service and cuisine across all of the cruise line's restaurants.
Ponant's Chief Executive Officer, Jean-Emmanuel Sauvée, said: "This collaboration will raise Ponant's culinary standards to a new level to better meet the highest expectations of our very discerning French and international passengers."
Carole Pourchet, Managing Director of Alain Ducasse Entreprise which is in charge of Ducasse Conseil, said: "We are very proud to be involved with Ponant in this venture to promote French excellence. We will be putting the talents of all our chefs on the project, together with our expertise in on-board catering and our passion for contemporary French cuisine."
Ponant's menus feature gourmet choices set within elegant surroundings. Example entrées include: Carpaccio of yellow fin tuna with truffle and parmesan; iced Dubarry cream of cauliflower soup with black truffle oil; and scallops flavoured with citrus vinaigrette. Sample main course dishes include: fresh lobster in stuffed filet of sole, with scallop juices, fresh pureed tomatoes and celeriac, or pan-fried cucumber and dill; and Fresh cod in a fennel barigoule with olive oil. Indulgent dessert choices include: raspberry macaroon à la rose or with spices; panna cotta with red berry fruits; and Grand Cru Valrhona dark chocolate delight.
In the latest issue of World of Cruising magazine Editor John Honeywell has written about his journey aboard Ponant's boutique ship, Le Lyrial, sailing to ports in Sicily and Sardinia.
(Photo credit to Ponant / Francois Lefebvre)