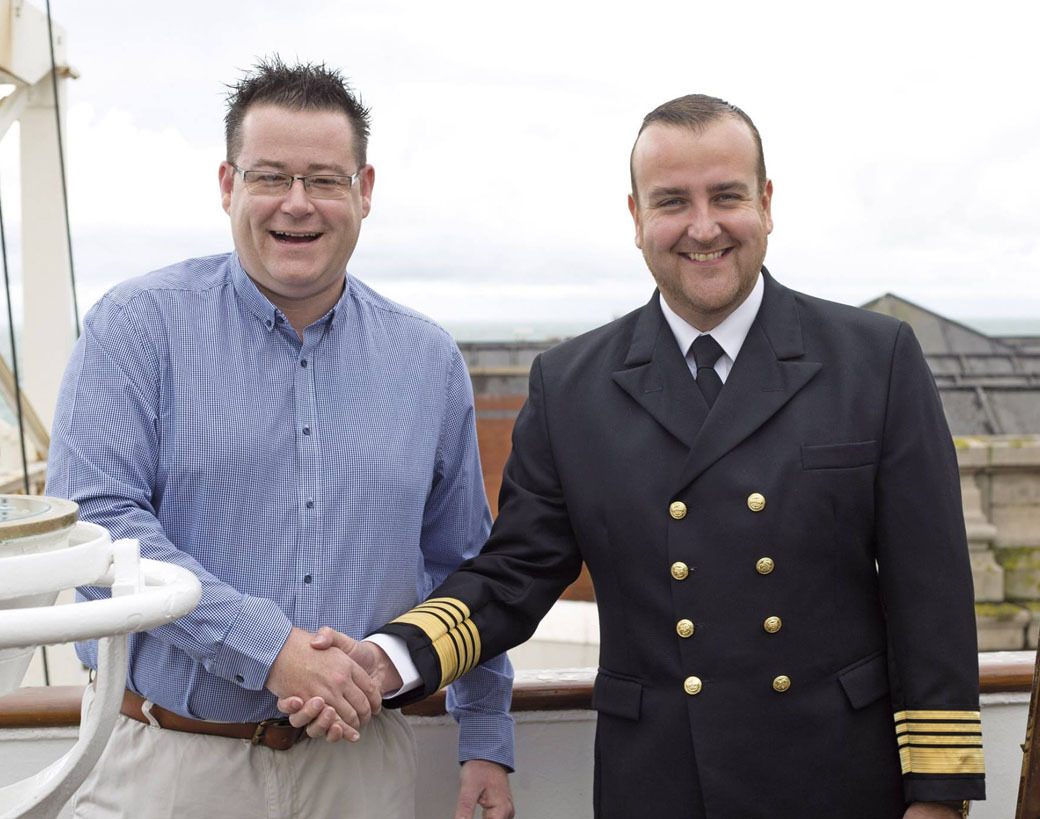 Saga's new Captain takes command for the first time
It will be another 14 years before Nick Sunderland reaches the age of 50 and qualifies to take a Saga holiday. But he will be rubbing shoulders with Saga cruise passengers for the foreseeable future, after taking command of small ship Saga Pearl II for the first time this week. Fresh-faced Captain Nick, who is
It will be another 14 years before Nick Sunderland reaches the age of 50 and qualifies to take a Saga holiday. But he will be rubbing shoulders with Saga cruise passengers for the foreseeable future, after taking command of small ship Saga Pearl II for the first time this week.
Fresh-faced Captain Nick, who is 36, joins the other Masters Philip Rentell, Kees Spekman and Wesley Dunlop.
He's not exactly a newcomer when it comes to cruising. After graduating from Durham University, Nick headed to sea with Holland America Line, a company he stayed with during a career that has seen him rise rapidly through the ranks – he was a Staff Captain by the time he was 29.
It was a wet and windy morning in the Port of Dover when he made the next step in his career, as Captain Dunlop handed over command of the ship.
As passengers on the previous cruise will know, the new recruit has been on board for a couple of weeks, 'learning the ropes' and slowly easing himself into the Saga style of cruising.
However it's the Magic of the Canary Islands cruise – which is currently headed for Funchal before continuing on to La Palma, Tenerife, Grand Canaria and Lanzarote – that will be his first bona fide cruise as a fully-fledged Captain.
As they shook hands on the ship's bridge to mark the handover, Captain Dunlop said: "Obviously Nick has many years' experience of cruising, so the past couple of weeks have really just been showing him the ship's control and navigation systems."
"There are also a few quirks that come with sailing a smaller ship such as Saga Pearl II. We were in Helsinki the other day, and Nick took to the controls for our berthing manoeuvre which involved swinging the ship through 90 degrees and then backing down onto the berth.
"It's never easy having to hand over the keys to your Rolls Royce for someone else to 'park' but Captain Nick did a fine job and the manoeuvre was completed with ease." he said with a smile.
"Also, being a Captain for Saga is very sociable, lots of on-board events and interaction with the customers. They really make a lot of us in the brochures, like the Captains' Collection where passengers can choose their next cruise depending on which Master is at the helm. We also have to write a Captain's Blog for the Saga website. Even when they're not on the ship, Saga cruisers like to know what's going on. They're a loyal bunch!"
"Nick is a great chap, and I'm quite sure he is going to have a long and successful career with us – I know many of our passengers are excited to meet him in the near future."
Words courtesy of Ben Gibson of Saga. Picture shows Capt Sunderland (right) with Capt Dunlop