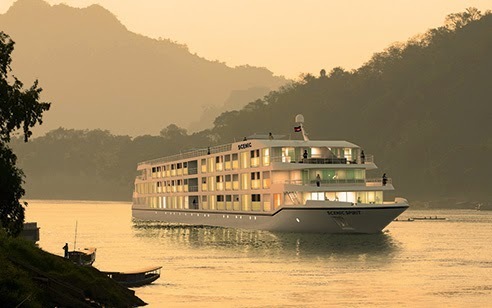 Scenic Tours to launch all-inclusive Mekong River cruises
Scenic Tours have unveiled their range of all-inclusive river cruises on the mighty Mekong River in South-east Asia planned for when their latest river cruise ship, the Scenic Spirit, enters service in January 2016. Scenic Spirit is set to be the most spacious river cruise vessel to sail along the Mekong River. Measuring 85 metres
Scenic Tours have unveiled their range of all-inclusive river cruises on the mighty Mekong River in South-east Asia planned for when their latest river cruise ship, the Scenic Spirit, enters service in January 2016.
Scenic Spirit is set to be the most spacious river cruise vessel to sail along the Mekong River. Measuring 85 metres in length the all-suite all-balcony vessel will carry a maximum of 68 passengers per voyage with a guest-to-crew ratio of nearly 1:1.
A choice of suites will be offered, including 24 Deluxe Suites measuring 32 square metres, eight Grande Deluxe Suites measuring 40 square metres, and two Royal Panorama Suites measuring 80 square metres.
The vessel will offer three dining venues as well as in-room dining. The vessel will also offer a pool and a spa and fitness centre.
On the launch of the Mekong river itineraries Chris Townson, Managing Director of Scenic Tours UK, said "We believe there's now no better way to sail these waters; we've got the newest ship with the best features and the most spacious cabins; our diverse itineraries are meticulously planned and cover a wealth of mustsee and lesser-travelled treasures, plus everything is included in the price of your cruise."
Scenic Tours are offering 15 to 29-day long voyages along the Mekong River planned for 2016, calling into destinations including Vietnam, Cambodia, Thailand and Laos.
Key itineraries include: "Treasures of the Mekong Cruise" (sailing between Ho Chi Minh City and Siem Reap); "Essence of Vietnam, Cambodia & Mekong Cruise" (sailing between Hanoi and Siem Reap); "Grand Indochina & Mekong Cruise" (sailing between Hanoi and Luang Prabang); "Journey along the Mekong" (sailing between Ho Chi Minh City and Luang Prabang); and "Gems of South East Asia" (sailing between Bangkok and Ho Chi Minh City).
(Photo credit to Scenic Tours)