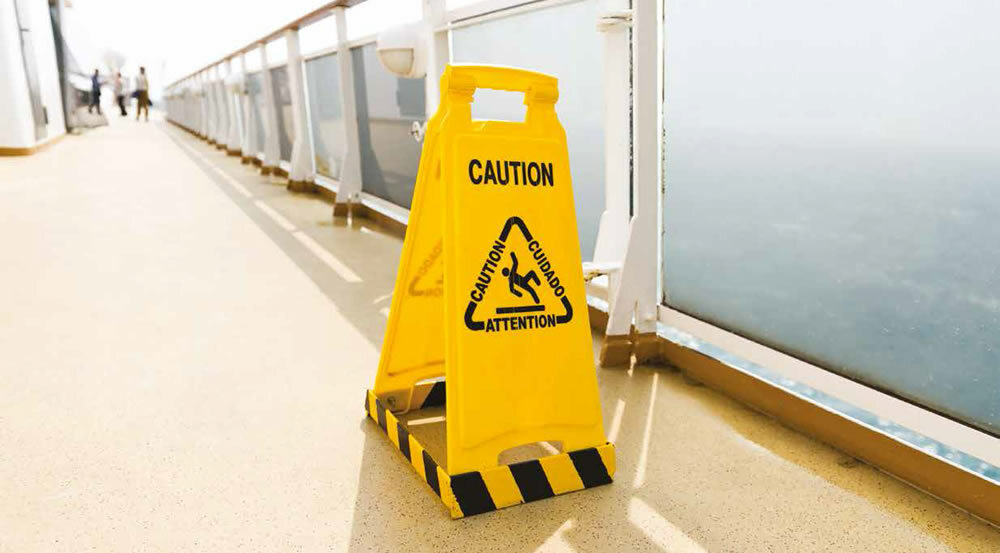 Secrets the cruise lines don't tell their passengers
We are lovingly bombarded with images of stunning ocean going vessels, tempted with the opportunity to visit several superb destinations in one holiday and then pushed further into consideration by the too-good-tobe-true low prices and added extras. In short, the brochures and Facebook pages of our favourite cruise lines suck us in with their charms
We are lovingly bombarded with images of stunning ocean going vessels, tempted with the opportunity to visit several superb destinations in one holiday and then pushed further into consideration by the too-good-tobe-true low prices and added extras.
In short, the brochures and Facebook pages of our favourite cruise lines suck us in with their charms and before we know it our next cruise is booked, paid for and just about to set sail.
Everything is perfect, in fact it seems as if nothing could be better, but then just as we find our comfort zone, we discover what the cruise lines didn't tell us before we boarded.
They don't tell us…
that one cruise will leave you with a terrible addiction to 'ship life' and before you know it, your next cruise will have booked itself.
that the worst possible thing you could discuss with a fellow passenger is how much you paid for your cruise. DON'T DO IT! You'll either be filled with envy about the money you could have saved, or you'll be turning your neighbour into a green-eyed monster.
to pack fat pants and trust me, you WILL need several pairs! They don't tell you that the average weight gain on a cruise is 1lb per day! I would tell you to pack your gym shoes and Lycra, but then I would be a complete hypocrite.
about the single-ply toilet paper that's about as fit for purpose as a lead-lined lifejacket! And while we're in the bathroom, they don't tell us that when the sea gets a bit choppy, you'll need the commando skills of a Royal Marine if you want to shave your legs and wash your hair in the shower. It's taken me several years and 30 cruises to master this art. Nor do they tell you that in very rough weather your cabin furniture may suddenly come to life.
that the "hot plates" sign in the buffet means plates have actually been boil-washed at 10,000 degrees Celsius and should be handled only when wearing a pair of welder's gloves
that the most dangerous place on board is the launderette. There should be an 'enter at your own risk' sign on the door. Some passengers get possessive over the washing machines and the tumble
dryers, and the occasional older lady likes to tell us "young ones" how to use an iron. Remove your clothes from the washing machine as soon as it has finished – if you don't, then someone else will.
about Disembarkation Day. Disembarkation Day. It really can bring out the worst in some people. The usually polite and calm passenger can turn into a thoroughbred monster in the blink of an eye. The stress of leaving the ship just becomes too much – I have seen arguments, heard passengers screaming at crew members because they entered a venue first but were then the last to leave, and I even witnessed two gentleman pushing each other out of the lift. It's not big, it's not clever, and eventually we all will get to the baggage hall! Take a breath.
On the other hand, they don't tell us…
we will meet some fantastic people, among passengers and crew, and a lot of them will become lifelong friends. Many of those crew members will bend over backwards to help each and every passenger, no matter what the circumstances.
that cocktails are compulsory. Honestly, they are! Even more so if they have the words 'cocktail of the day' assigned to them.
going shopping in every port, on a 5-week Caribbean cruise, and then trying to fit the contents of every island into an inside cabin is definitely NOT the best idea in the world! Hashtag #UpgradePlease
Just one more thing. They might have told you, so why didn't they tell me? That the steam from my hair straighteners would set off an alarm on the bridge indicating that there could be a fire. Ladies, if you have a balcony, then open the door; if an inside cabin is your home from home, turn your air conditioning down and don't straighten your hair directly underneath the sensors. Otherwise, you could end up having one LARGE portion of your deck evicted from their peaceful abodes and you'll suddenly be the least popular person on your corridor. Even if your hair looks amazing. There's so much more. Even after so many cruises, I am still discovering more things they didn't tell me …